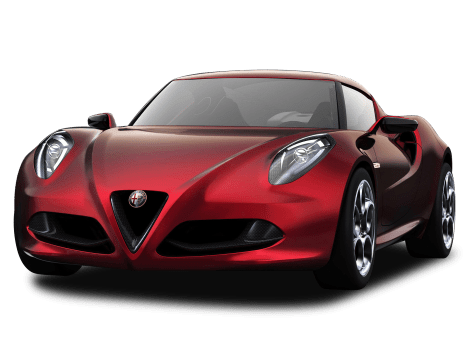 COMPARE
Alfa Romeo 4C
VS
BMW 2 Series
Alfa Romeo 4C
Likes
Startling performance
Superbly in tune with the road
Addictive to drive
Dislikes
Expensive
Lacking gear
Rich servicing costs
---
BMW 2 Series
Dislikes
Squeezy
Short warranty
No full AEB standard
Summary
Alfa Romeo 4C
Nothing could've better prepared me for my drive in the 2019 Alfa Romeo 4C than a trip to Sydney's Luna Park.
There's a rollercoaster there called Wild Mouse - an old-school, single carriage coaster with no loop-the-loops, no high-tech trickery, and with each ride limited to just with two seats apiece.
The Wild Mouse throws you around with very little regard for your comfort, gently impinging your fear factor by making you consider the physics of what is happening underneath your backside. 
It's an unbridled adrenaline rush, and genuinely scary at times. You get off the ride thinking to yourself, "how the hell did I survive that?".
The same can be said with this Italian sports car. It's blisteringly quick, it's superbly agile, it handles like it has rails attached to its underbody, and it could potentially do brown things to your underpants.
| | |
| --- | --- |
| Safety rating | — |
| Engine Type | 1.7L turbo |
| Fuel Type | Premium Unleaded Petrol |
| Fuel Efficiency | 6.9L/100km |
| Seating | 2 seats |
---
BMW 2 Series
There's occasional wringing of hands and gnashing of teeth over the question of whether a four-door car can be called a coupe.
Rover set tongues wagging close to 60 years ago with its P5 Coupe; to all intents and purposes a sedan with a lower, slightly swoopier roofline.
But in the 21st century, BMW has wiped the conversation aside and gone four-door coupe mad, even applying the tag to a couple of its X Series SUVs as well as a series of more conventional models.
So, rather than call in the coupe police, after they've visited Audi, Mercedes-Benz and Porsche, we'll go with the flow and introduce you to the BMW 2 Series Gran Coupe, launching in two variants - the 218i (front-wheel drive, 1.5-litre, three-cylinder turbo), and M235i xDrive (all-wheel drive, 2.0-litre, four-cylinder turbo).
| | |
| --- | --- |
| Safety rating | — |
| Engine Type | 1.5L turbo |
| Fuel Type | Premium Unleaded Petrol |
| Fuel Efficiency | 5.9L/100km |
| Seating | 5 seats |
Verdict
Alfa Romeo 4C
7.1/10
People might wonder if there's a reason to buy an Alfa Romeo 4C. It has some great dollar-for-dollar competitors - the Alpine A110 does most of the things the Alfa does, but in a more polished way. And then there's the Porsche 718 Cayman, which is a considerably more, well, considered option.
But there is no doubt the 4C stands alone, a sort-of cut-price alternative to a Maserati or Ferrari, and nearly as rare to spot on the road as those cars, too. And just like the rollercoaster at Luna Park, it's the sort of car that'll leave you wanting another go.
Would you take the 4C over a Alpine A110? Let us know in the comments.
---
BMW 2 Series
7.8/10
Small four-door cars aren't exactly flavour-of-the-month in the current Australian new car market, but this newcomer offers solid value, and good dynamic balance in a premium compact package. It's aimed at a niche within a niche, but for seekers of sleek, inner-city-sized four-door luxury, the 2 Series Gran Coupe has a lot to offer. 
Note: CarsGuide attended this event as a guest of the manufacturer, with travel and meals provided.
Design
Alfa Romeo 4C
8/10
Slap a Ferrari badge on it, and people would think it was the real deal - a pint-sized performance hustler, with all the right angles to get plenty of glances.
In fact, I had dozens of punters nod, wave, mount 'nice car mate' and even a few rubber-neck moments - you know, when you drive past and someone on the footpath can't help but forget they're walking, and they stare so hard they might well collide with the upcoming lamp-post. 
It really is a head-turner. So why does it only get an 8/10? Well, there are some elements of the design that make it less user-friendly than some of its rivals.
For instance, the step-in to the cabin is enormous, because the carbon-fibre tub sills are huge. And the cabin itself is pretty tight, especially for taller people. An Alpine A110 or Porsche Boxster are much more amenable for day-to-day driving… but hey, the 4C is markedly better than, say, a Lotus Elise for ingress and egress.
Also, as smart as it still looks, there are elements of Alfa Romeo design that have moved on since the 4C launched back in 2015. The headlights are the bit that I dislike most - I had a real thing for the spider-eyes lights of the launch edition model.
But even if it isn't unmistakably Alfa Romeo, it's unmistakably a 4C. 
---
BMW 2 Series
8/10
The whole BMW Gran Coupe 'thing' kicked off in 2012 with a lower, longer, extra-doored version of the 6 Series coupe.
Following in its fashionable wheel tracks were the 4 Series Gran Coupe in 2014, an 8 Series model in 2019, and now this diminutive 2 Series.
The formula is broadly similar in each case. Take the two-door coupe, stretch it length-wise, add a couple of doors and remove the frames from all of them, then let the wind tunnel smooth out the overall form.
In line with that design approach, at just over 4.5m long the Gran Coupe is 94mm longer than the 2 Series two-door, as well as fractionally wider (+26mm), and a little taller (+7.0mm).
But the surprise is a shorter wheelbase (2670mm) for this front-wheel drive model (based on the 1 Series platform), compared to the rear-wheel drive two-door (2690mm).
A big grille is a key part of BMW's current design language, and the 2 Series Gran Coupe obliges with a suitably large version of the brand's signature 'kidney' grille with a single surround unifying it graphically. 
Angry, angular LED headlights combine with large air vents either side of the front clip to conjure up a confident, assertive face.
The car's profile conforms to the BMW Gran Coupe template with the roofline tapering markedly towards the rear and strategically placed character lines along the car's flanks adding visual interest and enhancing the its lengthy look.
BMW devotees will recognise the term 'Hofmeister Kink', a characteristic up-turn of the trailing edge of a BMW's side window glass, This time around BMW refers to the element as an 'upright' Hofmeister Kink, which is a misnomer, because it's so upright it no longer conforms to the vision of Wilhelm Hofmeister (the Bavarian maker's head of design in the early 1960s).
Slim, long, distinctly horizontal LED tail-lights define the rear view, with other lateral lines and trim elements enhancing the car's wide, planted stance.
The interior will be instantly familiar to any current model BMW owner with the neatly arranged dash featuring the 'Cockpit Professional' set-up including a 10.25-inch configurable instrument display, and another same-size multimedia screen annexed to the main binnacle.
All instrumentation and key controls are angled towards the driver and attention to detail in terms of quality is high.
It's now an accepted truth that lights and screens are the new chrome in terms of automotive design, and the 2 Series Gran Coupe compliments its sleek screens with an interior ambient lighting package, as well as brushed metal elements and BMW's usual array of logically arranged, legible and user-friendly switchgear.
Practicality
Alfa Romeo 4C
6/10
You can't get into a car this small and expect a lot of space.
The dimensions of the 4C are tiny - it's just 3989mm long, 1868mm wide and only 1185mm tall, and as you can see from the pictures, it's a squat little thing. The Spider's removable roof could be great for you if you're tall.
I'm six-feet tall (182cm) and I found it to be cocoon-like in the cabin. You feel almost as though you're tying yourself to the tub of the car when you get into the driver's seat. And getting in and out? Just make sure you do some stretches beforehand. It's not as bad as a Lotus for ingress and egress, but it's still hard to look good clambering in and out of. 
The cabin is a cramped space. There's limited head room and leg room, and while there is reach and rake adjustment for the steering wheel, the seat only has manual slide and backrest movement - no lumbar adjust, no height adjust… almost like a racing bucket. They're hard like a race seat, too. 
The ergonomics aren't terrific - the controls for the air-con are hard to see at a glance, the buttons for the gear select take some learning, and the two centrally-mounted cup holders (one for your double-shot mocha latte, the other for a hazelnut piccolo) are inconveniently positioned exactly where you might want to put your elbow. 
The media system is rubbish. It'd be the first thing to go, if I bought one of these, and in its place would be an aftermarket touchscreen which would: a) actually let you pair to Bluetooth; b) look like it was from sometime after 2004; and c) be more fitting for a car of this price tag. I'd upgrade the speakers, too, because they're poor. But I can totally understand if those things don't matter, because it's the engine you want to hear.
The materials - aside from the red leather seats - aren't great. The plastics used are similar in look and feel to what you find in second-hand Fiats, but the sheer volume of exposed carbon-fibre does help you forget those details. And the leather pull straps to close the doors are nice, too. 
The visibility from the driver's seat is decent - for this type of car. It's low, and the rear window is small, so you can't expect to see everything around you at all times, but the mirrors are good and the forward vision is excellent.
---
BMW 2 Series
6/10
No matter how hard you shut your eyes and spit out a Harry Potter-style incantation, you can't magic-up a big interior in a small car.
BMW's packaging boffins will have sweated bullets to eke out every extra millimetre, but the hard fact is this 2 Series Gran Coupe is diminutive.
Cozy is the best way to describe the front section, and the front seats are snug, be they the cloth-trimmed sports seats in the 218i, or even racier leather-trimmed chairs in the 235i xDrive.
Access to the rear requires mild gymnastic prowess because the door aperture is modest, and once you're in there it's tight. Sitting behind the driver's seat set for my 183cm position, my shiny pate made firm contact with the headliner, and my knees were striking up a close relationship with the front seatback.
Forget three grown-ups abreast in there. I'd describe the 2 Series Gran Coupe's seating arrangement as a '2+2+1'.
Storage is provided in all the right places, but scaled down to suit the available space. There's a lidded storage box between the front seats, two cupholders and a wireless charging bay in the front centre console, decent door bins with room for bottles, and a glove box (able to accommodate several pairs of gloves).
Backseaters have access to small door bins and a fold-down centre armrest with two cupholders in it. The primo M235i xDrive features adjustable rear air vents, while the entry-level 218i misses out.
The boot chips in with 430 litres of load space, which is okay rather than cavernous, and it's worth remembering the opening is narrow relative to a similarly-sized hatch. But a 40/20/40 split-folding rear seat increases flexibility, and liberates more space.
Don't bother looking for a spare of any description as a repair/inflator kit is your only option.
Towing is possible in the 218i, but sadly the dual-axle caravan is off the agenda. Maximum capacity for a braked trailer is 1300kg (with a 75kg towball download), and 710kg unbraked. The M235i xDrive is a no-tow zone.
Price and features
Alfa Romeo 4C
6/10
Look, no-one considering an Italian sports car is likely to be wearing their common sense hat, but even so, the Alfa Romeo 4C Spider is an indulgent purchase.
With a list price of $99,000 plus on-road costs, it isn't affordable. Not considering what you get for your money.
Standard inclusions consist of air conditioning, remote central locking, heated electric door mirrors, leather sports seats with manual adjustment, a leather-lined steering wheel, and a four-speaker stereo system with USB connectivity and Bluetooth phone and audio streaming. It's not a touchscreen, so there's no Apple CarPlay or Android Auto, and there's no sat nav… but the thing about this car is going the fun way home, so forget maps and GPS. And there's a digital instrument cluster with a digital speedometer - believe me, you'll need it.
The standard wheels are a staggered set - 17-inch at the front and 18-inch at the rear. All 4C models have bi-xenon headlights, LED daytime running lights, LED tail-lights and dual exhaust tips. 
Of course, being the Spider model, you also get a removable soft top and you know what's neat? You get a car cover included as standard, but you'd want to put it in the shed, as it takes up a bit of boot room!
Our car was even further up the pay scale, with an as-tested price of $118,000 before on-roads - it had a few option boxes ticked. 
First there's that beautiful Basalt Grey metallic paint ($2000), and those contrasting red brake calipers ($1000).
Plus there's the Carbon & Leather package - with carbon-fibre mirror caps, interior bezels, and a stitched leather instrument cover panel. It's a $4000 option.
And finally, the Racing Package ($12,000), which includes a staggered set of 18-inch and 19-inch wheels with a dark paint finish, and those wheels are fitted with model specific Pirelli P Zero tyres (205/40/18 up front, 235/35/19 at the rear). Plus theres the sports racing exhaust system, which is awesome, and a racing suspension setup. 
---
BMW 2 Series
8/10
The two-model 2 Series Gran Coupe line-up kicks off with the 218i at $47,490, before on-road costs, and BMW's aiming up at Merc's CLA 200 ($60,700) with this car, at a more than $13K differential.
Aside from the standard active and passive safety tech (covered in the Safety section) that cost-of-entry includes: 18-inch alloy rims, a leather-trimmed sports steering wheel, sports front seats, head-up display, the 'Live Cockpit Professional' pack (10.25-inch instrument cluster, 10.25-inch operating system 7.0 media display and 'Intelligent Personal Assistant'), Apple CarPlay (Android Auto is coming later in 2020), cruise control, keyless entry and start, ambient interior lighting, LED headlights, tail-lights, and fog lights, 'Parking Assistant' (front and rear sensors, reversing camera, 'Auto Parking Assistant' and 'Reversing Assistant') and a six-speaker (100-watt) audio system.
Yes, the Merc features an AMG bodykit and rims, as well as active cruise, and it has a bit more oomph, but that's a pretty handy batch of standard features for a lot less money. 
In similar fashion, at $69,990, before on-road costs, the M235i xDrive lines up price-wise against Merc's CLA 250 4Matic ($70,200), but knocks it for six in terms of performance. In fact, BMW wants a piece of the Merc-AMG CLA 35 ($85,500) with this mini-muscle coupe.
Over and above the 218i's equipment list the top-spec car features: 19-inch alloys, M-Sport brakes (four-piston front calipers, up from single piston), M steering calibration, M rear spoiler, M Sport front seats, leather upholstery, electric front seat adjustment (including memory on the driver's side), adaptive LED headlights (including 'High-beam Assistant), and harman/kardon 16-speaker (464-watt) audio. Not bad at all.
Engine & trans
Alfa Romeo 4C
8/10
The Alfa Romeo 4C is powered by a 1.7-litre turbocharged petrol four-cylinder engine, which produces 177kW of power at 6000rpm and 350Nm of torque from 2200-4250rpm. 
The motor is mounted amidships, and it is rear-wheel drive. It uses a six-speed dual-clutch (TCT) automatic with launch control. 
Alfa Romeo claims a 0-100km/h time of 4.5 seconds, which makes it one of the quickest cars at this price point. 
---
BMW 2 Series
9/10
The 218i Gran Coupe is powered by a version of BMW's B38 in-line three-cylinder turbo-petrol engine, used in various BMW and Mini models. The all-alloy unit features direct-injection, 'Valvetronic' variable valve timing and 'Double-VANOS variable cam timing to produce 103kW from 4600-6500rpm, and 220Nm from 1480-4200rpm. It sends drive to the front wheels via a seven-speed dual-clutch automatic transmission.
The M235i Gran Coupe is powered by a version of BMW's B48 in-line four-cylinder turbo-petrol engine, also used in various BMW and Mini models, including the Mini John Cooper Works GP.
Another all-alloy design, it also uses a twin-scroll turbo set-up, direct-injection, 'Valvetronic' variable valve timing and 'Double-VANOS variable cam timing to produce no less than 225kW from 5000-6250rpm, and a whopping 450Nm from 1750-4500rpm.
It sends power to all four wheels through an eight-speed (conventional torque-converter) automatic transmission and a dedicated transfer gearbox, guided by multiple sensors and processors, to send drive to the wheels that can make best use of it. 
Fuel consumption
Alfa Romeo 4C
8/10
Claimed fuel consumption for the Alfa Romeo 4C Spider is rated at 6.9 litres per 100 kilometres, so it's no miser.
But, impressively, I saw real-world fuel economy of 8.1L/100km, over a loop that included urban, highway and 'spirited' driving on twisty roads.
---
BMW 2 Series
8/10
Claimed fuel economy for the combined (ADR 81/02 - urban, extra-urban) cycle is 5.9L/100km, the 218i, emitting 135g/km of CO2 in the process.
Not surprisingly, the high-performance M235i xDrive is thirstier, the combined cycle figure rising to 7.6L/100km, and emissions sitting at 173g/km of CO2.  During a post-launch week of city, suburban and freeway running in this version, we recorded a real-world number of 10.2L/100km.
Stop-start is standard, minimum fuel requirement is 95 RON premium unleaded in the 215i, and 98 RON premium in the M235i, and you'll need 50 litres to brim the tank on both. 
Driving
Alfa Romeo 4C
9/10
I said that it's like a rollercoaster, and it really, truly is. The air doesn't quite rush through your hair as much, sure - but with the roof off, the windows down and the speedometer constantly edging towards licence suspension, it's a real hoot of an experience.
It just feels so tight - the carbon-fibre monocoque chassis is rigid and super stiff. You hit a cats-eye and its all so sensitive, you could mistake it for having hit an actual cat. 
Alfa Romeo's DNA drive modes - the letters stand for Dynamic, Natural, All Weather - is one of those proper examples of this type of system done well. There's a marked difference between how these different settings operate, where some other drive modes out there are more sedate in their adjustments. There's a fourth mode - Alfa Race - which I didn't dare sample on public roads. Dynamic was enough to test my mettle. 
The steering in Natural mode is lovely - there's great weighting and feedback, super direct and incredibly in touch with the surface below you, and the engine isn't quite as zesty, but still offers tremendous response on the move. 
The ride is firm but composed and compliant in any of the drive modes, and it doesn't have adaptive suspension. It is a stiffer suspension setup, and though the damping doesn't change in Dynamic mode, if the surface is anything but perfect you will tram-track and twitch all over the place, because the steering feels even more dialled in. 
In Dynamic mode the engine offers amazing response when you're at pace, building speed incredibly and before you know it, you're in licence loss zone.
The brake pedal requires some firm footwork - just like in a race car - but it pulls up strongly when you need it to. You've just gotta get used to the pedal feel. 
The transmission is a good thing at speed in manual mode. It won't overrule you if you want to find the redline, and it sounds tremendous. The exhaust is exhilarating!
With roof on and windows up there's very noticeable noise intrusion - lots of tyre roar and engine noise. But remove the roof and drop the windows and you get the full effect of the drive experience - you'll even get some "sut-tu-tu" wastegate flutter. It doesn't even matter that much that the stereo system is so rubbish.
At normal speeds in normal driving you do need to be considerate of the powertrain because it is finnicky and slow to react at times. There's notable lag if you're gentle on the throttle, both from engine and transmission, and the fact peak torque doesn't come on song until 2200rpm means there's lag to contend with. 
It'll be a difficult choice between this and Alpine A110 and a Porsche Cayman – each of these vehicles has a very different character. But for me, this is the most go-kart like and it is, undeniably incredibly involving to drive.
---
BMW 2 Series
8/10
For most driving circumstances the 218i offers enough performance to get the job done, with 0-100km/h acceleration for the 1375kg four-door claimed at 8.7sec.
With more than twice the power and torque the M235i is able to blast it's heavier (1570kg) frame to the same mark in just 4.9sec, and anything under five seconds is properly fast.
The three-cylinder car is smooth, surprisingly quiet, and responsive, the little turbo providing a satisfyingly linear response, with maximum torque available from just 1480rpm all the way to 4200rpm. The seven-speed auto is most un-dual-clutch like in that it's unobtrusive, but very dual-clutch-like in that it shifts rapidly and precisely.
Step into the M235i and you're entering an altogether more serious world of performance. The in-line four is crisp and lights up with only a modest flexing of the right ankle. The four-cylinder's raspy engine induction noise is smile-inducing, and in Sport mode the exhaust adds furious blurts and bangs to full-throttle up-shifts, and entertaining crackles and pops on the way back down the ratios.
The eight-speed auto doesn't give anything away to the 218i's dual-clutch, especially in manual mode, where a flick of either wheel mounted paddle results in almost instant changes. And the xDrive system keeps the car planted, the transfer gearbox on the back of the main transmission seamlessly distributing torque to all four wheels on a needs basis.
Pushing along some B-road bends on the BMW launch drive program, the M235i remained planted and felt eager, picking up the throttle quickly out of tight corners, the bigger brakes keeping the car stable as load transfers to the front axle.
But no matter which version of the 2 Series Gran Coupe you're in, the ride/handling balance is impressive. Suspension is strut front, multi-link rear in both, and the car's ability to blend great cornering with a comfy ride is the mark of a company that knows its way around engineering dynamics. The 218i comes with an M Sport suspension tune, although the standard set-up is a no-cost option., 
Steering is accurate, feelsome, and nicely weighted in both models, the M235i upping the ante with meatier variable rate settings. And the sports seats in each car are grippy, although, despite adjustability of the side bolsters, the M235i runs the risk of sacrificing long-distance comfort for firm location. 
Safety
Alfa Romeo 4C
6/10
You're in the wrong spot if you want the latest in safety technology. Sure, it's at the cutting edge because it has an ultra strong carbon-fibre design, but there's not much else happening here.
The 4C has dual front airbags, rear parking sensors and an alarm with tow-away protection, plus - of course - electronic stability control. 
But there are no side airbags or curtain airbags, there's no reversing camera, there's no auto emergency braking (AEB) or lane keep assist, no lane departure warning or blind spot detection. Admittedly - there are a few other sports cars in the segment which lack safety smarts, too, but 
The 4C has never been crash tested, so there's no ANCAP or Euro NCAP safety score available.
---
BMW 2 Series
8/10
All the expected active safety tech is on-board, including ABS, EBD, BA and stability and traction controls. Then the 218i adds 'Driving Assistant' (including lane departure warning, lane change warning, 'Approach control Warning' with city-braking intervention, 'Rear Cross Traffic Warning', 'Rear Collision Prevention' and 'Speed Limit Information'. As well as, Parking Assistant' (front and rear sensors, reversing camera, 'Auto Parking Assistant' and 'Reversing Assistant'). As well as, a dry braking function, fading compensation, 'Start-Off Assistant', 'Electronic Differential Lock Control', and trailer stability control.
All that, but no AEB. At urban speeds, the 'City Brake' system will detect a potential forward collision and slow the car if necessary, but not bring it to a complete stop. For that you'll need to option in adaptive cruise control at $654 for the 218i and $850 for the M235i.
If an impact is unavoidable there are head and side airbags for the driver and front passenger, as well as curtain airbags covering both rows.
There are also three top tether points for baby capsules/child seats across the rear seat, which ISOFIX anchors on the two outer positions.
The BMW 2 Series Gran Coupe hadn't been assessed by ANCAP or Euro NCAP at the time of writing.
Ownership
Alfa Romeo 4C
6/10
If you're hoping that a 'simple' car like the 4C will mean low ownership costs, you might be disappointed in this section.
The Alfa Romeo website service calculator suggests that over 60 months or 75,000km (with service intervals set every 12 months/15,000km), you will have to fork out $6625 total. For a breakdown, the services cost $895, $1445, $895, $2495, $895.
I mean, that's what you get when you buy an Italian sports car, I suppose. But consider you can get a Jaguar F-Type with five years of free servicing, and the Alfa looks like a rip-off. 
The Alfa does, however, come with a three-year/150,000km warranty plan, which includes the same cover for roadside assist.
---
BMW 2 Series
7/10
BMW offers a three year/unlimited km warranty, which is off the pace with the majority of mainstream brands stepping up to five-year cover, with some at seven. And the pressure is on with Mercedes-Benz announcing its shift to five years/unlimited km.
That said, the BMW's body is warranted against rust (perforation) for 12 years/unlimited km, and roadside assistance is provided free-of-charge for three years/unlimited km.
Maintenance is 'condition based' with sensors and on-board algorithms (mileage, time since last service, fuel consumption, driving style) determining whether an annual vehicle inspection or oil service is required.
The 'BMW Service Inclusive' package, offering a single, one-off advance payment to cover selected service and maintenance costs, is available in two levels - 'Basic' or 'Plus.'