Like its size or not, the Kia Picanto is a relatively rare offering which is also great value. The base S, for example, starts from just $14,390 before on-road costs, which makes it the second cheapest brand new car on sale in Australia (pipped, just, by the soon-to-be discontinued Mitsubishi Mirage ES).
Imagine how taken aback I was to discover that this incredibly affordable little car has wireless Apple CarPlay and wireless Android Auto (an Australian first) on its giant 8.0-inch touchscreen. Amazing. This is a feature we were surprised came on a $50k Audi Q3, and here it appears on what could soon be Australia's cheapest brand-new car.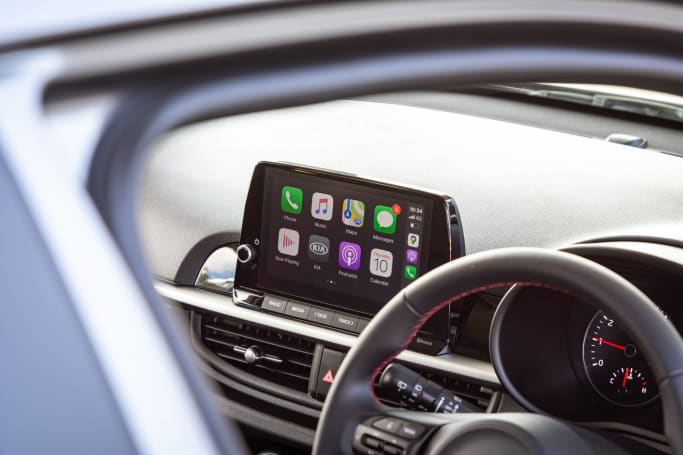 The Picanto features a giant 8.0-inch touchscreen (pictured: 2021 Picanto GT-Line).
The base S also has 'upgraded' (but still dull) halogen headlights, and a full colour multi-function display in the dash cluster. The same cloth seats, 14-inch steel wheels, plastic steering wheel, and basic air conditioning also feature.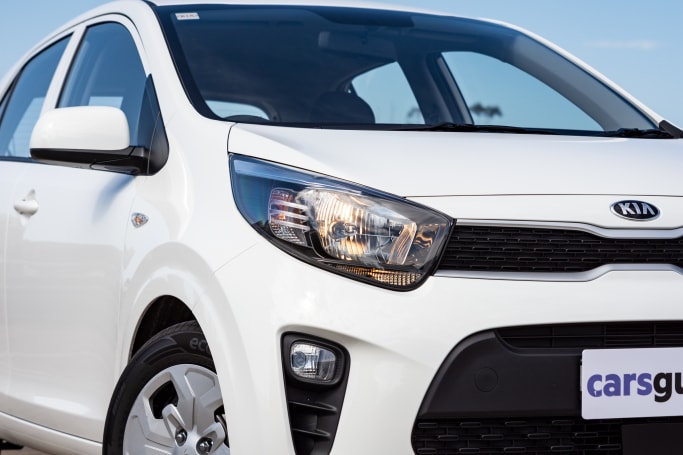 The base S has 'upgraded' (but still dull) halogen headlights (pictured: 2021 Picanto S).
Next rung up is the GT-Line starting from $16,140. It gets re-designed and more aggressive styling front and rear, a set of upgraded projector headlights and LED DRLs, 16-inch alloy wheels, a better interior treatment including gloss finishes, soft-touch surfaces, as well as a leather bound wheel and leather-look seats, alloy pedals, and a centre console box.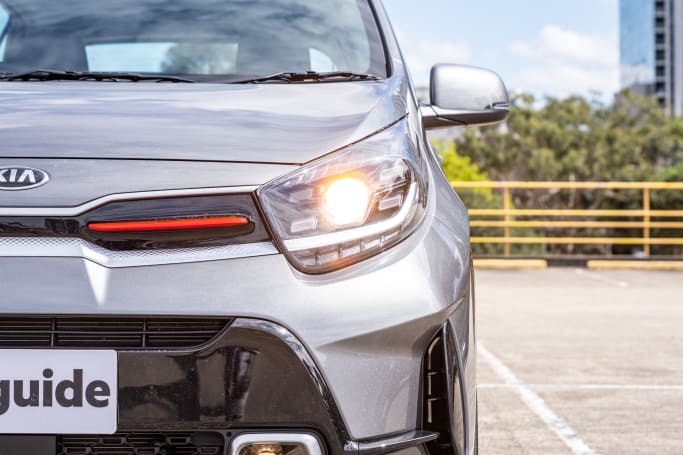 The GT-Line gets a set of upgraded projector headlights (pictured: 2021 Picanto GT-Line).
A somewhat antiquated four-speed (torque converter) automatic transmission can be optioned to replace the standard five-speed manual at a $1600 premium on either variant.
Both cars also get a decent safety suite (with a caveat) explained later in this review, and as always this car's lengthy seven-year warranty is a major draw.
The top-spec GT manual will also return later this year at $18,990 and will include a slightly revised 1.0-litre three-cylinder engine and five-speed manual at $18,990. Final spec hasn't been locked in for this halo variant, so stay tuned for a single car review when it becomes available.
How does the Picanto compare to rivals other than the Mirage? You could compare it against the increasingly popular MG3 Core (auto-only from $17,190) or similarly-sized Suzuki Ignis GL (from $16,960).