Toyota Prius C
Pricing and Specs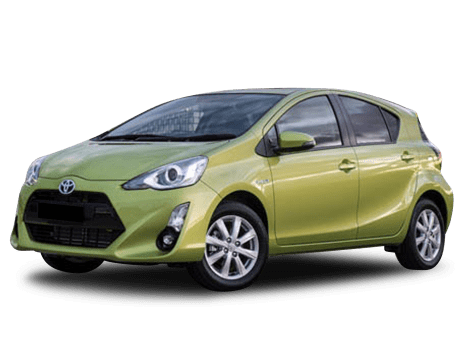 2020
From $24,040
Based on Manufacturer's Suggested Retail Price (MSRP)
2012 to 2019
$7,400 - 26,510
Interested in a Toyota Prius C?
Book A Test Drive
Current Offers
Locate A Dealer

Insurance Quote

Get Unsecured Car Loan
| Year | Price From | Price To |
| --- | --- | --- |
| 2021 | $24,040 | $26,540 |
| 2020 | $24,040 | $26,540 |
| 2019 | $17,200 | $26,510 |
| 2018 | $15,800 | $24,310 |
| 2017 | $14,400 | $22,880 |
| 2016 | $13,100 | $20,350 |
| 2015 | $11,000 | $19,030 |
| 2014 | $9,900 | $15,620 |
| 2013 | $8,800 | $13,750 |
| 2012 | $7,400 | $11,660 |
* Manufacturer's Suggested Retail Price
Toyota Prius C FAQs
Check out real-world situations relating to the Toyota here, particularly what our experts have to say about them.
Which 4x4 Dual Cab ute should I buy?

The very fact that you're looking at two vehicles that fit into your budget but have travelled such vastly different distances should tell you all you need to know about the Nissan. Frankly, the Navara D22 and D40 don't age well. In fact, many owners have found out the hard way that a Navara just can't match the Toyota HiLux of this vintage for longevity and the ability to cop punishment over time.

I'm certainly not saying that the HiLux was perfect, but compared with the Navara's litany of faults and problems that covered everything from rattling timing chains to coolant leaks and odd design elements such as the bottom of the radiator being lower than the lowest part of the chassis cross-member (not good for off-road work) the Toyota was much better. Granted the Navara you're considering has very low mileage, so it should be okay for a while…just about till you hand it over to your son to break.

Show more

Can I replace the master cylinder on my 2000 Toyota Prado with a second-hand one?

The brake master cylinder fitted to your Prado uses an accumulator to ensure that there's always some brake pressure available to enable the ABS braking to work instantaneously and seamlessly. You should be able to hear the pump running (probably the gurgling sound you're reporting) from time to time, but not every time you press the brake pedal.

You may need a new master cylinder, but it's also possible that there's air in the system and it requires bleeding. There's a specific procedure for bleeding this type of master cylinder, and it's not the same as that for a conventional vacuum-boosted master cylinder.

In any case, your information that nobody reconditions these units any longer is incorrect. There's an operation called Injectronics that can, indeed, recondition and test your existing master cylinder, usually for less than $2000. That, I would suggest, is your best path forward. Check out injectronics.com.au

Show more

Will Toyota make a 3.3 litre diesel V6 engine in the Fortuner?

As far as we know, the V6 turbo-diesel widely tipped to power the next LandCruiser (the 300 Series) is still just a maybe for the HiLux range. And even if it did make it into the HiLux, it would almost certainly be restricted to a sporty GR badged version as Toyota leverages its Dakar rally experience into a marketing role. With that in mind, the V6 would be an unlikely starter for the Fortuner which is aimed much more closely at families and, for whom, seating capacity and running costs are far more important than the ability to get to 100km/h in a hurry.

Even then, there's plenty of historical evidence to suggest that a V6 turbo-diesel HiLux will remain just an idea (a nice one, though). Toyota has never really taken the opportunity to share engines between its HiLux and full sized (ie: Not the Prado) LandCruiser ranges. With a couple of notable exceptions (all of them petrol-powered) the HiLux has remained a four-cylinder vehicle throughout its life. And when Toyota did build a (petrol) supercharged V6 HiLux tagged the TRD back in 2008, it was a sales flop.

In any case, a hot-rod Fortuner is probably not on the cards despite the HiLux and Fortuner sharing a lot of engineering and componentry.

Show more
See All Toyota FAQs
Disclaimer: You acknowledge and agree that all answers are provided as a general guide only and should not be relied upon as bespoke advice. Carsguide is not liable for the accuracy of any information provided in the answers.
Interested in a Toyota Prius C?
Book A Test Drive
Current Offers
Locate A Dealer

Insurance Quote

Get Unsecured Car Loan