2021 Nissan Patrol
Pricing and Specs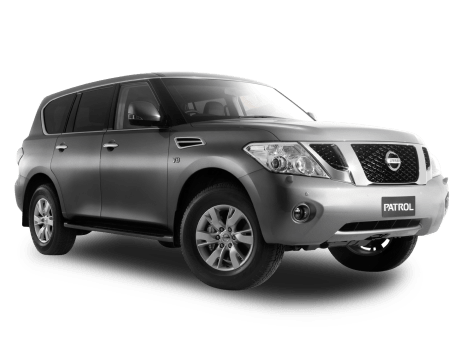 Pricing starts from
$77,760
Based on Manufacturer's Suggested Retail Price (MSRP)
The Nissan Patrol 2021 prices range from $77,760 for the basic trim level SUV Patrol Ti (4x4) to $92,790 for the top of the range SUV Patrol Ti-L (4x4).
The Nissan Patrol 2021 is available in Premium Unleaded Petrol.
Interested in a Nissan Patrol?
Book A Test Drive
Locate A Dealer
Download A Brochure

Insurance Quote

Get Secured Car Loan
SUV
Nissan Patrol Models
SPECS
PRICE
Ti (4x4)

5.6L

PULP

Premium Unleaded Petrol

7 SP AUTO

7 speed automatic

$77,760

Ti-L (4x4)

5.6L

PULP

Premium Unleaded Petrol

7 SP AUTO

7 speed automatic

$92,790
* Manufacturer's Suggested Retail Price
Nissan Patrol FAQs
Check out real-world situations relating to the Nissan Patrol here, particularly what our experts have to say about them.
Nissan Patrol 2006: How much is it worth?

That's an awful lot of money for a 2006 Nissan Patrol, Heather, but there are a couple of mitigating factors. The first is the incredibly low mileage and if there's a GU Patrol out there with fewer kilometres showing, then I'd be a bit surprised.

The second thing in the car's favour is that it has the mighty 4.8-litre petrol six-cylinder engine which is one of the best towing engines ever made for a passenger vehicle. A Patrol with that engine will always find a buyer even if, at $18,000, it's right at the top of the price ladder. Then again, given that it represents more or less a brand-new 2006 Patrol (and this model was a cool $80,000 on the road back in the day) maybe $18,000 is a steal. Depends on how you look at it.

The only caveat is that it will use lots and lots of fuel and double that amount if you tow a caravan with it.

Show more

Nissan Patrol: Resale value

Wow, that's a rare beast, Tom. It's also a bit of a unicorn and, since no two converted Patrol tippers were the same (more or less) there are no hard and fast rules on what they're worth second-hand.

From the sound of things, yours is in very nice condition and has low kilometres, so they're both good selling points. But from a buyer's point of view, I'd want to know that the vehicle has been properly engineered (as these were converted to tippers by third party modifiers, rather than Nissan itself) and that it has all the paperwork necessary to obtain a roadworthy certificate and be legally registered. What your insurance provider will make of such a vehicle is up to them, but it's another consideration for would-be buyers.

As for a price guide, the only similar vehicle I could find for sale at the moment was around the $20,000 mark. But this is a classic case of a vehicle being worth precisely what somebody else will pay for it.

Show more

What is the best tow vehicle to buy?

The GQ Patrol was a tough old bird, but it's old and buying one now is a gamble. You could consider a Toyota Landcruiser, but again your budget will limit you to an older vehicle and that is always a risk. You could perhaps consider fitting power steering to the XF ute.

 

Show more
See All Nissan Patrol FAQs
Disclaimer: You acknowledge and agree that all answers are provided as a general guide only and should not be relied upon as bespoke advice. Carsguide is not liable for the accuracy of any information provided in the answers.
Interested in a Nissan Patrol?
Book A Test Drive
Locate A Dealer
Download A Brochure

Insurance Quote

Get Secured Car Loan