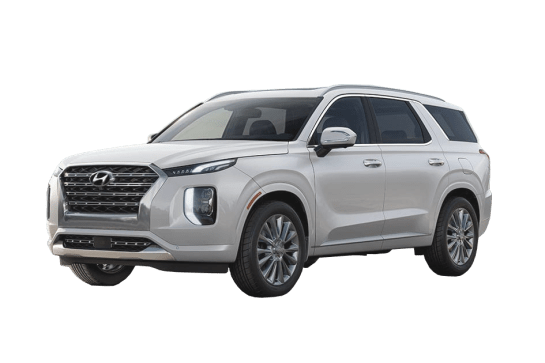 Hyundai Palisade Models Price and Specs
The price range for the Hyundai Palisade varies based on the trim level you choose. Starting at $55,700 and going to $75,700 for the latest year the model was manufactured. The model range is available in the following body types starting from the engine/transmission specs shown below.
Year
Body Type
Specs
Price from
Price to
2022
SUV
3.8L, ULP, 8 SP AUTO
$55,700
$75,700
2021
SUV
3.8L, ULP, 8 SP AUTO
$44,400
$77,330
2020
SUV
3.8L, ULP, 8 SP AUTO
$50,700
$74,580
See All Hyundai Palisade Pricing and Specs
Hyundai Palisade Q&As
Check out real-world situations relating to the Hyundai Palisade here, particularly what our experts have to say about them.
Which popular mid to large SUV is best for a family?

This is a really interesting question, because most car-makers tend to quote their products' luggage capacity in litres, rather than a set of dimensions in each direction. Even then, it's not that simple as there are different methods fort calculating the cubic capacity of a load space, and the two methods are not readily comparable. It's also a bit of a con-job, because a figure in litres mean very little to most people, while actual measurements in centimetres would be much more relatable.

In any case, since you obviously have two kids with cellos and school-bags, it's clear that you'll also need the rear seat for at least one passenger, so you need to find a vehicle that either has enough space in the rear with the first two rows of seats in place, or a car that has a split-fold rear seat to allow longer loads (like a cello or two) to pass from the luggage area into the rear seat space. The good news there is that many (if not all) SUVs do, in fact, have this split-fold seat, and that will surely accommodate even a full-sized cello which, after a bit of scratching around, I discovered is about 121cm long.

If, however, you need to occupy the whole rear seat with passengers, then you need to find an SUV that is wide enough to accept the cellos loaded across (or diagonally across) the car. That won't be easy, because most vehicles just aren't that wide inside. Even a conventional full-sized car-based Holden or Ford utility (which aren't being made any longer) is only about 1400mm wide. And if you check out something like a Hyundai Santa Fe, it's load area with the third row is feats down is just 1080mm at its narrowest point. Even the huge Hyundai Palisade is just 1111mm across the narrowest point of its load area. There will be areas where the space is wider, but that narrowest point is usually between the rear wheel-arches.

I'll also take a punt and suggest that the cellos in question are either in carry-bags or even hard-cases which would add even more to their length. So you might find it very difficult to find anything that will accommodate a 1.2 or 1.3 metre cello lengthways in the luggage area without resorting to folding down half the second-row seat. Even a big car like a Volvo XC90 has just 1220mm of load length with the rear seat in place, and mid-sized station-wagons typically have less than a metre between the tailgate and the rear seat. The best idea might be to make a short-list of cars you'd be happy with and then visit the relevant showrooms with a tape measure (or even a cello) in your hand.
See All Hyundai Palisade Q&As
Hyundai Palisade Colours
The entry-level Palisade is available in five colours - 'White Cream', 'Sierra Burgundy', 'Moonlight Cloud', 'Steel Graphite', and 'Timeless Black'
White Cream
Sierra Burgundy
Moonlight Cloud
Steel Graphite
Timeless Black
Rain Forest
Hyundai Palisade Dimensions
The dimensions of the Hyundai Palisade SUV vary according to year of manufacture and spec level.
Year
Body Type
Height x Width x Length
Ground Clearance
2022
SUV
1750x1975x4980 mm
203 mm
2021
SUV
1750x1975x4980 mm
203 mm
2020
SUV
1750x1975x4980 mm
203 mm
See All Hyundai Palisade Dimensions
Hyundai Palisade Seats
There are eight seats in the Hyundai Palisade but you can option in seven. In the base model the seats are leather and very comfortable. There are five top tether points in the back two rows to fix kids car seats in.

Hyundai Palisade Towing Capacity
The Hyundai Palisade has maximum towing capacity of 2200kg for the latest model available.
Year
Body Type
Braked Capacity from
Braked Capacity to
2022
SUV
2200kg
2200kg
2021
SUV
2200kg
2200kg
2020
SUV
2200kg
2200kg
See All Towing Capacity for Hyundai Palisade
Hyundai Palisade Fuel Consumption
The Hyundai Palisade is available in a number of variants and body types that are powered by Diesel and ULP fuel type(s). It has an estimated fuel consumption starting from 7.3L/100km for SUV /Diesel for the latest year the model was manufactured.
Year
Body Type
Fuel Consumption*
Engine
Fuel Type
Transmission
2022
SUV
7.3L/100km
2.2L
Diesel
8 SP AUTO
2022
SUV
10.7L/100km
3.8L
ULP
8 SP AUTO
2021
SUV
7.3L/100km
2.2L
Diesel
8 SP AUTO
2021
SUV
10.7L/100km
3.8L
ULP
8 SP AUTO
2020
SUV
7.3L/100km
2.2L
Diesel
8 SP AUTO
2020
SUV
10.7L/100km
3.8L
ULP
8 SP AUTO
See All Hyundai Palisade Pricing and Specs for 2022
Hyundai Palisade Accessories
The Hyundai Palisade comes with Apple CarPlay and Android Auto, 18-inch alloy wheels, 10.25-inch multimedia touchscreen, Infinity audio system with 12 speakers, plus LED daytime running lights.
Hyundai Palisade Wheel Size
The Hyundai Palisade has a number of different wheel and tyre options. When it comes to tyres, these range from 245x60 R18 1 for SUV in 2022.
Year
Body Type
Front Tyre Size
Front Rim
Rear Tyre Size
Rear Rim
2022
SUV
245x60 R18 1
—
245x60 R18 1
—
2021
SUV
245x60 R18 1
—
245x60 R18 1
—
2020
SUV
245x60 R18 1
—
245x60 R18 1
—
See All Hyundai Palisade Wheel Sizes
Hyundai Palisade Boot Space
The Plaisade's boot is large. With all three rows in use you'll get 311L of space which is big for an SUV with three rows. With the third row down, boot size ramps up to 704L and you'll be able to fit loads of things in, from suitcases to double prams to sporting equipment.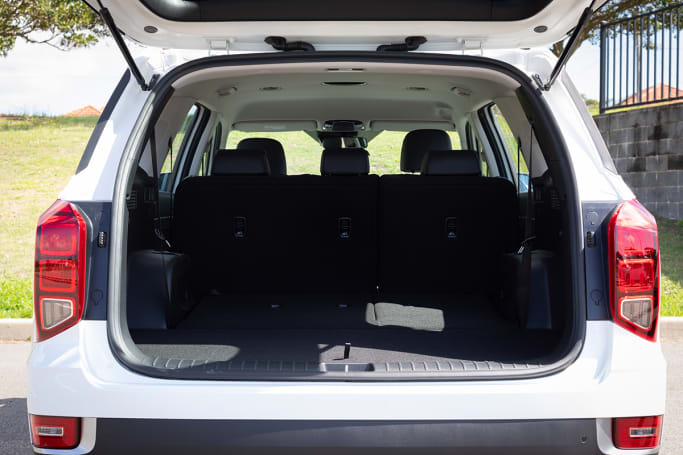 Hyundai Palisade Speed
Expect a 0-100km/h acceleration time for the base Palisade diesel eight-seater of around 10 seconds.