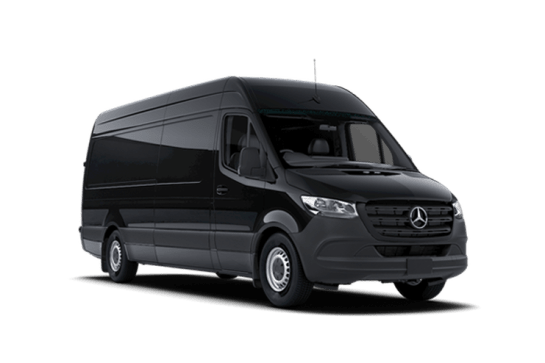 COMPARE
Mercedes-Benz Sprinter
VS
Toyota Hiace
Mercedes-Benz Sprinter
Likes
Smooth diesel power
Comfy, practical cabin
Passenger-car tech
Dislikes
Loud with windows down
360-degree camera would need to land as standard
Much hyped new voice control can be... patchy
---
Toyota Hiace
Likes
Hugely improved over predecessor
Class-leading safety
Better engines than before
Dislikes
More expensive
No barn doors available
Could be too large for some customers now
Summary
Mercedes-Benz Sprinter
On the commercial side of the Mercedes-Benz business, a new Sprinter van is talked about in the same revered tone as a new S-Class. Seriously; the company's best-selling van has the same flagship aura about it as the uber-luxe limousine.
Even in Australia - where it wears a price premium over most competitors - Mercedes says it has managed to cling to the top sales spot in the large-van segment for more than two decades. But in Europe (and especially Germany) it's even more ubiquitous - they are absolutely everywhere.
This 2019 update is kind of a big deal, then. And with a new (and cheaper) FWD variant, overhauled cabin technology that now mirrors the best of the passenger-car range, and new safety offerings like AEB, active cruise and a 360-degree camera, Benz reckons this new model will bite off an even bigger share of the market.
And so we took the Sprinter for a quick spin ahead of its Q4 Australian launch to see if they're right.
| | |
| --- | --- |
| Safety rating | — |
| Engine Type | 2.1L turbo |
| Fuel Type | Diesel |
| Fuel Efficiency | —L/100km |
| Seating | 3 seats |
---
Toyota Hiace
The Toyota HiAce has become a staple of Aussie culture. More than 335,000 of them have been sold here since 1979.
But no-one really wants to drive a HiAce, do they? It's a work van. A box on wheels, typically white, and often unwashed. And for the past 15 years the HiAce has barely changed - though that hasn't stopped it from being the go to option for tradies and couriers. It's been number one on the sales charts for pretty much that whole time.
But now there's stiff competition, and more of it - Renault, Peugeot, Ford, VW and Hyundai are all eager to get their slice of the van sales pie.
So how does this all-new HiAce stack up? And why does it now have a bonnet? Read on to find out.
| | |
| --- | --- |
| Safety rating | |
| Engine Type | 2.7L |
| Fuel Type | Regular Unleaded Petrol |
| Fuel Efficiency | 9.8L/100km |
| Seating | 2 seats |
Verdict
Mercedes-Benz Sprinter
8/10
If it was any more practical it would do the loading and unloading for you, but there's also no obvious penalty for driving a commercial vehicle here. It's comfortable, quiet and now offers better interior technology than even most Benz passenger cars.
And with a cheaper entry point now on offer, the Sprinter should have absolutely no problem holding onto its top sales spot.
Would you buy any van other than a Sprinter? Tell us in the comments.
---
Toyota Hiace
8/10
There is no doubt that the new Toyota HiAce has been worth the wait. Owners and drivers of the previous-generation model won't know themselves when they sit inside the new version, the improvements are that big and that plentiful.
It has been the number one seller in the segment for a long for a reason - and now there are even more reasons for it to retain its top spot... provided a compact body isn't one of your priorities, because it's considerably bigger than before.
We can't wait to see how it compares to its rivals - we'll aim to get all of the main names together for a comparison test later this year.
Design
Mercedes-Benz Sprinter
8/10
It's a vast and slab-sided thing, of course, and practicality takes priority over design, but in the world of full-size vans, the Sprinter is a rather handsome beast.
Up front, the optional three-column LED headlights separate the massive horizontal slats of the grille, while sharp contours running the edge of the bonnet create a kind of power dome in the centre. It's a pretty dominant design, and it definitely lends the Sprinter a strong road presence.
But there's only so much crayon work you can do with a commercial vehicle, so, unsurprisingly, the Sprinter looks... a lot like a van. Lighter colours - and grey especially - look best, highlighting the subtle contours and making it look a little less blocky and heavy.
The cabin, though, looks properly great; a customisable blend of form and function (exactly how much of either is up to you) that - thanks to Mercedes' cool MBUX system and Touch steering wheel - feels like it could belong in a passenger car rather than a workaday van.
The materials are geared toward wear and tear, though, with fabric seats and hard plastics liberally splashed about the cabin.
---
Toyota Hiace
8/10
Like all new models that have seen a pretty dramatic front design change, it might take a while for you to come to grips with the new look of the HiAce, which now has a 'semi-bonnet'.
The protuberance at the front not only improves cabin comfort and ease of maintenance, it also helps improve the safety standards in the new Toyota van. There's a better frontal impact zone which this time doesn't include the driver's knees.
Look, I think the previous HiAce looked a bit mean. It was unapologetic in its boxiness, and it aged really well. It isn't often a vehicle lasts a decade and a half without any major changes.
Make what you will of the front design, which has halogen headlights (no LED daytime running lights or LED headlights, which is a bummer) and the choice of either the hard-wearing black bumpers, or colour coded bumpers if you option them.
In a first for the segment, there's a digital camera monitor rearview mirror that is optionally available - it uses a camera on the back of the van with a live link to the switchable rear-vision mirror, which means that if you've got a full load of people or parcels obscuring your view, you can use the live feed from the camera instead. It's brilliant.
The good news for buyers is that there's still plenty of choice when it comes to size and spec. There's the existing 6.2-cubic-metre LWB (long wheelbase) version, or the SLWB (super long wheelbase) with 9.3 cubic metres of cargo space.
The dimensions are dramatically different, though. No longer is this the sort of van that'll slot into a tight city parking space.
In LWB guise it now measures 5265mm long, 1950mm wide and 1990mm tall (compared to 4695mm long, 1695mm wide and 1980mm tall). And the wheelbase has been stretched by a massive amount - up from 2570mm to 3210mm.
The SLWB version is huge, at 5915mm long, 1950mm wide and 2280mm tall (compared to the existing model's 5380mm length, 1880mm width and 2285mm height). Likewise, the wheelbase has jumped from 3110mm to 3860mm.
There is no hiding the size changes, and there has been an impact inside the cabin, too. See the interior photos below to get an idea.
Practicality
Mercedes-Benz Sprinter
9/10
It's available in in four sizes (five if you include cab chassis) and with three roof heights, so just how practical your Sprinter arrives is going to be up to you.
Benz reports total storage space can be up to 17 cubic metres, depending on configuration. The front-wheel-drive version is now eight centimetres lower at the back, too, making it a little easier to load.
Mercedes is yet to confirm the full load-carrying spec for Australian cars, but consider this; even the smallest and most underpowered model in the outgoing range could carry more than a tonne and tow in excess of 2000kg (braked), and those numbers are unlikely to have gone backwards. But then, that the big and cavernous Sprinter can carry stuff will surprise absolutely no-one.
The cabin is a super-clever mix of storage spots and hidey-holes, but special mention must go to the phone-sized slots in the dash for both passenger and driver, as well as the extra storage at head height, dash height and in the centre console.
---
Toyota Hiace
9/10
Any mid-sized van has to put practicality at the forefront, with enough storage and cabin smarts to make living with it day to day not just amenable, but enjoyable if possible.
Not only that, it should be easy to get in and out of. The ingress and egress of the existing HiAce was hampered by the fact you sat on top of the engine and had to climb over the wheel arch. That's not the case this time around, and the seat height has been lowered by 50mm, with a much, much better driving position as a result.
The seat itself is comfortable for the driver, with six-way adjustment and a level of support and comfort that the previous model was nowhere close to - trust me, I drove it back-to-back, and the difference is night and day. Plus that lower hip entry point makes for a much easier entry and exit if you happen to do that a lot in your day to day use of the van.
The materials used are all of a decent quality, and Toyota has thought of storage options, too, with a number of cup and bottle holders across the dash and in the doors as well. There's no centre storage area or arm rest unless you buy the Crew van or the Commuter bus.
There are two seats up front in all models sold here, but you can get a Crew Van model with a second row seat setup consisting of three positions (with two ISOFIX child-seat anchor points and even curtain airbag protection).
As for infotainment, there's Toyota's 7.0-inch touch screen media system with FM/AM/DAB digital radio, a CD player, a single USB input, Bluetooth phone and audio streaming and voice control. This screen is able to be retrofitted with Apple CarPlay and Android Auto, which will be offered from the fourth quarter of 2019. Purchasing before then? It'll be free to add those smartphone mirroring apps.
That's the front of the cabin - in the rear there's a bit to talk about, too.
All HiAce van models come with dual sliding doors, including glazing on the passenger side. Lots of rivals ask you to pay extra for a sliding door on the driver's side.
The rear door situation isn't as impressive - at launch, and for the foreseeable future, there won't be barn doors available. That could rule this vehicle out for you, especially if you typically fork loads in - the side door apertures are 990mm wide on the LWB model, but there's a 1250mm door gap on the SLWB, meaning you can side-fork a pallet in.
Here are the cargo dimensions for each of the different versions of the HiAce van - remember, the SLWB model also gets a high roof as standard:
| | | | | | |
| --- | --- | --- | --- | --- | --- |
|   | Cargo length | Cargo width | Width between wheel arches | Cargo height | Cargo volume |
| HiAce LWB | 2530mm | 1760mm | 1268mm | 1340mm | 6.2m3 |
| HiAce LWB Crew | N/A | 1760mm | 1268mm | 1340mm | N/A |
| HiAce SLWB | 3180mm | 1760mm | 1268mm | 1615mm | 9.3m3 |
Payload capacity varies depending on the model. Here's a weight table - I promise it's easier than trying to read the figures.
| | | | |
| --- | --- | --- | --- |
|   | Kerb weight | Gross vehicle weight | Payload |
| LWB petrol manual | 1720kg | 3200kg | 1080kg |
| LWB petrol auto | 1735kg | 3200kg | 1065kg |
| LWB diesel manual | 1835kg | 3300kg | 965kg |
| LWB diesel auto | 1845kg | 3300kg | 955kg |
| LWB Crew diesel auto | 1925kg | 3300kg | 875kg |
| SLWB petrol auto | 1905kg | 3200kg | 1295kg |
| SLWB diesel auto | 2025kg | 3200kg | 1175kg |
| Commuter diesel auto | 2215kg | 3250kg | 1035kg |
All van models come with six tie-down points, while the Crew model has four tie-downs.
Price and features
Mercedes-Benz Sprinter
8/10
The big news here is the introduction of a new entry point to the Sprinter range, a (first for this van) FWD model that is also offered with a new, nine-speed gearbox.
Mercedes is yet to confirm pricing or full specification for the updated Sprinter, but it reckons we can expect to see the FWD model lop about $5k off the starting price, lowering the entry point for an automatic SWB vehicle to around $42k (and about $39k for a manual).
That would bring it much closer to the heart of its segment - the Renault Master, for example, will set you back about $35k for a SWB with a manual gearbox.
The Sprinter will arrive in a standard specification across the range (SWB, MWB, LWB and XLWB) with plenty of personalisation options from there. And we do mean plenty; Benz reckons there are about 1700 possible variations.
New for this update is Benz's very cool 'MBUX' multimedia system (the one in the spanking new A-Class), which will be operated via a 7.0-inch screen as standard, with a 10.25-inch screen a cost option. The MBUX setup uses the same AI-enabled voice recognition system as the A-Class - meaning you can talk to it without using pre-defined key words, although it's still far from flawless - and it pairs with a six-speaker stereo.
The system joins Merc's heavily redesigned 'Touch' steering wheel as the standout new features. Apple CarPlay and Android Auto are yet to appear, but Benz tells us it's coming post launch, and will likely be rolled out as a no-cost option.
---
Toyota Hiace
6/10
Prices are up on all models in the HiAce range, but as we've covered up above, you're getting more metal for your money.
Here's a price list to make it easier to figure out the model range, and an indication how much the model range has increased in cost this time around.
| | | | | |
| --- | --- | --- | --- | --- |
| Variant | Petrol manual | Petrol auto | Diesel manual | Diesel auto |
| LWB | $38,640 (up $4170) | $40,640 (up $3110) | $42,140 (up $4610) | $44,140 (up $4060) |
| LWB Crew | - | - | - | $47,140 (up $5020) |
| SLWB | - | $48,640 (up $2950) | - | $52,140 (up $2880) |
| Commuter | - | - | - | $67,140 (up $4110) |
| Commuter GL | - | - | - | $70,140 (new) |
All LWB and SLWB van models come with dual rear sliding doors (passenger side glazed), 16-inch steel wheels with a full-size spare, auto headlights (with auto high beam), as well as halogen headlights, tail-lights and daytime running lights.
The interior gear consists of a 4.2-inch multi-info display with digital speedometer and trip meter, a leather-accented steering wheel with reach and rake adjustment, fabric seat trim, sunglass holder, two 12-volt DC sockets, USB and auxiliary ports, a two-speaker stereo system and the aforementioned 7.0-inch media screen with sat nav.
The LWB Crew model adds halogen front fog lamps, body coloured front and rear bumpers with colour-coded door handles, chrome garnishes front and rear, and dual sliding rear doors with opening windows. Of course, this version also gets a second-row three-seat bench with 60:40 folding and two ISOFIX points, along with a rear step light and a centre console tray for extra front cabin storage that also includes rear seat air vents. The Crew model also gets the digital rear view mirror with auto-dimming function as standard.
The Commuter model is a 12-seat bus, a passenger-side sliding door, full-length windows, a roof escape hatch, interior lighting, a four-speaker stereo, air conditioning vents for all positions. It misses out on front side and full-length curtain airbags, though.
There's a GL version of the Commuter which gets LED daytime running lights, halogen fog lights, body coloured bumpers and door handles, chrome finishes, a power side door, increased insulation and acoustic glass, 16-inch alloy wheels, fake leather seat trim, six rear USB ports, eight reading lights, a rear air-con panel, a six-speaker stereo and the digital rear view mirror.
Customers who wish to have colour-coded bumpers can option them for $600, and the digital rear view mirror and front fog lamps can be had for $1000, or the lot can be bundled for a cost of $1600.
Of course there are dozens of accessories for the new HiAce, most of which have been designed and developed in Australia. Items like the internal ladder rack, exterior ladder rack, floor mats, aluminium interior panels, aluminium window protectors, and there's a conduit caddy for the roof rack system, too.
Colours for the new HiAce range are limited by class standards. There are three options for the work van models - French Vanilla (white), Quicksilver Mica (not for the Commuter model) and Goldrush Metallic (champagne - only for SLWB). The Commuter GL versions have Light Blue Armour and Goldrush (champagne) metallic options. For context, you can choose from more than 100 colours if you're buying a Ford Transit Custom.
So for this section the HiAce scores a 6/10, but it makes up for it when you consider the standard safety equipment - see the section below.
Engine & trans
Mercedes-Benz Sprinter
8/10
Aside from the new nine-speed automatic offered in the FWD version, the engines and transmission options are carried over from the current models, although they do now offer a little more oomph.
That means a 2.1-litre diesel good for 84kW and 250Nm, 105kW and 330Nm, or 120kW and 360Nm, as well as the diesel V6 that produces 140kW and 440Nm. They're paired with a six-speed manual or seven-speed automatic in RWD versions, while the FWD can now choose the new gearbox.
---
Toyota Hiace
8/10
Things have changed under the bonnet for the new-generation HiAce - there's a choice of two new engines.
The most popular will be the 2.8-litre turbo-diesel four-cylinder engine, which is familiar from the HiLux, Fortuner and Prado. In this application it has a diesel particulate filter with a manual burn-off switch, and - for the first time for this diesel engine - there's start-stop technology that shuts the engine down in traffic to save fuel.
With the six-speed automatic transmission in the van range the diesel motor produces 130kW of power (3400rpm) and 450Nm of torque (1600-2400rpm). With the six-speed manual the power is still 130kW, but torque is lower, at 420Nm (1400-2600rpm).
The Commuter version of the HiAce has a detuned diesel-auto drivetrain, with 120kW (at 3600rpm) and 420Nm (1600-2200rpm).
The other powertrain is the horsepower hero - a 3.5-litre petrol direct-injection V6 with the choice of a six-speed manual or six-speed automatic. It offers up 207kW of power at 6000rpm and 351Nm of torque at 4600rpm.
For context, that puts the petrol engine at an advantage of 75 per cent for power and 44 per cent for torque compared to the existing 2.7-litre four-cylinder... but there is a price to pay in terms of fuel economy. See below for more on that.
Braked towing capacity is rated at 1900kg for the manual diesel van, 1500kg for the diesel-auto and petrol-auto models, and 1400kg for the petrol manual. The unbraked capacity is 750kg on all models.
Fuel consumption
Mercedes-Benz Sprinter
7/10
Mercedes is yet to confirm fuel use for the 84KW engine, but the mid-spec diesel will use 8.0L/100km - the very same as the most powerful 120kW option in the four-cylinder range. Updated numbers for the big 3.0-litre V6 haven't been revealed yet, either. 
All those numbers are calculated on the claimed combined cycle.
---
Toyota Hiace
7/10
Diesel vs petrol - you may not even consider weighing up the options, because there's something to be said of diesel fuel economy compared to petrol fuel use.
The diesel manual LWB model uses a claimed 7.5 litres per 100 kilometres (previously 8.1L/100km), and the most popular version - the diesel auto LWB - has claimed combined cycle fuel consumption of 8.2L/100km (previous model: 8.7L).
Choose a LWB Crew or SLWB van - both of which are diesel-auto only - and claimed fuel use is 8.4L/100km (previously 9.2L).
As for petrol consumption, the figure is 12.4L/100km for the manual, and 12.0L/100km for the auto. The existing four-cylinder petrol had consumption of 9.8L (auto) and 10.1L/100km (manual).
Fuel tank capacity is 70 litres, no matter which model you choose. There's no long range fuel tank available.
Driving
Mercedes-Benz Sprinter
9/10
It's utterly car-like. There's really no other way to describe it. Despite the fact you're dragging a cargo area big enough to swallow an Ikea showroom, the mass is largely unnoticeable from the driver's seat. In fact, if it wasn't for the way the sky-high driving position perches you above the steering wheel, it would be very easy to forget you're driving a van at all.
We only sampled one drivetrain combination - the 2.1-litre diesel paired with the seven-speed transmission, both of which carry over from the outgoing model, housed in a mid-wheelbase version - and  the engine proved smooth and refined, gathering speed with nary a clatter or rattle in the cabin. It's not overly quick, but the low-down urge of the 360Nm (it appears at 1400rpm) is plenty willing to drag the Sprinter away from the lights.
With the window down, the diesel noise is far more noticeable, but the sound insulation does a great job of locking the noise outside when the cabin is sealed.
Even the steering feels surprisingly responsive, but with a reassuring lack of sharpness that mirth otherwise have you feeling like you're about to topple over. In a moment of pure madness, we pointed the Sprinter's massive nose at a climbing, twisting road, and while you're unlikely to win any hillclimb challenges,it doesn't feel overly top-heavy, either, and it will happily rumble to the top of most any mountain you should encounter.
Most importantly, though, the cabin is comfortable, mostly quiet, and feels less jittery or bouncy than plenty of dual-cab utes. With about 350 kilogram load on board, the ride was firm but not uncomfortable - exactly what we'd want from a van of this size.
And now, a small caveat. We were treated to a fairly limited test-drive on European roads that were ridiculously smooth, so we'll reserve full judgement on how the Sprinter responds to Australian conditions until it arrives locally in Q4 this year.
---
Toyota Hiace
8/10
It's so, so different to the previous model. And so it ought to be.
You sit in a much more comfortable position, and the ease of getting in and out is going to make for fewer sore backs.
And when you turn the key, there's less rumble, vibration and clatter from the engine... partly because you're not sitting on top of it, but partly because of the inherent refinement that the new diesel (and petrol) engine offers.
I got to drive the petrol manual, the diesel auto and the previous-generation version over the same test track at Toyota's Centre of Excellence in Melbourne, and it gave a great indication of how the new model performs.
If you're the kind of driver who is always in a hurry, the petrol could be perfect for you. It gathers pace with ease, easily out-accelerating the diesel. The auto will be even better than the manual, which has a rev-matching system and offers truly compelling range-opening model.
The diesel auto - which is the one about 90 per cent of customers will buy - is markedly better than its predecessor. It revs more smoothly, the transmission is smarter (six gears vs four will help!), and it's so, so much quieter in the cabin, too.
From the driver's seat you feel the extra width of the new model - not just because of how planted it feels on the road, but just the general airiness of its roomier cabin makes you feel like you've got room to move.
There's less thinking required when it comes to driving it, too. There's still hydraulic power steering, but its a bit lighter and more direct than before, meaning less arm work - a welcome change, as the existing version was a tiring thing to drive.
The turning circle has been increased - it was 10.0m for LWB models and is now 11.0m, while the SLWB versions were 12.4m and are now 12.8m - that's just physics, though, because the wheelbase has been stretch by roughly half a metre!
But it is very easy to manoeuvre, and no longer is there that odd "sitting in front of the turning wheels" feeling that the existing cab-forward version had. The visibility from the driver's seat is great, and on test, the safety systems worked a treat.
In terms of ride comfort, we might have to reserve judgment to a degree. Almost every model on test had a ballast over the rear axle of between 200 and 300 kilograms. The real test might come when its running around town with nothing in the cargo zone - but all indications suggested that the level of comfort and compliance is a great improvement over the previous model, and even up there with the best riders in the segment.
Safety
Mercedes-Benz Sprinter
8/10
Benz should be commended for rolling out AEB as standard across the range for this 2019 update, which also includes new side airbags for the front seats, joining the dual-front bags from the outgoing model.
Active lane-keep assist, blind-spot monitoring, active cruise and a 360-degree camera have also become available, but if and where they arrive as standard is yet to be confirmed. Expect cross-wind control to reappear, too.
The Sprinter has not undergone ANCAP crash testing.
---
Toyota Hiace
10/10
That's right - it gets 10 out of 10 for safety, because this model clearly sets the benchmark in the van segment.
The new-generation HiAce range has been awarded the maximum five-star ANCAP crash test rating - and it's the only van to have been tested under the safety watchdog's strictest criteria ever.
Standard on all models is forward collision alert with full-speed auto emergency braking (AEB) including day and night pedestrian detection and daytime cyclist detection. Plus there's lane keep assist, blind-spot monitoring, rear cross-traffic alert, road sign detection and alert, auto high beam headlights, and a reversing camera with front and rear parking sensors.
This thing is absolutely loaded - about the only thing it's missing is adaptive cruise control, which is arguably a convenience feature more than a safety nanny.
The airbag count is seven - dual front, front side, curtain and driver's knee protection included. The Commuter and Crew models also get curtain airbag protection.
Ownership
Mercedes-Benz Sprinter
7/10
The Sprinter arrives with a three-year, 200,000km warranty as standard, with service intervals pegged at 12 months or 20,000km. Roadside assist is included for the warranty period, but there's no capped-price servicing on offer.
---
Toyota Hiace
8/10
Toyota is now offering a five-year/160,000km warranty plan on all HiAce models used for commercial purposes, while private buyers enjoy five years/unlimited kilometres. That's good, but not great for the segment.
What gives it a bit of an advantage is that the drivetrain is covered for up to seven years if you have evidence of logbook servicing.
On that topic, the HiAce retains its shorter-than-expected six-month/10,000km maintenance intervals, which could mean a few days out of action if you cover a lot of kays in a year.
But the service costs are competitive: the petrol versions cost $180 per service, and diesel models are $240 per visit. That is for the duration of the three-year/60,000km capped price service plan, and Toyota has a widget on its website that allows you to calculate what the costs will be once that period is over.
If you have resale concerns, you really ought to forget them - the previous version had the best resale in its segment, according to Glass's Guide, with 68 per cent of retained value after four years.
Got questions over general faults, problems, concerns, reliability, durability, engine problems, transmission problems, clutch issues? Check out our Toyota HiAce problems page.