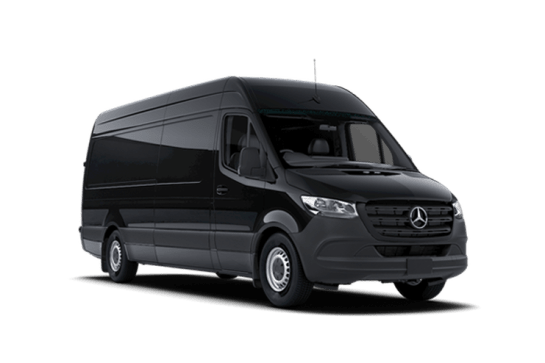 COMPARE
Mercedes-Benz Sprinter
VS
LDV T60
Mercedes-Benz Sprinter
Likes
Smooth diesel power
Comfy, practical cabin
Passenger-car tech
Dislikes
Loud with windows down
360-degree camera would need to land as standard
Much hyped new voice control can be... patchy
---
LDV T60
Likes
Improved suspension
Packed with features
Sharp pricing
Dislikes
Flat seats
Can be noisy
Underpowered
Summary
Mercedes-Benz Sprinter
On the commercial side of the Mercedes-Benz business, a new Sprinter van is talked about in the same revered tone as a new S-Class. Seriously; the company's best-selling van has the same flagship aura about it as the uber-luxe limousine.
Even in Australia - where it wears a price premium over most competitors - Mercedes says it has managed to cling to the top sales spot in the large-van segment for more than two decades. But in Europe (and especially Germany) it's even more ubiquitous - they are absolutely everywhere.
This 2019 update is kind of a big deal, then. And with a new (and cheaper) FWD variant, overhauled cabin technology that now mirrors the best of the passenger-car range, and new safety offerings like AEB, active cruise and a 360-degree camera, Benz reckons this new model will bite off an even bigger share of the market.
And so we took the Sprinter for a quick spin ahead of its Q4 Australian launch to see if they're right.
| | |
| --- | --- |
| Safety rating | — |
| Engine Type | 2.1L turbo |
| Fuel Type | Diesel |
| Fuel Efficiency | —L/100km |
| Seating | 3 seats |
---
LDV T60
The LDV T60 was rather a pleasant surprise at its Australian launch in 2017. It was a Chinese-built dual-cab ute that actually looked pretty good, seemed well-built, drove nicely, was adequately capable off-road and it was sharply priced and well-equipped.
Now, a few years down the track, the big news is that all new LDV T60s on-sale now should come equipped with Australian-tuned suspension, which was only available previously in the limited edition Trailrider version of the LDV T60. Better still, the suspension tune-up was devised by Walkinshaw Automotive Group, the company responsible for long-time HSV production.
Has this change – aimed at improving the ute's ride and handling and thus bolster its appeal to a ute-loving public – actually been successful?
We drove an LDV T60 Luxe, the top-spec of the two-variant T60 range, to find out.
| | |
| --- | --- |
| Safety rating | |
| Engine Type | 2.8L turbo |
| Fuel Type | Diesel |
| Fuel Efficiency | 9.6L/100km |
| Seating | 5 seats |
Verdict
Mercedes-Benz Sprinter
8/10
If it was any more practical it would do the loading and unloading for you, but there's also no obvious penalty for driving a commercial vehicle here. It's comfortable, quiet and now offers better interior technology than even most Benz passenger cars.
And with a cheaper entry point now on offer, the Sprinter should have absolutely no problem holding onto its top sales spot.
Would you buy any van other than a Sprinter? Tell us in the comments.
---
LDV T60
7.4/10
For what it is – a Chinese-built ute – the LDV T60 has been a sharply priced, well-equipped and rather decent work-and-play vehicle since its 2017 launch.
Now, a few years later, it's still quietly impressive and with Walkinshaw-tuned suspension, I'm happy to say, it's even a little bit better than it was. 
It still lags behind the class-leading light commercial utes in some areas, but it's a sign of the times that a Chinese product is so well built and feature-packed. The new suspension has only served to boost the package.
The LDV T60 makes a very strong case as a feature-packed budget buy.
Design
Mercedes-Benz Sprinter
8/10
It's a vast and slab-sided thing, of course, and practicality takes priority over design, but in the world of full-size vans, the Sprinter is a rather handsome beast.
Up front, the optional three-column LED headlights separate the massive horizontal slats of the grille, while sharp contours running the edge of the bonnet create a kind of power dome in the centre. It's a pretty dominant design, and it definitely lends the Sprinter a strong road presence.
But there's only so much crayon work you can do with a commercial vehicle, so, unsurprisingly, the Sprinter looks... a lot like a van. Lighter colours - and grey especially - look best, highlighting the subtle contours and making it look a little less blocky and heavy.
The cabin, though, looks properly great; a customisable blend of form and function (exactly how much of either is up to you) that - thanks to Mercedes' cool MBUX system and Touch steering wheel - feels like it could belong in a passenger car rather than a workaday van.
The materials are geared toward wear and tear, though, with fabric seats and hard plastics liberally splashed about the cabin.
---
LDV T60
Not really, but not every vehicle has to be a stylistic champion – sometimes it's nice for a ute just to be a ute with few pretensions. 
The T60 manages to strike a reasonable balance between being a bit retro, a little bit stylish and being mostly like a work-truck.
Practicality
Mercedes-Benz Sprinter
9/10
It's available in in four sizes (five if you include cab chassis) and with three roof heights, so just how practical your Sprinter arrives is going to be up to you.
Benz reports total storage space can be up to 17 cubic metres, depending on configuration. The front-wheel-drive version is now eight centimetres lower at the back, too, making it a little easier to load.
Mercedes is yet to confirm the full load-carrying spec for Australian cars, but consider this; even the smallest and most underpowered model in the outgoing range could carry more than a tonne and tow in excess of 2000kg (braked), and those numbers are unlikely to have gone backwards. But then, that the big and cavernous Sprinter can carry stuff will surprise absolutely no-one.
The cabin is a super-clever mix of storage spots and hidey-holes, but special mention must go to the phone-sized slots in the dash for both passenger and driver, as well as the extra storage at head height, dash height and in the centre console.
---
LDV T60
The T60, one of the biggest dual-cab utes, is 5365mm long, 2145mm wide and 1887mm high. And it feels roomy inside to match those exterior dimensions. It also feels kind of classy inside, at least it does until you notice expanses of plastic and hard-wearing trim and it all strikes you as a bit cheap-looking.
The interior is all sweeping lines and big surfaces, made for real-world life. And you know what? You get what you paid for and the T60's price-tag is pretty reasonable, remember?
The massive dash-top and the ute's 10.0-inch touchscreen entertainment unit dominate the cabin.
The touchscreen is clear and bright but it's fiddly to operate, proven to glare and the camera views represented on it are often dark and muddy-looking.
The cabin itself is tidy with storage space for driver and front-seat passenger; a flip-top centre-console bin, big door pockets, a dash-height cupholder for driver and front passenger and a bits-and-pieces tray, replete with two USB ports and a 12V socket.
Rear-seat passengers get ISOFIX and top-tether points, door pockets, a centre armrest with two cupholders and a 12V socket.
The front seats are comfortable enough but lack support, especially at the sides; the rear seats are flat and workmanlike. There's plenty of room though, which is a big plus.
Interior fit and finish is good for the price and these build-quality positives, as before, may build on the ute's appeal.
Price and features
Mercedes-Benz Sprinter
8/10
The big news here is the introduction of a new entry point to the Sprinter range, a (first for this van) FWD model that is also offered with a new, nine-speed gearbox.
Mercedes is yet to confirm pricing or full specification for the updated Sprinter, but it reckons we can expect to see the FWD model lop about $5k off the starting price, lowering the entry point for an automatic SWB vehicle to around $42k (and about $39k for a manual).
That would bring it much closer to the heart of its segment - the Renault Master, for example, will set you back about $35k for a SWB with a manual gearbox.
The Sprinter will arrive in a standard specification across the range (SWB, MWB, LWB and XLWB) with plenty of personalisation options from there. And we do mean plenty; Benz reckons there are about 1700 possible variations.
New for this update is Benz's very cool 'MBUX' multimedia system (the one in the spanking new A-Class), which will be operated via a 7.0-inch screen as standard, with a 10.25-inch screen a cost option. The MBUX setup uses the same AI-enabled voice recognition system as the A-Class - meaning you can talk to it without using pre-defined key words, although it's still far from flawless - and it pairs with a six-speaker stereo.
The system joins Merc's heavily redesigned 'Touch' steering wheel as the standout new features. Apple CarPlay and Android Auto are yet to appear, but Benz tells us it's coming post launch, and will likely be rolled out as a no-cost option.
---
LDV T60
The LDV T60 Luxe automatic costs $37,331 (driveaway). Our test vehicle had metallic paint (premium paint an option, $500) and a tow bar/harness kit (list price $769.45 excluding GST, fitting and labour varies per dealer.) The base-spec is the Pro, which also comes in manual or automatic.
All T60s now have the new suspension tune fitted as standard.
The top-spec Luxe gets a whole bunch of stuff for such a sharp price including 10.0-inch colour touchscreen with Android Auto and Apple CarPlay, leather seats and a leather-bound steering wheel, electrically six-way adjustable and heated front seats, automatic climate control, 'Smart Key' system with Start/Stop button, 4WD with high and low range, 17-inch alloys with a full-sized spare, side steps, and roof rails, 360° view camera, adaptive headlights, as well as an automatic locking rear differential as standard.
Engine & trans
Mercedes-Benz Sprinter
8/10
Aside from the new nine-speed automatic offered in the FWD version, the engines and transmission options are carried over from the current models, although they do now offer a little more oomph.
That means a 2.1-litre diesel good for 84kW and 250Nm, 105kW and 330Nm, or 120kW and 360Nm, as well as the diesel V6 that produces 140kW and 440Nm. They're paired with a six-speed manual or seven-speed automatic in RWD versions, while the FWD can now choose the new gearbox.
---
Fuel consumption
Mercedes-Benz Sprinter
7/10
Mercedes is yet to confirm fuel use for the 84KW engine, but the mid-spec diesel will use 8.0L/100km - the very same as the most powerful 120kW option in the four-cylinder range. Updated numbers for the big 3.0-litre V6 haven't been revealed yet, either. 
All those numbers are calculated on the claimed combined cycle.
---
LDV T60
LDV T60s have a 75-litre fuel tank. The LDV T60 Luxe auto has a claimed fuel consumption of 9.6L/100km for the auto; an average of 9.5L/100km was registering on the dash display.
We recorded an actual fuel consumption on test of 9.9L/100km after more than 400km of driving and that included about 30km of off-roading, with about 5km of that in low-range.
Driving
Mercedes-Benz Sprinter
9/10
It's utterly car-like. There's really no other way to describe it. Despite the fact you're dragging a cargo area big enough to swallow an Ikea showroom, the mass is largely unnoticeable from the driver's seat. In fact, if it wasn't for the way the sky-high driving position perches you above the steering wheel, it would be very easy to forget you're driving a van at all.
We only sampled one drivetrain combination - the 2.1-litre diesel paired with the seven-speed transmission, both of which carry over from the outgoing model, housed in a mid-wheelbase version - and  the engine proved smooth and refined, gathering speed with nary a clatter or rattle in the cabin. It's not overly quick, but the low-down urge of the 360Nm (it appears at 1400rpm) is plenty willing to drag the Sprinter away from the lights.
With the window down, the diesel noise is far more noticeable, but the sound insulation does a great job of locking the noise outside when the cabin is sealed.
Even the steering feels surprisingly responsive, but with a reassuring lack of sharpness that mirth otherwise have you feeling like you're about to topple over. In a moment of pure madness, we pointed the Sprinter's massive nose at a climbing, twisting road, and while you're unlikely to win any hillclimb challenges,it doesn't feel overly top-heavy, either, and it will happily rumble to the top of most any mountain you should encounter.
Most importantly, though, the cabin is comfortable, mostly quiet, and feels less jittery or bouncy than plenty of dual-cab utes. With about 350 kilogram load on board, the ride was firm but not uncomfortable - exactly what we'd want from a van of this size.
And now, a small caveat. We were treated to a fairly limited test-drive on European roads that were ridiculously smooth, so we'll reserve full judgement on how the Sprinter responds to Australian conditions until it arrives locally in Q4 this year.
---
LDV T60
The 2060kg T60 gets around pretty well, though there are a few things you have to get used to. We did more than 400km in it, most of that on bitumen with about 50km of off-roading, and about 10km of that in low-range.
It's never been the most lively of dual-cab utes to drive and often feels underpowered, but it still ticks along evenly enough, relaxed and under-stressed.
The engine is slow to respond and it can be noisy when pushed particularly hard, but generally the T60 is on the right side of quiet – inside the cabin, anyway.
The six-speed auto is mostly a smooth-working unit and produces no abrupt shifts up or down.
The suspension set-up is still double wishbone at the front and leaf springs at the rear, but Walkinshaw has worked its magic to improve ride and comfort. The Pro suspension was previously very firm (to cope with heavy loads), and the Luxe's tended to wallow, due to its Comfort setting.
I can't speak of the Pro's* changes as a result of the tune because I haven't been in one yet but the Luxe certainly feels more controlled, more comfortable than it did before, although it still feels like it errs slightly on the firmer side of the suspension equation. Damping control has been tweaked to improve general unladen ride quality – the result is not quite coil-sprung-like but it's getting close. (Pro variants have heavy-duty rear springs for work duties.)
Steering is generally on-point, although there is pronounced understeer on tighter corners, but otherwise the ute holds well through tight corners and longer, sweeping bends.
The T60's all-terrain tyres – Dunlop Grandtrek AT20 (245/65R17) – are on the mild side of aggressive and do a solid job.
The T60 has disc brakes all-round, which yielded plenty of bite during our "Watch out for that roo!" emergency-braking tests, one on bitumen, one on dirt.
Nit-picking: it's annoying to adjust the rear-view mirror, as there's a ceiling bulge that gets in the way; as mentioned, the parking camera and 360-degree view offer up quite a muddy on-screen view of the world outside; and, most worrying, there was a massive thump in the transmission while I was driving about 30km/h down a slight decline at the time, as if there'd been a violent shift between 2WD and 4WD. That happened on different days on different roads.
Safety
Mercedes-Benz Sprinter
8/10
Benz should be commended for rolling out AEB as standard across the range for this 2019 update, which also includes new side airbags for the front seats, joining the dual-front bags from the outgoing model.
Active lane-keep assist, blind-spot monitoring, active cruise and a 360-degree camera have also become available, but if and where they arrive as standard is yet to be confirmed. Expect cross-wind control to reappear, too.
The Sprinter has not undergone ANCAP crash testing.
---
LDV T60
The LDV T60 range has a five-star ANCAP rating, as a result of testing in 2017.
As standard, the Luxe has six airbags, two ISOFIX and top-tether points in the back seat, blind-spot monitor, EBA, 360°-view camera, rear parking sensors, hill-hold, a tyre-pressure monitoring system and more.
Ownership
Mercedes-Benz Sprinter
7/10
The Sprinter arrives with a three-year, 200,000km warranty as standard, with service intervals pegged at 12 months or 20,000km. Roadside assist is included for the warranty period, but there's no capped-price servicing on offer.
---