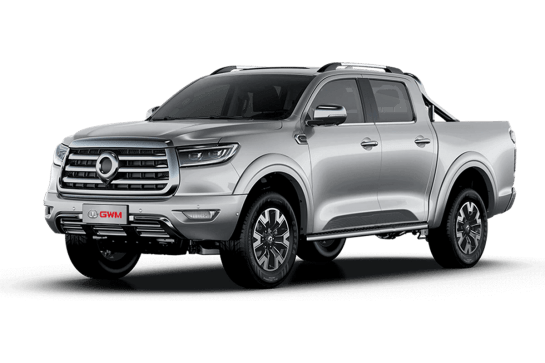 GWM UTE
What's on this page
GWM UTE Models Price and Specs
The price range for the GWM UTE varies based on the trim level you choose. Starting at $35,990 and going to $45,490 for the latest year the model was manufactured. The model range is available in the following body types starting from the engine/transmission specs shown below.
Year
Body Type
Specs
Price from
Price to
2022
Ute
2.0L, Diesel, 8 SP AUTO
$35,990
$45,490
2021
Ute
2.0L, Diesel, 8 SP AUTO
$26,500
$43,010
2020
Ute
2.0L, Diesel, 8 SP AUTO
$22,400
$38,830
See All GWM UTE Pricing and Specs
GWM UTE Colours
The GWM Ute comes in Pure White, Pittsburgh Silver, Scarlet Red, Blue Saphire and Crystal Black.
Pure White

Pittsburgh Silver

Blue Saphire

Scarlet Red

Crystal Black
GWM UTE Interior
Better than a lot of equivalently priced used utes out there, and with a more high-tech edge, too. There's a 9.0-inch touchscreen with Apple CarPlay and Android Auto smartphone mirroring tech, and a 3.5-inch digital instrument cluster with trip computer and digital speedo.
There is fake leather trim on the two lower grade models, while quilted (real) leather adorns the top spec version. It looks amazing.
GWM UTE Seats
The GWM Ute range is dual-cab only, with five seats in all versions. The top-spec model gets a clever 60:40 split-fold rear seat with an armrest, while the other versions have a bench with fold-up base and fold-down rear sections.
All GWM Utes have dual ISOFIX and two top-tether points for child seats.
GWM UTE Speed
There is no claimed 0-100km/h acceleration time for the GWM Ute, but in some unofficial testing, I saw about 10.5 seconds.
GWM UTE Q&As
Check out real-world situations relating to the GWM UTE here, particularly what our experts have to say about them.
Why are the front brakes seizing in my GWM ute?

This is a potentially lethal fault as anything amiss with a car's braking system is a major recipe for disaster. It sounds as though the braking system is applying pressure when you hit the brake pedal, but not allowing the pressure to release when you take your foot off the brake.

If yours was an older car, I'd be suspecting the flexible brake hoses had collapsed internally, allowing the brake fluid to pass through them one way but not return. However, this seems unlikely in a car as new as the one you've described. Which leads me to think that perhaps the brake master cylinder is at fault or, perhaps the anti-lock braking system is the culprit as this system controls the flow of fluid to each caliper. Either way, it's straight back to the dealership for a warranty claim, but I'd be taking the vehicle there on the back of a truck as it really doesn't sound safe to drive as it is. Driving a car with binding or dragging brakes can very quickly overheat the brake fluid, leading to a complete brake failure with obvious potential results.

If you're unhappy with the service from your dealership, I would suggest contacting the manufacturer's customer service division and stating your case. I'd also be asking for a replacement car until yours is fixed.

Should I buy the 2021 Great Wall Cannon X Ute?

You're in a bit of a spot here, Rod, because you want vehicle that can handle beach driving every now and then (so, a four-wheel-drive) but one that will spend the bulk of its time in an urban setting. That means a vehicle with a diesel engine is not your ideal solution, yet the vast majority of four-wheel-drive utes are, indeed, diesel powered.

Diesel is a problem for folks like you because modern diesel engines don't appreciate being used for short, urban journeys. The fact is, these modern diesels are fitted with diesel particulate filters (DPFs) which aim to clean up the tailpipe emissions. That's fair enough, but when driven in an urban environment without a good run at highway speeds every few weeks, the DPF can clog up and that's when the problems – and repairs costs – start.

Beyond that, a diesel can easily cost more to service and maintain over the long term, even if it gets more kilometres per tank than a petrol. You might just find that, in an overall sense, the diesel will be costlier to own and run.

Perhaps a better alternative for you is an SUV with a petrol engine and all-wheel-drive. These won't have the low-ratios of a four-wheel-drive ute for heavy-duty off-roading, but they should be able to handle loose surfaces like a sandy track down to a fishing spot. The catch is that if you do get an SUV stuck on the beach, you won't get much sympathy for taking the vehicle out of its depth (literally). Perhaps an older four-wheel-drive with a petrol engine would be your best bet. Look at vehicles like a 2015 to 2017 Toyota HiLux ute which was available with four-wheel-drive and a very handy four-litre petrol V6 engine. That way, you'll get both the driveline and the engine that best matches your requirements.

 
See All GWM UTE Q&As
GWM UTE Dimensions
The dimensions of the GWM UTE Ute vary according to year of manufacture and spec level.
Year
Body Type
Height x Width x Length
Ground Clearance
2022
Ute
1886x1934x5410 mm
194 mm
2021
Ute
1886x1934x5410 mm
194 mm
2020
Ute
1886x1934x5410 mm
194 mm
See All GWM UTE Dimensions
GWM UTE Fuel Consumption
The GWM UTE is available in a number of variants and body types that are powered by Diesel fuel type(s). It has an estimated fuel consumption starting from 8.3L/100km for Ute /Diesel for the latest year the model was manufactured.
Year
Body Type
Fuel Consumption*
Engine
Fuel Type
Transmission
2022
Ute
8.3L/100km
2.0L
Diesel
8 SP AUTO
2021
Ute
8.3L/100km
2.0L
Diesel
8 SP AUTO
2020
Ute
9.4L/100km
2.0L
Diesel
8 SP AUTO
See All GWM UTE Pricing and Specs for 2022
GWM UTE Wheel Size
The GWM UTE has a number of different wheel and tyre options. When it comes to tyres, these range from 265x60 R18 for Ute in 2022.
Year
Body Type
Front Tyre Size
Front Rim
Rear Tyre Size
Rear Rim
2022
Ute
265x60 R18
—
265x60 R18
—
2021
Ute
265x60 R18
—
265x60 R18
—
2020
Ute
265x60 R18
—
265x60 R18
—
See All GWM UTE Wheel Sizes