Honda CR-V Engine Problems
Thinking about a Honda CR-V and its engine service life. Does the engine have a timing belt or chain?
Answered by CarsGuide
6 Sep 2021
Is the engine in your Honda CR-V timing belt or chain? It depends on when the car was made, but it's crucial information. That's particularly so for owners of the first-gen CRVs we saw in Australia. That vehicle had the B Series Honda engine which used a rubber timing belt. The good news is that this has proved a very reliable set-up, and Honda recommends the belt be changed only every 150,000km which is a huge replacement interval by industry standards. A full kit to replace the timing belt on this engine, including a new water pump, will cost around $300 for the parts
After that (from 2001 onwards) Honda fitted the K Series engine to CRVs, and this engine used a timing chain which should be good for the life of the engine. The R20A four-cylinder engine used from late 2012 also uses a timing chain, as does the turbo-diesel 2.2-litre engine from the same era. The current-model CR-V with its 1.5-litre turbocharged petrol engine (the L15B7) also uses a timing chain.
The task of the timing chain or timing belt is exactly the same: They take drive from the engine's crankshaft to the camshaft and, in the process, keep all the moving parts in harmony. Many car makers moved away from a timing chain to the rubber, toothed drive belt as a way of simplifying engine design and driving down the cost of each engine. The rubber timing belt is also quieter in its operation and is also less prone to stretching (as a timing chain can) so the camshaft (commonly referred to as the cam) stays in perfect synch with the rest of the engine's rotating parts. The rubber timing belt is a simpler design because it doesn't need to be tensioned via oil pressure from the engine as many timing chain systems are.
The timing chain, meanwhile, is preferred by some manufacturers because it should last the lifetime of the engine and never need replacement. This isn't always the case, however, and some engines designs from a variety of manufacturers suffer problems in this regard. But, in a properly maintained engine of sound design, the timing chain should never need attention, while the rubber timing belt generally requires periodic replacement.
What's wrong with my 2006 Honda CR-V engine?
Answered by CarsGuide
24 Aug 2021
The engines in these Hondas are considered pretty solid and reliable performers. But as with any car now celebrating its 15th birthday, things can go wrong that can affect performance. With that in mind it could be time to give the engine a comprehensive once-over and a full service. Having the car electronically interrogated would be a good idea, too, as any faults noted by the on-board computer will have been logged and could tell you a lot about that's going on under the bonnet. Just because the car hasn't illuminated a dashboard warning light, doesn't mean that the computer hasn't noticed something strange going on.
The problem is obviously an intermittent one (or the car would never run properly) and that really does point towards something electronic. That said, a good mechanic will also go back to first principles checking things like fuel delivery, ignition timing and even engine compression.
Any information you can gather when the problem occurs will help enormously, too. For instance, does the engine blow smoke or make any odd noises when it loses power? Does the car shudder or suddenly start using more fuel when the problem occurs? The more observations you can pass on to a mechanic the better idea he or she will have of where to start searching. Fundamentally, you could be looking at anything from a collapsed catalytic converter or muffler, a faulty fuel pump or injector, a damaged spark-plug lead or literally any one of about a thousand other things.
What's the correct oil type for my Honda CR-V, and is it tricky to change it yourself?
Answered by CarsGuide
5 Aug 2021
The best Honda CR-V engine oil will depend on which engine your car is fitted with. From 2007, Honda used a 2.4-litre four-cylinder and, even though the model was facelifted in 2012, the engine stayed the same. In that case, the oil you need is a quality (from a recognised brand) 5W40 either synthetic or semi-synthetic. From 2012 to 2017, the CR-V was also available with a two-litre petrol engine option, and that unit requires a 0W20 as the first choice but a 5W30 is also allowable for engines that size.
If your car is the later model, things get a bit more complicated as there were new engine options including a 2.2-litre turbo-diesel which needs a diesel-specific 0W30 synthetic oil. If you have the later 1.6-litre turbo-diesel replacement which arrived here from late 2015, the same 0W30 oil is appropriate, as is a 5W30 synthetic. These `light' (low viscosity) oils are typical for high-tech engines such as the Honda's with its variable valve timing.
Honda made continual changes to the CR-V range over the years, including some model and specification revisions for the 2016 model year, but none of these affected the range of engines (or Honda CR-V oil type) we've just discussed. Late model CR-Vs with a petrol engine require five litres (or slightly less) of oil, while the turbo-diesel models need 4.7 litres.
Just as there's a correct Honda CRV oil, the correct Honda CR-V oil filter should also be fitted at the same time to avoid putting clean oil through an old, dirty filter. For the 2.4 petrol, the correct filter is a Ryco (or equivalent) Z411, as is the filter for the two-litre petrol. The 2.2-litre diesel requires an R2767P filter while the 1.6 diesel uses a Z690.
There are no mysterious trade secrets about how to change oil on a Honda CR-V, but you do need to know the basics. Changing oil and oil filter at home is a great DIY project and a good way to save some money and gain some satisfaction. The best advice is to obtain a workshop manual specific to your car and take it step by step. The manual will also include all the information and specifications you need to tackle other DIY service and maintenance jobs including checking power steering and transmission fluid. The manual will also give you information on how often to change the oil as well as the check and service intervals for the car's other systems. That way, you won't be relying on a warning light on the dashboard to tell you that action is needed.
If you have any doubts, there's always the option of taking the vehicle to a service centre, but even talking to a family friend who is a mechanic might give you the confidence to give this task a go. Changing a car's oil is not tricky, but there are things you must remember, including disposing of the used oil in an environmentally responsible way.
Honda CR-V 2018: Does my car need an oil change?
Answered by CarsGuide
21 Sep 2018
There doesn't appear to be anything in your regular driving routine that is out of the ordinary, nothing that would demand more frequent oil changes. I would question the advice you have been given by the dealer and Honda, and I would ask that the oil monitoring system be checked to see that it isn't giving false readings.
Honda CR-V 1998: Misfire problem
Answered by CarsGuide
7 Dec 2012
Your mechanic appears to believe the valves are burnt, which could be possible, but he should be able to detect it if they are. I wouldn't pull the head off unless I had results from a compression test that shows a loss of compression. Try cleaning the throttle body.
Honda CR-V 2010: Engine life expectancy?
Answered by CarsGuide
6 Apr 2010
The life expectancy of any engine is largely determined by how well it is maintained. The Honda engine, like all modern engines, requires regular servicing with fresh oil and new filters; if that's done there's no reason to believe it wouldn't do 300,000 km and more.
Honda CR-V 2002: LPG conversion
Answered by CarsGuide
29 Feb 2008
THERE is a Eurogas kit available from Australian LPG Warehouse. Ph: (03) 9770 2287 for an installer.
Honda CR-V 2006: Excessive fuel consumption
Answered by CarsGuide
9 Aug 2007
I FEEL dealers are being mischievous in telling customers that they will get these fuel consumption numbers. The explanation given to you about them being achieved on a specific test cycle is correct. It's also correct that they should be used for comparison purposes. All manufacturers test to the same procedure and get results that are comparable so you can use them to compare one make to another, or one model to another. On top of that there are many factors that affect fuel consumption, so it's hard to pin down the actual fuel consumption you could expect in your situation. If you're unhappy with the Honda, contact the company direct and express your displeasure.
Honda CR-V 1998: When should the timing belt be replaced?
Answered by CarsGuide
6 Feb 2004
I'm afraid I take a conservative approach, so I would change the belt as Honda recommends. The belts do deteriorate as they age -- it's not just a question of mileage -- and the engine will sustain expensive damage if it breaks. Same goes for the Toyota. It should really be changed after about five years to avoid potentially expensive damage to the engine internals.
Search from Over 8,000 questions
Over 8,000 questions answered by CarsGuide
Complete Guide to Honda
CR-V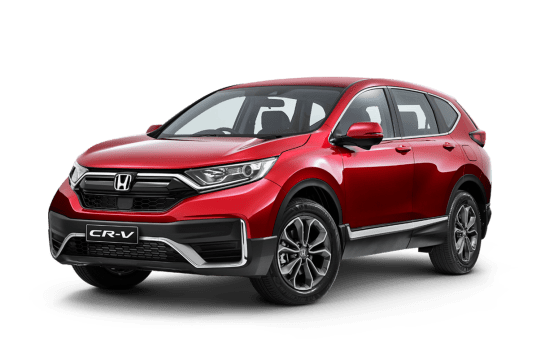 Reviews, price, specs and more