How much does an electric car actually cost?

In Australia, fully electric cars range in price from $44,990 (total drive away price) for the MG ZS EV, to an estimated $200,000 for the Mercedes-Benz EQS, which goes on sale in 2022.
If you've ever wanted to buy an Electric Vehicle (EV), you've probably (rightly) wondered "Why do electric cars cost so much?"
The answer as to why electric cars are more expensive than internal-combustion-engined (ICE) vehicles all boils down to simple economics: a fortune has been spent on the research, development and manufacturing of EVs, and car companies understandably want a return on their investment sooner rather than later.
The comparative lack in consumer demand for EVs also means they are being produced in smaller numbers, which is another reason for the sizeable gap when you look at the price comparison between EVs and ICE vehicles. This is what the phrase "economies of scale" means; the more of something you sell, the cheaper it becomes to manufacture them on a mass scale, thus driving down the purchase price.
There's also the fact that only a small number of companies produce EV batteries, which allows them to control the market price, although a recent report by investment bank UBS claims that battery costs will drop by 20 per cent in 2022. That should make a significant difference to the overall cost of EV production.
Cost of electric cars in Australia
If you're wondering if the price of electric cars in Australia is more expensive when compared to the rest of the world, the answer is yes - and for rather frustrating reasons.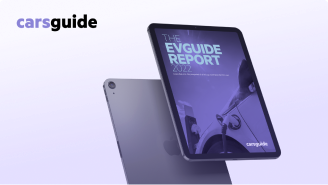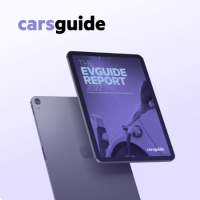 Download the EVGuide Report, 2022
Australia's one-stop snapshot of all things relating to electric cars.
Download for free
While the Australian Federal Government has so far refused to offer incentives and tax breaks to entice EV uptake with consumers - as other governments have successfully done in places like Norway and the UK - there is far less demand for electric cars in Australia, causing them to be more expensive than their fossil-fuel-powered ICE counterparts.
In countries where you are given cash incentives by the government to buy EVs, that obviously drives down the price for the end-user as well.
The majority of the world's car companies, however, are taking steps towards an all-electric future, so expect prices to drop once the world shifts more clearly in that direction - whether the Australian government likes it or not. With some European countries moving to phase out the sale of ICE vehicles altogether by 2030 or 2040, it's going to place significant pressure on car manufacturers to build more EVs, and to eventually stop making anything else.
Electric cars Australia: price range
If you're wondering "How much is an electric car?" below is a look at some of the EVs that are available for sale in Australia, ranging from the cheapest to the most expensive.
While this isn't a comprehensive price list, it does give a good overview of how little - or how much - you can expect to pay should you choose to buy a new EV.

2021 MG ZS EV
Cheapest: MG ZS EV
Cost: From $44,990 plus on-road costs
This compact SUV is a Chinese import that has all but swooped in and stolen the title of "Australia's cheapest EV" from the Hyundai Ioniq Electric. The range isn't anything spectacular at 263km, but it packs enough punch, with a 105kW/353Nm electric motor. It's similar in size to the ICE Mazda CX-3, which costs almost half as much, with prices starting from $22,710.

2020 Nissan Leaf
Low end: Nissan Leaf
Cost: From $49,990 plus on-road costs
The all-electric Nissan Leaf has been on the market since 2012 - longer than most people would likely expect - and has quietly become one of the more popular EVs on the market. The base model comes with a 40kWh battery that offers 270km of range off a full charge, while the Leaf e+ ($60,490) has a larger 62kWh battery that boasts a 385km range.

2021 Tesla Model 3
Mid-range: Tesla Model 3
Cost: From $63,900 plus on-road costs
Tesla is the biggest-selling electric car brand in Australia by some margin, with the Model 3 Standard Range Plus being its entry-level model. It boasts a sizeable 490km driving range, and can complete a 0-100km/h sprint in a none-too-shabby 5.6 seconds. The top-of-the-range Model 3 variant is the Performance, which starts from a far heftier $91,672.

2022 Hyundai Ioniq 5.
Upper mid-range: Hyundai Ioniq 5
Cost: From $71,900 plus on-road costs
Hyundai is all-in for the electric era, as proven by the Ioniq 5, the first car on its new e-GMP platform which will underpin a whole new family of electric vehicles. While it might look like a sci-fi hatchback from a distance, the Ioniq 5 is similar in dimensions to a mid-size SUV, offering up to 451km of range in rear-wheel drive form, or 430km of range in all-wheel drive form.

2021 Audi e-tron
Expensive: Audi e-tron
Cost: $139,900 plus on-road costs
In Norway, a far more EV-friendly country than Australia, the e-tron accounts for a huge 92 per cent of all Audis sold. While it may be some time before such a thing happens here, Audi Australia is certainly trying to sweeten up car buyers with six years of free servicing, six years of free recharging on the Chargefox network and a free Jet Charge wall box fitted at your home or business.

2020 Mercedes-Benz EQS sedan
Most expensive: Mercedes-Benz EQS
Cost: $200,000 (approximate)
Already in production at Germany's 100 per cent carbon neutral Factory 56, the Mercedes-Benz EQS is the brand's top of the range, all-electric version of its S-Class luxury sedan, and it's set to hit Australian shores in December 2021. Both 90kWh and 107.8kWh batteries will be available, with the latter offering 770km of range - the second largest behind Tesla's Model S Plaid Plus (837km).
Is there a benefit to paying more for an electric car?
If you're concerned about climate change and the planet - which you should be, since you live here - EVs are the smarter, more environmentally friendly choice, provided you have the dollars to spare (or the patience to wait until prices invariably fall over time).