Cheapest electric car in Australia

Ever wondered how much electric cars cost? The good news is that as Electric Vehicles (EVs) slowly but surely rise in popularity, prices are starting to drop, at least a little, thanks to some decent entry-level cheap electric cars finally hitting the market. Thank you, China.
Electric vehicles are many things - fabulously silent, wonderfully free of exhaust pipes and thus zero emission, torque-tastic and thus great fun to drive. Sadly, one thing you wouldn't describe them as is "cheap".
The car companies that make them, and actually sell them in Australia - Nissan, Renault, Tesla, BMW, Audi, Mercedes-Benz, Hyundai, Jaguar, MG, Mini - would probably call them at least "affordable", but when you're paying as much as $49,490 for a car as small as Renault's Zoe (think Mazda2 size, but more than twice the price), that's a big call.
So what are Australia's most affordable electric cars, and will electric vehicles get cheaper in the future? Or, in short, should you buy now - and start saving the planet - or wait a while, until we have those little niceties, like a larger charging network, and government incentives, the things that help make EVs so popular in enlightened, Nordic countries (EVs made up 54.3 per cent of all new cars sold in the Norway in 2020, a global record, up from a mere one per cent of the overall market a decade ago).
What is the cheapest electric car in Australia?

When it comes to the cheapest electric car, Australia has some good options. It's a bit of a moving target, though, so it pays to keep checking, because most new players on the market - aside from Tesla - wants to be able to claim it has the cheap electric car motor on the market. 
Although the Renault Zoe held the crown for cheapest EV in Australia for a good while, MG Motor has swooped in with its medium all-electric SUV, the MG ZS EV, to take the title of the country's cheapest EV, with a price starting from $40,990 (for comparison, the ZS EV is based on the petrol-powered ZS Essence, which goes for $26,490). 
Despite having one of the lowest electric car prices, Australia is saying goodbye to the $49,490 Renault Zoe, due to the fact it didn't sell particularly well here. Renault has made the decision not to bring the next generation of the vehicle to Australian shores, citing a lack of federal policy to encourage EV uptake as the reason why (its electric van, the Kangoo Maxi Z.E., is still on the market with the low price tag of $49,990). 
With Zoe out of the race, that leaves the Hyundai Ioniq Electric to slide into second place, with an asking price of $48,970. The 2020 version of the model boasts a 40 per cent increase in battery capacity to 38.3kWh, compared to the 2019 version, and an improved driving range of 311km (the 2019 Ioniq only offered a range of 204km). 
Hyundai also has the far trendier looking, and bigger-batteried Kona Electric as part of its electric offering, but it will cost you a heftier $60,740 - a price that does get you a range of 484km.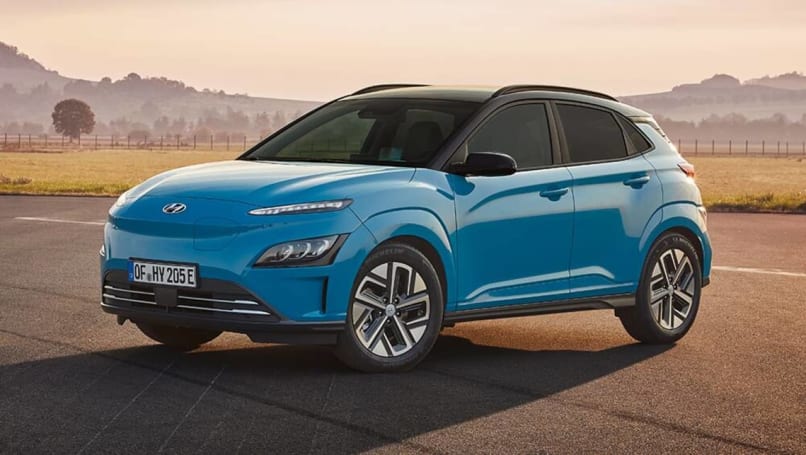 Nissan's increasingly popular Leaf - one of the world's first mass-market EVs - is the third cheapest option in the budget electric cars race, with prices starting from $49,990.
Nissan is clearly making moves to get a stranglehold on the cheaper end of the EV market, with the upcoming launch of the Leaf e+, a longer-range variant that can travel up to 384km on a single charge, a 40 per cent increase on the 270km of range of the current model.
MINI has also edged its way into the market with the MINI Electric, a hatch featuring the brand's iconic design, priced from $54,800, which can travel 233km on a full battery charge. 
With prices starting at $66,900, the Tesla Model 3 may not be the cheapest EV, but it is Australia's best-selling EV model

In 2020, Tesla sold 3430 electric cars, around double all the other EVs on offer combined. It's also a significant increase from the brand's Australian sales in 2019 (2950) and 2018 (1005). 
It's a bit of a step up, in both price and style, when, you look at BMW's electric car prices. The very modern and truly wondrous BMW i3 will set you back a shocking $71,900, and that will get you what BMW suggest is a 300km range off every charge, which is still enough to get most people through a week of commuting with just one good charge on the weekend.
All the EVs we've looked at so far - including the Tesla Model 3 (with its impressive range of between 490km and 657km), which is at least a sedan rather than a hatch but is still a small car - are very much city cars.
You'll also have to save up for the first electric entrants from Audi and Mercedes-Benz, but both are very different from the city-sized EVs that have made the running so far.
Reasonably new to the market is the Audi e-tron, a very large, spacious and exciting SUV, that comes with a truly eye-watering price, starting at $123,361, and claims to offer range between 328km and 417km.
Actual range vs claimed range tends to be a very variable equation with electric vehicles, but if you drive something as big, heavy and luxurious \ as the e-tron hard and fast, that range figure is going to shrink very quickly indeed.
Mercedes-Benz is in Audi's wheel tracks with its own sci-fi-looking electric SUV - the EQC. It's obviously at the higher end of the market, with a hefty price tag that starts at $139,700, but it does come with an impressive claimed range of 434km, and fantastic looks to boot.

If the idea of an electric SUV seems outlandish, it shouldn't, because there's already one out there on our roads, albeit in small numbers; Jaguar's I-Pace.
To be fair, you might not quite know what it is, at first glance, because it's a very unusual shape, but then there's nothing ordinary about this fantastically modern and truly exciting to drive EV from Jaguar. The only downside is that its price starts at $128,248 and can rise sharply from there. 
It offers a claimed real-world range of 446km, and is fantastically spacious inside. Once again, though, if you push your right foot too hard or too often that range is quickly reduced.
Are Electric Vehicles cheaper overseas?

After making allowances for currency conversion, the simple answer is yes - electric vehicles are cheaper overseas. 
For comparison, the cheapest electric car available in the US comes from Chinese manufacturer Kandi, with its K27 hatchback ($AU18,350; 17.69kWh lithium battery with 160km range) and larger K23 hatchback ($AU31,750; 41.4kWh ternary lithium battery with 289km range). 
Will EVs get cheaper?

Remember when plasma televisions cost $20,000 a pop, and the early adopters - and the stupidly rich - bought them anyway? And within a decade they were a bit passé and you could get one at Bing Lee for $2000?
Well that's bit like the situation with electric vehicles, although the price drops won't be quite as sharp. One day, it seems increasingly likely, just about everyone will have one, and the prices will certainly drop as their acceptance grows. 
At this stage, EVs are a tiny percentage of the Australian car market, and achieving mass - which will certainly be helped by the kind of government incentives implemented overseas, but sadly not yet here, or at least not outside of the ACT - will definitely bring their prices down.
No less a math genius than our current Treasurer, Josh Frydenberg, has pointed out that high prices are one of the big reasons Australians aren't rushing to buy EVs… yet.
"The reason why Australia has such a poor level of take-up rate for electric vehicles is because they are expensive compared to other cars," Frydenberg said.
The lack of the kind of subsidies that other countries offer - like cash back, free registration, access to special lanes, free parking, charging stations - might also be a factor. That does, however, all look set to change.
According to a report by industry research firm Energeia, both the price and the range of electric vehicles will match petrol-powered cars in Australia within a decade.
As that playing field levels, EV sales will quickly rise, their report predicts, with electric cars making up 100 per cent of new-vehicle sales by the mid 2040s, and reaching price parity with petrol vehicles in the mid-2020s. 
In short, you're going to buy an EV one day, it seems, but it will be a lot cheaper, and possibly more practical, if you wait a while. 
If you're in a hurry to buy one and start saving the planet now, however, the bargain choice EV is clearly to be found at your MG dealer.
Electric cars Australia: price comparison
| | |
| --- | --- |
| MG ZS EV | From $40,990 |
| Hyundai Ioniq Electric | From $48,970 |
| Nissan Leaf | From $49,990 |
| MINI Electric Hatch | From $54,800 |
| Hyunda Kona Electric | From $60,740 |
| Tesla Model 3 | From $66,900 |
| BMW i3 | From $71,900 |
| Audi A3 e-tron | From $123,361 |
| Jaguar i-Pace | From $128,248 |
| Tesla Model S | From $129,990 |
| Audi A3 e-tron Sportback | From $131,822 |
| Mercedes-Benz EQC | From $139,700 |
| Tesla Model X | From $149,990 |