Best second-hand electric cars in Australia

It's been a decade since the Nissan Leaf arrived on Australian roads promising to revolutionise the automotive industry. It was followed shortly after by the Tesla Model S and BMW i3 and now most major car brands either have, or are preparing to launch, their own electric vehicle (EV).
What that means is there is now an expanding market for used electric cars in Australia. This will be your guide to finding the right second hand electric car that suits your needs and budget.
We'll try and answer all your most relevant questions about finding the best used electric cars and what you need to look for.
Read more about electric cars
Are electric cars good second hand cars?

In a word, yes. EVs are just like any other used car in that they represent an opportunity for you to get into a model you may not have been able to afford new, or you just prefer to wait for someone else to take the depreciation hit.
However, because electric cars are still a relatively recent phenomena, most used EVs are generally quite new so you don't have to trawl back through decades of models like you do in the internal combustion powered (ICE) second-hand market.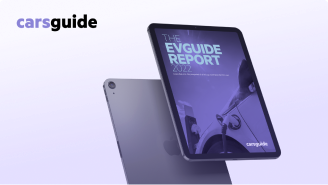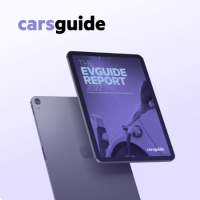 Download the EVGuide Report, 2022
Australia's one-stop snapshot of all things relating to electric cars.
Download for free
For example, 2012 was the first year the Nissan Leaf was on sale in Australia, so the oldest used example you'll find will be a maximum of a decade old.
How many used electric vehicles are sold each year in Australia?

It's hard to get clear data on the exact number because EVs still only make up a small percentage of the total number of cars sold in Australia each year, despite increasing popularity. 
In 2022 Australians bought a record number of EVs - 20,655 - but that still only makes up 1.9 per cent of the total market.
A search of popular classifieds websites, including CarsGuide.com.au and Autotrader.com.au, shows approximately 250 used EVs available for purchase at the time of publication.
What is the average price and per cent reduction vs a new electric car?

Several factors make it difficult to answer this question in simple terms. For starters, there's the natural variation you get across the used car market, in terms of cost and mileage.
Then there are the current industry-wide supply constraints that are leading to higher used prices for EVs and ICE cars.
If we take the Nissan Leaf as an example, a new model has a manufacturer list price of $49,990 (which excludes on-road charges). A look at the CarsGuide.com.au classifieds showed a number of 2019 model Leafs for sale but priced between $43,965 and $47,990. These cars had more than 10,000km on the odometer.
So if we take the cheapest model - $43,965 - that's only a 12 per cent saving compared to a new Leaf.
However, if you're willing to opt for the first-generation Leaf, we found 2012 examples as low as $22,500 with less than 15,000km on the odo, which is a 54 per cent saving on a brand-new Nissan EV. 
Where is the best place to find a used electric car?
You can look for second-hand electric cars anywhere you find any used car, so that means popular classified websites like CarsGuide.com.au and and Autotrader.com.au.
What to look for in a used electric and what to avoid?

You should check all the usual things you need to when shopping for a used car - how many kilometres have been driven? Has it been serviced regularly by a certified mechanic? Has it been well cared for?
If the owner doesn't have a clear answer to those questions that should raise a red flag. 
As for the specific issues you should look for when assessing a second-hand EV, the focus should be on the batteries. 
Check the battery life and range by making sure the battery is charged to 100 per cent when you start your test drive and compare that to the original manufacturer's claim when it's new. 
Just as importantly, take note of how much battery energy you consume during your test drive, if it drops significantly on a short test drive it could be an early sign of trouble.
Has the owner used a rapid charger? Because those can have a detrimental impact on the long-term life of your battery, compared to using a lower-powered outlet. 
The same goes for if it has been topped up regularly, as opposed to drawdown close to empty and replenished in full; because lots of shorter 'top ups' have a negative effect on the battery life.
You should also do your research on the battery warranty, most car makers cover the batteries for longer than the rest of the car. For example, Tesla's 'Basic Vehicle' warranty runs for four years (or 80,000km, whichever comes first) but the 'Battery and Drive Unit' warranty runs for eight years.
Obviously check the condition of the charging cable, because while you can buy a replacement one through the brand, a damaged or poorly cared-for cable should be a warning sign that the car hasn't been looked after or over-worked. 
You should also check the type of charging cable, because there are five different plug types that the industry has used so far - Type 1, Type 2, CCS, CHAdeMO and Tesla. 
Check out the areas you think you'll be charging on a regular basis and see what the most common public charging cables and outlets are.
How old, how many kilometres should you look for when buying a used electric car? Is there a sweet spot?

Obviously the lower the better (although if it's too low you may want to question why someone is selling a near-new car) and given most EVs have been around for less than a decade very few will have high mileage.
A 2012 Nissan Leaf will likely have more kays than a 2017 model, somewhere between 40-50,000km. But in researching this story we found a lot of early Tesla Model S with around 90,000km, which probably speaks to the fact that the Model S has a longer range and would be driven further than a Leaf, which has less range and is often used as an urban computer.
As with any used car purchase, do your own research on the specific EV you want and compare price and mileage - which is easy with the sort tools on modern classified websites such as CarsGuide.com.au.
The nine best used electric cars to buy Australia
*NB: All price guides and mileage estimates were based on market conditions at the time of publication (March 2022), so these will change with time as models age and supply of new models increases.
2012-16 Nissan Leaf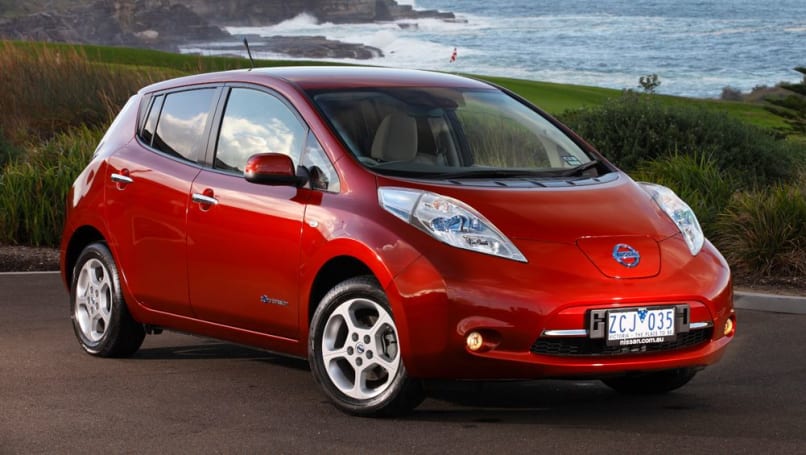 While the Mitsubishi i-MiEV beat it to market, it sold in such limited numbers that we couldn't find any second-hand examples for sale. That makes the first-generation Leaf the oldest EV on the market, which unsurprisingly, also makes it one of the most affordable.
If you're looking for something with low running costs for short urban and suburban trips or a second family car to act as a runabout, the Leaf has a lot of positives. You'll never have to go to a petrol station, for starters. It also comes with Nissan's nationwide support network for servicing.
And because many were bought originally for $50K or more by early adopters, you can find many low-mileage, well-maintained examples.
We found several priced between $15,000 to $25,000. In terms of the sweet spot for kays on the odometer, based on our research an example between 40,000-50,000km is probably the pick - that's only 5000km per year for a 2012 model.
2014-20 Tesla Model S

The American sedan was a game charger for the EV industry, combining zero-emissions with performance and luxury not seen before this car. Arriving in 2014 also means there are several used examples available, at the time of going to press we found more than 25 examples of the Model S for sale.
While the performance and space offered by the Model S are definite 'pros', there are some noticeable 'cons' you should consider when buying. 
For starters, Tesla has a very questionable history when it comes to build quality, which isn't too surprising given the Model S was the first car the company built from scratch. So pay close attention to panel gaps, paint matching and overall construction.
The other challenge with picking a Model S is the wide variation in models and the unclear designation for what was a new brand. Of the 25 examples we found advertised online, there were 13 different variants to select - 70, 70D, 75, 75D, 85, 85D, 90D, P85, P85D, P90D, P100D, Long Range and Performance.
So you'll need to do your research on the performance and range you want and then see how it fits within your budget.
That's because used car prices stretch wildly, from just $60,000 all the way up to more than $200,000. Mileage also varies dramatically, from less than 20,000km to more than 200,000km.
That makes picking the sweet spot tricky, but based on our research we'd recommend looking for a post-2016 facelifted example with less than 50,000km on the clock.
2014-2021 BMW i3

The German brand was an early entrant into the EV market and took the bold step of creating a new sub-brand for its EVs with a radical design take that made the i3 and i8 stand-out from the rest of the range.
Launched in 2014 the i3 was a fascinating car which demonstrated BMW's technical expertise and was certainly interesting to look at. 
However, the electric-only version (there was a range-extender hybrid offered too) offered less than 200km of range and that seemingly turned off buyers.
It also cost $63,900 when new, which was a lot of money for a compact city-sized runabout, which also didn't help sales.
The good news is it now makes good buying as a second-hand car, with examples with less than 40,000km available for less than $40,000.
2017-2020 Nissan Leaf

Nissan updated the Leaf in 2017, giving it more power and torque, a fresh look and, most importantly, extending the range to a claimed 400km from the original's 170km.
This led to an upswing in sales and that translates to more used examples available now, all of which have the same benefits of the original but with a bit more performance and range.
You can find MY17 examples with less than 35,000km on the odometer for less than $40,000. That's not a huge difference from the new list price ($49,990) but given the market-wide supply constraints it's a competitive price.
2017-21 Tesla Model X

Tesla's second model, a large SUV, arrived in 2017 and has proven a popular addition. As it's slightly newer and is a more expensive offering than the Model S, there are slightly fewer used examples to choose from.
It also has a clearer model structure, with the majority being badged 75D and the rest either 100D or P100D.
Like the Model S you'll want to give any Tesla a detailed examination before buying because even with a few more years of experience we've discovered noticeable build quality issues with the Model X. 
You'll want to make sure the signature 'Falcon Wing' rear doors are operating smoothly too, because there have been reports of problems with the new technology.
Given the age of the Model X the sweet spot in terms of mileage is less than 50,000km. 
Prices for the 75D in good condition are between $140-150k, while the 100D are priced above $170k.
2018-20 Hyundai Ioniq

The South Korean brand made a big leap into electrification in 2018 with the launch of the Ioniq - a small sedan that was available with either a fully-electric, plug-in hybrid or conventional hybrid powertrain.
The Ioniq Electric was the cheapest EV in the country when it launched in late 2018, starting at $40,990 (plus on-road costs). 
Even so, its range of just 230km was off-the-pace by then so its appeal proved limited and sales have been slow. A 2020 update boosted the range to 311km, but also meant a price increase which kept sales modest.
That means limited second-hand options and you'll want to aim for an MY20 to get the extra range.
If you do that you'll still be spending near-new money for a used car, with most good condition examples we found priced in the low $40,000 range.
2018-21 Jaguar I-Pace

Jaguar was one of the first luxury brands to follow Tesla's lead and build a performance and luxury focused EV, creating the I-Pace crossover which launched in 2018.
Unlike any Jaguar that came before it - in terms of technology and looks - the I-Pace is certainly an interesting car. It's an engaging drive and the crossover design makes it appealing to the SUV crowd. 
However, the I-Pace has only found modest success and that translates to a thin second-hand market.
There were only a handful available and they were all still priced over $100,000, which isn't a major difference to new pricing (the SE EV400 starts at $137,832).
2019-21 Tesla Model 3

Tesla's smaller model arrived in 2019 with the expectation that it would make the American brand more accessible. However, despite a starting price of $59,900 for the Standard Range, the cheapest used example we found at the time of publication was $63,000. 
This is largely driven by the limited supply since the coronavirus pandemic began, but also speaks to the trouble Tesla has had meeting demand in Australia.
If you want the dual-motor, all-wheel drive Model 3 Performance you'll need to be willing to spend well over the $84,900 list price, with even examples with more than 20,000km are asking more than $90k.
2019-20 Hyundai Kona Electric 

While the Ioniq was Hyundai's first EV in Australia, by the time it arrived here the technology was out of date. So the launch of the Kona Electric in 2019 brought all-new electric motors and batteries that provided more performance and range (up to 449km). 
Its compact SUV body also added to its appeal but its pricing, which starts at $54,500 for a new Elite grade model, means it carries a heavy premium over its petrol-powered siblings.
Given its relative newness and limited supply, if you can find an example with less than 25,000km you should look to spend somewhere between $8,000 to $10,000 less than the original sticker price.