Holden Trax Opel Mokka 2013 review
This one comes to us courtesy of Opel, the German division of General Motors. But we will see it in Australia first as the Holden Trax later this year, and then as the Opel Mokka early next year.

It's all part of General Motors becoming one big, happy, global family. Although the Opel Mokka and Holden Trax are made in Korea in a former Daewoo factory, the twins were designed and engineered in Germany, with some Australian testing thrown in for good measure.
Value
The starting price of these vehicles will likely be close to $25,000 -- but we won't know for sure until closer to their respective on-sale dates.

This car will put Opel and Holden in head-to-head competition for the first time. They currently compete in the small-car class with the Holden Cruze and Opel Astra -- which are the same cars underneath but have different bodies.

The Opel Mokka and Holden Trax, however, are mostly identical but for the design of the grille and the dashboard. This is why Opel and Holden sales and marketing teams are currently in a huddle to find out how to make these cars seem different in customers' eyes.

For both companies this new compact soft-roader can't come soon enough. Holden just recorded its lowest sales in 19 years and Opel is trying to gain a foothold in Australia, having set up in the world's most competitive new-car market late last year.

An affordable contender in the booming SUV class is crucial to the success of both brands. The trouble is, this car is going gangbusters overseas so Australia's initial allocations will be limited. That sigh you can hear is from Holden and Opel dealers.
Design
The Opel Mokka is named after a coffee, because evidently it packs a lot in a small package. For all its bold and brash presence, would you believe that there is a Holden Barina underneath? But don't dismiss it on that basis alone.

For starters, the latest Holden Barina is a more capable car than it is given credit for, especially since the post-GFC upgrades. Inside, the Mokka has Opel's audio and air-conditioning controls, which aren't as intuitive as they are on some other cars.

But other practicalities make up for it. There are three storage levels in the doors alone, and a decent sized console and glovebox. In total there are 19 storage cubbies. You'll never find your phone again. The dash material is soft to the touch, the seats are comfortable, and visibility all around is pretty good (despite the tapering window line).

However, both Opel and Holden would be wise to make a rear view camera as standard on all models. Hyundai and Toyota have cameras on $23,990 hatchbacks; it would be a sin of omission to not have such an essential safety feature on this family-sized car.

Cargo space is average, and it depends on whether you have a space-saver spare or an inflator kit in the boot. The figures of 356 litres with the seats up and 1372 litres with the seats down (the maximum volume when an inflator kit is installed, there's even less room when a space saver is used) give it a smaller boot capacity than a Nissan Dualis, and not much more than a Volkswagen Golf and most other small cars.
Technology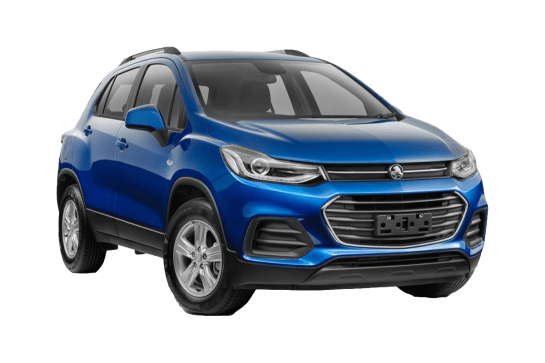 Explore the 2013 Holden Trax range
In Europe, the Opel Mokka has lane-keeping technology and a tiny camera that can read speed limit signs. Sadly those systems are not confirmed for Australia, partly because of cost and partly because our street signs are so cluttered by advertising billboards which confuse the cameras.

Six airbags and stability control are standard and in Europe it earns a five-star safety rating. Also standard across the range are hill-descent control and hill-hold assistance, to help get moving on steep hills.

Top-line models come with a forward collision alert system (although not with automatic braking), auto-dipping high beam and xenon headlights that following the direction of the steering.
Driving
First, the good news. Opel ships Continental tyres from a factory in Portugal to Korea so that its Mokkas are fitted with quality European tyres. Here's hoping Opel Australia gets the same deal.

Holden's Trax, meanwhile, is likely to take the Kumho Solus tyre (if most of its other Korean-sourced cars are a guide), which is adequate in the dry but has below average grip in the wet.

It was academic during our first drive in Germany, however. Our Opel Mokka was equipped with Pirelli winter tyres. They gripped well but it was unclear whether they were responsible for the suspension feeling slightly busy over bumps, or whether that was a trait of the car. We'll pass on any further judgment until we test it on local roads.

We drove a 1.4 turbo petrol model, which has a satisfactory amount of urge -- not class leading but not class worst. The engine was smooth, as was the six-speed manual shifter. The six-speed auto comes on line in September, in time for the Australian release.

As with many new cars the Opel Mokka has idle stop-start technology. As with most drivers of most cars with idle stop-start technology, I found the off switch to leave the engine running all the time.

One thing that did stand out: the Opel Mokka felt like it had a broad turning circle. But the information sheet says it has a 10.8 metre turning radius, which is a bit more than a small car and average for a soft-roader of this size.
Verdict
First impressions are that the Opel Mokka/Holden Trax is the best example yet of a globally-engineered, Korean-sourced General Motors vehicle. These twins will be worthy alternatives to the current crop of compact softroaders. Holden and Opel will sell every one they eventually lay their hands on.
Pricing guides
$12,495
Based on 89 cars listed for sale in the last 6 months
Pricing Guide
$6,500
Lowest price, based on 90 car listings in the last 6 months
View cars for sale
Similar Cars
Hyundai Kona

Honda CR-V

Suzuki Ignis

Toyota RAV4