Holden Trax LT automatic 2013 review
What we like
Practical interior
Local chassis tuning
MyLink interface
What we don't
1.8 won't win many races
Interior feels cheap
Caricaturish styling
What we like
Practical interior
Local chassis tuning
MyLink interface
What we don't
1.8 won't win many races
Interior feels cheap
Caricaturish styling
Holden has finally joined the booming compact SUV market with the budget-priced Barina-based Trax. It is due to arrive in showrooms in September and will fill the void between Holden's small-car range and its Captiva SUV.
Priced from $23,490 plus on-road costs (auto adds $2200 to $25,690) the Holden Trax undercuts most of the competition, including the Nissan Dualis and Subaru XV -- but it is dearer than the similarly-sized Suzuki SX4.

Most of the fuss about Holden has centred on the Commodore this year but the Trax is just as important because it will attract new customers to the brand. Sales of small SUVs grew by 20 per cent last year -- four times the rate of growth in what was a record new-car market.
Value
The Trax is designed for inner-city types but could find its way as a favourite among sales reps who spend their working life on the road. The Trax is the only car in its class to come standard with a 240V power socket to charge lap-top computers while on the move.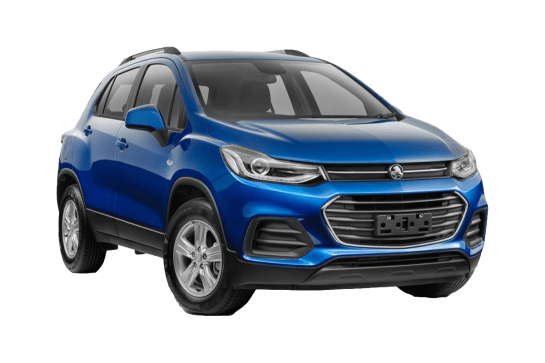 Explore the 2013 Holden Trax range
It also has a seven-inch touchscreen embedded with Pandora, Tune-In Radio and Stitcher mobile audio apps which work when connected to a smartphone via a USB port in the glovebox. As is becoming increasingly the norm these days standard fare includes six airbags, Bluetooth phone and audio streaming, and a rear-view camera across all models.

The basic LS model is priced from $23,490 plus on-road costs (auto adds $2200 to $25,690). The flagship LTZ is available with automatic transmission only and is priced from $27,990 plus on-road costs.

The $2300 price premium buys premium upholstery with heated front seats, 18-inch alloy wheels (instead of 16-inch alloys on the base LT model), front fog lights and a storage tray under the front seat.  For that reason we reckon the basic LT is much better value. Metallic paint -- six of the eight available colours on both models -- is a $550 option. Holden is one of the dearest when it comes to charging for extra sparkles in the paint.
Technology
The 240V power socket in the back of the centre console is a welcome addition, especially for people with young kids or those who spend their working life on the road. Now to get this handy feature across more models in the Holden range.

As mentioned before, mobile audio apps such as Tune-In Radio (where you can listen to almost any radio station in the world) and music sites Stitcher and Pandora are embedded in the touch screen so you don't have to thumb your mobile phone.

The Trax also has BringGo, a navigation app that brings Google-like navigation to the centre screen. The only catch: you must download it on your phone first -- and it costs $70 which is, at least, cheaper than a portable navigation device. Fuel economy from the 1.8-litre petrol engine is par for the class  (7.0L/100km for the five-speed manual and 7.6L/100km for the six-speed auto).

Holden has removed the spare wheel and tyre to help limbo to these ratings which are done in laboratory conditions and are sensitive to such weight reductions. However, a full-size spare is a no-cost option at the time of purchase so be sure to ask the dealer before taking delivery.
Design
It might look big but it's the same length as a Toyota Corolla hatch -- with the tall driving position of an SUV.  Now you can see why these vehicles are a hit in Europe and why they're the next big thing here: because they blend the best of both worlds. Their high-riding stance also takes the bump out of speed bumps that now dot every suburb.

As with Holden's most recent offerings from South Korea, quality has taken a step up from previous General Motors models sourced there. The interior is especially clever in the Trax. The doors have three tiers of pockets, the dash has nooks and crannies galore. The dash has a bright blue digital speed display and overall adds to the classy look.
Safety
Six airbags, a five-star ANCAP rating and a rear view camera on every model (yes, we're looking at you Toyota RAV4, why are you the only new mainstream SUV in the past 12 months to lack a rear camera on every model?) give the Trax a clean bill of health.

There are a few blots on an otherwise good report card, though. Holden raided the boot and stole the spare to limbo to a low fuel economy score in the lab tests. A full size spare is free -- but only if you ask for it before you buy. Here's hoping dealers do the right thing and order them as a matter of course.

The centre rear seating position does not get a centre rear headrest (critical in prevent neck injuries in rear-end crashes) and can't be added. And the rear brakes are drums, not discs... come on guys, this is 2013 not 2003.
Driving
The Trax comes from General Motors' facilities in South Korea but was tested on Australian roads and tuned for local conditions during its development.

It steers through corners with confidence and rides nicely over bumps. We tested the LT automatic, which we figure will be the most popular. In our opinion it's the best value model in the range.

The 1.8-litre engine matched with a six-speed auto is perky enough and a smooth operator to boot. But the Trax drives so well we can't help but wonder if Holden will fit the turbocharged 1.6-litre engine from the Cruze to create a Trax SRi-V. Now there's some homework for Holden.

Riding on 16-inch Continental tyres it has plenty of grip even though it's only two-wheel-drive. Despite the off-road pretensions conveyed by its rugged good looks most Trax SUVs will rarely see gravel apart, perhaps, from a groomed driveway to a weekend getaway.

Holden and others make these inner-urban vehicles look rugged because we then feel better about driving an inner-urban vehicle. Besides, it can be war out there. Have you tried getting a car park on a Saturday morning lately?
Verdict
The Trax is going to be a bigger hit than Holden realises.
Pricing guides
$12,495
Based on 89 cars listed for sale in the last 6 months
Pricing Guide
$6,500
Lowest price, based on 90 car listings in the last 6 months
View cars for sale
Similar Cars
Hyundai Kona

Toyota RAV4

Nissan Qashqai

Kia Sportage