Holden Trax LS manual 2013 review
What we like
Practical interior
Local chassis tuning
MyLink interface
What we don't
1.8 won't win many races
Interior feels cheap
Caricaturish styling
What we like
Practical interior
Local chassis tuning
MyLink interface
What we don't
1.8 won't win many races
Interior feels cheap
Caricaturish styling
You get the feeling this is a car built to a price. A very good price but a price nevertheless, with some features removed and others added to get down to the figure.
You see the Holden Trax is a global model, sold in many countries, under many names and in many forms. It's the company's first entry in the emerging light SUV segment, off roaders that are smaller again than the current crop of small SUVs.

The lineup has been restricted to just the one engine, with no sign of all-wheel drive and the manual transmission is a five speed  not a six that is the norm these days. But, at starting price of $23,490, it's $2500 less than its nearest competitor and that's a mighty strong argument.
Value
Both the LS and more expensive LTZ get a 7 inch touchscreen, reversing camera, cruise control, rear parking sensors, six airbags and Bluetooth with audio streaming. LTZ adds an auto, 18 inch wheels, fog lights, heated front seats and a trip computer and is priced from $27,990. A five speed manual is standard on the LS, a six-speed auto a $2200 option.
Technology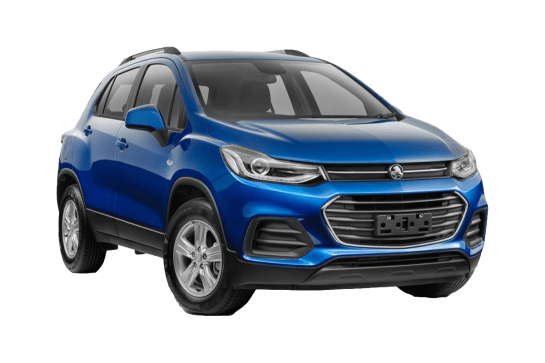 Explore the 2013 Holden Trax range
Designed and built in South Korea, Trax is based on the same platform as the Barina, but sits higher offering a coveted high driving position. The 1.8-litre four cylinder ECOTEC engine is as old as Adam, with 103kW of power and 175Nm of torque.

It seen service in one form or another in a variety of vehicles over the years, most recently in the Cruze sedan and hatch. But Holden reckons this latest version is the best yet, with a recalibrated automatic and ride and handling that has been tuned by Holden engineers to deliver the kind of response expected from a Holden.

With a 53 litre tank, fuel consumption for the manual is rated at 7.0 litres/100km and for the auto, 7.6 litres/100km, with a CO2 output of 164g/km giving it a Green Vehicle Guide rating of 4.5 out of 5 stars (Prius scores 5). The lower gear ratios in the auto have been shortened to give the wagon a better launch feel while the higher gears in the manual have been also changed to deliver extended performance.

Overseas, the car is available with all-wheel drive, as well as diesel and turbocharged petrol engines. But at this stage it's unlikely we'll see any of them because the biggest problem is going to be getting enough cars to meet expected demand. In other countries where it is sold, its siblings have been a runaway success.
Design
A bit like Doctor Who's Tardis, it's bigger on the inside than it appears, with plenty of headroom front and back and an impressive amount of rear legroom. The 7 inch touchscreen is not as large as that in the Commodore, but still large enough to stand out.

It offers a range of integrated apps, but all rely on your smartphone to work, including the BringGo navigation system that sadly like Commodore does not provide speed camera or school zone warnings. A tiny, second glove box with a power outlet is provided above the main one for the phone itself.

Speaking of power outlets, it's the first car we've seen with a 240 volt, three-prong outlet like the one in your living room that is capable of powering a laptop. A full size steel spare is available as a no cost option.
Safety
Five stars thank you very much, with six airbags and electronic traction and stability control, along with anti-lock brakes, with hill start assist and electronic brake force distribution. Having said that we were a bit surprised to see drum brakes fitted to the rear of the car.
Driving
The manual is clearly the pick of the pair, with sharper engine response and a sportier drive feel. But here's the thing, you can't get a manual with the better equipped LTZ model and that means foregoing a trip computer with distance to empty. Holden has spent some time tuning the transmission, engine and suspension.

It claims the the auto is the best yet, better even than the larger and heavier Cruze with the same 1.8-litre engine/transmission combination  but we don't think so. It labours and chops and changes gears too frequently in full auto mode while the sequential manual change is awkward to use. It's the same setup as that in the recently released Malibu sedan, with a rocker switch at the top of the shifter that you operate with your thumb. Guess practice makes perfect?
Verdict
It's not the best looker in the segment, nor is it the best performer  but based on price alone is likely to sell like hotcakes and that is probably all that Holden really cares about.
Pricing guides
$12,495
Based on 89 cars listed for sale in the last 6 months
Pricing Guide
$6,500
Lowest price, based on 90 car listings in the last 6 months
View cars for sale
Similar Cars
Hyundai Kona

Mazda CX-3

Nissan Qashqai

Hyundai Venue