Ford Mustang EcoBoost vs Ford Mustang V8 GT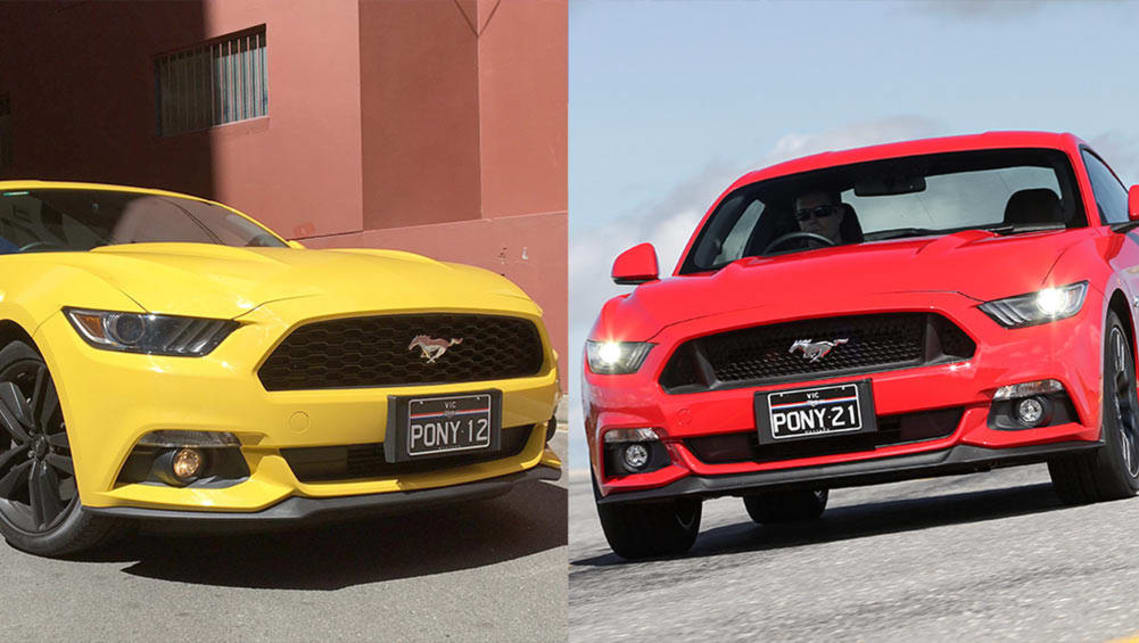 Mustang mania has swept the world and Chris Riley ponders the $64,000 question: which one should I get — the V8 or the turbo?
Ford Mustang Ecoboost 2.3
It's a remarkable price for such a desirable car. Auto adds $2500, putting you on the road for about $50K — if you can wait. Mod cons include satnav, leather accents, two-zone climate aircon plus heated and cooled front seats. Warranty is a mundane three years/ 100,000km, servicing a reasonable $1055 (three years/45,000km).
For $11,500 more you get the V8, but not much more. It adds larger Brembo front stoppers and wider rear wheels and rubber. The space-saver spare makes way for a can of goo and a pump. Servicing is more expensive at $1335 over three years.
Ford Mustang Ecoboost 2.3
Think of it as two-seater. There's a rear seat but legroom is limited, access difficult and your head is under the rear window. The front seats are big-body friendly but the long doors swing wide, which can be problematic when parked. Sadly the movie star looks are not matched inside, with plenty of black plastic. The rear seats flick forward to reveal a handy sized boot that holds the space-saver spare.
Given the extra spend, it's disappointing there is nothing in the cabin to differentiate it from the four-cylinder model. The eight-inch touchscreen is simple to use but can be tardy to respond. There is voice control for many functions, including the satnav, so there's no need to type in addresses. Apple CarPlay/Android Auto are supported.
Ford Mustang Ecoboost 2.3
Engine
Performance from the four-cylinder twin-scroll turbo (233kW/ 432Nm; essentially as in the killer Focus RS) is surprisingly good. There are four drive modes, paddle-shifters for the auto and adjustment for steering effort. Auto claims 9.3L/100km (95 RON).
Ford Mustang 5.0 GT
Engine
The 5.0-litre naturally aspirated V8 produces a handy 306kW/530Nm. Subdued for the most part, it quickly roars to life when you put the boot in. Power delivery is strong and linear but the manual change with its heavy clutch takes some mastery. The V8 likes a drink. The low fuel light in our car flashed on soon after 300km. Rated at 13.1L/100km, it takes 98 RON with no stop-start or cylinder shutdown to ease the pain.
Ford Mustang Ecoboost 2.3
No rating from ANCAP yet but it has five stars from US testing. Eight airbags include knee bags for driver and passenger, along with a rear-view camera, reverse parking sensors and camera guides that follow the steering. None of the latest tech such as auto braking, blind spot assist or lane departure warning.
On top of the basics you get MyKey and Emergency Assistance. The former enables parents to set limits for speed and music volume, as well as lock out phone calls and text messages while driving. When paired with your mobile phone, Emergency Assistance dials triple-zero automatically in the event of an accident.
Ford Mustang Ecoboost 2.3
The turbo has plenty of poke, even if the auto hunts a bit. Sport mode holds gear longer but using the paddles yields the most satisfying result. A limited-slip diff is standard and the ride quality is good. The rear tends to bounce around on rough roads and step out in the wet.
To be honest it felt just like a V8 Falcon to start with. But this idea was quickly forgotten as we nosed into our first corner. The V8 feels more planted than the turbo, goes harder and can be braked later thanks to the Brembos. The tendency to leave it in low gear, just to listen to the V8, won't do much for fuel economy.
Ford Mustang Ecoboost 2.3
It's a muscle car, right? That makes the V8 our winner but it's not that simple. You need to decide which one fits your lifestyle — either way you won't be disappointed.