Ferrari California V8 2010 review
It's raining hard as the flight touches down in Sydney. On any normal day that would be a zero problem, and very welcome wetness, but this is not a remotely ordinary day. This is The One Day. A Ferrari California is waiting. It's now or never.
Organising the one-day romp in the striking Italian droptop has taken months and for weeks I have been wondering how the new-age Ferrari convertible will feel and how it will stack up against other fast-and-dangerous cars I have driven through 2009 including the Nissan GT-R and Lexus LFA. And now it's raining ...
The California has been around for a while in Australia, famously starring in a 231km/h romp near Perth that saw the car impounded and its motor writer driver hit with a monster fine and knock-on job losses.
Price and sales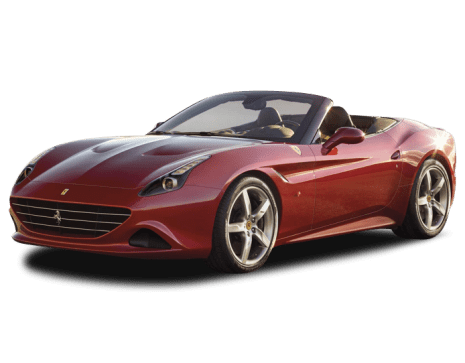 Explore the 2010 Ferrari California range
But its popularity means there is a waiting list stretching into 2011, despite a pricetag of $472,000 before on-road costs or insurance. Or any of the extra stuff from Carozzeria Scaglietti Personalization, which can tweak a Ferrari to look even hotter or go even faster. The reasons for the popularity are as obvious as the Ferrari badge and the folding hardtop roof over the two-plus-two cabin.
The car
The California hits a lot of firsts for Ferrari and its owners, from the front-mid mounting of its V8 engine to the company's first twin-clutch seven-speed gearbox, multi-link rear suspension, and an all-new engine with 338 kiloWatts and 485 Newton-metres of torque. It also comes standard with carbon-ceramic brakes and the sort of creamy smooth leather that has become a signature for the brand.
The body was designed by Pininfarina, like so many Ferraris, and the folding roof — made from aluminium, like the rest of the body — will do its work in just 14 seconds.
The California is officially a grand tourer, which means Ferrari has put the emphasis on easy driving and luxury. That explains a gearbox which can be a light-and-easy auto, as well as back seat spaces complete with child seat anchorages, and even the satnav.
The GT focus also explains the name, which taps the likely home for many cars and also a Ferrari from the 1950s. An original California once owned by actor James Coburn sold for $11 million in 2009.
But the dash is still dominated by a yellow-faced tachometer reading to 9000 revs and Ferrari's Manettino and F1-Trac systems are also fitted. The Manettino allows the driver to choose the way the car responds, right up to track maps, and the F1-Trac ensures maximum cornering grip in all conditions.
Driving
As I first catch sight of the racy red California its top is up, the smiles are down, taxis are everywhere and - just to make things really tasty - a bus strike has created gridlock chaos in Sydney as I roll away from Mascot to form my first impression.
So, how does it feel? The first two kilometres are great and the car is surprisingly taut, beautifully sumptuous, nicely equipped and very, very easy to drive.The California is quiet and relaxed, actually. There is even a cruise control and a digital speedo.
It's not remotely what I had expected but that's not a bad thing. In the past, Ferrari has been a name to conjure memories of grumpy engines, on-the-edge handling and quality which is ... well, sometimes about as good as an old secondhand Fiat.
This California is different. And that has to be good. Everything works and works well, it has look-at-me styling and a cracking V8 engine note that could only come from a Ferrari. The boot has taken my luggage relatively easily and I notice the child seat anchorages in the crimped rear buckets.
I settle in as we rumble towards the outskirts of Sydney and some favourite driving roads. It's still damp outside but I take the top down and there is surprisingly little wind noise or ruffle, and the spots of water flow straight over my head.
So now it's time to get serious with this Ferrari. As I chase the redline for the first time the car delivers with a hard- edged sprint and an explosion of sound that includes a howling V8 rasp, a whip-crack bang for each paddle-triggered upchange, and a deep bass note as it takes the next gear. This is a brilliant soundtrack and the scenery rushes towards me. It is still damp yet I can believe Ferrari's claim of a 0-100km/h sprint in less than four seconds. But I have zero intention of trying for the 310 top speed ...
As I spend more time in the California I become more confused. It's a Ferrari, but not the way I know them. It is relatively smooth riding, the engine is calm and refined, and the seat is comfy and the controls are easy to use. Ok, the boot is super-heating my luggage thanks to the exhaust pipes and it's guzzling fuel at around 16L/100km, but those are little things.
So I find a couple of corners. Now the California shows it was designed for California. It has gobs of power and brakes incredibly late, but it is not as edgy or responsive as other Ferraris I have driven. Push too hard and the nose runs wide, but the latest electronics means the tail end never gets nervy despite the wetness. It also sits down a lot in the tail, improving traction but cutting response from the nose.
Then it hits me. The California is one half of a Ferrari double-act deal, sliding in ahead of the new 458 Italia to ensure the company has something for everyone. Well, everyone with a $500,000 budget. The droptop is a softer car, built for cruising and relaxing trips. The 458 is designed to satisfy a need for speed.
So, is the California a Ferrari dream machine. A sensational 10-out- of-10 winner? Not for me. It's tasty and special but I cannot stop myself from thinking it's a hairdresser's car — some sort of Italian supercar Celica.
This is worrying, and not just because of the reaction I know will be coming from Ferrari, but I also know it is just the sort of Ferrari the world has wanted for a long time.
The California satisfies the badge snobs and does it in a way that is — by Ferrari standards, anyway — as efficient as a Toyota. It's a car you could loan to anyone without every worrying that it will turn nasty on them. That makes the California a definite winner. And a Ferrari for everyday use, not just Sunday morning sprints.

Rivals
Lamborghini Gallardo convertible - $515,000
Mercedes-Benz SL 63 AMG - $409,000
Porsche 911 Cabrio - from $247,100
Pricing guides
$125,310
Based on third party pricing data