10 August 2018
Here's what it's like to hit 180km/h in an Aussie expat Bufori in Malaysia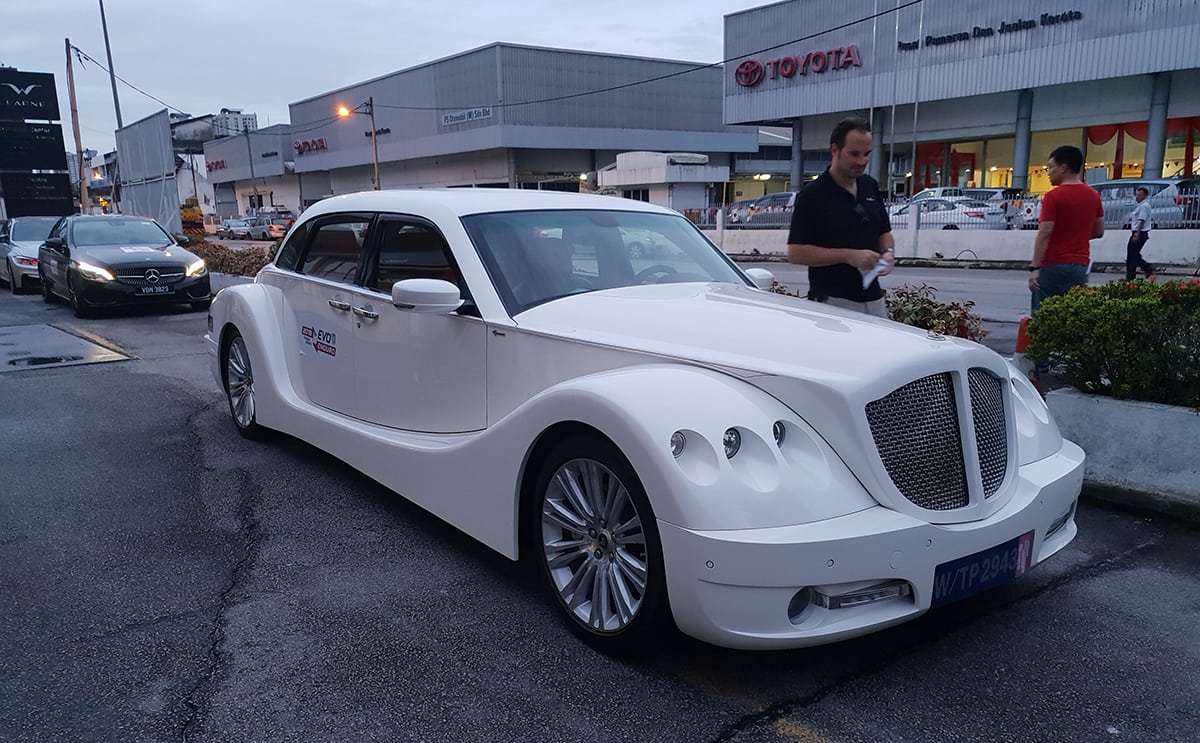 When talking about luxury cars, many would argue Rolls-Royce is the epitome of personalised luxury and opulence. And I'd agree with them.
But what if you wanted something with a bit more... exclusivity?
Enter Bufori: the luxury car manufacturer that was born in Sydney, grew up in Malaysia, and has since been on-and-off the automotive radar more times that we can count.
While Bufori is typically known for making the two-door 'La Joya' (originally known as the Madison in Australia) in the late '80s and beyond, Oversteer was given a private ride in the newer, four-door Geneva model during the Evo Enduro 2018.
Hopping in at the start line, we took off for a drive with Felix Haller, Bufori's general manager of marketing and international business development.
The first thing we noticed about the Geneva was, of course, it's size. It's a bloody cruise ship! Needless to say, our videographer, who had to record all of his footage from the rear seat, was enjoying the limitless amount of legroom immensely.
I never took the wheel, but I could still feel the car's length as we slowly helmed our way through Kuala Lumpur's endless 90-degree turns. The car's agility probably leaves much to be desired, but from a passenger's perspective – and that's the one that matters – it was pretty damn serene.
Even out on the highway, the engine noise never really grew to anything other than a mild rumble - 110km/h, 140km/h, 170km/h - it doesn't really matter.
When provoked, however, the classic HEMI engine can wake up an entire town.
Unsurprisingly from a handmade, low-volume production car, power is generated by an outsourced unit. A 6.4-litre Chrysler HEMI V8 generates the thunder, punching out 350kW/640Nm to the rear wheels through an eight-speed ZF-sourced transmission.
Chosen for its durability, reliability, and refinement, the optional Chrysler V8 is the preferred engine choice for drivers who like to press on. There is a 3.6-litre Pentastar V6 available, but c'mon…
But while the V8's mighty outputs are imposing – particularly for a 2.4-tonne car (despite a carbon-fibre/kevlar body) - it's the Geneva's level of detail that makes it noteworthy.
Bufori's managing director Gerry Khouri tells me that everything is customisable and made to spec. Everything!
We aren't just talking about the paint here. No, no, no. If you want a speedometer, a coffee machine, or an integrated drinks cabinet for the rear seat, nothing will stop Bufori from doing it. 
You want a personalised tune for the in-house suspension, or even a night-vision system in the instrument cluster? Done. A supercharger for the V8? Sorted.
Bufori will even measure your personal frame to make sure the seats fit you juuust right. This is a level of detail pretty much unseen since pre-war coachbuilding.
Put simply: Rolls-Royce and Aston Martin will let you change your cake's icing. But Bufori lets you change the milk/egg ratio, the amount of butter and sugar, and even the temperature of the oven. It's that in-depth.
While a Burfori Geneva and Rolls-Royce Ghost take a similar time to commission and build – roughly, six to eight months - the Roller will cost around RM $ 2.6 million (Malaysian Ringitts) before options, while a Bufori Geneva comes in at just RM 1.5-1.6 million (AUD $495,000). Bargain!
For more of our content from the Evo Enduro 2018, check out our stories here:
We've just smashed 1000km+ across Malaysia and Thailand in the Evo Enduro rally
Five things to know about cars in Malaysia
This is why a Toyota HiLux costs the same as a Honda City in Malaysia
Would you save the extra dosh and pick a Bufori Geneva? Tell us in the comments below.