10 August 2018
The ultimate camping accessory is this Aussie Unimog motorhome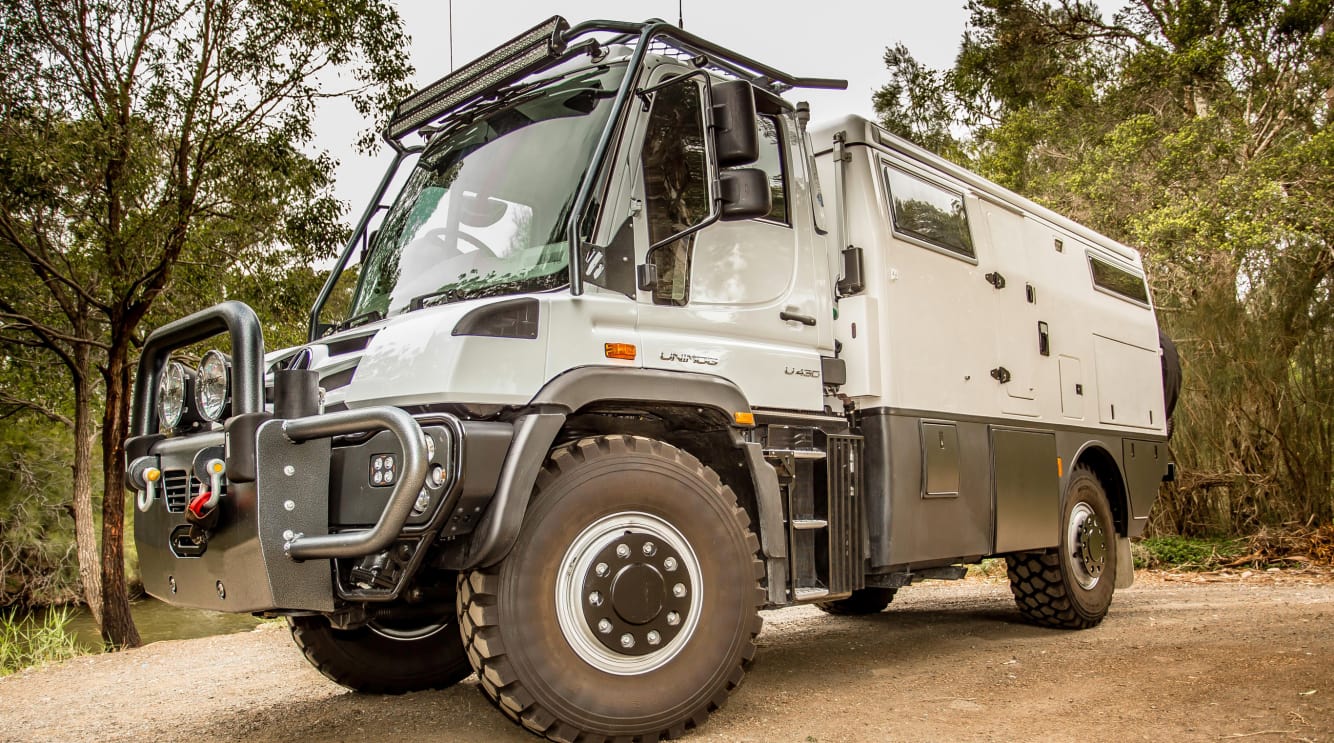 Think less camping, and more… taking a portal-axled hotel room with you anywhere you want.
And I mean literally anywhere you want. If you cross an inconvenient border into left-hand drive land, you can even swap the steering wheel and pedals over.
Meet the EarthCruiser Explorer XPR440. It's an Aussie fit-out of a Mercedes-Benz Unimog U430 which is normally a piece of farm equipment (Benz refers to it, lovingly, as an 'implement carrier').

It's an 'implement carrier' all-right...
In this case, it's fitted out with an 800-litre fuel tank (with a quoted 3500km range!), an 860-litre water tank with pressurised taps, including a shower & toilet, run-flat off-road tyres and, our favourite feature - the hydraulic jacking system - that can either level the whole thing for supreme comfort, or tilt it should you need to change one of those giant wheels.
Think you can't live in it? Think again. It comes packed with two lithium-ion batteries to power its amenities, which include two fridge/freezers, a microwave, a 2.5kg washing machine, air conditioning, 24-volt winches (front & rear) that support weights up to 9.0 tonnes, and a 240-volt outboard BBQ.

Genuinely nicer than some rental properties, and you can go anywhere you like.
If you really want to get 'in touch' with the outdoors, it even comes with a chainsaw and an axe, so you can live your best lumberjack life.
Oh, and if you want you can get a mounting bracket for a goddamn motorcycle on the back. Yeah, none of this mountain bike garbage, a whole motorcycle.

You'll be able to fit a whole motorcycle on the back, for away missions.
The U430 is powered by an industrial 7.7-litre inline-six diesel providing 220kW and 1200Nm of torque, so power is seemingly plentiful, although commercial versions of the truck hit their limit at 90km/h… You can go far, but it'll take you a while to get there.
How much for the ultimate outdoor toy brought to life? For the longest wheelbase and best-equipped version like the one in the pics, it'll be somewhere north of $720,000. Woah.

Stay level, winch things, and it comes with a damn chainsaw!
Then again, you could easily use this to replace a similarly-sized and priced Sydney apartment (and take it anywhere in the world, anywhere…). Worth thinking about.
Would you go this Unimog motor-home, or a small Sydney apartment? Tell us what you think in the comments below.