10 August 2018
Five things to know about cars in Malaysia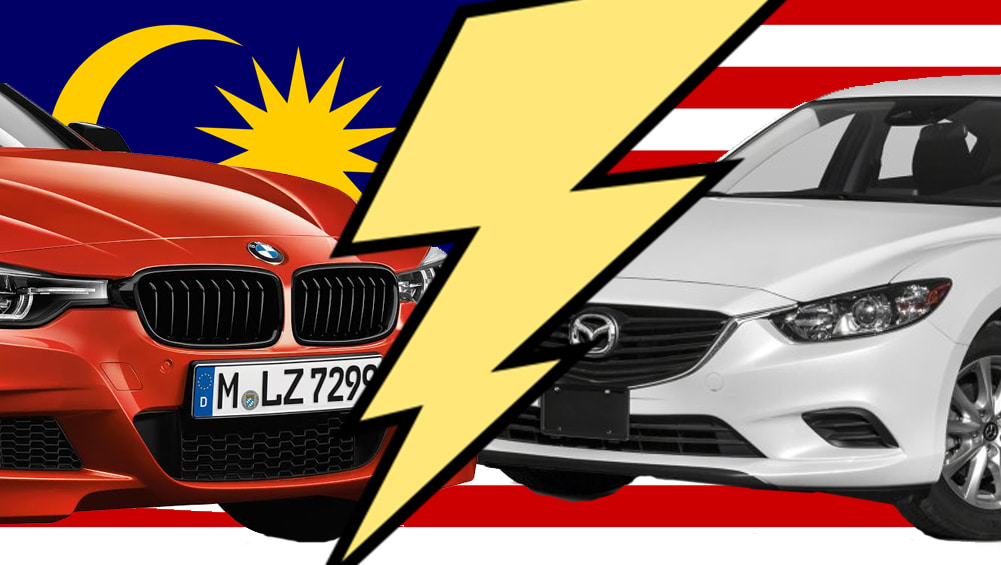 There's heaps to learn from visiting Malaysia. But here are the five things that stood out to us most.
1. A BMW 3 series costs LESS than a Mazda6
Forget power or looks – the import car tax is what drives consumer purchases in Malaysia.
Due to government incentives for consumers to buy cars with smaller capcity engines, along with Malaysia's 300 per cent import tax on cars, and the fact BMW builds some of its cars in Malaysia, buying a Beemer there is much cheaper than you'd expect.
When combined with a range of other factors, BMW has the ability to aggressively compete against base-model cars in a lower price bracket for models that are assembled in Malaysia.
In Australia, a BMW 318i comes in at around $48,000, while a base-spec Mazda6 Sport costs $32,000. This flips in Malaysia - with the Mazda6 weighing RM 201,000 ($66,800), and the BMW 318i coming in at RM 195,000 ($64,800).
With BMW Malaysia constantly making deals and slashing prices, there's a good chance dealer models will be much cheaper. And have some options added! 
2. Malaysian cars don't feature heaters.
Because it's so hot and humid all-day, every day, year 'round, most manufacturers don't bother installing heaters in its Malaysian-spec cars. I mean, why would you?
Sure, luxury car brands like Mercedes-Benz and BMW fit heaters. But Protons and Peroduas? Not so much.
In lieu of the traditional heater adjustment, you'll find a dial to adjust the 'intensity' of the A/C. As far as I could see, everyone keeps it cranked to the max.
3. Almost every car features rain guards.
Like I said before, it's hot in Malaysia. And wet.
Because of the tropical thunderstorms in Malaysia – and the fact only newer cars feature A/C - it's quite common to find cars fitted with aftermarket window covers.
They might look dorky, but they're on everything. How else do you keep the rain out with the window down?
4. City traffic is more disorganised, but less aggressive.
Like many developing nations, Malaysia's driving style is not what you'd call 'structured'. Particularly in the city.

Toll gates, for example, don't have markings and can get pretty congested. But everyone shows courtesy.
People will casually drift out of their lanes without indicating, motorcycles will dart in and out of blind spots, and roundabout etiquette doesn't really exist. It's a never-ending melee of potential disaster, but it's all part of the plan.
From the three-or-so hours spent in Kuala Lumpur's tightly gripped clutches, not one driver displayed any road-rage or anger. If you get cut off, you cut off somebody else. And so-on and so-on.
5. Its highways are unofficial Autobahns
In terms of road quality, Malaysia's interstate highways are the total opposite of Australia's. They're tip-top!

While Malaysians don't sit on the full 250km/h like the Germans, they don't shy away from speed.
They're wide, flat, feature a confidence-inspiring amount of positive camber in the corners, and have little-to-no surface irregularities. Everything is smooth and consistant.
Better yet - no matter how far you stray from the cities, the road quality remains as perfect as you can expect. And so they should; Malaysians pay top dollar for it through their car taxes.
The best thing, however? Neither the locals – nor the police – seem to care for the maximum posted speed limit of 110km/h.
While trucks and buses will stick to their maximum limit of 80km/h, it's not uncommon to find locals doubling that figure.
For more of our content from the Evo Enduro 2018, check out our stories here:
We've just smashed 1000km+ across Malaysia and Thailand in the Evo Enduro rally
Here's what it's like to hit 180km/h in an Aussie expat Bufori in Malaysia
This is why a Toyota HiLux costs the same as a Honda City in Malaysia
What's your favourite reason on this list? Tell us in the comments below.