18 January 2019
Someone shoehorned an 800hp, 9.3-litre Hemi in this Pantera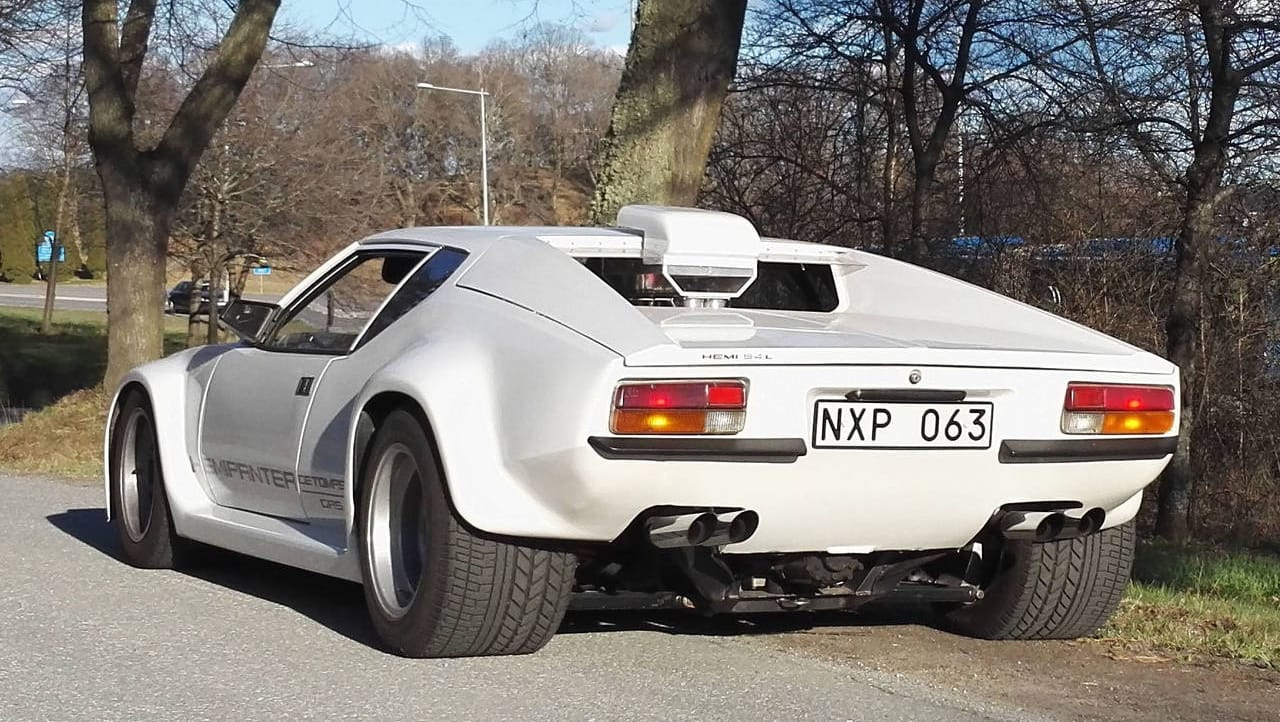 This is what happens when you let a former Top Fuel fabricator loose on an Italian supercar.
Purchased from an insurance company for $10,000 in 1988, this 1980 De Tomaso Pantera GT5 has had one of the more extreme engine swaps we've seen in recent times. Mostly because we have the impression that Goran Malmberg, a 75-year old Swede, is not doing this for a laugh...
He's been tinkering on his "Hemipanter" for well over a decade now, having gone through the original 351 Cleveland, a Boss 302 with Weber carbs, and a 500ci Ford big-block. But, as Goran is one of those people who believes in the phrase "there's no replacement for displacement", an aluminum 572ci Hemi V8 was honoured to be the final choice in 2013.
The specs are insane. It cranks out 596kW (800hp)/869Nm, does 0-60mph (96km/h) in 3.3 seconds, and is hooked up to a five-speed ZF manual. Fuel delivery is covered by a custom multi-port fuel injection-system (940cc injectors) that can be configured for E85, all eight 61mm throttle-bodies were custom fabricated, the aluminium heads have been ported, the cams are more aggressive, the engine is square on bore and stroke at 114.3mm each (a Subaru BRZ's is 86mm), the compression ratio is 13.0:1, the sump holds 10.4 litres of black gold, the reinforced chassis is twice as rigid as an Audi TT or Lotus Elise, the brakes are Lockheed ventilated discs, and the massive Z-rated Pirelli P-Zeros are 245mm(f) and 355mm(r) wide. You can take a breath now.
The entire suspension system has also been upgraded, with custom uprights and control arms up front, and coilovers all 'round. Which is great, because the Hemipanter also only weighs 1,065kgs. That's including the black hole of an engine…
For more details on Goran's build, check out his video below or his website here.
Sources: Engine Swap Depot and Hotrod.com.
What do you think of the Hemipanter? Would you be brave enough to give it a drive? Tell us in the comments below.