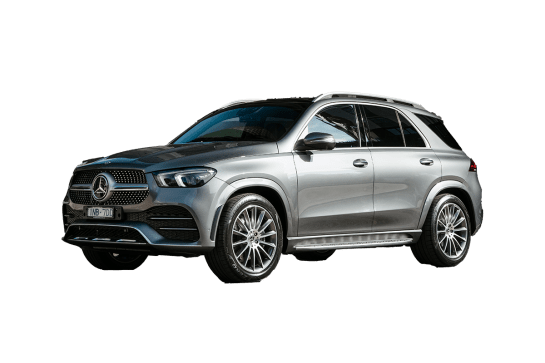 COMPARE
Mercedes-Benz GLE-Class
VS
Maserati Levante
Mercedes-Benz GLE-Class
Likes
In-line six engine
Grand interior
High-tech features
Dislikes
Visibility
Size
Three-year warranty
---
Maserati Levante
Likes
More affordable entry into Levante range
Great engine note
Almost identical standard features to the Levante S
Dislikes
GranLusso and GranSport packs are expensive
Limited room in the rear seats
Steering is overly sharp and quick
Summary
Mercedes-Benz GLE-Class
Not so long ago, even the idea of 'coupe SUV' would have been considered just a little bit silly.
But not anymore. This almost contradictory bodystyle is well and truly here to stay, as evidenced by the expanding catalog of available models pouring out of premium automakers.
Benz tells us, for example, that coupe versions make up some 25 per cent of its GLE sales in Australia.
Which brings us to this car – the second-generation GLE coupe. We were sent to its international launch to find out what's new, what's changed, and what Benz has in store for the Australian market, come its arrival in Q3 of 2020. Read on to find out what we discovered.
| | |
| --- | --- |
| Safety rating | |
| Engine Type | 2.0L turbo |
| Fuel Type | Diesel |
| Fuel Efficiency | 6.9L/100km |
| Seating | 5 seats |
---
Maserati Levante
Maserati. What do you reckon that name means to most people? Fast? Loud? Italian? Expensive? SUVs?
Well, maybe not the last one, but it likely will soon. See, with the Levante SUV accounting for half of all Maseratis now sold in Australia, shortly it'll feel like SUVs are all Maserati makes. 
And that may happen even faster with the arrival of the most affordable Levante ever - the new entry-grade, simply called Levante.
So, if this new cheaper Levante isn't expensive (in Maserati terms) does that mean it's not fast, loud or even Italian, now? 
We drove this new, most affordable, Levante at its Australian launch to find out.
| | |
| --- | --- |
| Safety rating | — |
| Engine Type | 3.0L turbo |
| Fuel Type | Diesel |
| Fuel Efficiency | 11.8L/100km |
| Seating | 5 seats |
Verdict
Mercedes-Benz GLE-Class
7.6/10
Whether you like Coupe SUVs or not is an entirely subjective matter, but there's no denying the GLE 53 is a tech and spec showcase – some of the best Mercedes has to offer. If you can get past its relatively enormous dimensions and naturally compromised visibility – it's even a hoot to drive.
The significant proportion of GLE consumers who are picking one of these over the regular version will be pleased with its many improvements. We'll know more about how its price and specification lines up against primary rivals closer to its Australian launch date, so stay tuned.
Note: CarsGuide attended this event as a guest of the manufacturer, with travel and meals provided.
---
Maserati Levante
7.3/10
The entry-grade Levante is the best choice in the current line-up (Levante, Levante Turbo Diesel and Levante S) because it's almost identical in performance and features to the pricier S. 
I'd give the GranLusso and GranSport packs a miss on this base Levante, but would consider them on the S where they are possibly worth the extra $10,000 rather than the $35K asking price on the entry car.
The Levante does a lot right – the sound, the safety and the exterior styling. But the quality of the interior, with its FCA shared parts, lowers what should be a prestige feel.
And back seat comfort could be better, Maseratis are grand tourers and an SUV from this brand should be able to accommodate at least four adults in superb comfort – something this one can't do.

Given the choice and about $130K would you choose a Porsche Cayenne or a Maserati Levante? Tells us what you think in the comments below.
Design
Mercedes-Benz GLE-Class
8/10
The GLE Coupe has improved so much in its looks it's easy to see when it came to the second-generation GLE underpinnings, Benz had it planned from the beginning.
It looks mean, especially the 53 with its giant toothy grille. The stance is low and wide for an SUV, and I'm especially a fan of the much more resolved rear end.
It's less bulbous and frumpy, more slick and menacing, rounded out nicely by the flick of a lip spoiler jutting out the rear.
You might think proportionally, the very idea of a coupe SUV is silly, and there's no denying that, but then, you and I might not be the target audience.
That audience is someone looking for an avant-garde take on what a sports car actually looks like. They will be pleased – I'd say its even more resolved than BMW's X Coupes and a little less science-fiction than Audi's Q8. The incoming Coupe version of the Porsche Cayenne will be a real challenger.
The presence the GLE Coupe exudes extends to the inside, where there's plenty of Mercedes wow factor. Level what you might at the brand's use of silver fittings and flat dual-screen set-up, there's no denying Benz offers an interior entirely unlike its competition.
The GLE has one of the best of the recent Benz interiors, too. I love the way the big dual-screen set-up is framed in a 'leather'-clad bay of vents.
I also like the real wood trim on our test car which runs across the dash and flows into the doors, and of course the wholly unnecessary vent-overload (becoming a Benz signature) pride of place in the centre of the dash.
It's complemented by the tape-deck style silver switches for the climate controls which protrudes underneath.
The materials are great, with Artico trim running down the centre console, and across each doorcard. Almost every surface you'll reasonably come into contact with is soft, and the commitment to real metals and wood is admirable.
Other highlights include the comfortable seats (with heating which extends into the armrests!) and AMG wheel which is flashy and aggressive, well suited to such a gratuitous vehicle.
---
Maserati Levante
7/10
The Levante looks exactly how a Maserati SUV should, with the long bonnet flanked by curvaceous wheel arches with their vents, leading towards a grille that looks ready to eat up slower cars. The heavily raked windscreen and cab-back profile is also very Maserati, as are haunches that muscle over the rear wheels.
If only its bottom was less Maserati. It's a personal thing, but I find Maserati rear ends lack the drama of their faces and the Levante's tailgate is no different in that it borders on plain.
Inside, the Levante looks to be a premium, well-crafted place, although closer inspection reveals there are certain items which appear to be shared with other brands which, like Maserati, are owned by Fiat Chrysler Automobiles (FCA). 
The window and headlight switches, the ignition button, the air-conditioning controls, even the display screen all can be found in Jeeps and other FCA cars.
There are no functionality issues here, but from a design and style perspective they look a little basic and lack the refinement a buyer may expect from a Maserati.
There's a lack of technological pizazz inside as well. For example, there's no head-up display or large virtual instrument cluster as you'll find in the Levante's competitors.
Despite the Jeep-looking bits the Levante is truly Italian. The chief designer Giovanni Ribotta is Italian and the Levante is made at FCA's Mirafiori plant in Turin.
What are the Levante's dimensions? The Levante is 5.0m long, 2.0m wide and 1.7m tall. So that means space inside is enormous right? Um… let's talk about that in the next section, shall we? 
Practicality
Mercedes-Benz GLE-Class
7/10
Naturally, the entire idea of shaving a solid bit of roof off of an SUV is going to compromise the amount of 'practicality' you get from such a large footprint.
Those compromises are not only there, but they are quite obvious. The sheer height of the GLE makes peering over the edge of the bonnet difficult for parking, and the sloped roofline causes the A-pillar to eat quite a bit of your field of vision.
As you might imagine, it's genuinely difficult to see much out of the back of the GLE Coupe. I caught myself continually adjusting the rear vision mirror – as though somehow it would grant me more vision out of the letterbox rear window.
While front passengers get away with plenty of room, rear passengers are a little harder done by. This is again, largely due to the roof pillar, which eats into headroom and gives the cabin a claustrophobic feel.
Thankfully, legroom is fantastic (largely due to that massive GLE platform), the trim is all just as good as it is in the front seats, and the back of the centre console gets its own set of climate controls, adjustable air vents and USB-C power outlets.
I'd hardly say there's an abundance of bottle holders for occupants, but there are a few. They aren't big or packaged in ideal locations, but you'll be able to get away with four 300ml containers in the front and four in the rear.
The boot has been re-worked from the GLE Coupe's predecessor, there's five extra litres on tap, for a total of 655 litres (VDA) – so it's far from useless, but still down significantly from the full size GLE which has a massive 825L of space.
Benz has made the boot more useful, too, lowering the sill by 60mm for easier access.
---
Maserati Levante
7/10
You know the Tardis from Dr Who? The time machine police phone box that is much bigger on the inside than it appears from the outside? The Levante's cabin is a reverse Tardis (a Sidrat?) in that even at five metres long and two metres wide, legroom in the second row is tight and at 191cm tall I can only just sit behind my driving position.
Headroom is also getting tight back there because of the swooping roofline. These aren't major issues, but If you were thinking of using the Levante as a SUV limousine of sorts then the limited room back there just won't be enough to let your taller passengers stretch out comfortably.
Also ruling it out as a chauffeur car in my view is the ride experience in the second row. I'll cover this in the driving section below.
The Levante's cargo capacity is 580 litres (with second row seats up) which is on the small side, and less than the Porsche Cayenne's 770 litre boot space.
Cabin storage is pretty good, with a giant centre console bin up front with two cupholders inside. There are another two cupholders near the shifter and two more in the fold-down armrest in the rear. Door pockets are on the smaller side, however.
Price and features
Mercedes-Benz GLE-Class
7/10
There's no dancing around the fact that the GLE Coupe is a niche, gratuitous product, targeted at a well-off consumer.
We don't know what the pricing will be for the Australian range yet – and we won't for a few months. But what we do know is Mercedes-Benz will only bring two highly specified variants to our market for the launch.
Those two will be the AMG-tuned GLE 53 which we were able to test at the launch, and a slightly lesser specified GLE 450.
Expect tall pricing, north of the wagon bodied GLE 450 ($111,341) for the 450 Coupe and outgoing GLE 43 Coupe ($145,829) for the GLE 53 Coupe.
The GLE Coupe will go into battle against the new BMW X6 (from $121,900) and Porsche Cayenne (from $116,600) and Audi Q8 ($128,900)
Standard features, as with the rest of the second-generation GLE range will be pretty good. We don't know exactly what Australian-specified vehicles will get, but the GLE 53 as tested in Europe came with an extensive list of items.
You can expect all variants to get 20- to 22-inch alloys, electric tailgates, LED headlights, and Benz' signature 'Artico' faux leather interior trim. The 53 also had a swish fully RGB adjustable interior ambient lighting suite and real wood in the dash. Very nice.
All GLE Coupes will have the impressive MBUX (I'm told it's said "em bee you ex", not "em bucks") digital dash and multimedia suite, consisting of two 12.3-inch screens, one a digital dash, the other a multimedia screen.
The flashy setup also supports Apple CarPlay and Android auto as well as the usual connectivity via Bluetooth and packs several USB C outlets alongside Aux and USB 2.0. Our test 53 had a head-up display, too.
Mercedes' built-in assistant (summoned by uttering 'Hey Mercedes') has perhaps the best native voice recognition on the market in terms of its accuracy and what it can do.
You can do things like adjust air conditioning, open the sunroof shade (oh yes, the GLE comes with a panoramic sunroof, too), and even find your specific music tracks via internet radio.
Then there's the built in nav suite which is also one of the better ones on the market, featuring some very cool innovations.
The system will switch to the forward-facing camera when approaching an intersection and show you where to exit using augmented reality. Neat.
The 53's system is also uniquely adjustable with AMG-specific themes and modes for the dash cluster, setting it apart from the lesser GLE 450 when it arrives.
It's safe to assume there will be an extensive options list, including the 'E-Active Body Control' system (a $13,000 option on the wagon version) which uses cameras to detect road quality and optimize the air suspension system to suit. It also leans into corners. We're keen to test it when it becomes available on the GLE 450.
---
Maserati Levante
7/10
Guessing you want to know just how much more affordable this Levante is compared to the other grades in the range? Okay, the entry-level Levante lists for $125,000, before on-road costs.
That may sound expensive but look at it like this: the entry Levante has the same Maserati-designed and Ferrari-made 3.0-litre twin-turbo petrol V6 as the $179,990 Levante S and an almost identical standard features list. 
So how on this planet is it possible there could be a $55K price difference and yet the cars be almost the same? What's missing?
Horsepower is missing – the base grade Levante may have the same V6 as the Levante S but it doesn't have as much grunt. But we'll get to that in the engine section.
As for the other differences – there aren't many, almost none. The Levante S comes with a sunroof as standard and front seats that adjust to more positions than the Levante, but both grades come with an 8.4-inch touchscreen with Apple CarPlay and Android Auto, sat nav, leather upholstery (the S does get more premium leather), a proximity key and 19-inch alloy wheels.
Those standard features are also identical to those in the Turbo-Diesel which sits above the Levante at $159,990.
Apart from less horsepower, no standard sunroof (as on the S) and upholstery which isn't quite as nice as the S's another downside to the base grade Levante is that optioning the GranLusso and GranSport packs is expensive… really expensive.
The GranLusso adds luxurious touches to the exterior in the form of metallic trim to the roof rails, the window frames and protection plates to the front bumper, while in the cabin thee front seats come in a choice of Ermenegildo Zegna silk upholstery, Pieno Fiore (full-grain) leather or premium Italian hide.
The GranSport toughens up the exterior with a more aggressive body kit with black elements and adds 12-way power adjustable sports seats, brushed-chrome shifting paddles and aluminium-face sports pedals.
The features those packages offer are nice – those silk and leather seats are sumptuous for example, but each pack costs $35,000. That's almost 30 per cent of the list price of the entire vehicle, extra. The same packages on the Levante S costs just $10,000.
While the Levante is the most affordable Levante, and also the cheapest Maserati you can buy, it's more expensive than its Porsche Cayenne (entry V6 petrol) rival which lists for $116,000, while the Range Rover Sport 3.0 SC HSE is $130,000 and the Mercedes-Benz GLE 43 is $135,529.
Is the new entry-grade Levante good value, then? Yes, for a Maserati, if you don't option the packages, and yes compared to most of its rivals.
Engine & trans
Mercedes-Benz GLE-Class
8/10
Australia will only get one engine in the GLE Coupe – a 3.0-litre 48-volt mild-hybrid in-line six-cylinder twin-turbo petrol.
There will be two states of tune. The 450 will be able to make use of 270kW/500Nm, while the AMG-spec GLE 53 we were able to drive at the launch has more power still (thanks to extra hybrid augmentation on the turbo) for a total of 320kW/520Nm.
For a quick comparison, the single-variant Q8 produces 250kW/500Nm from a twin-turbo V6, while the equivalent X6 – the M40i packs a 3.0-litre twin-turbo in-line six to make 250kW/450Nm.
The GLE 53 has a nine-speed auto transmission which is specially tuned by AMG to go with the expanded list of available drive modes. All Australian GLE Coupes will be all-wheel drive via a permanently active '4Matic+' system.
---
Maserati Levante
8/10
If you've just read the section above on price and features, you're now probably wondering how much less powerful the Levante is compared to the Levante S.
The Levante has a 3.0-litre twin-turbo petrol V6 and it sounds magnificent. Yup, the entry-grade Levante lets loose that Maserati high-pitched scream when you open the throttle, just like the S. It may sound the same as the S but the Levante's V6 has less horsepower. At 257kW/500Nm, the Levante makes 59kW less in power and 80Nm less in torque.
Is there a noticeable difference? Not much. Acceleration isn't as rapid in the Levante with 0-100km/h coming in six seconds compared to 5.2 seconds in the Levante S.
Shifting gears is an eight-speed ZF-sorced automatic transmission which is super smooth, but a little slow.
Fuel consumption
Mercedes-Benz GLE-Class
8/10
The claimed combined cycle fuel consumption figure for the GLE 53 Coupe is 9.3L/100km, and while that's not bad for something this heavy – keep in mind it's an NEDC figure and not the widely-used WLTP figure so it could be a bit different by the time the GLE Coupe launches here.
Regardless, the fuel consumption is helped along by the abundance of ratios in the transmission and 48-volt mild-hybrid additions which help to remove inefficiencies from the drivetrain.
Our sweet but brief drive route in the Austrian Alps was not a fair reflection of fuel consumption, so we don't have a real-world figure for you yet.
Expect the GLE 53 to require premium 98 RON unleaded petrol to fill its 65-litre fuel tank.
---
Maserati Levante
7/10
Even if you were to drive your Levante conservatively Maserati says you can expect it to use at best 11.6L/100km over a combination of urban and open roads, the Levante S is a bit thirstier at an official 11.8L/100km. 
In reality you can expect the twin-turbo petrol V6 to want more – just open road driving was seeing the trip computer report 12.3L/100km, You can bet that'll go up in the city and climb higher if you like to keep raising the Levante's beautiful voice.
Driving
Mercedes-Benz GLE-Class
8/10
The resurgence of the in-line six engine is a glorious thing, and it makes the GLE 53 quite a fun, if chunky, unit to drive.
Acceleration is urgent thanks to the pre-spooled first-stage turbo, and the transmission flicks through the gears like there's nothing to it.
It's perhaps not as 'smart' on the downshifts as competitor transmissions from Audi or Porsche, although Mercedes was keen to point out this will get better over time as the car's computer 'learns' your driving characteristics.
Thankfully though, unless you're in 'Eco' mode, the GLE 53 does a great job of letting you ride each gear out, giving you that signature in-line six sensation of an entire revolution range of relatively even torque distribution – a characteristic which Mercedes has gone to pains to perfect on a turbocharged engine.
This has the result of letting you bask in the sound for precious extra seconds.
While not as furious as preceding V8s – it is distinct. It's refined and rich, although more subdued than you might have come to expect from vehicles wearing the Affalterbach badge.
I'm a fan. It's an engine befitting a more refined sports machine than a garish statement.
The AMG suspension tune was great, too, keeping the massive Coupe truly under control in the corners, while soaking up bumps (which we'll admit, there were few of on Austria's immaculate roads).
It was interesting to read colleague Matt Campbell found the standard suspension less than impressive on the regular SUV-shaped variants, so we'll see what the more basic set-up on the 450 is like at the Coupe's launch.
I have no complaints about the steering, which proved to be responsive, smooth and accurate, while not erring too far on the heavy side, even in 'Sport' or 'Sport+' mode.
My main complaints lie with outward visibility and the sheer size of the GLE's body. There were some nerve-wracking moments piloting it at speed around narrow streets with tall snow embankments encroaching.
And no matter how much I adjusted my seat and mirrors, the view out the back was particularly compromised.
---
Maserati Levante
8/10
When I reviewed the Levante S at its launch in 2017 I enjoyed its good handling and comfortable ride. But impressed as I was with performance from the engine I felt the car could be quicker.
So how then would a less powerful version of the same car feel? Not much different, actually. The base grade Levante is only 0.8s slower to 100km/h than the S at six seconds. The air suspension is the same as the S's and returns a comfortable and compliant ride, and handling with the dampers in the firm setting is impressive for a two tonne, five-metre long vehicle.
Front brakes in the Levante base grade car are smaller (345 x 32mm) than in the S (380 x 34mm) and the tyres aren't staggered either with 265/50 R19 all around.
The variable-ratio, electrically-assisted power steering is well weighted, but too quick. I found the car turned in too far, too quickly, with regular mid-corner corrections a tiresome necessity.
To me there's no point going for the S based on the assumption that it's going to be a much higher performing car. The Levante and Levante S and are both mild in their power delivery and have better dynamics than an average large SUV.
If you are after a true high-performance Maserati SUV then you might be best off waiting for the Levante GTS coming in 2020 with a 404kW V8.
The base grade Levante V6 sounds just as beautiful as the S's, but there's one place where it isn't very pleasant. The back seat.
At the launch of the Levante S in 2017 I didn't have the chance to ride in the rear seats. This time around I let my co-driver steer for half-an-hour while I sat in the left rear position. 
For starters it's louder back there – the exhaust note is almost too loud to be pleasant. Plus, the seats aren't supportive or comfortable. 
There's also a slightly claustrophobic, cave-like feeling in the second row, largely due to the roof's accentuated slope towards the rear. This, to me, rules it out almost completely as something to ferry guests around in comfort.
Safety
Mercedes-Benz GLE-Class
8/10
We don't know exactly how Australian cars will be specified yet, but expect the two GLE Coupes to come with flagship active features like high-speed auto emergency braking (AEB), lane departure warning with lane keep assist, blind spot monitoring, rear and front cross traffic alert, adaptive cruise control, 360 degree parking sensors and cameras, fully auto LED headlights, semi-autonomous parking, and driver attention alert.
The GLE has nine airbags and dual ISOFIX child seat mounting points in the outer rear seats.
Regular wagon bodied GLE class vehicles have maximum five-star ANCAP safety ratings as of 2019, and we'll update you when we hear more about the Coupe variants.
---
Ownership
Mercedes-Benz GLE-Class
7/10
Mercedes continues with its three-year/unlimited kilometre warranty which is frustratingly standard across European premium car manufacturers in Australia– particularly its primary competitors, Audi and BMW. We doubt this will change any time soon.
Like VW Group competitors, though, Mercedes is now bundling in service costs in packages which can be tacked on to finance. The GLE requires servicing once a year or every 15,000km – we'll update you on the cost of the packages closer to the Coupe's local launch.
---
Maserati Levante
6/10
The Levante is covered by Maserati's three year/unlimited kilometre warranty. Servicing is recommended at two year or 20,000km intervals. More brands are moving to longer warranties and it would be good to see Maserati offer its buyers longer coverage.