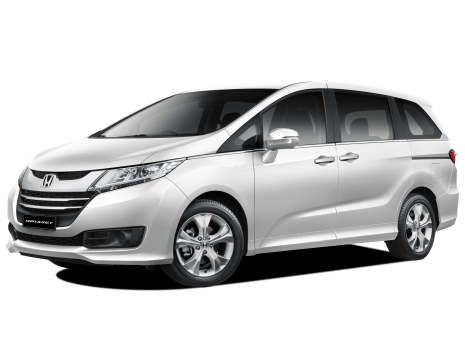 COMPARE
Honda Odyssey
VS
Kia Rondo
Honda Odyssey
Likes
Best-looking people mover
Tons of space in a slight package
Secure handling and good ride
Dislikes
Feeling old
No Apple CarPlay/Android Auto
Lack of advanced safety feature
---
Kia Rondo
Likes
Giant boot
Cavernous cabin
Practical interior
Dislikes
Engine could do with more grunt
Styling is a bit dull
Display screen is tiny
Summary
Honda Odyssey
Honda's sleek Odyssey has long been a popular choice for Australians in need of more seats/better contraception. As the years have gone by, however, the people-mover market hasn't so much shrunk, it has collapsed into a black hole, taking a bunch of competitors out of space and time.
The Odyssey stands with the ancient Tarago and gigantic Kia Carnival as the only real options if you don't want an SUV to shift lots of people and gear. And to not have to put up with people telling you you're driving a commercial van in drag.
| | |
| --- | --- |
| Safety rating | |
| Engine Type | 2.4L |
| Fuel Type | Regular Unleaded Petrol |
| Fuel Efficiency | 7.6L/100km |
| Seating | 8 seats |
---
Kia Rondo
It's rare to see a Kia Rondo on the road. Spotting one is like when you get a commemorative 50-cent coin in your change, only not as exciting. Yup of the 219,270 cars sold so far this year 59 of them were Rondos. But the more I've driven the base-spec Rondo S - the more I think 219,211 people may have missed out on something quite good.
So what is a Rondo? Is it a van? Is it a hatch? Is it a wagon? Well, Kia calls it a people mover, but while the top-spec Rondo Si has seven seats, the five-seater Rondo S which arrived late in 2016 only has seating for five. Is that enough people to count as a people mover? 
As for rivals to the Rondo S, well there's the Citroen C4 Picasso, the Mercedes-Benz B-Class and the BMW 2 Series… aaaaaaand that's about it.
So what is it about the Rondo S that makes me think that many of the 220,000 people may have the wrong choice and bought a SUV when what they really needed was a Rondo, but just never knew it? Oh and what is it about the Rondo that dogs really like? And what's bigger about the five-seater Rondo S than the seven-seater Rondo Si?
| | |
| --- | --- |
| Safety rating | |
| Engine Type | 2.0L |
| Fuel Type | Regular Unleaded Petrol |
| Fuel Efficiency | 7.9L/100km |
| Seating | 5 seats |
Verdict
Honda Odyssey
7/10
The Odyssey is dependable for a number of reasons - it seems built to last, is good to drive rather than good enough and the interior space is crammed into a fairly small outer body, aiding its likely cause as a city-dwelling family wagon or uber Uber.
Seven-seat SUVs have certainly taken over this space. None have managed eight seats, though, which the Odyssey does, and none can pull off a flat, walkthrough interior, the gigantically expensive Tesla Model X excepted.
And like all good cars, the Odyssey does exactly what it says on the box.
Is an old-school people mover still relevant in the days of seven-seat SUVs? Tell us what you think in the comments below.
---
Kia Rondo
7.4/10
If you're thinking of getting an SUV because you like to sit a little higher up and want a car with plenty of room and a big boot, but don't head off-road ever, then you may be better off in a Rondo S which drives more like a car and has much of the benefits of an SUV.
Design
Honda Odyssey
7/10
When Toyota's Tarago went all cool and spaceship in the middle of the 1990s, the segment became instantly cool... well, cooler. The first and second generations were solid if unspectacular efforts, distinguished by 'normal' car doors for the rear rather than the psychologically van-like sliding doors. The third and fourth generations are the versions everyone remembers - sleek and stylish, it really looked pretty good for an MPV.
This fifth generation isn't quite so successful and is probably the most delivery-van like. The higher bonnet and boxier profile are further complicated by an extraordinarily busy grille and light arrangement, with more chrome than is probably necessary. It makes the Odyssey look a bit bluff and the sliding doors are a bit van-ish if not more useful, especially in tight spaces.
The spacious interior is filled with light from huge expansess of glass all the way down the car. There are a few clever features, like the front quarter window to help place the car while parking. It's a gracefully ageing space but with some nice touches like the touchpads for the HVAC (heating, ventilation, air-conditioning) controls. The dodgy wood is less welcome and should be dispatched post-haste - it looks aftermarket and is obviously plastic.
---
Kia Rondo
7/10
The Rondo has a mini-people mover shape with a horizontal and high roof, an upright back and a heavily raked windscreen and pointy nose. The headlights look too big for its face but that's kind of cute in a manga-cartoon way.
Take a look at the dimensions for the Rondo S - it's bigger than you might think.  At 4525mm end to end it's 45mm longer than a Kia Sportage mid-sized SUV, and 35mm shorter in height at 1610mm tall. It's 35mm narrower than the Sportage, too, at 1805mm across. 
Clearance is about the same as a regular car at 151mm but the driving position is higher – though not as high as the Sportage's.
Inside the dashboard and steering wheel are low, the windscreen is enormous and those A-pillars either side of it are long.
On the outside you can tell a Rondo S from the top spec Rondo Si by the wheels – the S has plastic hubcaps and the Si has alloys. You can spot a Rondo S from the inside by the tiny media screen and the chunky plastic steering wheel – the Si gets a bigger screen and sleeker looking wheel.
The cabin is stylish with the brushed aluminium look trim and dark materials. The CarsGuide photographer told me he liked its '80s retro look – thing is I'm pretty sure the designers weren't trying to go for an ironic retro feel.
Practicality
Honda Odyssey
8/10
The big reason the VTi is more practical than the more expensive S is that the lower-priced car has one extra seat. The middle row of the VTi-S is made up of two swivelling-sliding captain's chairs with old-school business class style leg rests. The VTi's middle row is far more conventional with that extra seat, meaning a total of eight.
The middle row can slide fore and aft and the seatback reclines. Life is a little desolate in the back row, with few convenience features apart from a fixed glass window so they can watch more fortunate people. To be fair, the seats back there are comfortable and offer better-than-expected legroom, and there are even ceiling-mounted air vents.
Despite having eight seats, there are "only" six cupholders on board and you can only get to two if the middle row is fully occupied. The third row has them built into the mouldings either side of the seats. Front-seat passengers also score a handy, pop-out-and-up tray that will fit two big phones right next to the two USB ports.
Boot space is, as you would expect, variable. It starts at 330 litres with all seats in place, which is smaller than an HR-V's boot. A very neat trick is the way the back row folds right into the floor. If you weren't paying attention, you'd think Honda short-changed you and sold you an absurdly tall wagon.
Drop those rear seats and let the middle row-dwellers have all the available space and the boot expands to 1332 litres. Push the middle row forward and you gain another 340 litres to 1672, although you won't have much legroom. Fold all of the rear seats and you have 1867 litres. The second row doesn't come out and it is rather in the way, but it's handy if you've got a long flat pack or modest shelves or cupboards to shift. Great for a bunch of balloons, though. With room left for a clown or two.
---
Kia Rondo
9/10
The Rondo has enormous rear doors that are light and easy to swing open and when they do you have a wide and tall entrance which makes getting in and out easy. That's good news if you're not as agile or young as you used to be or if you're a parent putting kids into car seats. I find I almost double over when putting my toddler into his car seat in small cars, but the Rondo's seat height is elevated enough that there's less of a bend needed. The step to get in is low, too.
The second row is made up for three individual seats rather than a single bench seat. The legroom in all of them is excellent and even at 191cm tall I can sit behind my driving position with two finger-gap between my knees and the seatback.
Headroom is outstanding and even with my big hair I still have about 20cm of clearance.
The cargo volume of the Rondo S is 536 litres, and that's 44 litres more than the boot space in the seven-seater Rondo Si which loses luggage capacity because of the foldable third row seats and 130 litres more than the Sportage's boot.
Under the boot floor is like a giant bento box of storage compartments with three equal-sized large rectangular areas big enough for handbags, shoes and laptops, a smaller shoe boxed-sized area and a tiny hidey hole big enough for my phone. Also in the boot on the right-hand side wheel are elasticised straps for – picnic blankets or whatever else you don't want flapping about in there.
There's shoe-boxed sized storage under the floor in the second row, on both sides, too.
The centre seat in the back folds flat and being hard-backed can act as a table, it also has three cup holders moulded into it. There's another two cup holders up front and giant bottle holders in all doors.
The Rondo is just as practical as many SUVs if not more so.
And here's a random Rondo fact for you – the Rondo is pretty popular with dog owners because the height of the roof means their hounds can stand up and turn around. Yup dogs love the Rondo.
Price and features
Honda Odyssey
7/10
Honda offers two specifications in Australia; the VTi and VTi-S. This week we spent time with the more practical, eight-seater VTi, the version that does without the famous captain's chairs.
The $37,990 VTi undercuts the S by nearly 10 grand, which is quite a difference. The VTi leaves Japan with 17-inch alloys, a six-speaker stereo, dual-zone climate control, remote central locking, reversing camera, cruise control, auto headlights, leather steering wheel, power windows, folding heated mirrors and a space-saver spare.
The passenger-side rear door also has an electric slide, with a button on the dash and the key fob for remote activation. It's a neat party trick.
Honda's ageing multimedia software fills a 7.0-inch touchscreen with jagged old graphics and fails to fill it with Android Auto or Apple CarPlay, like in the Civic and CR-V. The sound is fine, but it's not a great system to navigate or use.
---
Kia Rondo
8/10
The Rondo S lists for $26,990. The $40,990 Citroen C4 Picasso is the closest in price to the Rondo S, while the Mercedes-Benz B180 is $42,400 and BMW 2 Series Active Tourer starts at $49,100.
It has to be said, the Rondo S isn't a prestigious as those rivals and the standard features aren't as extravagant. Still the basics are covered with a 4.3-inch touch screen with reversing camera, rear parking sensors, six-speaker stereo, Bluetooth connectivity, CD player, cloth seats, auto headlights, tinted glass, cruise control, and air conditioning with vents in the second row.
That screen is pretty small – like business card small, and that means the image for the reversing camera is a bit hard to make out at times.
The Rondo S is still good value though at this price.
Engine & trans
Honda Odyssey
7/10
Hey remember the Odyssey V6? Yeah, me too. It was great. Almost nobody buys people movers anymore and even fewer people buy big-engined ones, so the V6 disappeared into the black hole.
Anyway, these days Honda fits a 2.4-litre four-cylinder, producing 129kW and 225Nm. Fitted with a CVT, power reaches the road through the front wheels.
---
Kia Rondo
6/10
There's one engine in in the Rondo range – it's a 122kW/213Nm 2.0-litre four-cylinder petrol and it comes with a six-speed automatic transmission. A manual gearbox isn't available.
You may hear the engine called a GDI, don't let then name throw you – it's not a diesel. The acronym stands for Gasoline Direct Injection.
Fuel consumption
Honda Odyssey
7/10
Honda says the 2.4-litre swallows standard unleaded at the rate of 7.6L/100km on the combined cycle. I've tested three Odysseys over the last three years and each time the fuel figure is almost bang-on 10L/100km, and this time was no different.
---
Kia Rondo
6/10
Kia says the Rondo's average combined fuel consumption is 7.9L/100km or 10.8L/100km if you're keeping it urban. Our test vehicle was thirstier and was driving at a rate of 10.1L/100km according to the trip computer over a week of highway and urban use, while our city commuting saw usage jump to 17.4L/100km.
Driving
Honda Odyssey
7/10
With modest power and torque outputs and a fairly lazy CVT auto, the Odyssey is a very relaxed car. It almost encourages you to sit back and cruise. Actually, you're forced to, because it's not very quick. You can hustle if you're in a hurry, but only when it's just you on board. The 2.4-litre is readily overwhelmed when loaded up to the gills. Which, in the end, doesn't matter, because seven passengers aren't looking for the Craig Lowndes Experience in an Odyssey.
It has car-like manners and you really only feel you're in a long box when you come to park. The reversing camera is certainly helpful but the strange habit of leaving out parking sensors from the spec list (Subaru does it too) is baffling.
It corners securely and the body is kept well under control by a reasonably supple suspension set-up. It certainly rides better than the Carnival and is streets ahead of the Tarago, which is a roly-poly mess with little in the way of feedback for the driver.
The Odyssey actually puts me in mind of the smaller HR-V - competent and composed, if nothing outstanding for the driver.
The transmission also has an annoying quirk - every time you lift off, you can hear Maria Sharapova moan, or the sound of a jet engine winding down. You really only hear it when the radio is off, but it's slightly unnerving.
---
Kia Rondo
7/10
You know what? The Rondo was already so impressively practical and roomy that it could have been terrible to drive and it still would be worth buying, but its on-road performance was pretty impressive.
Look, the brakes can be a bit bitey, acceleration on take-off is sharp and then the engine seems to run out of oomph and just get noisier at higher speeds, but those are my only real complaints, because the ride is composed and comfortable, the steering feels smooth and light, while the handling is impressive. I took the Rondo through the same test loop as all my test cars and it performed better than many in this price range.
Being lower to the ground gives the Rondo better dynamics than many SUVs, too. Corners that cause a good degree of body roll and tyre chirp in a Sportage or RAV4 saw the Rondo coast through perfectly stable and unfussed.
The A-pillars do obstruct visibility and at one set of traffic lights, the only way I knew I had a green arrow was because the bloke behind me was leaning on his horn. But there are small port-hole windows integrated into the A-pillars that help with visibility.
Safety
Honda Odyssey
6/10
The Odyssey has six airbags and, crucially, the curtain airbags stretch the entire length of the car. You can add to the list ABS, stability and traction controls, two ISOFIX points in the middle row and three top-tether anchorages.
Irritatingly, none of the advanced safety features you might want on a car carrying so many people are available, such as AEB or lane-departure warning. Reverse cross traffic alert is only available on the VTi-S.
The Odyssey scored five ANCAP stars in May 2014.
---
Ownership
Honda Odyssey
7/10
Honda offers a five year/unlimited kilometre warranty, which goes some way to covering the deficit to the Kia Carnival's seven-year coverage.
Service intervals are every six months or 10,000km and the first 10 are covered under Honda's Tailored Servicing arrangement. This means capped pricing  for up to five years or 100,000km, with costs bouncing between $267 and around $300, give or take a few bucks. Also in the schedule are a range of adaptive items. These seem reasonably -priced and include things like air filters, brake and transmission fluid.
Roadside assist is available at extra cost.
---
Kia Rondo
10/10
The Rondo is covered by Kia's seven year/unlimited kilometre warranty. There's capped price servicing for seven years, too. Servicing is recommended every 12 months or 15,000km and is capped at $299 for the first service, $375 for the second, $361 for the third, $398 for the fourth, $336 for the fifth, $470 for the sixth and $357 for the seventh.