Toyota Corolla vs Hyundai i30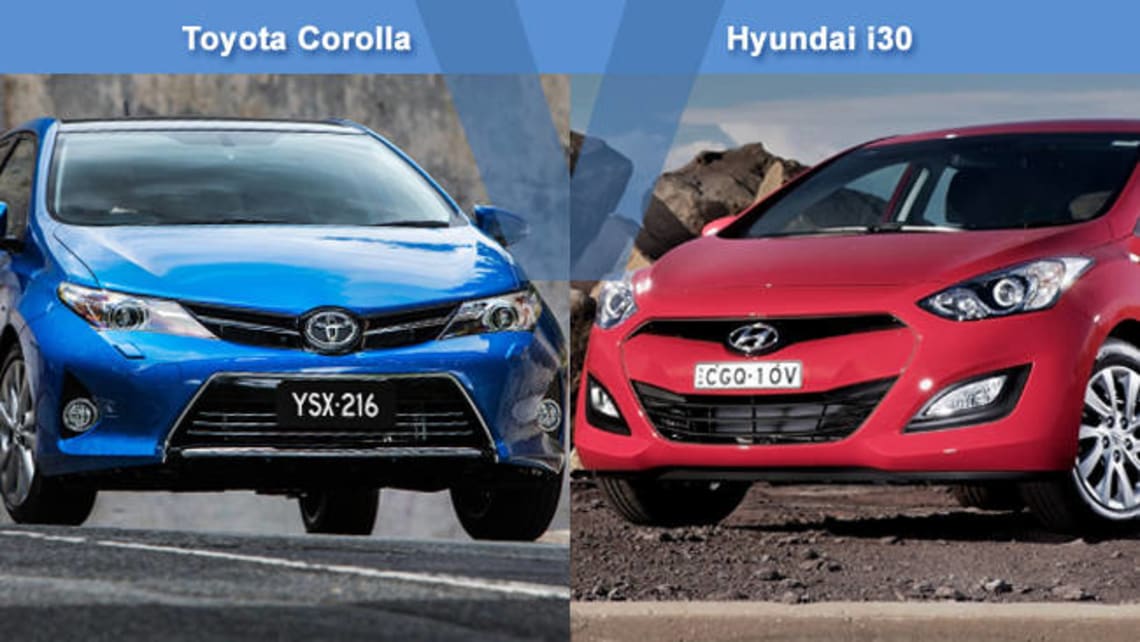 Toyota Corolla and Hyundai i30 go head-to-head in this comparative review.
Toyota Corolla
from $19,990
At $19,990 plus on-road costs the base model manual Toyota Corolla hatch has wound back prices 11 years. Add $2000 for the seven-step constantly variable transmission. Seven airbags and Bluetooth (including music streaming) are standard. But rear parking sensors are not.
At $20,990 plus on-road costs for the base model manual, the Hyundai i30 is about $1000 dearer than the headline prices in the small-car class. But that buys a five-year/unlimited kilometre warranty and rear parking sensors.
The Corolla's sleek lines were styled in Toyota studios in Europe and Japan. They've been designed to make the car look "keen''. The aim with the interior was to appear unconventional. Thankfully there is still plenty of practical storage space.
They look almost identical from behind yet neither copied the other's homework. They were designed in secret on separate continents. The Hyundai's interior aces the Corolla for its upmarket yet functional appearance.
Toyota Corolla
Hidden Costs
Metallic paint adds $425. Servicing costs just $130 a visit. But you must return to the dealer every six months (not 12 as with most brands) and capped pricing runs out at 60,000km -- when the expensive maintenance starts to kick in. Total servicing cost over three years: $780.
Metallic paint is $495 and only white and red are exempt. Annual services cost $219 each (only three are required). Total cost: $657. But coverage ends when the expensive services start (60,000km) even though there are still two years left on the warranty.
The Corolla has seven airbags (the extra one near the steering column is for knee protection) to achieve its five-star rating. Stability control (now compulsory on all new cars) is standard. Rear camera and navigation with traffic alert are available on dearer models.
Seven airbags, five-star safety and it has good roadholding, so you can avoid a crash in the first place (we hope). Rear parking sensors as standard put the i30 just ahead of the Corolla in this contest.
With wider tyres than before, this Corolla should have a slightly plusher ride. But in city driving it can be sharp over bumps. The sound of the engine revving loudly due to the CVT takes getting used to but performance is quite spirited for a Corolla.
The 1.8-litre four-cylinder engine has a similar amount of zip to the Corolla. But the conventional six-speed automatic feels nicer to drive than the Toyota's CVT. Roadholding and ride comfort are a little better, too.
The Corolla could do with more driving flair and refinement. That the Hyundai i30 is a more complete package shows how times have changed. If Hyundai trimmed the price by $1000 it would have every base covered.