Ford Everest vs Toyota Land Cruiser Prado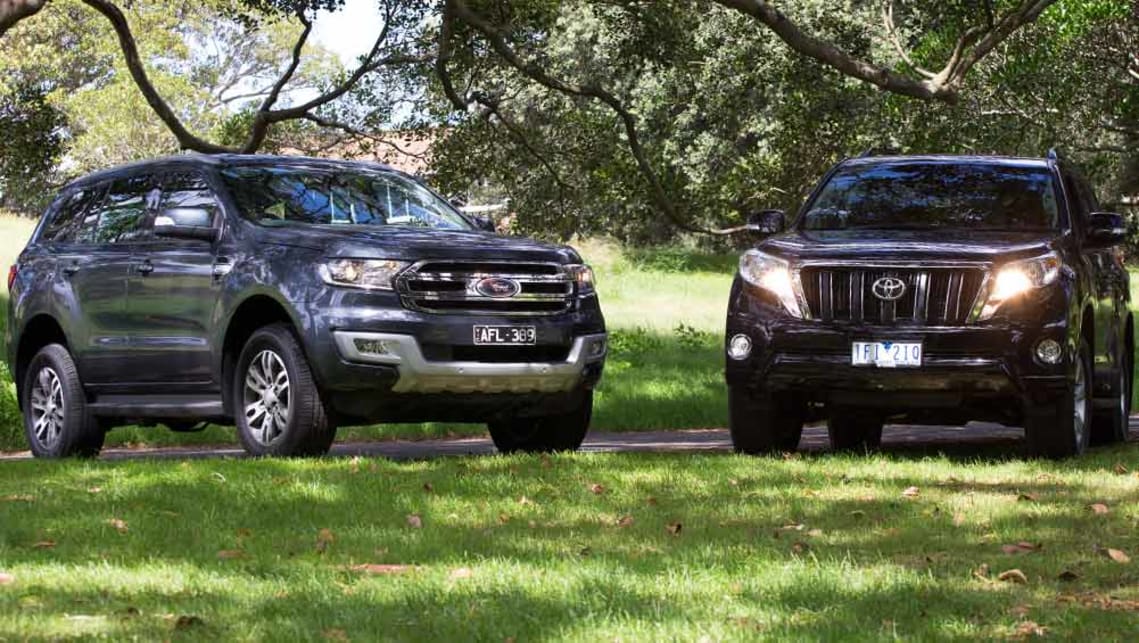 Does Ford's young gun Everest have what it takes to topple Toyota's popular Prado? Richard Berry gets in the ring with these middleweight four-wheel drives.
Ford Everest Trend
$60,990
The Everest is a newer vehicle than the Prado and has had the full Santa sack of the latest tech gadgetry thrown at it. The mid-level Trend comes with an eight-inch touchscreen, digital radio, Wi-Fi capability, power tailgate, auto high beam, 10-speaker sound, a 230-volt power socket and four 12-volt points, 80-litre fuel tank, rear view camera, front and rear parking sensors and multi-terrain mode. Satnav is an optional extra on the Trend.
Toyota LandCruiser Prado GXL diesel auto
$59,990
The mid-spec Prado comes well equipped with a seven-inch touchscreen, rear parking sensors, reversing camera, proximity keys, three-zone climate control, 220-volt power point, main fuel tank and reserve tank with combined 150-litre capacity, roof rails and side steps. The 2015 update added satnav and a nine-speaker sound system. There's also value you can't see like Prado's well-earned reputation for being a reliable and bullet proof piece of hardware.
You could argue the Everest isn't as handsome as the Prado, but that said it's a big, tough looking machine. There's massive amounts of space inside with a 450 litre boot when the third row of seats are up – and space in the third row is totally fine for transporting fully-grown humans. The interior is modern and functional with comfortable seating in the front and second row. The auto tailgate makes life easier, too.
Toyota LandCruiser Prado GXL diesel auto
The Prado is a sexy beast that looks just as at home in an outback town as it does in a posh suburb. Inside is spacious, functional and comfortable although the third-row seats don't offer much legroom. This generation Prado has been around since 2009 and despite upgrades the interior is looking outdated. The side-opening tailgate is heavy and can't be opened if some doofus parks too close to you, and becomes very heavy when parked on an incline.
The Everest is based on the Ranger ute and comes with a 143kW/470Nm version of its strong 3.2-litre five-cylinder engine and six-speed auto. Ford submitted the Everest to three million kays of testing – and a heap of it was done in Australia. Like the Prado it's a body-on-frame vehicle which gives it toughness and has on-demand four-wheel drive with four modes for different terrain.
Toyota LandCruiser Prado GXL diesel auto
When Toyota updated Prado last year the old 3.0-litre turbodiesel engine was turfed for a much smoother new 2.8-litre unit that has a slightly higher output at 130kW/450Nm and a better fuel efficiency of 7.9L/100km through a new six-speed auto. Full time four-wheel drive, a body which sits on a ladder frame and extensive development in Australian conditions makes the Prado an extremely capable off-roader.
There was a time when a four-wheel drive's major safety feature was its size - things have changed. The Everest has a five-star ANCAP crash rating and is equipped with cutting-edge safety kit including a lane keeping system which will steer you back if you stray off course, seven airbags – including curtains to the third row – plus it will call the emergency services if it sees that an airbag has gone off in a crash.
Toyota LandCruiser Prado GXL diesel auto
The Prado also has a five-star ANCAP crash rating and seven airbags – including curtains which go all back to the third row. The top-of-the-range Kakadu gets more advanced safety kit that the GXL misses out on. While the Prado is extremely safe it is showing its age now with its safety-gear shortfall.
The Everest is an extremely capable off-roader. It has a quiet cabin and steering light enough to make city driving easy, but it's a hulk of a thing and tight streets aren't its best friend. It seems it can't hide its Ranger DNA completely with an awkward and rigid ute-like feel to the ride and handling when on the bitumen.
Toyota LandCruiser Prado GXL diesel auto
The Prado is an accomplished off roader, we know this. But it's an all-terrain beast you can live happily with in the city too thanks to a quiet cabin, new smooth-running diesel engine and auto transmission, and a ride that's supremely comfortable. While on-road handling isn't any off-roader's forte there is a more car-like composed feel to the Prado.
Toyota LandCruiser Prado GXL diesel auto