Hyundai i30 diesel vs Toyota Corolla Hybrid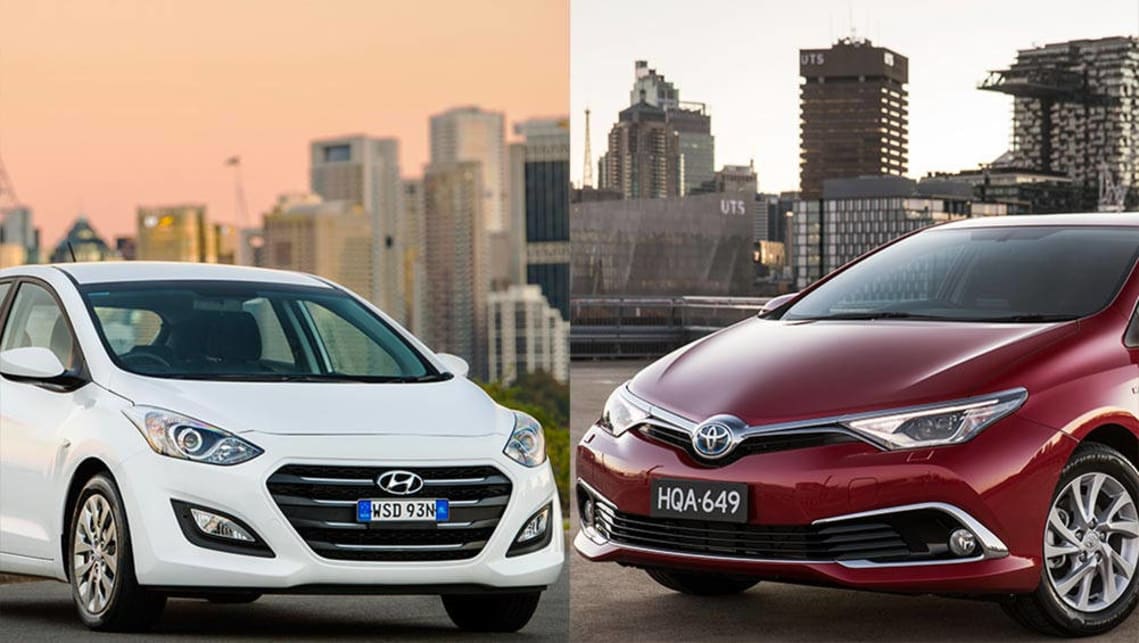 ​Diesel or hybrid? Peter Barnwell looks at two frugal and affordable hatches.
Hyundai i30 CRDI Active X auto
$27,490
Active X, one up from the entry model, adds $1000 and scores leather trim, mirror repeater lights, superior steering wheel and instruments and minor hardware upgrades. The seven-speed dual-clutch auto comes at a premium of $2300 over the six-speed manual. Warranty is five years/unlimited km. Capped servicing over three years is $867, at intervals of 12 months/15,000km.
Toyota Corolla Hybrid
$27,530
The Hybrid comes in ZR spec and is well equipped for the money. It's the only Corolla with double-wishbone rear suspension for improved ride and handling. There are Eco drive mode, dual-zone aircon, satnav and keyless entry with push-button start but no leather. Warranty is three years/100,000km. Three years' capped servicing costs $840 for six services at 10,000km intervals.
Hyundai i30 CRDI Active X auto
Series II i30 has swoopy external styling and a functional if overly plastic grey interior. New tech includes Android Auto and Apple CarPlay. There are rear park assist, seven-inch infotainment screen, decent audio, legible dials and controls. The five-seat hatch comes with a roomy interior, ample luggage space and full-size alloy spare. Similar weight to Corolla Hybrid at 1337kg.
Chrome body trim and LED headlights add a premium look. The roomy and space-efficient cabin has a high-grade steering wheel and decent size centre info screen with apps. Three drive modes provide Power, Economy and EV-only driving for short periods. Satnav, developed here, is among the best.
Hyundai i30 CRDI Active X auto
Engine
Plenty of grunt percolates from the 1.6-litre four-cylinder turbo diesel with variable geometry turbo (VGT) and other efficiency boosting technology. Output is 100kW/300Nm (in the auto; manual has 260Nm) and it sips as little as 4.9L/100km, giving a potential range of about 1000km.
Toyota Corolla Hybrid
Engine
Toyota's Hybrid Synergy Drive — essentially a 1.8-litre petrol engine, electric boost motor and a battery pack under the rear seat — is good for 103kW/207Nm combined. It has fuel comsumption edge at 4.1L/100km combined. Range from the 45L tank is a claimed 1100km. Front-drive is through a constantly variable transmission, which isn't as user-friendly as the i30's dual-clutch set-up.
Hyundai i30 CRDI Active X auto
No advanced driver assistance features but the Active X scores a five-star rating, has seven airbags and the mandated safety features. Its Hankook tyres feel grippy, whether on wet or dry roads. Full-size spare is a big plus.
Despite its lack of advanced driver assistance technology, the Corolla still scores a five-star crash rating. Reverse camera is handy, as are the auto-levelling headlights. Spare is a space-saver.
Hyundai i30 CRDI Active X auto
It's a good thing from behind the wheel thanks in part to the drivetrain, with the seven-speeder optimising the diesel's torque. Multiple drive modes are selectable — the most economical being the least driver friendly. It's relatively quiet inside and benefits from locally calibrated suspension, with a sporty feel, even with simple torsion beam rear set-up. Tows up to 1300kg.
The Corolla is sluggish in Econ but better to drive in Sports mode — even then, it's hesitant off the mark. The CVT slurs away, which can be annoying but seems to have no adverse effect on performance or fuel efficiency. The car handles with competence although it's no sporty drive. The new rear suspension enhances the (locally calibrated) dynamics and suits normal driving. No towing, though.
Hyundai i30 CRDI Active X auto
These cars achieve similar outcomes by different paths. Both are fuel misers extraordinaire. They are lineball on price and spec. The Corolla has better environmental credentials so that's how we would sway.