Mazda MX-5 vs Abarth 124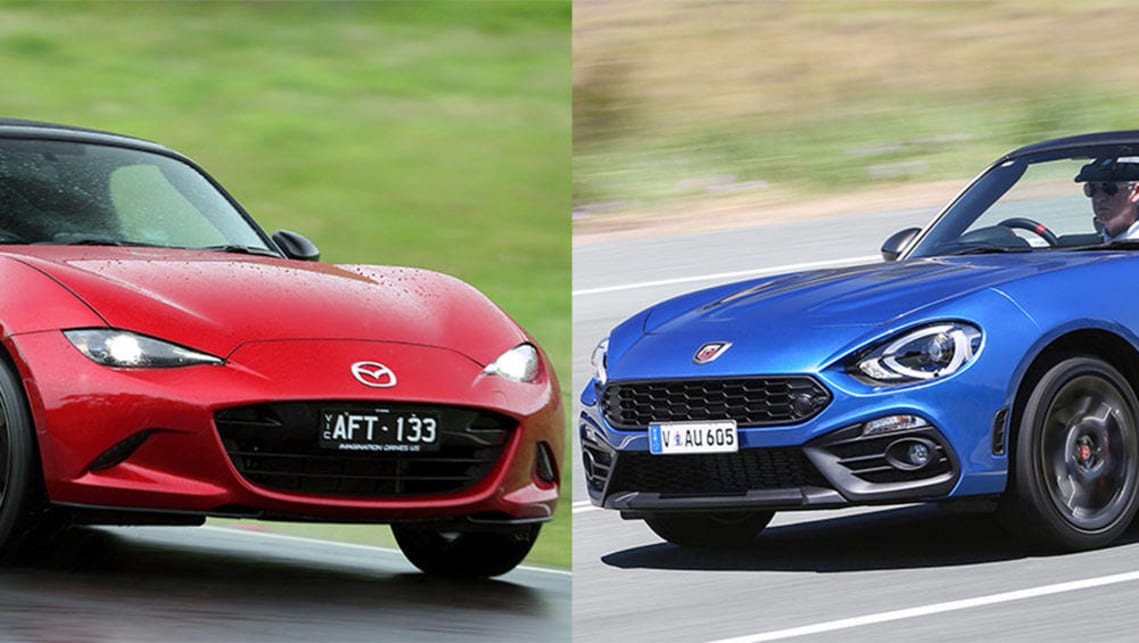 ​Can the Italians improve on an iconic Japanese sports car? Richard Blackburn gives a verdict.
2016 Mazda MX-5 2.0 GT
$39,550+
The RRP is about $2500 less than the Abarth but Fiat's drive-away deal of $43,500 makes it cheaper on the road. There are daytime running lights, satnav, premium audio with nine speakers and heated leather seats. Warranty, as with the 124, is three years but is unlimited, not 100,000km. Servicing costs $1371 over three years. Most metallic paints are no-cost options.
2016 Abarth 124 Spider
$41,990+
There are fewer creature comforts than the Mazda but more performance-focused extras. It lacks the Mazda's satnav and leather trim but has a sports button that alters the car's throttle, steering and stability control threshold. It also has Brembo brakes, Bilstein shock absorbers and more powerful turbo engine. Metallic paint costs $490. Servicing costs $1300 over three years.
Curves are in all the right places. The seats are supportive, while the cabin layout is uncluttered. The centre display menus are navigated via a dial rather than touchscreen — rivals take note. Red stitching and fake carbon-fibre highlights lift the mood, as do the air vents resembling jet engine intakes. Coloured metal inserts on the doors add a splash of colour. Hand-operated cloth roof is simple and fast.
More masculine looking with a stub nose and a wide honeycomb grille. Only the windscreen and canvas roof are shared. The quad exhaust, gunmetal wheels and red Brembo calipers bring a sportier look. From the driver's seat it looks like a Mazda — the only changes are a thicker steering wheel rim, a different gear shifter and a sportier speedo and tacho design.
2016 Mazda MX-5 2.0 GT
Engine
The 2.0-litre four-cylinder revs sweetly and smoothly, working best higher in the rev range. Peak torque comes at 4600rpm and peak power at 6000rpm. It won't push you back in your seat off the line but find its sweet spot and there's ample urge for spirited driving. Mazda claims a 0-100km/h sprint time of 7.3 seconds and thirst of 6.9L/100km.
2016 Abarth 124 Spider
Engine
The Abarth has just 7kW more but feels sharper off the mark thanks to an extra 50Nm. Peak torque from a low 2500rpm means you can exploit the performance more regularly than the MX-5 and drive out of corners in lower gears. Uses a little less fuel at 6.5L/100km. The exhaust note is slightly more appealing. Fiat claims a half-second advantage in the 0-100km/h sprint.
The MX-5 scored five stars in local ANCAP testing with 35.2/37. It gets front and side airbags and tyre pressure monitor but otherwise it is light on for driver assist/crash avoidance. Features available on cheaper Mazdas aren't even options. Most notable omission is a reversing camera.
Not crash tested but should match the Mazda. Optional pack includes adaptive headlights, blind-spot monitor, rear cross traffic detection and parking sensors. Standard reversing camera.
It's proof you don't need blistering performance to have fun. The lightweight body, sharp steering, rear-drive and well-sorted suspension make it ideal for a tight, twisty coastal road. It may not be as razor-sharp as the 124 on a track but it's more comfortable.
Stiffer suspension transmits bumps and thumps on pockmarked roads. The trade-off is sharper cornering. Brakes have plenty of bite — and little fade — for track work, while the sports button changes the character of the car. An $1895 Monza exhaust package — available soon — gives it a soundtrack to match the driving thrills.
A case of original isn't always best. The Mazda is a great car but the Abarth ups the ante with a sportier bent.