Infiniti Q30 vs Mercedes-Benz A250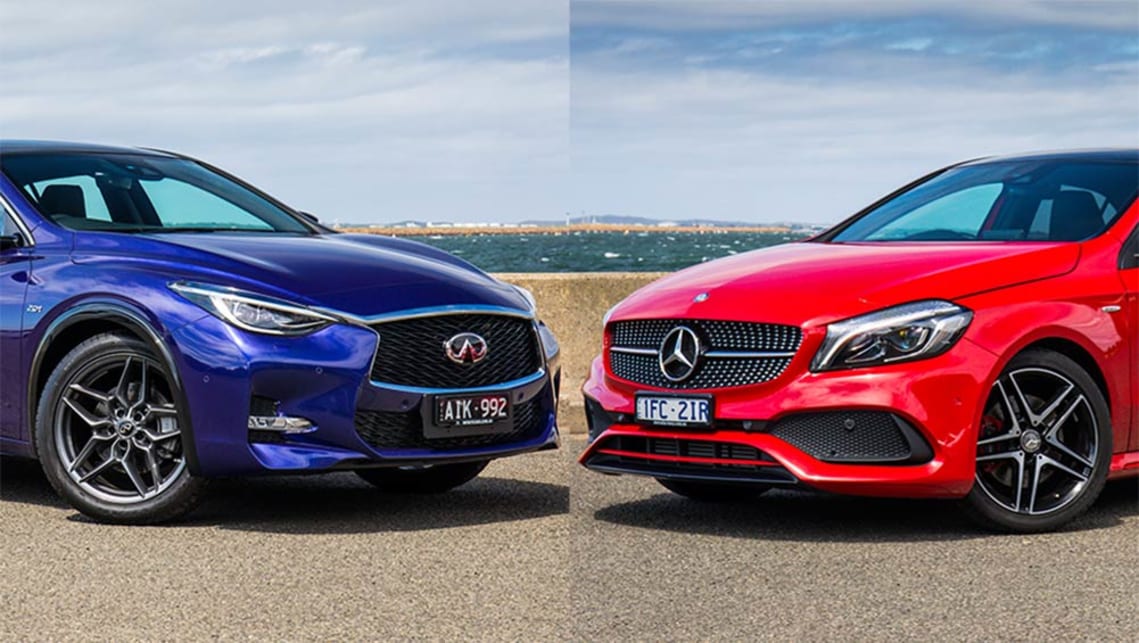 Almost twins under the skin, the sporty hatches are poles apart on most scores, says Peter Barnwell.
Infiniti Q30 Sports Premium
$52,900
Essentially a British-built, softer version of the Benz, it is cheekily priced at near parity but goes without all-wheel drive and AMG input for wheels, dynamics and other details. In its favour are ample luxury features and comprehensive safety gear. There are Nappa leather upholstery, 10-speaker Bose audio and "intelligent" cruise control. Capped servicing is $1620 for three years.
Mercedes-Benz A250 Sport AWD
$53,500
A recent facelift brought minor styling tweaks, upgraded tech and suspension, more power and all-wheel drive. Ample luxury with leather sports seats and sports wheel. AMG gear includes 18-inch alloys and five-mode ride control that has settings from Comfort to Race. There is more driver engagement and sporty dynamics. Capped servicing costs $1980 over three years.
Infiniti Q30 Sports Premium
Swoopy styling and "assertive" face grab attention but the Q30 can't decide whether it's a hatch or an SUV. The pert back end limits rearward vision but the boot is a good size. Functional, classy cabin has some unmistakeably Benz switchgear. Multimedia screen is a reasonable size and controls numerous functions.
Mercedes-Benz A250 Sport AWD
Sleek and angry-looking, with long snout, striking and effective LED headlights, diamond grille and sharp highlight lines running rearward. Small rear screen means less than ideal vision. Front pews are snug but it's tight in the rear. The dash looks classy and is feature-rich. Functional items include Apple CarPlay.
Infiniti Q30 Sports Premium
Engine
Decent performance from the 2.0-litre turbo (155kW/350Nm) driving the front wheels via a seven-speed dual-clutch auto. Don't expect rapid progress. In sport mode it clocks 7.3 secs for 0-100kmh sprint and claims 6.3L/100km. Minimal noise and vibration enter cabin and the engine feels tractable and unobtrusive.
Mercedes-Benz A250 Sport AWD
Engine
Peppy 2.0-litre turbo (160kW/350Nm) produces peak torque from a low 1200rpm and imparts a seriously sporty feel. Shared transmission puts power to the wheels with rapid-fire paddle-shift changes or it can be a smooth as silk in Comfort mode. The 0-100km/h sprint takes 6.3 seconds with a claimed 6.7L/100km (not achieved).
Infiniti Q30 Sports Premium
Seven airbags aid a swag of driver assistance kit: autonomous emergency braking, active cruise control, speed sign recognition and 360 degree reverse camera. Other useful tech includes adaptive LED headlights and pop up bonnet for pedestrian protection. Quality rubber on 19-inch wheels gives impressive grip.
Mercedes-Benz A250 Sport AWD
Five stars with nine airbags and a raft of driver assist technology like attention assist, radar cruise, autonomous emergency braking, blind spot monitor, active bonnet. Pre-safe collision preparation gives some peace of mind. The responsive dynamics aid collision avoidance before the fact — better than relying on survival tech.
Infiniti Q30 Sports Premium
Accelerate out of corners in lower gears and the wheel tugs at your hands. Push through the bends, and the nose will drift wide and scrub the tyres. The suspension is soft and the overall feel is cruisey rather than sporty. Select Sport mode and it goes a bit harder. The Q30 makes a good fist of everyday driving. Exhaust note lacks soul.
Mercedes-Benz A250 Sport AWD
It's a worthy, more affordable alternative to the A45 AMG hyper hatch. A far more rewarding drive all-round — brakes, steering, AWD, stirring exhaust — than the Q30. Acceleration on the move is rapid and it cruises around town like an everyday hatch. Take it to the track and put it in Race mode. Tyre inflation kit is a pain.
Infiniti Q30 Sports Premium
Mercedes-Benz A250 Sport AWD
For nearly the same money, one has more power, all-wheel drive and greater driver engagement. Then there's the badge — it's the Benz every time.