Ford Falcon 1993 Problems
No car is perfect, but we've gathered everything relating to the Ford Falcon 1993 reliability here to help you decide if it's a smart buy.
Does Fairmont ED share Falcon EB problems?
Answered by CarsGuide
20 Nov 2015
In essence, yes, the ED wasn't much more than a facelift of the EB, but remember the ED is an old car now and that's the biggest issue with it today.
Ford Falcon 1993: Interior light stuck on
Answered by CarsGuide
27 Jun 2014
The most likely cause is a switch that is not shutting off the power to the light. Most likely it is one of the switches in the door jams, so check them to make sure they are working by pushing them in and out and watching for the interior light to go on and off.
Ford Falcon 1993: High fuel consumption
Answered by CarsGuide
19 May 2011
Because it's too much on either fuel the problem is not related to one fuel system or the other. I would be having the oxygen sensor checked, it's the one that determines the mixture going into the engine and it would seem the engine is running too rich.
Falcon clunking the gears
Answered by CarsGuide
20 Sep 2007
CHECK the firewall, specifically the bracket that takes the clutch cable. It is known to break where it is welded to that panel because of flexing of the firewall. Even if it is cracked, the pedal can feel normal and have the correct free play, but because the bracket moves when you depress the pedal, the clutch doesn't throw out enough and will drag when you go to shift gears. If you find the bracket is cracked, a repair kit is available from Ford. It may also be that the clutch is dragging because it is worn.
Water not a hazard
Answered by CarsGuide
29 Jun 2006
IT'S not uncommon for water to be expelled from the exhaust at start-up, particularly when the engine is cold. It is condensation that accumulates in the exhaust system as the engine cools down after being run, and is then expelled when you start the engine again. It's nothing to worry about.
Thump in the auto
Answered by CarsGuide
20 Apr 2006
IT COULD be one of a number of things, but it is most likely the pressure control solenoid in the valve body, experts at AW Automatics say.
Ford gremlins
Answered by CarsGuide
3 Jun 2004
FORD electrics, don't you love 'em? You are simply experiencing the sorts of electronic gremlins that a lot of Ford owners experience. If the Ford dealer believes the problem is fixed with what they have done, then fine. If the problem returns, have the computer checked, as this is often the cause of these sorts of problems. One day Ford might actually build some decent electrics into their cars, but then again . . .
Search from Over 8,000 questions
Over 8,000 questions answered by CarsGuide
Complete Guide to Ford
Falcon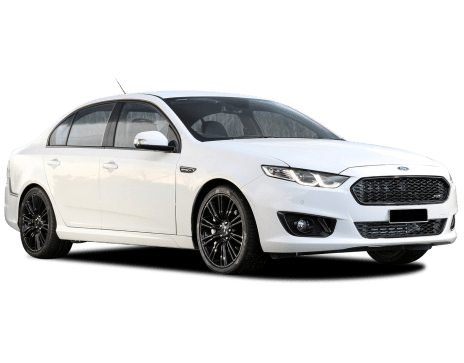 Reviews, price, specs and more