Toyota hybrids in Australia: Everything you need to know

While electric vehicles (EVs) and hybrid cars might seem like relatively new technologies, you might be surprised to learn that Toyota - the world's largest car company, and Australia's top-selling brand - has been selling hybrids for close to 25 years now. 
The Toyota Prius (launched way back in 1997 in Japan and several other countries, and in several years the biggest selling car in the Land of the Rising Sun) was the first mass-produced commercial hybrid car in history, and is also the world's top-selling hybrid, having shifted more than four million units worldwide. 
Add in other Toyota hybrid vehicles and Lexus hybrids, which Toyota also manufactures, and you're looking at more than 15 million global sales. Hybrids really are quite a big deal.
Hybrid Synergy Drive (HSD) is the name of the hybrid car drive train technology that Toyota has developed and uses across all of its hybrid models.
What is a hybrid? 

For those unfamiliar with what just exactly what a "hybrid" is, it's a car with both a petrol-powered internal-combustion engine (ICE) and a battery-powered electric motor, the latter acting as a back-up to the ICE by providing more power when needed, or kicking in when the car is idle or travelling at low speeds to conserve fuel consumption.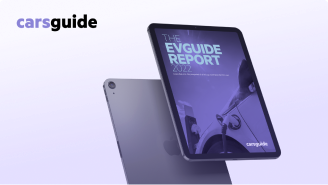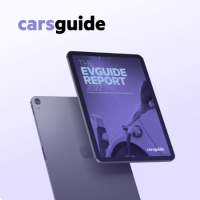 Download the EVGuide Report, 2022
Australia's one-stop snapshot of all things relating to electric cars.
Download for free
The batteries in hybrids are self-charging, thanks to a process called "regenerative braking" where energy created as the vehicle slows down is directed to and stored in the battery, effectively eliminating the need to charge the battery via an external power source. 
The upshot of hybrids, of course, is that you save money on fuel, but more importantly you're driving a car that has a lower negative environmental impact due to reduced emissions that are harmful to the planet. 
What Toyota hybrids are available in Australia? 

There are currently several Toyota hybrids available on the Australian market, with Toyota Australia having sold more than 200,000 hybrid cars as of May 2021. Hybrids make up just under 30 per cent of Toyota's total sales.
Toyota isn't slowing down, either: it's pledged to make a hybrid version of every model in its range by 2030, including the top-selling Toyota Hilux ute, the Toyota Hiace van, and the Toyota LandCruiser 4WD.
Yaris

Pricing starts from: $29,130 (SX Hybrid), $32,200 (ZR Hybrid)
Toyota's most compact hybrid car is small in both stature and fuel consumption, which is as low as 3.3L per 100km. It is big when it comes to safety, however, with each model coming with Toyota Safety Sense technology. 
Corolla Hatch and Sedan 

Pricing starts from: $27,395 (Ascent Sport Hybrid), $30,795 (SX Hybrid), $34,695 (ZR Hybrid; hatch only), $35,645 (ZR Hybrid; hatch only)
As hard as it may be to believe, the Corolla nameplate has been in Australia for close to 55 years. As you'd imagine, modern Corolla hybrids are a world away from the model that was released back in 1967, with current hybrid models coming with a 1.8L hybrid engine. 
Camry

Pricing starts from: $33,490 (Ascent Hybrid), $36,290 (Ascent Sport Hybrid), $46,990 (SL hybrid), $39,190 (SX hybrid) 
This mid-size sedan, popular with government fleets and taxi drivers, has come to epitomise "safe and sensible", with the model perhaps even more sensible (and even more popular) now that it comes in more environmentally friendly hybrid versions that feature a 2.5L hybrid engine.
RAV4

Pricing starts from: $36,900 (GX 2WD Hybrid), $40,450 (GXL 2WD Hybrid), $43,250 (XSE 2WD Hybrid), $48,750 (Cruiser AWD Hybrid), $52,700 (Edge AWD Hybrid)
The prices above represent the two-wheel-drive (2WD) version of this popular mid-size Toyota SUV; for the all-wheel-drive (AWD) version, with more surface traction at your disposal, you're looking at an extra $3000 per model. 
C-HR 

Pricing starts from: $37,665 for either the Koba or GR Sport Hybrid grades
The C-HR (or "Coupe High Rider") is Toyota's funky small SUV, which is somewhere between the Corolla and the RAV4 size-wise. Aimed at the younger end of the market, these only come with a 2WD option and a 1.8L hybrid engine, and only in the top two Koba or GR-Sport trims.
Yaris Cross 

Pricing starts from: $28,990 (2WD GX Hybrid), $31,990 (2WD GXL Hybrid), $34,990 (2WD Urban Hybrid)
Coming in both 2WD and AWD variations, the Yaris Cross represents Toyota's unique standing as the only car brand that currently offers hybrid SUVs for under $30,000. Expect to pay an additional $3000 for AWD. 
Kluger

Pricing starts from: $54,150 (GX Hybrid AWD), $63,650 (GXL Hybrid AWD), $75,700 (Grande Hybrid AWD)
Based on the Camry, this mid-size SUV is popular with families due to its ample space and availability of seven seats, as well as a 2000kg towing capacity, making it more than capable to tow compatible trailers and caravans.
Coming soon
Toyota is not done fleshing out its range of successful hybrid models, with even more to come in key segments in the near future.
Corolla Cross

The Corolla Cross is - you guessed it - an SUV version of the Corolla hatch. Set to arrive in the second half of 2022, the Corolla Cross will also introduce a new hybrid powertrain, consisting of a 2.0-litre four-cylinder combustion engine and a second electric motor on the rear axle to allow for all-wheel drive. Unlike its Corolla hatch sibling, the Corolla Cross will have a lithium-ion battery pack instead of the older nickel-hydride tech.
Toyota LandCruiser 300 series

The ever-popular Toyota LandCruiser is not immune from the hybrid treatment, with a hybrid version on the way. We don't know much about it yet, but it seems likely it will share its hybrid powertrain with the new Lexus LX, a new electrified 3.5-litre V6 producing up to 358kW/870Nm according to reports out of Japan. Watch this space.