Toyota 86 GTS 2017 review
Peter Anderson road tests and reviews the 2017 Toyota 86 with specs, fuel consumption and verdict. Want to start an argument? Well, yes, that's not hard, but if you really want to start a big one with car-loving folk, start talking about Toyota's 86. For maximum troll points (ie arguing like my father), gauge the room
What we like
Terrific chassis
Great steering
Improved interior
What we don't
New wing looks aftermarket
Terrible stereo head unit
Noisy from moderate revs
What we like
Terrific chassis
Great steering
Improved interior
What we don't
New wing looks aftermarket
Terrible stereo head unit
Noisy from moderate revs
Peter Anderson road tests and reviews the 2017 Toyota 86 with specs, fuel consumption and verdict.
Want to start an argument? Well, yes, that's not hard, but if you really want to start a big one with car-loving folk, start talking about Toyota's 86. For maximum troll points (ie arguing like my father), gauge the room and see what they think of the power output.
The 2017 Toyota 86 has what some of its detractors want - more power. But to prove the Japanese company has a tremendous sense of humour, it's a token 5kW and 7Nm. But there's more to the lightly reworked 86 than a few more horses.
Price and features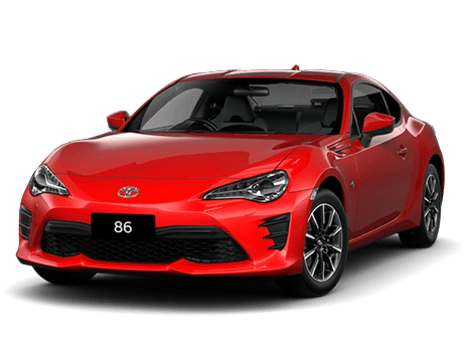 Explore the 2017 Toyota 86 range
The 86's minor refresh has come at a small price, between $500 and $800 depending on the model. The range starts at $30,790 (an increase of $800), adds $27,300 ($600 increase) for the auto and jumps to $36,490 for the GTS manual and $38,790 (both a $300 increase).
It's worth noting the automatic versions do not get the power nudge. That's because the majority of 86 buyers choose manual and, surprisingly, over seventy percent of buyers go for the pricier GTS variant.
Standard in the GTS is a new set of 17-inch alloys, a six-speaker stereo, dual-zone climate control, reversing camera, keyless entry and start, cruise control, data logger and stopwatch, sat nav, auto LED headlights, hill holder, leather wheel and gear knob, limited slip diff, power folding mirrors, power windows, fake suede (this is a good thing) and tinted windows.
The 7-inch stereo head unit and sat nav is still terrible and a carryover from last year's spec. It looks like a poorly-informed aftermarket purchase, has awful graphics, isn't very easy to use and hasn't done the smart thing and taken on CarPlay or Android Auto to ease the pain.
It is supremely unlikely an 86 buyer gives even a fraction of a hoot about the luggage capacity or back seat accommodation.
Thankfully, the sound output is fine but, as I've said before in a Tarago review (owners of the people mover are also terrorised by this same low-rent item), a company as big as Toyota can and should do better. In automotive manufacturer land, just a few bucks that the customer would gladly pay, would net a much better unit and owners wouldn't have to rip it out and/or complain about it.
It looks even worse compared to the nifty new 4.2-inch panel in the dashboard. Intersected by the speedo, it replaces the gauges in the right-hand section of instruments, providing temperatures and battery voltage, while the bit that's in the central tachometer shows speed and fuel levels.
That right-hand section can also show your lap times and various other boy racer info for your track day needs.
The only option is $450 for premium paint - out of seven colours, only Ignition Red (as pictured) is free. Sadly there is no option to replace the painfully cheap key fob.
Practicality
It is supremely unlikely an 86 buyer gives even a fraction of a hoot about the luggage capacity or back seat accommodation, but just in case you do, here's what you need to know.
The rear seats are a glorified shelf (they can be folded flat) but extraordinarily patient people could conceivably fit behind a very short front passenger. Sitting behind my 179cm frame would be quite painful.
The wider grille makes it look a little lower than before, front and rear bumpers have had very mild restyles.
The boot is small but does have a nice clean shape and will hold a small hatchback-rivalling 237 litres with the seats up.
Front seat passengers get an open storage bin into which a pair of cupholders has been snapped. You can remove it, but there's no obvious place to put it. The door pockets will hold a bottle each, taking that count to a grand total of two.
Design
Little has changed on the outside, with just a nice new set of 17s, revised LED daytime running lights and, on the GTS, a new wing, which split opinion in the office. It seems a sturdy thing, though.
The 86 sits low and long over the 17s and still looks reasonably fresh. That low bonnet really works and you can thank Subaru's low-profile flat four for that. The wider grille makes it look a little lower than before, front and rear bumpers have had very mild restyles as have the taillights.
No doubt you've heard the phrase 'death by a thousand cuts.' This 86 is the opposite.
Inside there are small improvements, but it's structurally identical. The new dash is a welcome change but there's still a stupidly overcrowded analogue speedo. A new, smaller steering wheel frames the dash and is resplendent with controls for the new information screen and stereo. Toyota says it's the smallest wheel in any of its cars.
Engine and transmission
Subaru's growly 2.0-litre boxer engine lurks underneath the 86's long bonnet, now producing 152kW and 212Nm, both high in the rev range. Power reaches the rear wheels through a six-speed manual gearbox and the limited slip differential, which now has a shorter ratio of 4.3:1
Fuel consumption
Claimed consumption is up over the previous version of the engine, rising from 7.8L/100km to 8.4L/100km. Our short time with the car was taken up with some decidedly not normal driving, so a sensible real-world fuel figure wasn't achieved. And it still wants 98RON fuel.
Driving
No doubt you've heard the phrase 'death by a thousand cuts.' This 86 is the opposite - more life from a thousand (probably not that many) tweaks. A drivers' favourite, Toyota has spent a fair amount of effort on detail changes, some of which the company says has come from what it has learnt on track.
For more rigidity there are a few more spot welds in the rear end. To go with that extra stiffness, the engineers put in new shocks, springs and a thicker rear stabiliser bar. The new track mode lets you decide how much traction control you've got and loosens the reigns on the stability control.
Will you notice any of this stuff? 
Yes. I had the good fortune of driving the older car in July 2016 and instantly noticed that the rear end felt different and that the Track mode is really quite good - you can work your way up to turning off the traction control completely, learning the car with things still switched on. It's hardly an electro-nanny in the first place, but having the opportunity to explore the car's grip limits (these are deliberately low) with a safety net is cheering and hugely amusing.
The bottom line is that the 86 is lively rather than lurid.
For the tyre-spotters, the Primacy rubber from before remains and the Yokohamas on the lower-spec GT also continue on.
What's been left alone is really just as important - the steering is still an utter delight, the body control spot-on and the seats are tremendous as always. The 86 is a terrific platform for learning just how good rear-wheel drive is, the relationship between tyres, steering and throttle inputs is clearly defined and you always know where you stand with the car.
You still need to wring the engine's neck to get the best out of it as all the power is up top. It does create a bit of a din, but adds to the experience when you've decided to go for a burn in the twisty stuff. The lack of power means no scary moments out of corners, but the stiff rear end and bitey front means you can get the car out of shape on the way in, and bring it back without wiping out on the trackside Armco. You're not going to get huge sideways moments with smoke pouring off the rear wheels, but that's exactly what this car isn't.
The bottom line is that the 86 is lively rather than lurid. The backwards baseball cap mob are disappointed it doesn't have a million newton metres of torque or a rotary or whatever, but that would completely defeat the purpose of an affordable sports car. You can throw it at just about any sealed road with bumps, off-camber turns and all manner of surface changes and you will find plenty of fun while finding it difficult to go over the edge.
Safety
Seven airbags (including driver's knee airbag), stability and traction controls, ABS and brake force distribution. The 86 scored a maximum of five ANCAP stars in April 2013.
Despite this tech refresh, there's no auto emergency braking or reverse cross traffic alert.
Ownership
The 86 has a three-year/100,000km warranty and capped-price servicing covering the first four scheduled services. Each service is capped at $180 and services are due at either 15,000km or nine months, whichever comes first.
Verdict
The "new" 86 is as much fun as the old but has that little bit extra to make it better. Few cars command the kind of attention as an 86 and everyone wants to know what it's like. If they already know, they have strong opinions about it.
Cars like this are great because not only are they a good buy when new, they'll be handed down the motoring generations to keep the flame of fun cars burning. They're going to appear at small tracks with fifteen year-olds learning racecraft, they'll be at show and shine parades, the works. And now the MX-5 is a much cheaper car, you can draw the battle lines at the pub and have a ding-dong argument about which is best.
Are you on team 86, BRZ or MX-5? Tell us what you think in the comments below.
Pricing guides
$28,990
Based on 49 cars listed for sale in the last 6 months
Range and Specs
| Vehicle | Specs | Price* | |
| --- | --- | --- | --- |
| GT | 2.0L, PULP, 6 SP MAN | $17,500 – 24,310 | 2017 Toyota 86 2017 GT Pricing and Specs |
| GTS | 2.0L, PULP, 6 SP MAN | $21,200 – 28,820 | 2017 Toyota 86 2017 GTS Pricing and Specs |
| GTS Blackline | 2.0L, PULP, 6 SP MAN | $22,000 – 29,920 | 2017 Toyota 86 2017 GTS Blackline Pricing and Specs |
| GTS+ | 2.0L, PULP, 6 SP MAN | $23,000 – 31,240 | 2017 Toyota 86 2017 GTS+ Pricing and Specs |
Pricing Guide
$23,777
Lowest price, based on 47 car listings in the last 6 months
View cars for sale
Similar Cars
Subaru BRZ

Mazda MX-5

Nissan 370Z

Ford Mustang