Mazda CX-9 Classic 2013 review
Value
Prices for the CX-9 range start from $44,525 for the entry level Classic spec.
The infotainment system in the big Mazda SUV has been upgraded and now features audio, navigation and speech-recognition systems in what Mazda calls it's HMI (Human Machine Interface).
Technology
The big Mazda CX-9 has a relatively old-fashioned V6 petrol engine displacing 3.7 litres. Changes to the engine and its ancillaries in this facelifted model have been made in an attempt to  reduce its fuel consumption. It's no longer the gas guzzler that it was in its early days, but the upgraded the model still likes a drink.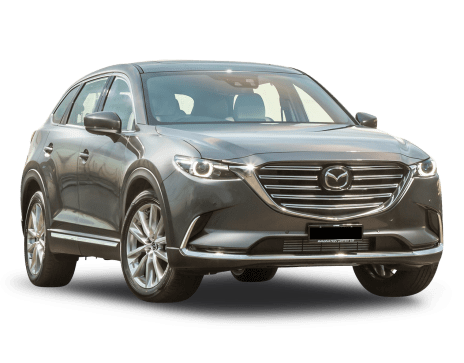 Explore the 2013 Mazda CX-9 range
On quiet country roads and motorways you may be able to get its consumption down to 10 to 12 litres per hundred kilometres. Around town expect the engine to be operating in the 12 to 15 litre range. These fuel figures are not good, but Mazda is presumably working on its fuel saving SkyActiv technology for the V6 engine and that will hopefully make the CX-9 kinder to the air we all breathe.
Design
The ancestors of Sports Utility Vehicles (SUVs) were 4WDs and back in the olden days the first 4WDs were nothing but trucks. Though things have changed since then, most SUVs tend to have relatively conservative styling. Styling that's aimed not to offend conservative truck buyers.
Mazda, always a very innovative company, has decided to break the old mould – resulting in SUVs that have moved completely away from their distant ancestors. It began with the Mazda CX-5 with its big grille and flowing lines. Now we see the subject of this week's road test, the Mazda CX-9. Though the stylists were faced with the difficult job of taking an someone plain vehicle and giving it an all-new character, they have done their work well.

Of course, most SUVs are bought as people movers, not SUVs and certainly not 4WDs, and these buyers can be conservative in their own right.
Whether these people will go for the big new-look Mazda or one of its conservative looking competitors is a question that's yet to be answered, but we certainly got plenty of looks during our week of living with a CX-9.
There's room for seven adults without them being overly cramped, though four adults and three children is more realistic. The centre set of seats can slide back and forward to let you vary the amount of legroom available in this seat and the third row seats. With the centre seat in its rearmost position there's almost limo-like legroom.
The third row of seats fold flat very simply to give a useful increase in luggage space. Even with all seven seats in use there's still room for a couple of fair-sized suitcases or similar behind them.
Safety
Mazda Australia has been very strong on safety for many years, so the CX-9 has had electronic stability control and rollover protection to help prevent crashes since its introduction downunder in 2007.
The list of safety features has been greatly expanded, particularly in the crash avoidance field. Forward Obstruction Warning (FOW), Lane Departure Warning (LDW) and High Beam Control (HBC) anticipate danger and help the driver avoid it. Not all safety systems are sold in every grade so it's best to talk about them with your favourite Mazda dealer.
Driving
Suspension and steering haven't been altered in the new model. Though Australian imports have more dynamic settings than the American models, the big Mazda CX-9 is relatively soft and has very light steering. Keen drivers need not apply.
Mazda CX-9 can certainly be used in light-duty running on forest trails, perhaps even at the beach. We did quite a few kilometres running on dirt road and found the suspension did an excellent job of cushioning shocks.
The big Mazda has a good turning circle for its class and this is a real bonus when it comes to the reality of squeezing it into a tight parking space in an underground parking station. Our test vehicle didn't have parking 'beepers' but did have a reversing camera.
Verdict
The biggest feature of the latest version of the Mazda CX-9 is the huge grille that gives it a standout appearance in a market segment that is dominated by sensible looking SUVs.
Pricing guides
$21,619
Based on 75 cars listed for sale in the last 6 months
Range and Specs
| Vehicle | Specs | Price* | |
| --- | --- | --- | --- |
| Classic (FWD) | 3.7L, ULP, 6 SP AUTO | $14,989 – 23,766 | 2013 Mazda CX-9 2013 Classic (FWD) Pricing and Specs |
| Grand Touring | 3.7L, ULP, 6 SP AUTO | $18,989 – 27,800 | 2013 Mazda CX-9 2013 Grand Touring Pricing and Specs |
| Luxury | 3.7L, ULP, 6 SP AUTO | $17,970 – 23,999 | 2013 Mazda CX-9 2013 Luxury Pricing and Specs |
| Luxury (FWD) | 3.7L, ULP, 6 SP AUTO | $16,555 – 25,990 | 2013 Mazda CX-9 2013 Luxury (FWD) Pricing and Specs |
Pricing Guide
$13,800
Lowest price, based on 76 car listings in the last 6 months
View cars for sale
Similar Cars
Toyota Kluger

Toyota RAV4

Volkswagen Tiguan

Hyundai Santa Fe