10 July 2017
The top five ridiculous cars that belong in a video game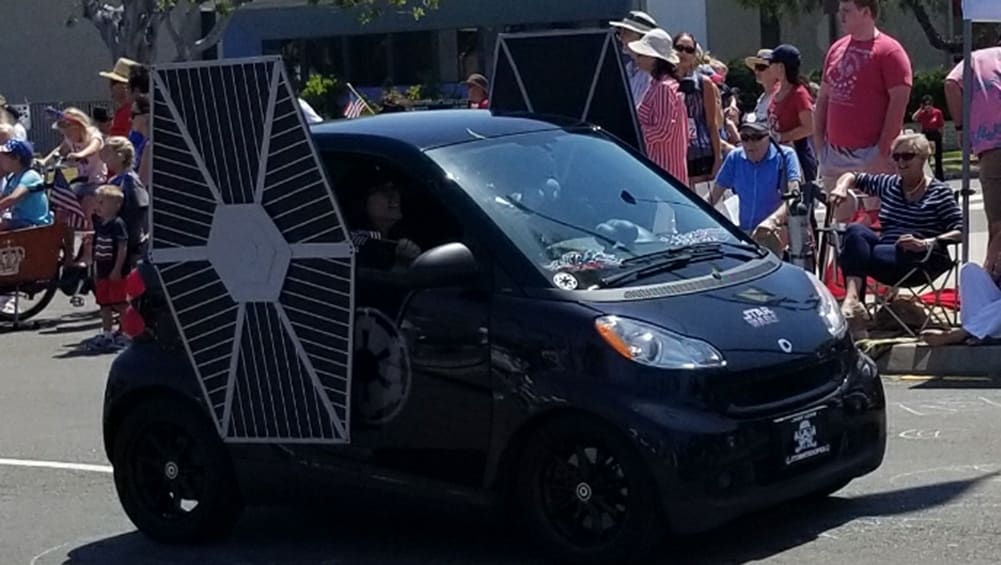 Some cars are so unrealistic they would look more at home in a video game.
These maybe been easy on the eye (mostly) when they left the factory. However, people have gone crazy on "personalisation" to create monsters that seem to broken out of a video game and entered the real world.
5. Smart ForTwo (Star Wars)

That's no Smart car. That's a Tie fighter (image credit: flextheoctopus)
I know what you're thinking, Is that a Tie fighter from Star Wars? Close, it's a Smart ForTwo, complete with Empire stickers and Tie fighter wings.
I can't say it would be quick enough to keep up with the Millenium Falcon but it would be able to get into those tight parking spots in the Empire's hanger.
Fingers crossed we'll see this appear in the upcoming Star Wars Battlefront II game too.
4. Cadillac (GTA V)

They see me rollin'. They hatin'. (image credit: e1994c)
A low-riding Cadillac with both gullwing and scissor doors? You could easily think that you've stepped into Los Santos from GTA V after seeing this car.
Yes, only this pimpmobile could exist in a world where there are tanks roaming the streets and you can fit wheels that also act as Boadiceas.
3. Chrysler PT Cruiser? (Amnesia: The Dark Descent)

You wouldn't want to meet this car in a dark alleyway late at night. (image cerdit: Detroitbreakdown)
The PT Cruiser was already a horrifying sight but the owner of this one has managed to make the car look even worse.
Coming with more skulls than you would find in a graveyard, this car would fit in the horror game, Amnesia: The Dark Descent.
This Chrysler could even pass off as the "shadow" which chases players throughout the game. 
2. Toyota Camry (Need for Speed)

Each sticker adds 10hp (image credit: Valgrindar)
Back when Need for Speed was all about ruining the appearance of your car, this Toyota Camry would be considered the coolest car to ever feature in the game.
Nothing says fast like exterior speakers, more stickers than horsepower, American flags and two oversized cannons. 
1. Acura EL/Honda Civic (Back to the Future)

More lights than a football stadium (image credit: hoggytime613)
Could this be the BTTF DeLorean's long-lost cousin? If so, I don't know how they got lost with all those lights.
While it may be missing a Flux capacitor, there are three toy horses attracted to the roof, giving this Civic (Acura EL in Canada) that extra horsepower to travel through time.
 
What other cars do you think would be better suited to a video game than the real roads? Let us know in the comments below.