28 June 2017
There's all different ways you can travel back to the future and here's our top 5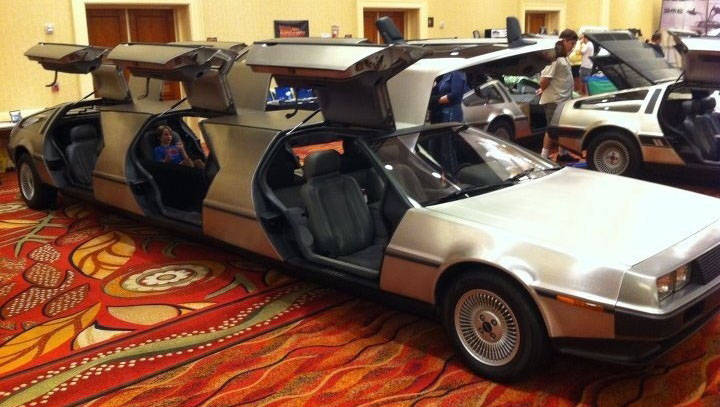 If you thought a flying DeLorean in the Back to the future movies was crazy just wait until you see what some wannabe Doc Browns have created.
1. DeLorean Limo

The way I see it, if you're gonna build a time machine into a car, why not do it with some style? (image credit: imgur.com)
So you want to travel through time in style? You're going to need the ultimate luxury machine to do so, and luckily for you one actually exists.
Introducing you to the limousine DeLorean; made out of three DMC-12s and featuring six gullwing doors, the DeLorean limo will certainly be a hit at any wedding.
2. Monster truck DeLorean

Roads? Where we're going, we don't need roads. (image credit: Andrew Nabors)
Who needs to fly when you can simply crush everything that stands in your way?
To many, this is just another good DeLorean that's been ruined. But don't despair as the builder claims to have used a wrecked DMC-12 to create this tough looking beast.
This guy has also been responsible for building a convertible DeLorean along with the aforementioned limo.
3. Hovercraft DeLorean 
Back in 2010, a student wanted to achieve his dream of owning a DeLorean so he built one out of Styrofoam insulation.
The unique spin on this build is that technically it isn't a car at all; it's a real hovercraft that took four years to be completed.
4. Gold plated DeLorean 

If my calculations are correct, when this baby hits 88 miles per hour... you're gonna see some serious sh*t. (image from: mycarquest.com - image credit: Michael Feldman)
In 1980, DeLorean and American Express teamed up to sell 100 24k-Carat plated DMC-12s at a cool US$85,000 each.
Only three cars were ever built, yet one enthusiast figured it would be cheaper to produce one himself and converted an original DeLorean into the fourth gold plated DMC-12.
5. V8 powered DeLorean 
One complaint about the original car was the engine and that it didn't possess the performance to match the sporty exterior. 
Some people have taken different approaches to solving that problem, one of which is to shoehorn a LS V8 engine in the rear end.
While a number of upgrades are needed to keep that added grunt in check, this particular car still runs the original gearbox.
What do you think of these 'interesting' creations? Do you like them or think they're crimes of the motoring world? Let us know in the comments below.