27 August 2021
Does a race seat make for a good working from home chair? - AndaSeat Chair review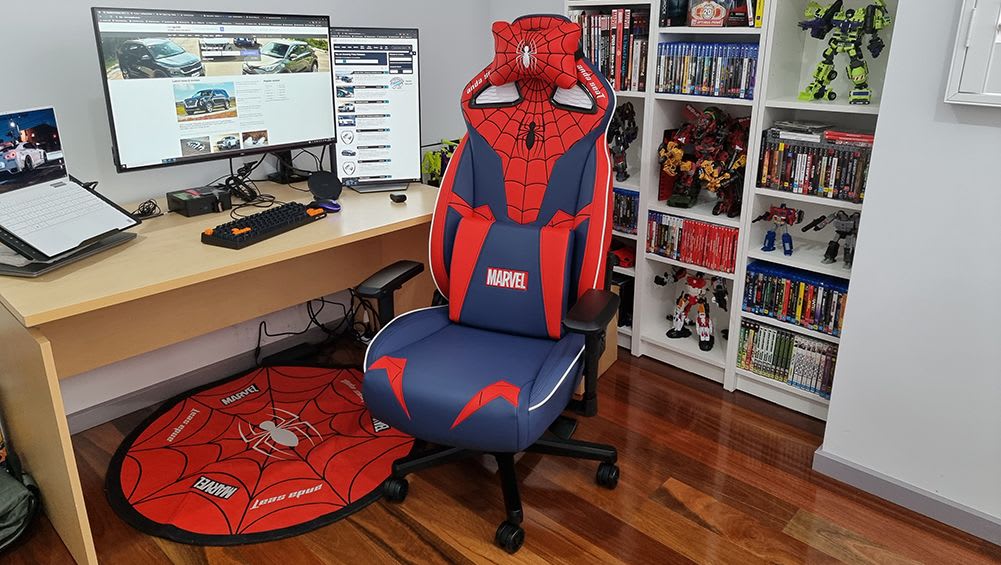 Working from home has become an unavoidable part of life in 2021, but like us, if you were underprepared for how long you'd be replying to emails from the spare bedroom, how do you spruce up your space?
In regards to the laptop, monitor, keyboard and mouse, your probably just take what you can get, but arguably more important than any of those things is your chair.
Enter AndaSeat, and its range of office- and gamer-orientated chairs.
What's AndaSeat doing on a car website, I hear you ask? Well, according to the company, they've had a hand in manufacturing race car seats for some big-name German OEMs, but pivoted to home-office chairs after the rise of Esports in the last decade.
To be completely transparent, AndaSeat sent us a review unit, and the full extent of the company's involvement in race car seats is unclear, but the question remains: does something that looks like a hardcore race seat make for a pew that will keep your derriere comfy after a day's worth of Zoom calls, quick-fire emails and the occasional spot of online shopping?
To find out, we tested the Spider Man Edition chair, replete with namesake's signature red and blue colour theme.

Look out! Here comes the Spiderman!
It's a bold design for sure, but if Spidey isn't up your alley, there's Captain America, Iron Man and Ant Man-themed seats available too.
For those wanting a less in your face look, the same seat design can be had in more subdued hues, like black and grey, that should look less out of place in those company-wide meetings.
Aside from the Spider-Man theme, the seat also comes with a headrest cushion, lumbar support and a floor mat to stop the wheels scuffing hard floors.
First impressions when it arrived? This thing is huge, and it's heavy!
So big and heavy in fact, we couldn't actually bring the box upstairs to set it up in our office.
Instead, we had to open it and transport it in pieces to get it in place.

Spins a web, any size.
Why does it weigh so much? The seat is covered in a synthetic PU leather throughout, adding to the heftiness, but it's the seat base and legs which actually make up the most of the bulk – a good sign for those, like us, that like a stable chair that takes effort and force to move.
Once all the pieces were in place, it was time for (Avengers) assembly, which was easy thanks to clear instructions and all the tools required packaged inside.
The AndaSeat is packed with all the features you'd expect from a high-end chair such as height adjustment, back adjustment and tilt functionality.
The armrests are also independently height adjustable, can slide forward/backwards, move left/right and pivot to one of three positions – or they can simply be removed altogether.
It's a fantastic level of adjustability, one that you would expect out of a chair that is designed for hours and hours of Fornite or, you know, 'work'.
The added extras are also a nice touch, especially the lumbar support cushion as the base of the seat is long enough where some seating positions mean your back won't even touch the backrest.

Does whatever a spider he can.
The headrest pillow and floor mat however, while nice to have, aren't as essential for your seating comfort.
We will note however, that the seat feels a little bit too big for our frame, and for reference we're on the slimmer and taller side of the spectrum, tipping the scales at under 80kg and measuring six-foot high.
And it might be that mismatch in body shape and seat that is our biggest gripe with the AndaSeat, meaning after prolonged use at the computer things can start to get a bit uncomfortable.
In our testing, after about two or three hours of sitting, soreness starts to set in, which will require getting up and moving around (the perfect time for a cup of tea!).
We'd attribute this to the firmness of the bolsters, the hard-wearing leather and the backrest shape that is a little flatter and less supportive than we'd have liked.

Catches thieves, just like flies.
Compared to something like the hip-hugging race seats found in the new BMW M4 Competition or even the less flamboyant but nicely supported pews of the Toyota 86/Subaru BRZ, the AndaSeat doesn't offer as much support where you want it.
Sure, you aren't being flung around corners at triple digit speeds in the AndaSeat, but a bit more of a form-fitting design would be beneficial.
To be fair, a sports car is designed to boogey around a racetrack as quickly as possible doesn't care about your body shape or weight, whereas a working from home/gamer chair is made to design to the widest audience possible.
Think of it then more as a seat from the Ford Falcon: big, wide and comfy, but certainly not sporty.

Is he strong? Listen, Bud! He's got radioactive blood.
In terms of durability, after about two months of constant use, the seat still looks pristine and brand new, with all the functions still operating as normal.
The leather is thick and repels liquids such as water and coffee, which we can attest to personally.
However, a downside is that the synthetic leather isn't as breathable as a fabric chair, so those without proper insulation in their home offices/gaming dungeons should take note.
The high level of attention to detail is also appreciated, with plastic covers included to cover the bolt holes holding the backrest to the base and seat controls that fall easily to hand.
Now, let's talk price.

Wealth and fame he's ignored, action is his reward.
Our test chair rings the till up to $549.99, but similarly-designed seats without the Spider-Man colours can currently (at the time of writing) be had from as little as $279.99, while the cheapest (and most subtle) product comes in at $220.29.
All chairs will be delivered in Australia for free, while a six-year warranty is available if customers snap a picture of the chair and post to their social media platform of choice.
Overall, would we recommend this seat for those racing enthusiasts working from home?
Discounting the Spider-Man theme, yeah, AndaSeat offers a fully featured, comfortable and supportive chair for medium-term computer sessions.
Keep in mind the price can creep up if you are wanting something flashier looking, and sustained prolonged use can cause some discomfort, but as a chair to upgrade your working from home space, the AndaSeat certainly fits the bill.