17 May 2017
Death Metal - Famous fatalities on four wheels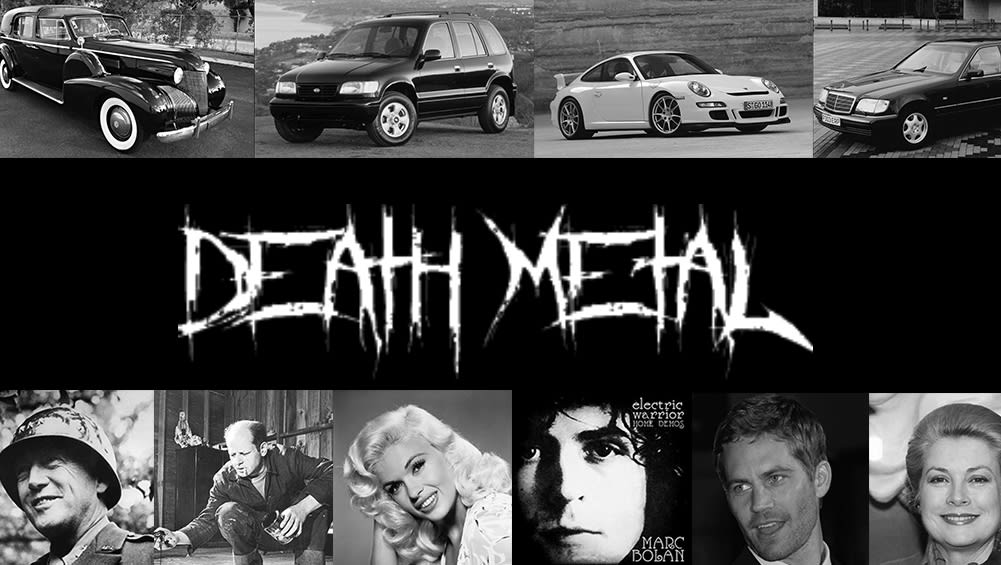 If you thought Death Metal was the sole preserve of thought-provoking bands like Slayer, Immolation, and the ever-popular Cannibal Corpse, think again.
While they just sing about death, other famous people get on with the job of doing the real thing… in cars.
Here's our Top 10 list of famous people who drew their last breath courtesy of a motor vehicle's intersection with a solid object.
General George S. Patton Jr.

Conspiracy theorists gather around. The 1945 death of 'Old Blood and Guts' General George S Patton, was the result of a crash between his 1939 Cadillac Model 75 and a troop truck in Manheim, Germany. The fearsome WW2 commander died 12 days after the incident, when he was thought to be recovering from his injuries, and on the verge of flying home. However, some believe the whole thing was staged by the CIA to give Russian agents the opportunity to poison Patton (an outspoken critic of the US government).

Patton hit his head on the rear partition window, a result of not having seatbelts.
James Dean

Dean with the Porsche 550 Spyder.
In late 1955, James Dean, at 24, one of Hollywood's hottest young actors, was driving his recently purchased Porsche 550 Spyder to a weekend race meeting in Salinas, just south of San Jose, California. A high speed collision with a 1950 Ford Custom Tudor coupe driven by 23-year old student Donald Turnupseed killed Dean almost instantly.

Dean collided with a 1950 Ford Custom Tudor coupe, sorta like this one.
Jackson Pollock

In 1973, the Whitlam federal government authorised the Australian National Gallery's purchase of Jackson Pollock's painting 'Blue Poles' for $1.3 million. Screams of outrage could be heard across the country. Current estimates value the American abstract expressionist's controversial work at between $20 million and $100 million. Sadly, Pollock died in 1956 when he drunkenly drove his Oldsmobile 88 convertible into a tree in New York.

From an era where a 'padded dash' was an optional safety feature.
Jayne Mansfield

The 1967 death of Hollywood 'blonde bombshell' Jayne Mansfield at just 34 years of age, led to significant road safety improvements. Mansfield was one of three adults killed instantly when the 1966 Buick Electra she was travelling in ran under the rear of a semi-trailer. The crash led to development of the Rear Underrun Protection System (RUPS), a low, horizontal section at the rear end of a truck trailer, still often referred to as 'The Mansfield Bar.'

Low body-line and weaker '60s A pillars, not a great formula for running into the back of a truck.
Marc Bolan

Marc Bolan was the Harry Styles of the 1970s (without the boy band bit). The 29-year old British pop superstar was killed instantly in 1977 when the Mini he was a passenger in, driven by his girlfriend, Gloria Jones, crashed into a steel-reinforced fence in south-west London (many believe the car hit a tree). Millions of teenage hearts were immediately broken.

The 1275GT was once Mini's flagship variant.
Princess Grace Kelly

The fairytale marriage of film star Grace Kelly to Prince Rainier III, sovereign of the principality of Monaco, ended in sad circumstances. In 1982, after allegedly suffering a stroke behind the wheel, she was killed after her (P6) Rover 3500 crashed over the edge of a steep, winding road above Monaco, and fell down a 40 metre mountainside. 

A car not known for reliability or safety...
Diana Princess of Wales 

In arguably the highest profile death metal incident of all time, Diana Princess of Wales died in a Paris road tunnel in 1997 when the Mercedes S280 she was travelling in with boyfriend Dodi Fayed, crashed into a support pylon. Pursued by paparazzi photographers, and being chauffeured by an allegedly drug and alcohol-affected driver (Henri Paul), many believe she and Fayed may have survived if they had been wearing seatbelts.

One of the safer cars on the market in 1997, Diana may have survived if wearing a seatbelt.
Linda Boreman (aka Linda Lovelace)

The internet. It's like a giant electronic library allowing access to all the information in the world… and pornography. But pre-web, the 1972 film Deep Throat stood as cinematic porn icon. Its 'star', Linda Lovelace (real name Linda Boreman) later became an avid anti-porn campaigner, and died in 2002 from injuries suffered when she crashed her 1995 Kia Sportage in Denver, Colorado.

This one isn't as 'high society' as some other cars on this list.
Ryan Dunn

Kind of ironic, or entirely predictable, when the chief stunt-style prankster with the Jackass franchise dies in a high-speed car crash. In 2011, the 34-year old crashed his Porsche 911 GT3 through a guardrail and into a car-tree-fireball interface in Pennsylvania, USA... with a blood alcohol level of 0.196.

Turning one of these into a fireball would require quite some speed.
Paul Walker

The Fast and the Furious franchise continues to 'power' ahead, despite the 2013 death of one of its key players, Paul Walker. The 40-year old Walker was at a Los Angeles event for his own 'Reach Out Worldwide' charity when he took a ride with friend Roger Rodas in the latter's Porsche Carrera GT. It ended in a fatal fireball crash.

The Carrera GT is one rare machine to be killed in.
Tell us who we've missed out from the Death Metal leader board in the comments below.