16 May 2017
Good guy Bridgestone has XJ220 owners' backs by recreating its original tyre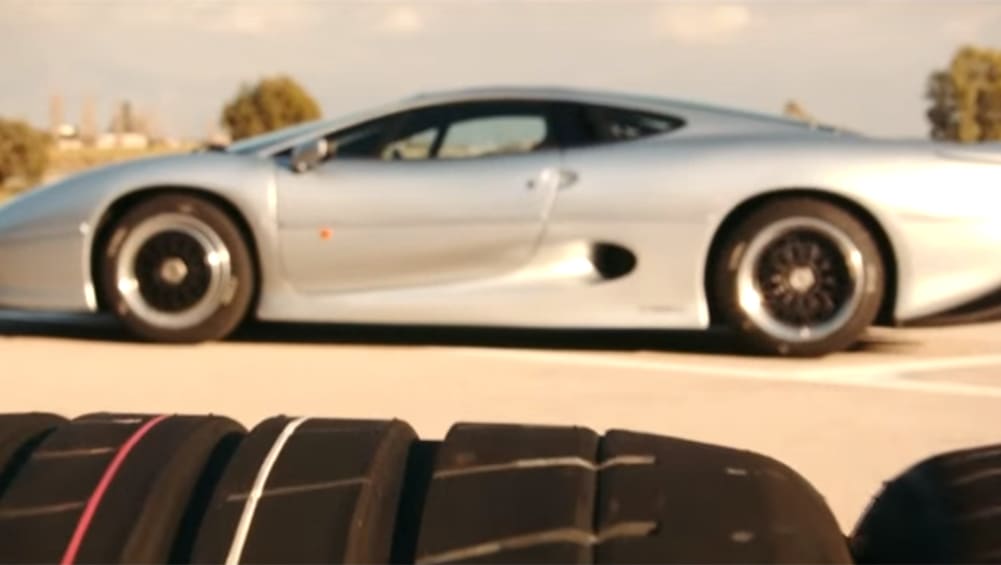 If there are certainties in life, it is death, taxes, and the eventual decay of the tyres we have on our cars.
Unlike most components in a car, tyres have a limited lifespan, can't be refurbished, and we're not in the territory of dodgy 3rd party imitations here - with tyre engineering and manufacturing being a closely guarded secret. With cars becoming bigger thanks in part to crash safety regulations, which in turn leads to manufacturers inflating wheel size to 'fill the wheelarches', performance tyres that could fit older cars are being rapidly phased out.
This conundrum is a major concern for classic car owners, especially for those who happen to own one of the fastest cars ever made, the Jaguar XJ220. History might not have been kind to Jaguar's one and only supercar, but the XJ220 is still a formidably fast car. Not only did it hold the official top speed record - of 341.7km/h - for a production car for six years, it was said to be the fastest production car around the Nurburgring for seven years. 

The XJ220 requires large, unconventional tyres.
Though only 271 examples were made, owners today are finding it hard to acquire usable rubber to suit the XJ220's requirements for 255-width front and 345-width rear tyres, as the last batches of the XJ220's original Bridgestones were being used up, or rendered unsafe for use due to its age.
This was a problem for Don Law Racing, a UK-based father-and-son engineering firm who were handed the responsibility of providing service and support for XJ220 customers by Jaguar. Remaking the supercar's original rubber was near impossible, as Bridgestone had scrapped the original moulds, and the only records of the tyre that they had were technical drawings. Making new moulds just to supply tyres to less than 270 cars would be nothing but a loss making endeavour. 
However, after a chance meeting between Don Law and Christophe de Valroger of Bridgestone Europe on the steps of the famous Goodwood mansion, Bridgestone decided to take up Law's request and, not only recreate the XJ220's original tyre, but redevelop it with modern compounds. Costs be damned.

The tyres were re-developed with modern compounds, but with the same characteristics.
Developing a new tyre to match the old tyre's characteristics wasn't so easy. Bridgestone needed to get all the tyre's characteristics right, from its on-the-limit nature to its remarkable wet-weather performance. For that Don Law and Bridgestone managed to rope in members of the XJ220's original development team. 
Onboard with the project were the XJ220's development and test engineer, Alastair MacQueen, Andy Wallace and John Nielsen, who both raced for Jaguar and were key in the XJ220's development, and Shinichi Watanabe, Bridgestone's original tyre development engineer who was assigned to the XJ220.

Chassis #004, one of five hand-built prototypes.
To top it off, Don Law Racing also provided chassis #004, one of five hand-built prototypes and the original car that was used by Bridgestone for the original tyre's development, just so they could get as close as possible to the original tyre's character.

The doco goes for 42 minutes, but there is plenty of XJ220 goodness within.
Thanks to Bridgestone's motorsport division, who were able to recreate such huge tyres, and several days worth of fine tuning the tyre's characteristics on road and track, the team were able to produce a tyre that not only replicated the handling of the 25-year old tyre, but one that was more durable and comfortable. Thus hopefully ending the dry spell of every XJ220 owner out there, and helping them put their cars where it rightfully belongs. On the road. 
The whole story behind this endeavour is chronicled in Bridgestone's rather lengthy 42-minute documentary. That being said, besides delving into the world of tyre development, the documentary also reminded us just how awesome the under-appreciated XJ220 really is.
What's your favourite story of a classic being kept alive? Tell us about it in the comments below.