30 May 2017
The five greatest manufacturer one-offs of the 21st century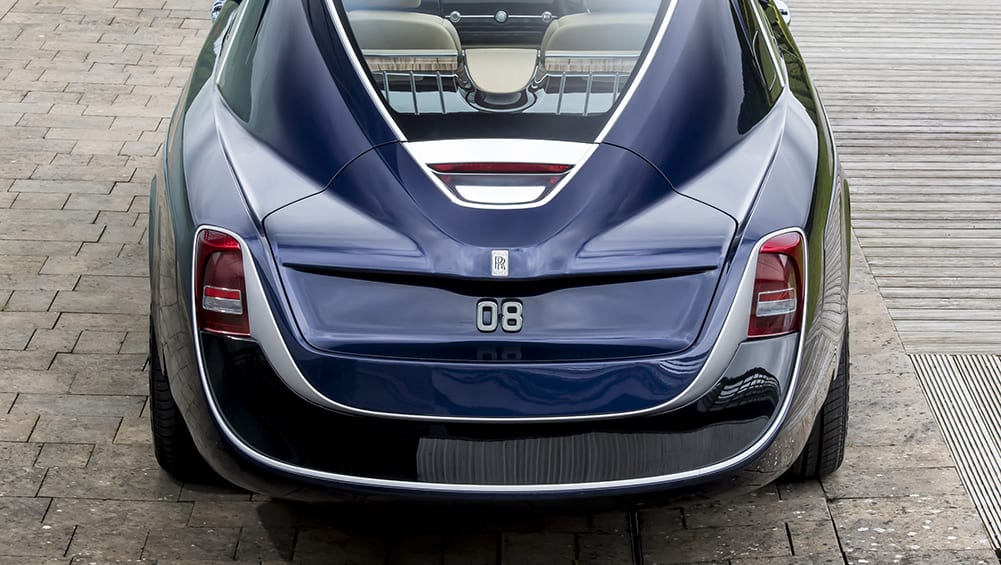 Exclusivity isn't just a marketing buzzword for these five one-off examples.
Long ago if you were a wealthy aristocrat, you would buy a chassis and engine from Rolls-Royce, and get the body done to your exact specification at a coachbuilder like HJ Mulliner or Park Ward. Or if you were Ferrari, and you were too busy racing cars to care about selling road cars, no problem, just get Scaglietti or Zagato to hammer a body out for you. 
But the glory days of coachbuilding, like most of the European aristocracy, are pretty much long gone since the advent of modern unibody construction and the mechanised production line. Unless you are coachbuilder, with your own dedicated team of craftspeople, building a one-off from today's rigid production line is out of the question. 
However there is a caveat, as demonstrated by these five 21st century creations. Getting a manufacturer to build you a bespoke one-off to your 'discerning tastes' is possible, so long as you have more disposable income than some nations and enough brand loyalty to get a signed christmas card from the company's head every year. 
Adding to that, these one-offs aren't just unique due to some exotic trim and paint combination, or the work of a coachbuilder, nor are they multi-million dollar mostly-static concept car showpieces. These cars were built by manufacturers, funded by customers, and meant to be driven with full road legal status.
5 - Rolls-Royce Sweptail (2017)

The Sweptail draws its inspiration from many coachbuilt Rolls-Royces from the 1920s and 1930s.
After years of boasting that its craftspeople are able to create a wholly customised wooden dashboard panel to your liking, Rolls-Royce have stepped back into the coachbuilding arena with its latest exotic model. Unveiled at last week's Concorso d'Eleganza, the Rolls-Royce Sweptail is a magnificent one-off for a very wealthy Rolls-Royce and Bentley collector, who must have agreed that customised wooden dashboard panel is so passé.
Based on a Phantom coupe, the Sweptail features a completely designed tail that draws its inspiration from many coachbuilt Rolls-Royces from the '20s and '30s. Though the newly redesigned rear deck is inspired by a cruiser, this coupe is only built for two, with the rear seats replaced by an exquisite wooden deck replete with a hat shelf. Overhead, the Sweptail boasts one of the largest and most complex glass roofs ever installed on a car, which was specified by the client. 
As a final, personal touch, the Sweptail comes with its registration number, 08, built into it. The numerals are made from two individually milled and hand polished aluminium ingots. 
4 - McLaren X-1 (2012)

McLaren's MSO division was influenced by styling trends of the '30s, '50s and '70s to come up with the X-1.
When McLaren returned to making road cars in 2010 with the MP4-12C, its new creation was without a doubt one of the most futuristic cars in the world. It featured a revolutionary carbon-fibre chassis, absence of anti-roll bars, and an incredible turbocharged V8 engine. The only thing that wasn't quite as futuristic was its conservative styling.
So when a particularly wealthy McLaren owner wanted to create his own one-off MP4-12C, he decided to do something challenging. What the newly formed McLaren Special Operations (MSO) division came out with was decidedly futuristic, in a Flash Gordon kind of sense, with a style that harks back to the art deco era of the 1930s.
The design was divisive from the start, though if MSO wanted to attract some attention, what better way than through some controversy. MSO defended its design, stating that the X-1's owner wanted "timeless and classical elegance" qualities, which, if you were an octogenarian, was pretty on point.
3 - Maybach Exelero (2004)

Looks like a Batmobile from the Great Depression...
Keeping with the rose-tinted theme is the Maybach Exelero, which looks more fitting as a Batmobile from the Great Depression than a flamboyant coupe made by a reborn 1930s German ultra-luxury marque. 
Unlike the other entries in this list, the Exelero wasn't commissioned by an individual but by Fulda Reifenwerke, the German division of Goodyear in 2000. In fact, it wasn't even designed by Maybach themselves, as the whole car was born from a design competition between students of the Pforzheim Polytechnic Department of Transport Design. Regardless of its unconventional origin, Maybach and Fulda took up the challenge and brought the students' designs to life, complete with a 522kW 5.9-litre twin-turbo V12 Maybach engine to boot.
Though built to primarily test and showcase Fulda's new wide tyres, the Exelero was built to be road legal, and even met the TÜV's extremely stringent standards for roadworthiness. Daimler was even confident enough to put their star DTM-winning driver, Klaus Ludwig, behind its wheel on the Nardo circuit to chart an FIA-sanctioned 351.45km/h top speed in 2005. Pity all that effort didn't save Maybach from being demoted to a sub-brand less than a decade later.
2 - GM EcoJet (2006)

The engine that powers the EcoJet normally goes in helicopters.
We've all heard of those romanticised and inspiring stories where great things start from a sketch in the sand or on the back of a napkin. Well, the story of the GM EcoJet's conception was just that, and had all the right ingredients, with a dash of Hollywood stardom. It started when talk show host and serial car collector, Jay Leno, invited Ed Welburn - GM's vice president of Global Design - to build a mid-engine turbine-powered supercar for him.
What began as a discussion and sketches on a couple of paper napkins, later turned into an after-hours pet project by GM's team of designers. Despite carrying the GM name, the EcoJet wasn't built by GM, instead the company's Advanced Design Studio took the time and effort to come up with the concept, design, engineering, and lent fabrication support for Leno's project. The car itself was completed by several different external parties which supplied the car's core components such as the 485kW bio-diesel turbine engine, modified Corvette Z06 aluminium frame, and carbon-fibre over kevlar body.  
We aren't entirely sure how much of Leno's wealth was sucked up into the turbine vanes of the EcoJet, but it might not have kept him awake at night considering his garage boasts many fine (and extremely valuable) entries such as a McLaren F1 and a Bugatti Type 57. 
1 - Ferrari F12 TRS (2014)

We could have made this entire list out of one-offs from Ferrari alone.
If we're honest, we could have made this entire list out of one-offs from Ferrari alone. The Italian supercar maker has been operating a pretty successful customisation programme that has been steadily producing beautiful one-offs for the wealthiest of its clients. 
While we would like to commemorate James Glickenhaus' Enzo-based P4/5 as the most significant, it doesn't count in this list as it is the work of Pininfarina, not Ferrari. Nevertheless, Ferrari still has an impressive roll call of one-offs, some beautiful, some odd, but in the end the mention has to go to the most outrageous, the F12 TRS. 
Based on the F12 Berlinetta, Ferrari's atelier program chopped its roof clean off, reworked its entire nose and rear-end, and created something truly out of this world. The F12 TRS isn't really a one-off as Ferrari made another one in silver, for the same customer.
And who would be rich enough to own two copies of the most outlandish one-off Ferraris in recent times? Well, the same bloke who commissioned the Rolls-Royce Sweptail, only known by his Instagram profile of TestaRossaSam. Not a bad addition to his collection which already includes an FXX K, one of ten McLaren F1 GTR Longtails, one of five F40 GTE EVO IIIs, and an ultra-rare Ferrari F50 GT.
Whats your favourite one-off? Tell us about it in the comments.