Our schedule for the day included a trip to a museum in the city and then a visit to the grandparents in the afternoon.
While the bones of this car are borrowed from Mercedes-Benz, the exterior design language is all Infiniti. It's an odd combination (part-hatch, part-SUV) with a ride height that's 35mm higher than the Q30. This, combined with the plastic black flares around the wheel arches and underside of the body edges, provide the only indications of its crossover-style character.
The side profile has a swept-back look that tapers to a stout rear flanked by distinctive C-pillars. The two sharp accent lines running along its sides are a peculiar design feature and seem a little overdone to me. Its curvy design continues up front with the double-arch grille and three-dimensional mesh, and its strongly styled double-wave bonnet.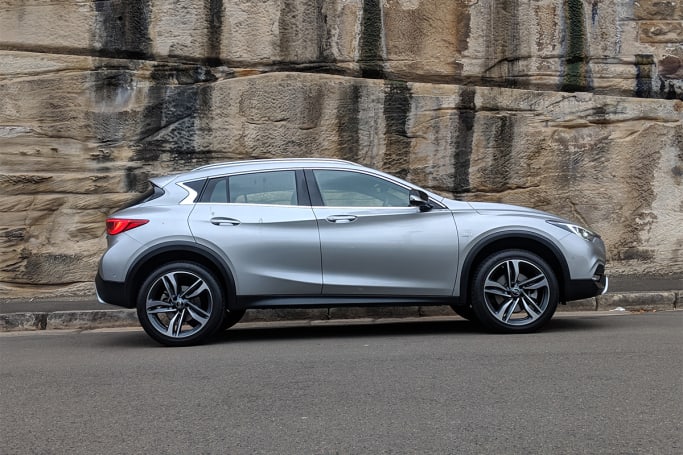 The side profile has a swept-back look that tapers to a stout rear flanked by distinctive C-pillars.
The cabin has a premium feel, with a nice mixture of soft and hard surfaces throughout. Infiniti have done a good job of blending a number of their own components with those of the Mercedes Benz GLA donor car. Thanks to the electrically adjustable seat and steering column I was quickly able to set my drivers seat to a suitable position. The leather-wrapped seats provided ample comfort and support in all the right places.
The high window sills and low roofline make for a surprisingly cosy cabin up front, which then becomes rather cramped in the rear. The back seat is not somewhere an adult will want to sit for long. I'm 180cm tall, and my knees were pinned up against the driving seat with only an inch or so of headroom above.
For my kids it was not much better, with the high sills reducing their ability to see out the windows, which then resulted in heated battles for the front seat before every trip.
The dash layout and design feels slightly dated, with numerous buttons down the centre stack underneath a small (but simple to operate) 7.0-inch touchscreen that will be familiar to many Nissan owners.
Our test car came with a 10-speaker Bose audio system, dual-zone climate control, a fixed glass roof with sun shade, fully electric front seats and Nissan's 360-degree "around-view" camera.
The camera came in handier than expected, with the QX30's narrow aspect and large B and C pillars making visibility when parking and overtaking a trickier prospect than it otherwise should be for a car of this size.