Tesla electric cars in Australia: Everything you need to know

Since strutting onto the global stage 18 years ago, with the not-so-humble aim of becoming both a car manufacturer and a technology company, Tesla, and its high-profile boss Elon Musk, have become as synonymous with electric vehicles as Apple is with smartphones. 
Like Apple, Tesla is now seen as a lifestyle choice, generating both passionate fans who believe the company can do no wrong, and equally passionate detractors who delight in pointing out Tesla's flaws. 
Regardless, the success of Tesla stock, which grew an incredible 650 per cent during the calendar year 2020 alone, has made CEO Musk a very wealthy man. The success of Tesla added a whopping $125 billion to his bank account in 2020, leaving him with a tidy net worth of around $160 billion (a considerable return on his initial investment in Telsa in 2003, which was a relatively paltry $6.5 million). 
Musk was appointed Tesla CEO in 2008, the same year that the first Tesla EV, the Roadster, went into production after Tesla raised $187 million in capital ($70 million of which came out of Musk's own pocket). 
The Tesla Roadster was a two-door sports car with a chassis lifted from the Lotus Elise, coming with a top speed of 201 km/h and 393km of driving range. It was the first highway legal, serial production all-electric car to use lithium-ion battery cells, and approximately 2,450 were delivered around the globe before Tesla ceased production of the Roadster in 2012.
The next Tesla electric car arrived the very same year in the form of the Model S, a plug-in, full-electric luxury sedan compatible with both home charging on a wall box or charging at a designated Tesla Destination location or Tesla Supercharger station. 
September 2015 saw Tesla enter the SUV market with the Tesla Model X, which shared about 30 per cent of its parts, and its platform, with the Model S. After 12 months on the market, it was ranked seventh among the world's best-selling plug-in cars.
The Model 3 sedan, designed for the mass market and cheaper than previous Tesla models, landed in 2017, after multiple production delays, going on to become 2018's best-selling plug-in EV in the world. 
More recently, 2020 was a huge year for Tesla: the compact Tesla Model Y was released, the company hit the goal of having sold half a million cars worldwide and it surpassed Toyota as the most valuable car manufacturer in the world by market capitalisation, with a valuation of $206 billion. It's a staggering feat for a company that seemed like David taking on the many Goliaths of car world when it launched, less than two decades ago.
Tesla EVs available in Australia 
Model 3

Tesla's Model 3 has the honour of being the highest-selling EV of all time, having shifted more than 800,000 units globally by December 2020. The Model 3 Standard Range Plus version boasts a range of 423km, while the the Long Range's is claimed to be 568km. 
Model S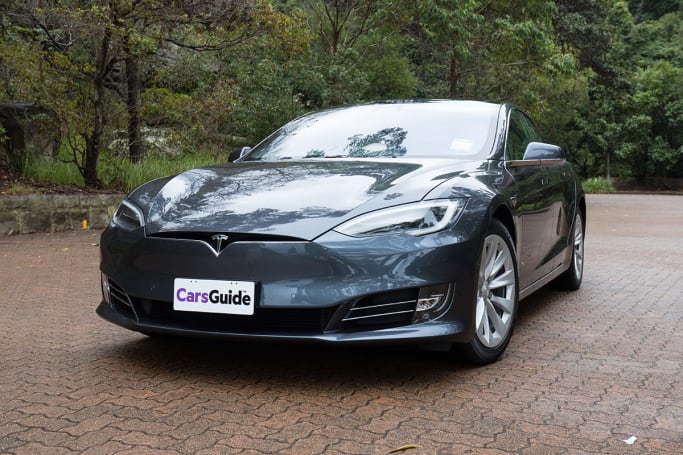 Tesla's flagship EV comes in two variants: the first is the Plaid - named after a gag in the Star Wars film spoof Spaceballs where "plaid" is the only speed faster than "ludicrous" - which has a range of 628km, the (claimed) ability to go from zero to 100km/h in 2.1 seconds and a top speed of 322km/h. The second is the Long Range, with - you guessed it - an extended range of 652km. 
Model X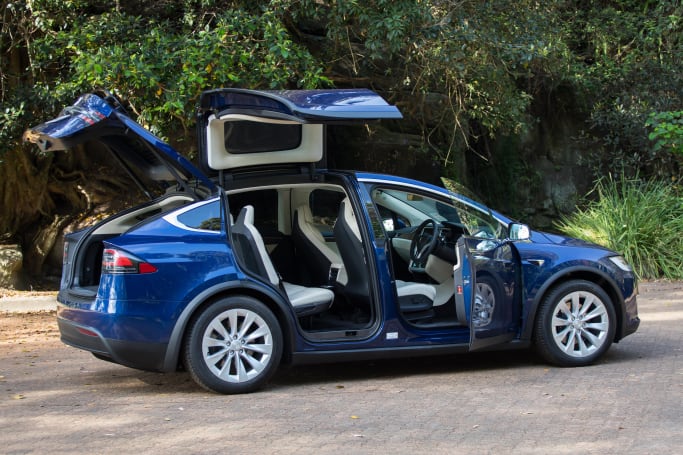 Notable for it's "falcon-wing" rear passenger doors, which open vertically, the Model X mid-size SUV comes in five, six and seven-passenger configurations. The Model X variants are the Plaid (547km range) and Long Range (580km range), each model coming with Tesla's Autopilot driver-assistance system, which enables the vehicle to steer, accelerate and brake automatically within its lane under the driver's active supervision."Autopilot" might be a bit of a misnomer, then.
Model Y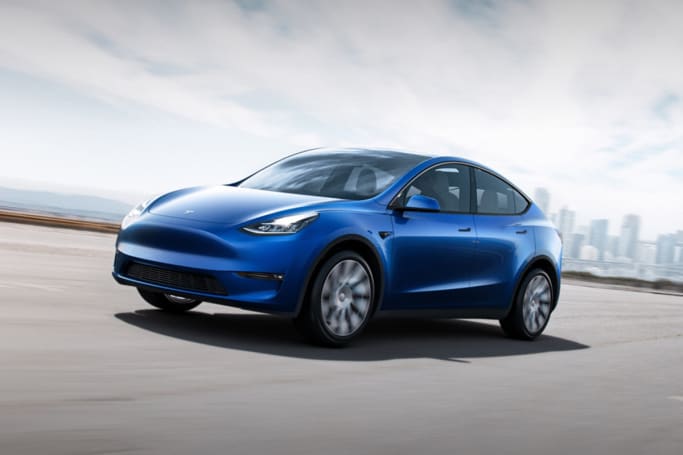 This compact crossover utility vehicle is built on the Model 3 platform, but don't be fooled by the "compact" bit: it can squeeze in three rows of up to seven people. It also comes in two variants: Performance (480km range, 241km/h top speed) and Long Range AWD (all-wheel-drive; 505km range, 217km/h top speed).
What's next for Tesla?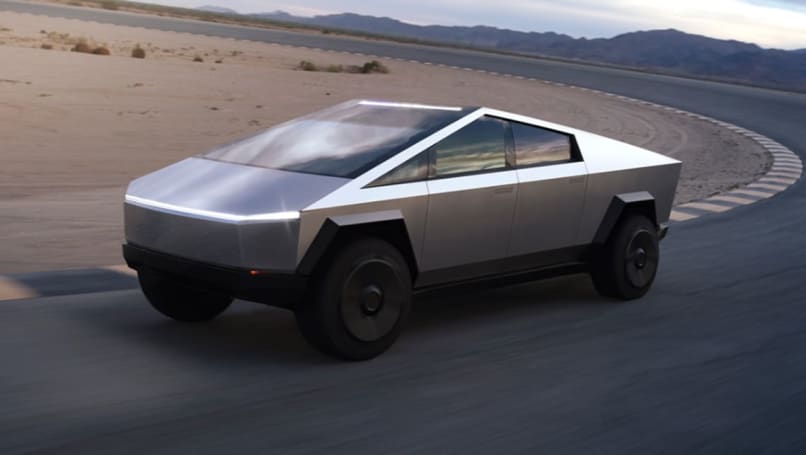 Elon Musk's mission to be an environmental saviour who eradicates the world's fuel-chewing cars and hybrids shows no signs of slowing down, with more EVs from Tesla on the way. 
First is the famous, and extremely pointy, Cybertruck, which looks a bit like it was designed by a 13-year-old boy with a love for 1980s science fiction films. There will also be the option to purchase the Tesla Cyberquad (a 4WD electric quad bike) with the Cybertruck, which makes it sound even more like a teenage boy's fantasy. 
Other announced models include the Tesla Semi (a semi-trailer truck, as you'd likely guess), plus the second generation of the Tesla Roadster, due for arrival in 2022, with Musk promising a whopping range of 1000km and a blistering top speed of 400km/h. Yes, that does sound absurd, but Musk, and Tesla, does have a habit of making the seemingly impossible plausible.