Maserati Quattroporte automatic 2007 review

It's not as though Italy won't do autos, such things are increasingly available in Alfa Romeos even in the ostensibly sporty Brera.
It's more that Italians seem to regard slushers as an affront to what they believe fervently is their collective ability to drive like gods of the racetrack.
That said, on the whole they make Australians look like the neophytes they are. Then there's the question of the auto's state of origin — the United States.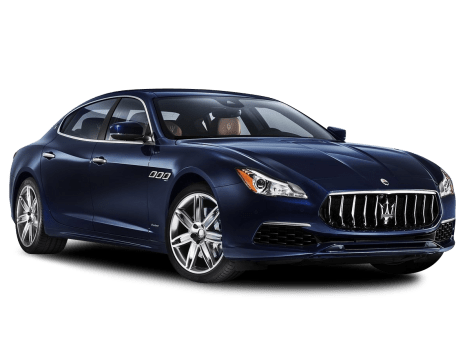 Explore the 2007 Maserati Quattroporte range
The Italian attitude can be discerned in any car-hire establishment; in their boot-shaped peninsula wherein requests for auto are greeted with by a semi-sneering, eyes-rolled-towards-the-heavens: 'American transmission.'
That the feted marque Maserati has fitted a torque converter auto to its flagship Quattroporte sedan and can be seen as a milestone.
When the Quattroporte Automatica was presented to the world in Monaco earlier this year, the company suggested that this gambit was being made with women in mind.
That's the sort of quaintly patronising candour that would get you hauled up before HR over here, never mind that it happens to be true.
In fact, the move stems from Maserati's need to be seen as a genuine alternative to the top-end automated Teutons; (Automoteutons?) such as Mercedes-Benz's grandiloquent tourer, the CLS 63 AMG, and BMW's relentlessly capable but aesthetically appalling 7 Series.
Until now, the seductive Masers have come with a 'Formula One-style' DuoSelect gearbox that, while having a Drive mode and no clutch pedal, could be a lurching, jerking and decidedly non-luxurious thing to drive.
While the hardcore will cling zealously to these things, the overwhelming majority of new Quattroporte buyers will now tick the automatic box.
Miscreants have chided that the six-speed unit used by Maserati is supplied by the firm ZF, who also make the unit fitted to Ford's humble Falcon. The two are to each other what Jacob's Creek Shiraz is to Hill Of Grace.
Epic re-engineering was undertaken to adapt the ZF to the car without adversely affecting its near-optimum weight distribution, and to enable it to accept its high-revving, Ferrari-supplied 4.2-litre V8.
The means by which this was achieved is a story in itself. Suffice to say it works beautifully and those whose machismo (or lack of it) is not linked to their transmission will find that Quattroporte auto drives almost as adroitly as DuoSelect.
Certainly the new deal is sweeter in most forms of driving. In any case, the auto has a manual option that can be enhanced by in the upper-spec models; with steering wheel-mounted paddle shifters.
For the main part, it simply won't occur that a torque converter is present, though flatten the loud pedal and it will kick down the appropriate number of gears whether it's in manual mode or no.
Against that, the paddles can override Drive, though full auto function returns if you leave the flippers alone for a bit.
Another upshot of the mechanical jiggery pokery; entailed by the auto adaptation is that the new models are actually fractionally better balanced than DuoSelect cars. Forty nine per cent of their weight is toward the front; 51 per cent aft.
The 295kW Fazza bent-eight engine now offers lower fuel consumption. Rather more to the point, it offers more torque, the peak level of 460Nm attained at 4250rpm.
If the Maser is a balm to the eye, it's certainly a blessing to the ears. The Quattroporte cannot match the autobahn-sturming Merc and Bimmer in a straight-line blast (the auto adds 0.4 seconds to the standard sprint distance), but it will resonate like Pavarotti hitting the climactic bit of Nessun Dorma.
If the ride is less cloistering than other luxury sedans, the Maserati's boundless appetite for consuming corners provides a massive pay-off.
Accurate, if somewhat bantam-weighted steering, prodigious grip and willingness to hang on through mudguard-scraping bends utterly belie its almost two-tonne unladen weight. The automobile weighs in 70kg above the DuoSelect.
Indeed, although always with the exception of the 7 Series, winding roads tend be where the Maser leaves behind those rivals listed below.
With the first-class interior enhanced by such contrivances as cupholders and an electronic parking brake, the Quattroporte Automatica can be just as sedate as any luxury barge. However, a smallish boot compromises its golf-club facility.
The inside story is one of bespoke elegance. You can stipulate a level of fitting and finish comparable to a suit tailored by Brioni, with myriad combos of wood-grain panels and leather trim.
The two new exterior colours, a deep blue and a dark metallic, become the car though not so as well as the pearlescent white. There's also a new woodgrain interior feature, Tanganyka, and a new interior trim, Grigio Ghiaccio.
The Quattroporte Maserati has always exuded an air of affluence in keeping the trident badge, it's just that now with the creamy ZF, it won't behave in traffic as though its been stuck in the bum with a trident.
Drive the Maserati in the spirit intended and you'll discover not so much a rival for the usual luxury suspects, but a car that attains levels to which they don't aspire — and it does so automatically.
The bottom line
Oh, the power and apassionata. At last, a genuine Latin alternative to the Teutons.
Pricing guides
$50,875
Based on third party pricing data
Range and Specs
| Vehicle | Specs | Price* | |
| --- | --- | --- | --- |
| (base) | 4.2L, PULP, 6 SP AUTO | $41,200 – 52,690 | 2007 Maserati Quattroporte 2007 (base) Pricing and Specs |
| Executive GT | 4.2L, PULP, 6 SP SEQ | $42,100 – 53,790 | 2007 Maserati Quattroporte 2007 Executive GT Pricing and Specs |
| Sport GT | 4.2L, PULP, 6 SP SEQ | $40,700 – 52,030 | 2007 Maserati Quattroporte 2007 Sport GT Pricing and Specs |
| Sport | 4.2L, PULP, 6 SP SEQ | $48,300 – 61,050 | 2007 Maserati Quattroporte 2007 Sport Pricing and Specs |
Pricing Guide
$48,300
Lowest price, based on third party pricing data
View cars for sale
Similar Cars
Volvo S60

Disclaimer: The pricing information shown in the editorial content (Review Prices) is to be used as a guide only and is based on information provided to Carsguide Autotrader Media Solutions Pty Ltd (Carsguide) both by third party sources and the car manufacturer at the time of publication. The Review Prices were correct at the time of publication.  Carsguide does not warrant or represent that the information is accurate, reliable, complete, current or suitable for any particular purpose. You should not use or rely upon this information without conducting an independent assessment and valuation of the vehicle.