Used Toyota Kluger review: 2003-2005
SUVs like the Toyota Kluger have been a major new force in the local car market in the last two decades, but the spiraling price of fuel is now putting their very survival under threat.
The SUV has replaced the station wagon as the favourite transport for many families. Their appeal lies in their flexibility, size and perceived safety. They have become so popular that every car company has been forced to have at least one in their product offering. Toyota has been of the innovators in the SUV market with a number of models to suit all sizes and budgets. The Kluger is the mid-sized model aimed fairly and squarely as the average family.
MODEL WATCH
Australians have always had a fascination with the bush; they have always been intrepid travelers, willing to drive thousands of kilometres over rough roads to explore this vast land. Carmakers understood this need to explore distant places and came to realize there was a market for a vehicle that could double as family transport while possessing the capability of getting to these sometimes remote locations.
Initially they responded with models that were essentially toned down four-wheel drives, plenty tough enough for the bush, but far too rugged for town. It was in the 1990s that purpose-built models began to emerge. They had four-wheel drive and rode high, but were closer to the regular family four-door than the rough and tough wagon that had blazed a trail through the bush.
There was the Toyota RAV4 and the Honda CR-V, but then came the Kluger, and mid-sized wagon capable of transporting the average family round town or the bush.
The Kluger was a close relative of the Camry and that's a pretty good way to look at it. It's the softroader to suit the average family. Like the Camry it's conservatively styled, but does everything pretty well without being too outstanding in any one area. Typically Toyota really.
It will carry up to seven and still have a bit of space for those things families seem to need to take with them when they hit the road. It had a capable all-wheel drive system, which was able to cope with most rough roads the average family adventurer would encounter. On the upper models there was an array of electronic helpers to keep you out of trouble in the rough stuff.
Power came from a 3.3-litre double overhead camshaft V6 producing 172 kW at 5600 revs and 328 Nm at 3600 revs, which gave it plenty of punch.
All Klugers came with a five-speed automatic transmission, and all had four-wheel drive.
On the black top the Kluger felt a little vague, typical of most offroaders. While it felt safe and sound it felt disconnected from the driver, all controls were light and lacked feel, but the ride was very comfortable. Off road, on rough bush tracks, the Kluger felt quite at home. Its suspension soaked up the bumps with ease, and it was a delight to drive down bush tracks that unsettled other similar cars.
Three models made up the Kluger range. The base CV had cloth trim and carpets, the CVX had leather, a sports steering wheel, powered driver's seat, and alloy wheels, while the Grande also had wood grain highlights.
IN THE SHOP
It's important to check for signs of offroad use. Few will have been taken down anything more challenging than a gravel road, but it's best to be safe and check underneath.
Look for sand blasting of the underbody, bent or dented brackets and fittings, and torn rubber boots and seals. If you find anything walk away, there are plenty of Klugers on the market that haven't been taken off the black top.
The Kluger engine has a cam timing belt that needs changing at around 150,000 km, but few if any will have done anywhere near that amount of kays yet. While Toyota is renowned for its reliability there have been a number of concerning reports that suggest there are problems with the Kluger engine. Reports include damaged cylinder heads requiring replacement at 150,000-200,000 km, and con rods through blocks requiring the replacement of the whole engine.
IN A CRASH
There's always an argument about the safety of offroad vehicles. The high driving position affords the driver a good view of the road ahead, which has to be good for safety, but that same high ride works against you when it comes to an emergency situation.
The Kluger handles satisfactorily. It's predictable, but not as responsive as a regular sedan and takes time to change course in an emergency. That can make it a bit of a handful in the lead up to a collision. The CV has dual front airbags, but the CVX and Grande had an array of front and side airbags, plus traction control and stability control.
AT THE PUMP
We are getting lots of queries from owners of all SUVs, including the Kluger, about switching to LPG to save on their running costs. That suggests they are concerned about it. Expect to get 10-12 L/100 km on average, a little less on the open road.
OWNERS SAY
Roger Turnbull's 2005 Kluger CVX has done 81,000 km. It has been totally reliable and drives as fresh and tight as it did when new. He uses it for family transport, tows a small trailer, but doesn't go offroad. He says it's very comfortable and quiet and quite economical, but he has been unhappy with the standard of the service he's received from the three Toyota dealers he's tried.
Richard Chaplin wanted a seven-seater for family transport when he bought his 2005 Kluger CV Sport. Richard chose the Kluger over a Ford Territory because it offered better fuel economy, resale and quality and was nicer to drive. His wife preferred it because it was a bit smaller than the Territory and she didn't like the larger size of the Ford. They have had it for nearly three years now and still love it. It's done 78,000 km it has never had a problem, only requiring regular servicing. It's quiet and smooth, tows without a problem, and is reasonably economical. Unlike Roger Richard reckons his Toyota dealer is great.
Jack van Bakel bought his Kluger in 2006 after considering a range of other vehicles. The one he chose had to be large enough to tow a caravan, it had to have four-wheel drive or all-wheel drive, had to be value-for-money, and it had to easy to get in and out of. His only regret is that the Kluger, according to Toyota, is not suitable to be converted to LPG.
---
LOOK FOR
• comfortable ride
• spirited performance
• family-sized wagon
• good visibility from high seating position
• Toyota reliability
• capable offroad

THE BOTTOM LINE
Typically bland Toyota looks hide competent, well-built family wagon with the capability to tour the outback.

RATING
75/100
Pricing guides
$8,800
Based on 11 cars listed for sale in the last 6 months
Range and Specs
| Vehicle | Specs | Price* | |
| --- | --- | --- | --- |
| CV (4X4) | 3.3L, ULP, 5 SP AUTO | $3,700 – 6,050 | 2003 Toyota Kluger 2003 CV (4X4) Pricing and Specs |
| CVX (4X4) | 3.3L, ULP, 5 SP AUTO | $4,400 – 7,040 | 2003 Toyota Kluger 2003 CVX (4X4) Pricing and Specs |
| Grande (4x4) | 3.3L, ULP, 5 SP AUTO | $5,500 – 8,470 | 2003 Toyota Kluger 2003 Grande (4x4) Pricing and Specs |
Other cars to consider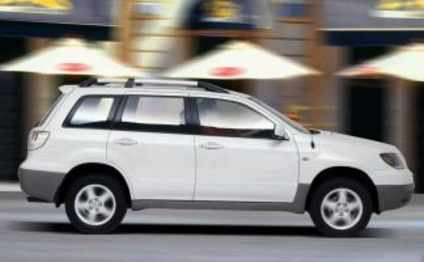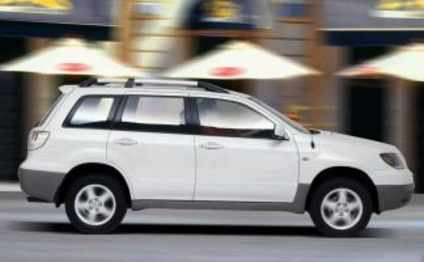 2003 Mitsubishi Outlander
Price guide from: $4,500 – $8,990
Pricing Guide
$5,800
Lowest price, based on 9 car listings in the last 6 months
View cars for sale
Similar Cars
Toyota Land Cruiser Prado

Toyota RAV4

Mazda CX-9


Toyota Fortuner

Disclaimer: The pricing information shown in the editorial content (Review Prices) is to be used as a guide only and is based on information provided to Carsguide Autotrader Media Solutions Pty Ltd (Carsguide) both by third party sources and the car manufacturer at the time of publication. The Review Prices were correct at the time of publication.  Carsguide does not warrant or represent that the information is accurate, reliable, complete, current or suitable for any particular purpose. You should not use or rely upon this information without conducting an independent assessment and valuation of the vehicle.