2003 Mitsubishi Outlander
Pricing and Specs
Click here to see 2021 pricing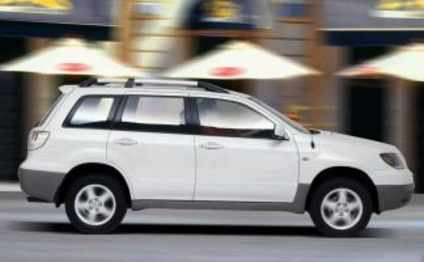 The Mitsubishi Outlander 2003 prices range from $4,990 for the basic trim level SUV Outlander XLS to $6,990 for the top of the range SUV Outlander LS.
The Mitsubishi Outlander 2003 is available in Regular Unleaded Petrol.
Interested in a Mitsubishi Outlander?
Request A Brochure
Locate A Dealer
Book A Test Drive

Insurance Quote

Get Secured Car Loan
Price Guide
$5,990
Based on 17 cars listed for sale in the last 6 months
Explore prices for the
2003 Mitsubishi Outlander
SUV
Mitsubishi Outlander Models
SPECS
PRICE
LS

2.4L

ULP

Regular Unleaded Petrol

4 SP AUTO

4 speed automatic

$2,400 – 4,070

XLS

2.4L

ULP

Regular Unleaded Petrol

4 SP AUTO

4 speed automatic

$2,400 – 4,070
* Manufacturer's Suggested Retail Price
Mitsubishi Outlander 2003 FAQs
Check out real-world situations relating to the Mitsubishi Outlander here, particularly what our experts have to say about them.
Can the 2020 Mitsubishi Outlander tow a small caravan?

As most smaller caravans (two and four berth ones) weight between 800kg and 1300kg, you shouldn't have any problem towing one with a 2020 Outlander. The petrol-powered 2.0-litre and 2.4-litre models have a towing capacity of 1600kg, the diesel-powered ones can haul 2000kg and the PHEV plug-in electric vehicle version is limited to just 1500kg - so probably not that one if it's one of the heavier small caravans you're considering towing.

Please note that the towing capacity is the maximum the car can haul, which means if you have 300kg of luggage in the boot, and have a total of four people collectively weighing 300kg, you'll need to add 600kg to the weight of your caravan. Thus, with an Outlander 2.4L petrol, the maximum caravan weight including four people and luggage should not exceed 1000kg. 

Show more

What is the best family SUV for around $20000?

While the Mitsubishi Outlander is spacious, reliable and easy to drive, our experience testing it against rival medium SUVs have found it to be noisy and a little too firm riding to be truly comfortable and relaxing. At your price point, there are better alternatives out there. 

Have you considered a Mazda CX-5? In petrol or diesel, we have found it to be a superior and more economical proposition, and is definitely quieter and more refined. Plus, the Mazda's all-wheel-drive system is more sophisticated and better at dealing with loose surfaces like sand.

A late-model (post 2014) S5-series Subaru Forester 2.5i petrol is far more economical than the earlier iterations, since it switched to a more efficient CVT continuously variable transmission. And there's also the 2.0D turbo-diesel which is economical. This, too, is a fine SUV on-road or for light off-road driving.

Finally, the Nissan X-Trail diesel is a roomy and capable choice, especially from 2017, when it received a 2.0-litre turbo-diesel to replace the older 1.6L unit.

Show more

What are the best economical small used cars?

It's a fact of life, Ted, that fuel-efficiency has been a big focus for car-makers in the last decade. So, the most economical models tend to be the newer ones which tap into better technology (such as stop-start functions) and improved engine and driveline designs.

But beyond the improvements in petrol-engine technology, diesel engines have brought some big improvements, as have hybrid vehicles. The real headline makers have been, of course, the plug-in electric vehicles which are now available second-hand for sensible money. I've seen Nissan Leafs for sale for less than $20,000 and the plug-in hybrid Mitsubishi Outlander PHEV for similar money.

If economy is your number-one aim, stay away from all-wheel-drive cars as the extra driveline friction requires more power and, therefore, fuel to drive it. And don't forget that how you drive, where you drive and even whether you check you tyre pressure regularly can also have a huge effect on your ultimate fuel economy.

Show more
See All Mitsubishi Outlander FAQs
Disclaimer: You acknowledge and agree that all answers are provided as a general guide only and should not be relied upon as bespoke advice. Carsguide is not liable for the accuracy of any information provided in the answers.
Interested in a Mitsubishi Outlander?
Request A Brochure
Locate A Dealer
Book A Test Drive

Insurance Quote

Get Secured Car Loan