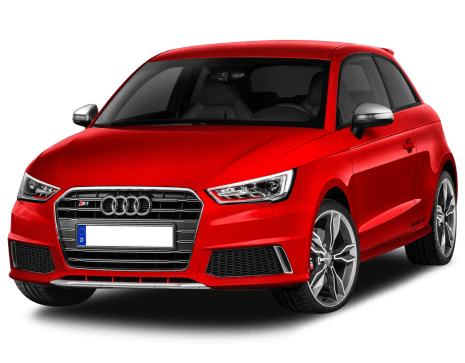 COMPARE
Audi S1
VS
BMW 530i
Audi S1
Likes
Sensational engine
Quattro drivetrain
Great chassis
Dislikes
Price
The interior is a bit dull
Stiff ride
---
BMW 530i
Likes
Classy and understated design
Price and spec bang-on petrol equivalent
Seamless transition from EV to petrol
Dislikes
Softer than petrol-powered sibling
Boot smaller due to batteries
Hard to match fuel claims in real world
Summary
Audi S1
Spoilt. That's what we are. If you're in the market for a hot hatch, you can have your pick of German-built and French ones from as little as $27,000. There isn't a dud among them now that the VW Polo GTI has had a bit of an update and you can pick and choose your style. Audi's S1 is aiming to be king of the kids with its stiffly-priced S1.
Set the finances aside and consider for a moment what's on offer. As it turns out, a lot.
| | |
| --- | --- |
| Safety rating | — |
| Engine Type | 2.0L turbo |
| Fuel Type | Premium Unleaded Petrol |
| Fuel Efficiency | 7.1L/100km |
| Seating | 5 seats |
---
BMW 530i
Eco-friendly vehicles are the leather pants of the new-car world; it takes a lot of money to make them look good (but people who own them think they look fantastic regardless). If you don't have a gazillion dollars to drop on a Tesla,  then it's a one-way ticket to Prius town. And really, who wants that? 
But what if it didn't have to be that way? Behold the BMW 530e iPerformance.
Seemingly tired of waiting for the Australian Government to introduce any sort of meaningful subsidy for green cars, BMW has made the choice simple: you can have a petrol-powered 530i for $108,900, or opt for the plug-in hybrid 530e for... $108,900. This is truly revelatory thinking.
There's no specification penalty, either, and the hybrid will power to 100km/h in an identical 6.2 seconds, so you're not even any slower. But you are sipping less fuel, emitting less C02 and basking in the general smugness, and sweet silence, that comes with feeling like you're saving the world.
So what's the catch?
| | |
| --- | --- |
| Safety rating | |
| Engine Type | 2.0L turbo |
| Fuel Type | Diesel |
| Fuel Efficiency | 4.7L/100km |
| Seating | 5 seats |
Verdict
Audi S1
7.6/10
Cars this small shouldn't be this fast and useable at the same time, but the Audi S1 is. It isn't without its problems - the ride is harder even than the Fiesta ST which might weary some prospective buyers.
It's also a bit difficult to justify the price - in its basic form it's missing a few creature comforts that you'd expect in a $50,000 car - reversing camera, high-res screen, that sort of thing.
However, in the hot hatch world, those things don't matter. It has the bragging rights, the tech and the outright blinding speed to take on the bonkers Focus ST and equally zany Megane RS. And even the Audi S3.
---
BMW 530i
7.8/10
Not all superheroes wear capes, and we're proud to report the 530e does its bit for green motoring without feeling the need to shout about it. And with no price or specification penalty, it's easier being green than ever before, and the pricing of this BMW really puts the cat amongst the canaries.
If it's no slower, but much greener, and more economical, why wouldn't you have the e version of the 530 for the same price?
Design
Audi S1
8/10
The A1 is so small it starts to strain Audi's design language. When you cram on the S-style bumpers and raccoon-eyed trim on the hatchback, it's starts to look a bit busy.
It isn't quite a shrink-wrapped A3 - Ingolstadt's designers know better than that - but it's full of Audi design cues, such as the strong, light-catching character lines, distinctive LED daytime running lights and fondness for big wheels.
Inside is along the themes of the A3, with what are becoming Audi's trademark; round eyeball air-con vents, the manual fold-down screen familiar to Q3 owners (but smaller) and a good clear dash. The handbrake jars slightly as it feels cheap to hold and wobbles a bit.
The S Sport seats are big and comfortable, and the top half of the backs are capped in plastic, which was colour-coded on our car. The rear passengers will certainly get an eyeful of whatever terrifying hue you've chosen, so choose wisely.
Despite the five doors, the back seats are occasionals, like the Mini the A1 is gunning for, and the boot is very small, but okay for shopping for couples or singles.
---
BMW 530i
8/10
Crucially, there's nothing weird about the way the 530e looks. While some green cars look like they've been designed by one of the kids from 3rd Rock from the Sun, the 530e looks much the same as the rest of the range, save a few tiny but telltale giveaways - like the e-drive badging outside, and what looks like a bonus fuel flap tucked in behind a front wheel that houses the whole plug-in bit.
And we really, really like it. It's elegant and statesman-like from every angle, and looked especially important in the deep-blue colour of our test vehicle. It's not over-designed, with body creases used sparingly, and the occasional glint of polished silver that rings the windows and the grille adds a final sense of shininess to an understated design. 
Inside, there's more going on than you might normally find in a BMW. The hugely complicated digital display screen now includes everything from battery charge, power usage to the usual assortment of speedometers and petrol readouts. 
The dash is busy, too, with a wide screen emerging from a centre stack that also houses a CD player and a digital aircon setup, which in turn sits above a complex centre console from which you can alter driving settings, control the multimedia or cycle through electric modes. It doesn't feel overdone or crazily festooned, but there's more at play here than in your usual BMW.
Elsewhere inside, the seats are beautifully designed, with a quilted leather highlight through the middle, while the gloss-black strip that lines the dash hides a dual strip of ambient interior lights that also runs across all four doors.
Practicality
---
BMW 530i
7/10
As the world's motoring tastes shrink faster than a lap-banded Clive Palmer, it's easy to forget the joys of the full-size sedan, but the space for passengers and luggage in the 5 Series will have you questioning your downsizing ways.
Upfront, there's plenty of room between front-seat riders, who will also share two smallish cup holders, along with room in each front door for bottles. There's also a dedicated wireless charge pad (which, because of its tight design, is crazy difficult to actually remove your phone from), but you'll also get two USB points and a power outlet that's hidden in the sizeable centre storage bin as standard fit.
Backseat riders get heaps of space, both in width and in leg room behind the front seats. And there's twin air-con temp controls and twin power outlets, too. But middle-seat passengers will be forced to sit with their legs on either side of the raised tunnel, which will definitely impact on comfort.
Best to ditch the fifth passenger, then, and deploy the pull-down seat divider, which also houses two cup holders. Finally, there are three ISOFIX attachment points, one for each seat in the back.
The boot's still sizeable, despite shrinking slightly to house the battery/fuel tank setup (the tank has been moved further back to accomodate the batteries), and can be adjusted to be a flat load area if you'd like, offering up to 410 litres with the rear seats in place.
Price and features
Audi S1
7/10
Starting at $49,900, Audi S1 is by far the priciest of the small-hatch based hotties, at least until Mini's madcap JCW arrives. This price is just almost double that of VW stablemate's forthcoming 2015 Polo GTI.
Standard on the manual-and-five-door-only S1 is a ten speaker stereo, climate control, ambient lighting, remote central locking, cruise control, satnav, headlight washers, auto headlights with xenon low beams, partial leather seats, leather-bound steering wheel, auto wipers and rear parking sensors.
Our Misano Red ($990 option) came with two extra packs. The Quattro Exterior Package ($3990) adds bi-xenon headlights with red trim, red brake calipers, spoiler, quattro logos on rear doors (ahem!) and five-spoke 18-inch alloys that are part matt black, part polished.
The Quattro Interior Package ($2490) adds S Sport front seats with Nappa leather and red backrest capping with quattro logo (ugh), more nappa around the cabin with contrast stitching, flat bottom steering wheel and red rings on the air vents.
There's an S Performance Package that brings the best of these two packs together for $4990, saving about $1500 and the embarrassment of the quattro logos.
Our test car also had aluminium air vents ($220), black contrasting boot lid ($300) and black roof ($720).
The grand total is a sobering $58,610. There's a couple more options that'll easily pop you over $60,000.
Audi's MMI is dash-mounted in the A1 as there's no room on the narrow centre console. As ever, it works well and doesn't take much getting used to. The satnav is a bit grainy on the smaller screen but is otherwise a competent unit.
Sound is from a ten-speaker stereo and you can stream across Bluetooth or plug in a memory card. The sound was good but the system did take a while to find the phone whenever we came back to the car.
---
BMW 530i
8/10
The 530e commands a 530i-equalling $108,900 price tag, which is genuinely impressive when you consider all the extra bits and pieces that go into make a plug-in hybrid. That money buys you a well-equipped car, and only those allergic to money need reach for the options list.
As standard, you'll find leather-wrapped - and heated in the front - sports seats, 19-inch alloy wheels and a 10.25-inch touchscreen that pairs with a really very good 16-speaker Haman Kardon stereo. Wireless Apple CarPlay is available, but it'll cost you an extra $500. To be honest, though, we didn't miss it.
You'll also find adaptive LED headlights, a huge head-up display (so big, in fact, that it impedes vision when climbing steep hills), dynamic dampers, an auto opening/closing boot and a self-parking system, along with BMW's suite of self-driving tech - but we'll come back to that under the Safety sub-heading.
Engine & trans
Audi S1
8/10
This is where the action is. The S1's tiny body packs a 2.0-litre turbocharged four-cylinder producing 170kW and 370Nm of torque. The S1 will streak to 100km/h in 5.9 seconds thank to the traction aid of quattro all-wheel drive.
Despite a pretty solid hammering during its week with us, including more time than we'd have liked in Sydney traffic, the stop-start function helped deliver a pretty reasonable 10.2L/100km, however that's a long way over claimed 7.1L/100km.
All Audi S1s come with a six-speed manual, so dual-clutch haters can save the whining. The only downside from not having a self-shifter is the ECU can't deliver the boy racer farts, parps and crackles of the other S cars.
---
BMW 530i
8/10
Drift around in pure EV mode and you'll be relying on the 530e's 83kW and 250Nm electric motor, which will provide what BMW refers to as "between 28 and 32 real-world kilometres".
Run out of range, or simply use too much throttle, and the 2.0-litre petrol engine comes into play, adding 135kW and 320Nm to the mix. All up, that's 185kW and 420Nm - respectable numbers by any measure, and enough to match the petrol-powered 530i's zero to 100km/h sprint of 6.2 seconds.
That power is fed through an eight-speed automatic transmission before being sent exclusively to the rear wheels, where it belongs.
Fuel consumption
---
BMW 530i
8/10
Like a Facebook relationship status, it's complicated. The 530e will sip a claimed combined 2.3 litres per hundred kilometres on the claimed/combined cycle, which is amazing for a car this size. Better still, it seems genuinely achievable - at the vehicle's launch, our own Richard Berry recorded a stunning 2.0 litres per hundred kilometres on a short test route.
But that's with a full load of battery charge on board. For our week with the 530e we were unable to actually plug it in (living in Sydney, I can't afford a garage), so once the initial battery charge had been used we were back to mostly petrol power. Unlike some other plug-in hybrids we've driven, we found it very difficult to recharge the battery to any meaningful level using regenerative braking, so once we were flat we stayed flat. If we had plugged it in, it would have been a two-hour recharge using a specialised wall unit, or about four hours using a normal plug.
As a result, though, our fuel use was closer to 7.0 litres per hundred kilometres after some considerable real-world testing.
Driving
Audi S1
8/10
If you're buying the S1 as a comfortable urban runabout with a cool badge, you're half right. While the seating for front passengers is certainly supportive, the hard suspension tune will ensure you're well aware of road surface imperfections.
Thankfully, what it missed out on in the ride department it makes up for in every other way - the S1 is a rocket. The 2.0-litre turbo jammed under the bonnet has almost no lag and is paired with a slick six-speed manual that is terrific fun to manhandle through the gears.
The way the S1 picks up speed when it's on boost is addictive and licence-endangering. A flattened accelerator in second or third will obliterate just about anything this side of $100,000 and you'll be having more fun in this than big brother S3 because the chassis is more adjustable and there's a bit more life.
You can hear the turbo sing to accompany the bassy exhaust growl. Hit the massive brakes hard and the car remains stable even over rutted roads. Turning the wheel brings almost-instant turn-in, mashing the throttle again a fun little wriggle. It's superb.
You'll have to be a bit patient with the throttle to get the wriggle, though - give it too much too early and it will want to push wide, the quattro system shuffling power around to try and quell understeer while the electronic diff fiddles with the braking system to do the same thing. It gets there in the end, but you're better off meting out the power with your right foot for maximum rewards.
It's tremendous fun point-to-point on a twisty road - despite being a bit heavy for its size (1415kg), it's as chuckable as the next best thing, the Fiesta ST.
---
BMW 530i
7/10
There's so much to like about the way the 530e sets about saving the world, and that's mostly because it doesn't shout about it, either to the driver or the outside world.
It's very much an underpants inside its pants superhero, which makes us like it even more. Set off in EV mode, and the 530e will drift silently away from the curb, burning battery power over fuel for as many as 30(ish) kilometres. But equally important, the shift from green to gas is largely imperceptible, with the petrol engine joining in willingly when you ask it to - usual via a prod of your right foot.
It is so effortlessly smooth that you need to really pay attention to notice the eight-speed 'box changing gears at city speeds, and it's commendably quiet, whichever drive mode you're in.
Downsides? Well, it doesn't feel quite as sharp as it's conventional-engined siblings. The batteries add around 230kg in weight, which never helps, and it all feels a little softer and a little less dynamic, even with Sport mode engaged. BMW assures us the adaptive suspension setup and tune is identical, but the 530e feels noticeably softer when you tackle a twisting back road. And that encourages you to use your right foot a little more, which in turn negates the whole electric thing in the first place.
One of the great joys of BMWs has always been their ability to transform from cosseting comfort to rear-drive rocket when you want them to, and you can't help but notice the 530e isn't quite up to that challenge. But if your intentions are mostly city- and freeway-based, then this plug-in BMW is almost indiscernible from its petrol-powered sibling.
Safety
---
BMW 530i
9/10
You'll want for little here, with front, front-side and full curtain airbags joining parking sensors, a surround-view camera and a self-parking system.
You can also expect active cruise control, lane control assist with lane keep assist (so it will stay between the lane markings for you), AEB and cross-traffic warning. And all of that means that, technically, the 530e can drive for you. That is, of course, if you don't mind driving like a dick - in full-autonomous mode it will swerve from lane marking to lane marking like it's playing bumper bowling.