11 January 2018
Project Zero Bucks Given - Part 4: Summernats conquered!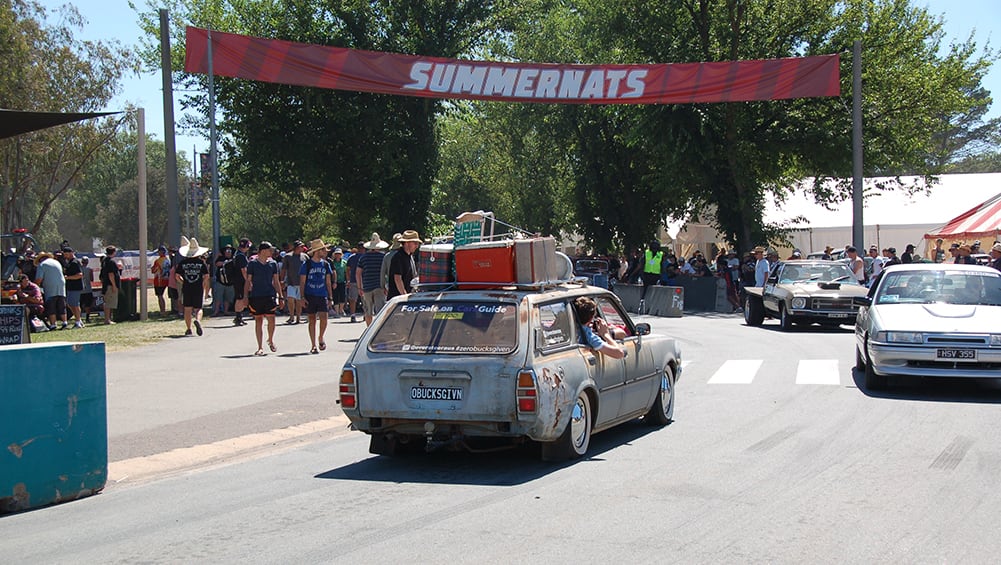 Australia's biggest modified car show welcomes our freebie cruiser with open arms.
Remember that scene in Jurassic Park where they show how the dinosaurs were recreated from DNA preserved in amber? This is how we were starting to feel about Zero Bucks Given.
From paddock to Summernats cruiser with just three days work and a targeted $0 investment, it might make a good Spielberg epic one day. Except it's hardly ferocious and was really pretty easy to achieve.
As you'd expect, the LandCruiser made short work of what must have been a near-three tonne load with the pavers and the car on the trailer. The dash showed 17.0L/100km at the end of our Blue Mountains to Canberra run, which isn't bad considering we stuck to the speed limit with the cruise control on all the way.
The ever-enthusiastic James Lisle, or J3, volunteered to make up the rest of Summernats team OverSteer, and impressed early on with his ability to load pavers into a Corona. This was my 25th Summernats, but J3's first, so I was keen to see what he made of it. J3 can turn eating Corn Flakes into a side-splitting yarn, so make sure you check out his story.
Friday
Our final hurdle before hitting the cruise route was scrutineering, which is always a pretty nerve-wracking experience until that entrant windscreen sticker is affixed.
This time was particularly nail-biting, considering our unconventional build, plus the fact that we lined up alongside cars that cost as much as some houses.

Scrutineering is always a pretty nerve-wracking experience. (image credit: Malcolm Flynn)
Thankfully it turned out we were worthy, so Zero Bucks Given was soon off the trailer and ready for her final touches.
Following our theme of Classic Dad mods, we loaded the roofrack up with a bunch of old camping gear and Eskys, which we reckon gave Zero Bucks a pretty Griswold-esque overall look. Tell us what you reckon in the comments.
We then hit the cruise route to scope out the show and see how well Zero Bucks actually worked – remember we'd only tested her on my driveway. She actually moved pretty well with all the weight and four-up, with the only challenge being the need to give the clutch a couple of pre-emptive pumps before any gear change. Given most of the cruise route is a first gear crawl, this was easy.
Impressively, the temp and fuel gauges worked but the former started climbing after a couple of laps in the 30 degree-plus heat.
Given you don't know your limits until you reach them, we did a whole lap with the gauge off the chart. We would never do this in a car we planned to keep, but she cried enough just in front of the main entrance with an explosion of steam from under the bonnet.

The ever-enthusiastic J3 volunteered to make up the rest of Summernats team OverSteer. (image credit: Malcolm Flynn)
Yay, right in front of everyone spilling through the gates to the show. The four of us pushed the world's heaviest Corona out of the way before inspecting the damage.
The lower radiator hose had parted company with the water pump, which was a massive relief compared to our suspicions of a split radiator. This is ordinarily no worries to fix, but closer inspection revealed that the water pump housing had corroded to the point where there was barely 5mm of surface for the radiator hose to grab.

Looks dire, but hopefully bush mechanics will save the day. (image credit: Malcolm Flynn)
With little confidence of finding an 18RC water pump nearby and fears of how much they command these days, we put our bush mechanic thinking caps on. If we ground off the tabs that usually limit how far you can slide the radiator hose on, we might be OK.
We miraculously found a secluded spot in the shade with access to power and water (no, we're not telling where) and headed off in the 'Cruiser to the nearest tool shop in search of the cheapest Dremel alternative we could find.
$50 later, we'd put another big dent in our zero-buck budget, but had some hope of bringing Zero Bucks back from the dead, again.
A big shout out to Canberra Celica group members Luke and Steve for spotting us with our bonnet up and tools out, who offered to source us a functioning water pump. We were confident we'd sort it with our bush hack, but cheers guys for giving us a backup plan. Great to have the old Toyota community behind us! Steve has what must be Australia's best RT118 (the blue one in our pics), and Luke's Crown is simply awesome.
After plenty of grinding, swearing and a decent radiator flush with the garden hose, we had the radiator hose back on and clamped tightly just in time for a couple of test laps before the 6pm cruise curfew.
Aside from a couple of dribbles because we left our suspectedly-faulty radiator cap half loose, she was fine, and the temp gauge didn't move from the horizontal. We were back!
Saturday
Once we'd grabbed a new radiator cap on the way in – another $7.80 in the red, thanks - our Saturday mission was to cop as many eyeballs as possible in a bid to be picked for the Supercruise that night. So we parked her for most of the day in a prominent spot on the Show 'n Shine oval.

We figured the Show 'n Shine oval would provide the biggest spotlight for Zero Bucks Given. (image credit: Malcolm Flynn)
Plenty of iron oxide and bricolage enthusiasts came and had a chat and gave us the thumbs up, but our Supercruise invite sadly never came. Miracles don't always happen kids!
We still did plenty of laps of the cruise route that arvo, and thanks to all the ambitious chaps lining Tuff St for their encouragement to rip a skid.
If only they knew how little we were packing under the bonnet and how much we were packing over the rear tyres!
Sunday
Sunday is always the quietest day of the Summernats, with most of the action on the burnout pad for the finals and the Go-to-Whoa. This was hardly Zero Bucks territory, so we used the chance to catch up on our cruise route laps and check out the trader pavilions.
Based on the numerous "Zerobucks!" cheers from the crowd, she seemed to be reasonably popular, and the official Summernats ground announcer almost hugged me when he spotted us and declared Zero Bucks his "star of the show." We'll take that as a win.
By this stage we were also getting a fair bit of interest from our For Sale ad. So just as we were starting to fall in love with our rooted old Corona, it was feeling like we might have to part with her. Making good on our net Zero Bucks Given pledge was #1 priority though, with the added benefit of possibly not having to tow her back to Sydney.
Things started to feel real when a meeting was set up outside Epic that afternoon, which served as a distraction from the usual end-of-Summernats blues as we loaded Zero Bucks onto the trailer.
We towed her just 600m to our rendezvous point, where we were greeted by the JDM tragics and all-round great guys at Brookes Street. They liked what they saw and a deal was done on the spot.

It was only a 600m trek between loading Zero Bucks on the trailer and having to take her off again.
Plenty of commenters assumed we'd lined up some sweet corporate sponsorship when we said we were going to build a Summernats cruiser for $0, but the total investment of $50 for the car, $300 for tyres, $20 for spark plugs, $50 for a fake Dremel kit and $7.80 for a radiator cap came out of our pockets.
The $3.61 in loose change we found under the carpet and the $1 donated by the top bloke from Stitches and Sounds helped, but the Brookes Street guys covered our $423.19 net build costs.
We did it, and the journey to Summernats was just as rewarding as the end result. She did look a little sad when we left her with most of her mods removed, barely an hour after her last lap of the cruise route, but we proved it could be done.

We don't know what Zero Bucks Given will look like in the near future, but we have faith that it'll be good. (image credit: Malcolm Flynn)
It sounds like this won't be the last we see of Zero Bucks Given, with the Brookes Street guys planning to get her registered and step things up a few notches. Keep an eye on their Instagram to see where she winds up.
As for the show itself, the booming variety of cars I've noticed over the past decade continues. Aussie Holdens, Fords and Chryslers with metal mountains poking through the bonnet still make up the majority of the 2000-odd entrants, but there seemed to be more factory classic, JDM and all sorts of rods than ever.
It's more of a celebration of creativity and engineering across a broad spectrum of genres these days, and I reckon it's better for it. Summernats is still the best place to see modified cars in Australia.
Some regulars will bemoan the end of the Miss Summernats competition, general crackdown on sexist behaviour and the wild party atmosphere of the past, but the show needs to evolve with society.
If you've been turned off by Summernats in the past, it's definitely time to give it another go. I found it a very nerve-wracking affair when I entered my EH Holden in 2002 and 2003, but this time I was a lot more confident our car would leave unscathed. The stakes were definitely much lower, but it's a much safer place to enjoy your pride and joy.
Read Zero Bucks Given - Part 1 here
Read Zero Bucks Given - Part 2 here
Read Zero Bucks Given - Part 3 here
What should we take to Summernats next year? We've already got a few crazy ideas, but tell us yours in the comments.