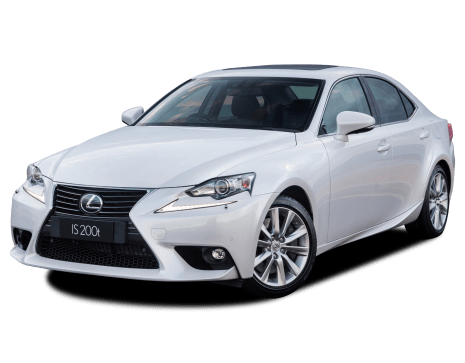 COMPARE
Lexus IS
VS
Maserati Quattroporte
Lexus IS
Likes
Smooth powertrain
Bulletproof quality
Individual looks
Dislikes
Feels heavy
Odd-bod interior
Some ergonomic failures
---
Maserati Quattroporte
Likes
Terrific powertrain
Huge luxurious cabin
Great looks and badge
Dislikes
Iffy entertainment software
Weird sensations through electric steering
Some dodgy plastic chrome bits
Summary
Lexus IS
Peter Anderson road tests and reviews the Lexus IS350 Sport Luxury with specs, fuel consumption and verdict.
The Lexus IS has carved out a niche in the executive sedan market - some owners would require dynamite to shift them to another brand. With an unparalleled commitment to post-sales service and a reputation for absolutely bulletproof reliability, Lexus hasn't exactly beaten the Germans into submission here in Australia, but it has given them a good fright. If you want to take on Audi, BMW and Mercedes, you've got to bring what Americans call 'your A-game.'
Explore the 2016-2017 Lexus IS Range
The IS350 is a niche within a niche, though. At this level, the Germans have convinced their customers that forced induction fours or sixes are the go, while Lexus soldiers on with a naturally aspirated V6 and a specification list as long as your arm.
| | |
| --- | --- |
| Safety rating | |
| Engine Type | 3.5L |
| Fuel Type | Premium Unleaded Petrol |
| Fuel Efficiency | 9.7L/100km |
| Seating | 5 seats |
---
Maserati Quattroporte
Maserati's Quattroporte is part of a dying breed. A decade or so ago, the European manufacturers took a huge amount of pride in their range-topping big luxury sedans, cars you can either drive or be driven in, bristling with the latest technology.
In 2015, all we hear about are the range-topping SUVs from those makers, with cars like the S-Class and 7 Series fading slowly into irrelevance.
While by no means low-tech, the Maserati Quattroporte takes the high style route, focussing on a luxurious interior with that handmade feel.
| | |
| --- | --- |
| Safety rating | — |
| Engine Type | 3.0L turbo |
| Fuel Type | Premium Unleaded Petrol |
| Fuel Efficiency | 9.6L/100km |
| Seating | 5 seats |
Verdict
Lexus IS
7/10
The IS350 is a fine car and is edging ever closer to the truly European feel the marque seems to crave. It's also different enough for those who don't want to be a part of the German triad and want to do something different while getting an after-sales experience that's hard to beat.
The thing about the IS is that it feels a little old - the interior tech and naturally-aspirated V6 are a bit 2009. That's not to criticise the car itself because it's beautifully made and if past IS generations are anything to go by, will outlast humanity. The 350 feels, and is heavy. It's a bit thirsty and doesn't quite tick all the boxes many in the sector are looking for. But wow, is it getting closer.
Click here for more 2017 Lexus IS350 pricing and spec info.
Is the Lexus IS in the running for you? Or does your wallet only speak German?
---
Maserati Quattroporte
7.6/10
Beauty is way more than skin-deep in the Quattroporte and while the 330 doesn't have the punch of the S, it's hardly that much slower. Maserati reasons you will want to spend the $25,000 saved on options, concentrating on the Italian craftsmanship rather than the outright performance available in the V8 or the efficiency of the less aurally attractive diesel.
As with any car of this type, you've got to want one in the first place, but for a big, beautiful sedan, there's nothing as good looking this side of an Aston Rapide. The Quattroporte 330 does nothing to dim the allure of Modena's big mover and, if you're that way inclined, nobody on the outside will ever know.
For Quattroporte money would you stick with the Italian or be tempted by one of its German rivals? Let us know in the comments below.
Design
Lexus IS
7/10
This third-generation IS is, at last, a distinctive looker. The first car was a clean design that aged reasonably well (as did the car - there's still a ton of them kicking around) but the second one seemed a bit timid, a sort of slimmed version of the first car's styling ideas in a bigger body. Things weren't quite right and that car's look has not aged well at all.
The third generation, though, is much more aggressive, more individualistic. The mid-life refresh made the front end look a bit frowny, but the Lexus spindle grille really looks the business even if the headlights appear awkwardly finished. In profile it fits in well with the pack and then it all gets a bit aggro again at the back, with that extravagant downward sweep of the taillights. Pretty, no, memorable, yep.
Inside is less adventurous and, annoyingly, not ageing as well as Lexus might have hoped. The two-storey dash feels a little heavy-handed with its double chin rolls. I can see what the designers were going for, but they missed. 
And that chintzy analogue clock in the centre stack. Please. Stop.
There are also too many Toyota-style buttons littering the dash. Having said all of that, the obvious Lexus bits are terrific to touch and use, apart from the entertainment system's click mouse thing. That's a bit of a mess and the screen's software actively works against precise operation.
All is mostly well on the instrument pack except when the sun is coming over your shoulder. The reflections obliterate both of the traditional dials and if you'd already driven, say, an IS200t with the digital dash, you would be asking tough questions about why that instrument set isn't in the top-of-the-range machine.
---
Maserati Quattroporte
8/10
Long, flowing lines mark out the Maserati as something quite different to its German, British and Japanese competition. This Quattroporte has increased in every dimension but the lines cover its size beautifully.
Big wheels, long wheelbase, low ride but it still looks like a sedan rather than pretending to be a coupe.
The elegance of the lines is complemented by a distinct lack of bling – there's little in the way of chrome work or shouty details. There's plenty satin finishes available and the beautiful paint, while available in pretty much any colour you like, is best kept to a restrained, deep hue. Or silver.
The cabin will doubtless age well. Classic shapes house a fairly conventional but hugely comfortable cabin. The front seats have heaps of adjustment and are large but supportive. Naturally, the leather is soft and supple.
The central screen isn't the dominant feature, like a 50-inch LCD screen in a small living room while buttons are kept to a minimum.
The rear seat is sensationally comfortable, with hectares of available space and a seat comfortable for either lounging or working.
Practicality
Lexus IS
7/10
This is probably the weakest part of the Lexus equation. While front and rear seat passengers enjoy a pair of cupholders per row, there's little in the way of storage for our ubiquitous phones. A centre console bin is provided (from which your USB cable must sprout), but the dash and console are bereft of a good place to stow your phone. Each front door will carry a small bottle but rear seat passengers miss out. The glovebox is a good size and cooled for your convenience.
Boot space for the 4.7m sedan comes in at 480L, but you'll never guess how big an Audi A4, BMW 3 Series or Mercedes C Class boot is. Oh, you can? Yeah. 480 litres. What a coincidence.
---
Price and features
Lexus IS
7/10
The IS range kicks off at $59,340 for the base IS200t but it's not until you're spending $65,390 that you'll find yourself in a V6-powered IS350. Another twenty large will see you in the Sports Luxury we had for the week, at a not inconsiderable $84,160 (although that's $4000 less than a BMW 340i). What do you get for that? Quite a bit, as it happens.
A 15-speaker stereo (with Mark Levinson branding, whoever that is), 18-inch alloys, dual-zone climate control, reversing camera, keyless entry and start, a hefty safety package, active cruise control, LED headlights and daytime running lights, auto headlights and wipers, heated, cooled and electrically-adjustable front seats with three memory settings on the driver's side, sat nav, lots of leather, park assist and power everything including sunroof.
Metallic paint is a breathtaking $1500.
The stereo, sat nav and various functions are controlled from a rectangular click-mouse arrangement reminiscent of a '90s laptop. It isn't great and my impression of the software is that the designers need to go out and buy some Apple and Android devices and learn how modern things work. Or at least have a look at iDrive and MMI. Having said that, the sound is epic, although the radio's insistence on switching to KIIS FM on start-up, no matter which device or station was last used, was irritating.
The sat nav also has some annoying functions that are, mercifully, switchable. The speed camera warnings are helpful and insistent while the incessant school zone warnings were hugely annoying. That's hardly Lexus' fault given there are so many of the things, but the constant 'ding-dong' in urban areas is infuriating and sounds like you're trapped in an airport. 
---
Maserati Quattroporte
7/10
The current Quattroporte has been with us now for a couple of years in diesel and petrol turbocharged V6s and turbo V8 forms.
The 330BHP uses the same, Ferrari-built V6 but detuned to 'just' 330 bhp. The price has been detuned too, dropping $25,000 from the V6 S's entry price to kick off at $210,000.
Maserati 330bhp benefits from an overall specification improvement across the range, landing in your garage with a ten-speaker stereo with USB and Bluetooth, power everything, dual-zone climate control, keyless entry and start, front and rear parking sensors with reversing camera, cruise control, sat-nav, auto headlights and wipers, double glazed windows and an interior covered in leather and wood.
Later in the year, your Quattroporte will be available with a new silk trim from Zegna
Only very occasionally does it become clear that Maserati is part of the Fiat Group and that moment comes when you use the 7.0-inch central screen in the dash.
The software is based on the group's UConnect and it isn't great. It's not bad, but it feels its age (however, it's much better than the system on the Gran Turismo), needing a lot more work or a quick surrender to Apple's CarPlay or Android Auto.
Once you work your way through the weird menus, it's fine to use and is miles ahead of the not-much-cheaper Lexus LS unit which is almost unusable.
Sound from the ten speaker stereo is crystal clear and the phone performance is also very good.
Engine & trans
---
Maserati Quattroporte
8/10
Like the S, the 330bhp is powered by Maserati's twin turbo 3.0 litre V6, made with more than a dash of Ferrari involvement. As the name suggests, it produces 243kW and a chunky 500Nm. With just under two tonnes to shift, the ubiquitous eight-speed ZF automatic transmission whisks the Quattroporte 100km/h in 5.6 seconds, only half a second down on the 301kW V6 S.
Maserati claims 9.1L/100km on the combined cycle (with the help of stop-start), which seems reasonable given our figure of 10.8L/100km, which we got a with a mix of city and highway running as well as a very enthusiastic blast through some secret back roads.
Fuel consumption
Lexus IS
6/10
Lexus claims a combined cycle average of 9.7L/100km but try as we might, we couldn't get the V6 to drink any less than 13.3L/100km in light traffic and some highway running. Like its European rivals, the 3.5 V6 demands premium unleaded.
---
Driving
Lexus IS
7/10
For some reason, the IS always feels heavy. There's something about the way the car moves that makes it feel chunky. That's not all bad, of course, because it imparts a feeling of solidity and strength, but when you line it up next to a BMW 340i, it tips the scales a further 145kg the wrong way. When you look at it that way, you're always carrying two medium sized people around with you. 
It doesn't seem to blunt the performance too much, reaching 100km/h in 5.9 seconds, about eight tenths slower than Beemer with the same number of gears and a torque deficit of almost 70Nm.
Another reason it feels heavy is that the sprint itself is one of the most drama-free acceleration events you'll ever experience. The 3.5 V6 is as silky as they come, as smooth as any in-line six, which have the advantage of not having pistons punching away from each other throwing the engine about.
It's not as sharp on the throttle as the 340i or A4, even when in Sport+ mode, so the Sports bit of the Sports Luxury tag is about thirty percent of the equation. 
It does steer and brake with great accomplishment, but there's no life in the chassis, really, so it's best regarded as a luxury car rather than a sporting sedan. The IS has always been thus but with the sad demise of the IS F, there's nothing to really go after the quicker Audis, BMWs or Mercs. You have to lose two doors and move on to the RC F for that.
Ride quality is superb and the cabin is seriously quiet. Rough roads with huge expansion joints and zingy concrete surfaces fade into the background, conversation remains easy with just the stereo to push what little wind noise penetrates the cabin into the background. The adaptive damping must take a lot of the credit for the ride and handling refinement - it's unobtrusive and doesn't suddenly pour concrete into the dampers when you switch things up.
---
Maserati Quattroporte
8/10
Just a few hundred metres behind the wheel is all it will take to convince you the Maserati belongs in the same class as the competition. It's incredibly quiet – courtesy of the acoustic double glazing – and all occupants benefit from supreme comfort.
While the 330 is 58kW down on the full fat V6, you won't really miss them. There's a fat torque curve, with all 500Nm available from 1750 to 5000rpm, meaning easy progress for the 5.2 metre sedan.
The Quattroporte has two sport buttons to choose from – one looks after the drivetrain and exhaust valving while the second stiffens up the Skyhook suspension.
With the first sport button pressed, you get a more lively throttle, sharper shifts and a glorious noise from the exhausts, although they are a long way from your ears.
It's still a fast car, with strong acceleration from standstill and in the gears, the power as linear as you like with no real turbo lag and a most un-turbo noise to go with the performance.
The only dynamic problem is the electric steering – it seems to get confused between your inputs and feedback from the road, the tyres feeling like they're 'nibbling' an uneven surface, tweaking the wheel in your hands. 
The assistance is a little spotty, too, unexpectedly changing weight. It's just a bit weird. In normal driving, you'll never notice it.
Safety
Lexus IS
8/10
Eight airbags (including knee bags for front seat occupants), ABS, stability and traction controls, blind spot sensor, lane departure warning, rear cross traffic alert, auto emergency braking, forward collision detection, brake assist and driver attention detection.
The IS scored five ANCAP stars, the highest available.
The only complaint here is that both lane departure warning and rear cross traffic alert are too polite - a little more information as to what's going on would be helpful.
---
Maserati Quattroporte
7/10
Six airbags, ABS, stability and traction controls, brake assist, blind spot monitoring and rear cross traffic alert.
There is no ANCAP or EuroNCAP safety rating for the Quattroporte.
Ownership
Lexus IS
7/10
The Lexus range comes with a four year/100,000km warranty with roadside assist for the duration. Servicing is every 15,000km or twelve months, whichever comes first. 
The ownership experience only loses marks because of the lack of capped or fixed price servicing.  Service intervals are well-spaced at 12 months/15,000km but Lexus will only commit to "indicative" pricing after the first service (which is, to be fair, a freebie).
The Lexus experience is legendary - owners with cars well over a decade old still have them collected from their homes come service time. Technically, you may never have to visit a dealer again, just pay the nice person when they comes back with your freshly washed, and serviced car. Or they'll give you a loan car to drive yourself around in for the day.
---