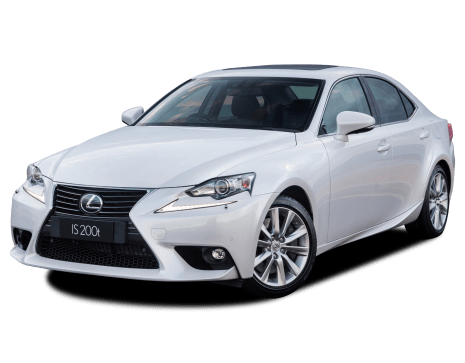 COMPARE
Lexus IS
VS
Volkswagen Passat
Lexus IS
Likes
Super-smooth
Good value
Great after-sales
Dislikes
Thirsty
Dodgy entertainment system
Heavy
---
Volkswagen Passat
Likes
Outstanding safety tech
Good value
Practical
Dislikes
Bending to strap kids into their seats
Not overly engaging to drive
Conservative styling
Summary
Lexus IS
This generation of the Lexus IS has been with us for a while now,  and it has a lot more to contend with than it did on its debut. The Infiniti Q50 has come and gone, but a new Audi A4 (soon to be refreshed) and a very impressive new BMW 3 Series made life difficult. And that's before everybody wakes up to Genesis, which could bloom into a real threat.
Lexus has carved itself a bit of a niche in this country, going after just about every luxury segment worth chasing (and one or two that possibly weren't...) but the IS has been getting on with the job of presenting itself to customers who have either tired of German luxury or just weren't interested in the first place.
The third-generation IS must soon be heading for replacement, so it's worth having another look to see how the Japanese challenger fares.
| | |
| --- | --- |
| Safety rating | |
| Engine Type | 2.0L turbo |
| Fuel Type | Premium Unleaded Petrol |
| Fuel Efficiency | 7.5L/100km |
| Seating | 5 seats |
---
Volkswagen Passat
As if the Passat couldn't look any more like a company car, when it was updated late last year Volkswagen named the new version of its large sedan and wagon the 'Business'.
It makes sense. I mean calling the Passat something it's not would be silly. Can you imagine the Passat Arouse? The Passat Danger King? The Passat Wrestle? Nope, this is not Peugeot, it's Volkswagen.
Yes, in the history of aptly named things, nothing has been more aptly named than the Passat Business, especially the wagon.
For formal occasions this Passat calls itself the Passat 140TSI Business and I'll explain what that all means below.
So, along with the new name what else is new for the updated Passat? Is it all just business as usual or could the Passat wagon be the best reason not to buy an SUV for your family?
| | |
| --- | --- |
| Safety rating | |
| Engine Type | 2.0L turbo |
| Fuel Type | Premium Unleaded Petrol |
| Fuel Efficiency | 6.6L/100km |
| Seating | 5 seats |
Verdict
Lexus IS
7/10
It's difficult to place the Lexus against any of the Germans because it's a different sort of car. Its intent is probably closer to the Benz C-Class than the more overtly sporting BMW 3 Series or the all-rounder Audi A4. All three of those cars are way ahead for cabin, chassis and engine technology (depending on spec levels, of course).
None of them feel as solid or, ultimately, as tightly built as the Lexus. The IS has a very consistent idea of what it's meant to be and it goes all the way back to the LS400 - something identifiably similar but different enough to lure you to Japan.
---
Volkswagen Passat
8/10
The Passat 140TSI Business wagon is one of the best excuses for not buying an SUV like seemingly everybody else. Not only is it effortless to drive, its updated safety tech is outstanding, it's practical and the value is excellent. More than just business class, it's family proof, too.
Design
Lexus IS
7/10
The first IS is still - remarkably - a common sight on our roads and couldn't be more different to the current generation. This car is low and sleek, with fast glass and big bold statements, like the huge spindle grille. That grille was a bit weak when this first generation arrived, but the mid-life facelift fixed that, but didn't touch the headlights, which still look a bit melted. Then there are the "big tick" daytime running lights, which don't really work with the headlights. It's all a bit odd.
Inside, things are very grey and sober. Obviously, it's astonishingly well-built, but there are just too many carefully labelled buttons and way too many switches you can spot in your neighbour's Toyota Corolla. They're not bad buttons, they just don't fit with the vibe of the rest of the car. Everything is clear and crisp, though, and the materials feel and look fantastic. It feels properly expensive.
---
Volkswagen Passat
7/10
The updated Passat had more changes made to its cabin technology and safety equipment list than to its appearance, but there are a couple of cosmetic tweaks.
The front bumper and grille have a new design with a 'pinched' effect to the styling of the fog lights compared to the more horizontal and squared off look of the previous Passat.
The rear of the wagon was refined further with sleeker tail-lights and the letters P A S S A T spaced across the centre of the tailgate, using a similar typeface to the font applied to the new-gen Volkswagen Touareg.
Despite the styling changes the Passat wagon remains the most sensible, most conservative, most business-like model in Volkswagen's line-up, especially in our test car's 'Pure White' finish.
That's not a bad thing, unless you're looking for something more emotive, or in another colour, like grey, or blue or black, which is the Passat's entire paint palette. These are also the colours of the suits in my wardrobe. Apart from white, that is. 
Again, the cabin of this new Passat is much like the previous one: business class all the way, with premium but restrained styling applied to the broad flat dash, comfortable but not lounge-like leather seats and modern media system.
The Passat wagon is 4773mm in length, 1832mm wide and 1477mm tall. How does that compare to the sedan version? Well the sedan is about 2.0mm longer, the same amount wider and about 20mm shorter in height. All riveting facts which will stun and amaze your friends, I'm sure.
Practicality
Lexus IS
7/10
For some reason, the IS has always had a tight rear seat, despite its growth over the years. Handily, one of my neighbours has the iconic original IS200, and there isn't a big difference between the two cars, despite being separated by two decades.
This IS has such a flat windscreen that you have to be careful not to whack your head when you're getting into the front seats. The glass is super-fast and no doubt that pushes the cabin space towards the rear. The front seats are uncommonly comfortable and you also get heating and cooling, so you're covered all year round for posterior thermal comfort.
Front and rear passengers enjoy a pair of cupholders each and a bottle holder in each door.
The boot swallows a suspiciously identical-to-the-Euros 480 litres.
---
Volkswagen Passat
8/10
Nobody buys a wagon accidentally. Nope, they're bought by those who need cargo space almost as much as they need room for people. But not all wagons offer as much utility as the Passat version.
See, while the Passat loses points for its lack of sleekness and sporty styling it makes up for it in interior space thanks to its almost panel van, slab-like dimensions.
The Passat is a five-seater and with the second-row seats in place there's 650 litres of boot space.
Take a look at the images to see what that means in real-world terms – we were able to fit the CarsGuide luggage and pram in with room to spare.
The low load lip, wide boot opening, handy bag hooks, partitioned storage areas behind the wheel arches, and an extendable net to divide off the second row from the cargo area make the Passat wagon's boot truly useful. I'd definitely buy a cargo net, though, to stop your groceries rolling around.
Quick release levers unlatch the back seats to fold them flat and then Passat offers a cavernous 1780 litres cargo capacity.  
Cabin storage is also great with three cupholders in the second row and two more up front, a decent sized centre console bin and super large door pockets all around.
People room is excellent. The cockpit is open and spacious, even for me with my 2.0-metre wingspan, while I can sit behind my driving position with about 50mm to spare between my knees and the seat back.
As a dad, the first things I look for when gauging a vehicle's family friendliness are directional air vents and sunshades in the rear.
In Australian summers, these are good to have, and the Passat Business wagon comes standard with both. There's climate control in the rear, too.
For charging and power outlets older USB-A ports were phased out in this update, replaced by the new USB-C sockets – two in the front and one for the second row.
Keeping it old school are three 12-volt outlets – one in the front, another in the second row and a third in the cargo area.
The Passat's ride height means my five-year old could climb in easily, but meant I had to bend more than I would for an SUV to buckle him into his seat.
So, while the Passat wagon ticks many family boxes, parents may find the bending literally a pain in the back.
Price and features
Lexus IS
7/10
At $59,340, the IS300 Luxury opens the range, stacking up well against the obvious luxury competition. That scores you a 10-speaker stereo, 17-inch alloys, dual-zone climate control, heated and cooled electric front seats, reversing camera, front and rear parking sensors, active cruise control, sat nav, auto LED headlights with auto high beam, headlight washers, keyless entry and start, partial leather trim, power everything, auto wipers, and a space-saver spare.
The standard complaints about the Lexus entertainment system still apply - it's hard to use, is devoid of Apple CarPlay and Android Auto and takes longer than it should to learn where everything is. The sound, however, is excellent from the 10 speakers, the screen is huge and (mostly) pretty and the sat nav works quickly and without fuss.
---
Volkswagen Passat
8/10
The 140TSI Business has a list price of $47,990. You're essentially paying $2K more than the sedan for the privilege of having a really big boot. How big? We'll get to that in the practicality section below.
For now, let's look at the standard features which include a new multimedia system with an 8.0-inch screen and wireless Apple CarPlay (you'll need a cord for Android Auto), there's sat nav, an eight-speaker stereo, leather upholstery, three-zone climate control, proximity key, tinted glass, roof rails and 18-inch alloy wheels.
That's good value and we haven't reached the new safety tech, yet - keep reading or skip ahead to that bit.
What are the Passat 140TSI Business wagon's rivals? There's the closely related Skoda Superb wagon, which in 162 TSI form is a smart buy for $45,690.
Also have a look at the Mazda6 wagon, the GT lists for $47,290. I reckon you could get a pretty great deal on a Holden Commodore Sportwagon RS-V which normally list for $49,190. That is provided you're reading this before Holden closes up shop at the end of 2020.
There aren't many other wagons in the price range – the Volvo V60 is $56,990, the Peugeot 508 GT wagon is $55,990 and Mercedes-Benz C-Class Estate and BMW 3 Series Touring start at about $70K.   
Engine & trans
Lexus IS
8/10
Under the long bonnet is a 2.0-litre four-cylinder turbo petrol engine with a very reasonable 180kW and 350Nm, carrying the code number 8AR-FTS. An eight-speed automatic sends the power to the rear wheels and will propel the 1680kg machine to 100km/h in seven seconds flat.
You can tow 750kg with an unbraked trailer and 1500kg braked.
---
Volkswagen Passat
8/10
The update to the Passat late last year brought more than just new USB ports, there's a new engine, too.
The 1.8-litre was swapped for 2.0-litre four-cylinder turbo-petrol making 8.0kW more power at 140kW (that's where the 140TSI in the name comes from) and 70Nm more torque at 320Nm.
That's quite a stack more grunt and it all goes to the front wheels only.
Shifting gears is a seven-speed dual-clutch automatic. It's fairly smooth in slow traffic but better suited to motorways and country roads where fewer gear changes cause less hesitation in the transmission.
Acceleration is swift for the class with 0-100km/h coming up in 8.1 seconds.  
Fuel consumption
Lexus IS
6/10
The sticker on the windscreen suggests you might get 7.5L/100km, drinking premium unleaded. Unfortunately, and despite my fervent efforts, the best I could manage was a far more sobering 12.7L/100km.
That's not a great result, and it's quite similar to the 200t I drove a couple of years ago. Even with stop-start.
---
Volkswagen Passat
7/10
The Passat wagon got the full family workout in this test. Specifically, 249.5km of Newcastle to Sydney motorway back from the grandparents, daily work commutes into the city, preschool drop offs and pick ups and the weekly shopping trip.
Filling the (66-litre) tank back up to full needed just 23.10L of premium unleaded which works out to be 9.3L/100km. Not bad at all, although Volkswagen says over a combination of open and urban roads you should see 6.6L/100km.
Driving
Lexus IS
7/10
From the driver's seat you get that very appealing sense of solidity that you get in every Lexus, even the baby SUV UX. That's partly because when a car weighs this much, it helps soak up the bumps. Lexus has a particular ride quality, even in its sportier variants, that makes you feel safe and cosseted.
The steering's weight is light, but not so light you can't feel what the wheels are doing, yet it's not overly chatty.
But the main contributor to the feeling of solidity and safety is realising how unbelievably quiet and smooth the IS is. Even the turbo four is the most distant of whirrs (without sounding bad), smoothly dishing up the power and torque. I'll admit to more than mild surprise when I saw the 0-100km/h time of seven seconds - it just doesn't feel that quick, but the speed does indeed pick up.
The eight-speed automatic could be more decisive - I often found myself grabbing a lower gear because the transmission had been a bit tardy picking the right cog. It could also drop into third or fourth a little too firmly when in Sport mode. It wasn't bad, it just felt like it was making a last-second decision to pick the gear and then ramming it home a touch enthusiastically. In normal city driving, however, it's smoother than the butter through which a Barry White track is being played.
As a sporty sedan it does okay, too, but the suspension is really set up to keep everything calm and comfortable. The electronics cut in early and often on slippery surfaces and even Sport mode is pretty tame. And that's perfectly okay.
---
Volkswagen Passat
8/10
Really, the true sports utility vehicles are wagons because they have as much utility as an SUV but in most cases are more naturally sporty thanks to their lower centre of mass.
That was the case driving the Passat wagon which was far more planted and stable than any regular SUV.
True to its name, the 140TSI Business wagon is an easy, comfortable and effortless car to drive.
But, let's say you're running late for a radio interview and you need to get where you're going as quickly (and legally) as possible. The Passat is able to match that urgency with the dynamics and performance needed. I made it by the way, with time to spare.
There's a decent amount of torque, all going to the front wheels and if that accelerator pedal is poked with a bit too much enthusiasm it's not hard to cause a loss traction. You just have to remember not to be so heavy footed. The Passat I tested wore 235/45/R18 Pirelli Cinturato P7 which are an excellent tyre.
An 11.7m turning circle isn't fantastic, but I didn't notice it hindering my daily use.
As for towing, although I didn't do any, Volkswagen says the Passat 140TSI Business wagon has a braked towing capacity of 1800kg.
Safety
---
Volkswagen Passat
9/10
The Volkswagen Passat scored the maximum five-star ANCAP rating when it was tested in 2015, but more advanced safety features were added when the car was updated last year.
This included the 'Travel Assist' system which is a higher level of adaptive cruise control combining lane keeping assistance and speed recognition of the car in front.
Also standard is AEB, which operates when maneuvering forwards and backwards, blind spot monitoring, rear cross traffic alert, auto parking (parallel and perpendicular) driver fatigue detection, a reversing camera, plus front and rear parking sensors.
For child seats you'll find three top tether anchor points and two ISOFIX mounts across the second row.
That's an outstanding armoury of potentially life-saving equipment, topped off by a full-sized spare alloy wheel under the boot floor.
Ownership
Lexus IS
7/10
Lexus offers a slightly unusual four-year/100,000km warranty, which I guess is a good way to separate yourself from the Euro competition, who are stubbornly sticking with three years. Added to the warranty is four years of roadside assist.
Also throwing a punch at the Euro manufacturers' generally lacklustre after-sales offering, Lexus offers to either come and fetch your car from you for servicing or will give you a loan car for the day. And you'll get your car back freshly washed and vacuumed, too.
All of this (and a reputation for bulletproof reliability) is intended to lure you away from the Germans.
---
Volkswagen Passat
9/10
The Passat is covered by Volkswagen's five-year/unlimited kilometre warranty.
Servicing is recommended at 12 month/15,000km intervals and you can expect to pay $458 for the first service, $660 for the second, $552 for the third, $873 for the fourth, and $458 for the fifth visit.