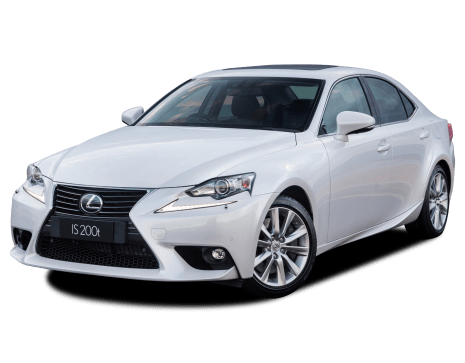 COMPARE
Lexus IS
VS
Lexus LS
Lexus IS
Likes
Smooth powertrain
Bulletproof quality
Individual looks
Dislikes
Feels heavy
Odd-bod interior
Some ergonomic failures
---
Lexus LS
Likes
That 'obnoxious face'
Decadent and intriguing interior
Comfortable ride
Dislikes
Engines could do with more shove
CVT in 500h is not suited for spirited driving
Headroom could be better
Summary
Lexus IS
Peter Anderson road tests and reviews the Lexus IS350 Sport Luxury with specs, fuel consumption and verdict.
The Lexus IS has carved out a niche in the executive sedan market - some owners would require dynamite to shift them to another brand. With an unparalleled commitment to post-sales service and a reputation for absolutely bulletproof reliability, Lexus hasn't exactly beaten the Germans into submission here in Australia, but it has given them a good fright. If you want to take on Audi, BMW and Mercedes, you've got to bring what Americans call 'your A-game.'
Explore the 2016-2017 Lexus IS Range
The IS350 is a niche within a niche, though. At this level, the Germans have convinced their customers that forced induction fours or sixes are the go, while Lexus soldiers on with a naturally aspirated V6 and a specification list as long as your arm.
| | |
| --- | --- |
| Safety rating | |
| Engine Type | 3.5L |
| Fuel Type | Premium Unleaded Petrol |
| Fuel Efficiency | 9.7L/100km |
| Seating | 5 seats |
---
Lexus LS
Almost 30 years after Lexus launched its original LS flagship sedan, the fifth generation of the car has arrived in Australia in what appears to be the brand's never-ending battle to hunt down and beat Mercedes-Benz, BMW and Audi at their own game.
In some markets it looks as though Lexus is making headway. In the United States last year Mercedes-Benz was the best-selling luxury brand, followed by BMW and then Lexus. To give you even more insight, 50 per cent of all Lexus sales globally are in the US.
The story is different in Australia, with Lexus hardly a threat to the big three Germans, selling about a third less each month.
The Lexus LS is the Japanese prestige brand's flagship and comes with a price that nudges up against formidable rivals. There's the Mercedes-Benz S-Class, BMW 7 Series and Audi's A8. Only the best cars from a few of the best brands in the world – no pressure, Lexus.
This may even be a reason to buy one – in that it's not one of the traditional three. You could see Lexus as the popular underdog that in some ways does a better job than the usual suspects. A people's favourite perhaps?
Just look at how often it's mentioned in songs. According to lyrics.com.au the word Lexus has been used in 873 songs. Meanwhile Mercedes Benz appears in 500, Audi in 402 and BMW in 307.
With all this in mind we headed to the Australian launch to drive the LS 500 and its hybrid twin the 500h.
| | |
| --- | --- |
| Safety rating | — |
| Engine Type | 5.0L |
| Fuel Type | Hybrid with Premium Unleaded |
| Fuel Efficiency | 8.6L/100km |
| Seating | 5 seats |
Verdict
Lexus IS
7/10
The IS350 is a fine car and is edging ever closer to the truly European feel the marque seems to crave. It's also different enough for those who don't want to be a part of the German triad and want to do something different while getting an after-sales experience that's hard to beat.
The thing about the IS is that it feels a little old - the interior tech and naturally-aspirated V6 are a bit 2009. That's not to criticise the car itself because it's beautifully made and if past IS generations are anything to go by, will outlast humanity. The 350 feels, and is heavy. It's a bit thirsty and doesn't quite tick all the boxes many in the sector are looking for. But wow, is it getting closer.
Click here for more 2017 Lexus IS350 pricing and spec info.
Is the Lexus IS in the running for you? Or does your wallet only speak German?
---
Lexus LS
7.6/10
The Lexus LS 500 and 500h are both exceptional cars. The 'obnoxious' styling especially to the grille makes the offerings from BMW, Benz and Audi look bland and overly corporate inside and out. It's really in the dynamics department that the LS falls short of its rivals and only the LS 500 is enjoyable if you like to drive with a degree of conviction. 
Both the LS500 and 500h, though, have wonderfully comfortable rides and this together with those sumptuous interiors makes these the perfect place to be if you're in the back being swiftly and quietly taken to you next meeting.
For me the sweet-spot pick would be the LS 500 F Sport for its value and dynamic ability.
You have $200,000. Would you spend it all on a Lexus LS or would you rather go for a Mercedes-Benz S Class, a BMW 7 Series or the Audi A8? Tell us what you think in the comments below.
Design
Lexus IS
7/10
This third-generation IS is, at last, a distinctive looker. The first car was a clean design that aged reasonably well (as did the car - there's still a ton of them kicking around) but the second one seemed a bit timid, a sort of slimmed version of the first car's styling ideas in a bigger body. Things weren't quite right and that car's look has not aged well at all.
The third generation, though, is much more aggressive, more individualistic. The mid-life refresh made the front end look a bit frowny, but the Lexus spindle grille really looks the business even if the headlights appear awkwardly finished. In profile it fits in well with the pack and then it all gets a bit aggro again at the back, with that extravagant downward sweep of the taillights. Pretty, no, memorable, yep.
Inside is less adventurous and, annoyingly, not ageing as well as Lexus might have hoped. The two-storey dash feels a little heavy-handed with its double chin rolls. I can see what the designers were going for, but they missed. 
And that chintzy analogue clock in the centre stack. Please. Stop.
There are also too many Toyota-style buttons littering the dash. Having said all of that, the obvious Lexus bits are terrific to touch and use, apart from the entertainment system's click mouse thing. That's a bit of a mess and the screen's software actively works against precise operation.
All is mostly well on the instrument pack except when the sun is coming over your shoulder. The reflections obliterate both of the traditional dials and if you'd already driven, say, an IS200t with the digital dash, you would be asking tough questions about why that instrument set isn't in the top-of-the-range machine.
---
Lexus LS
8/10
"You're either going to love them or hate them." You can bet that whenever you're told this just before being introduced to somebody then that somebody is going to be downright obnoxious. The same goes for the LS, well it's face anyway, because those are the kinds of statements made about that grille.
The thing is, the LS needs an obnoxious face because its up against The Establishment -  the Mercedes-Benz S -Class, BMW 7 Series and Audi A8, and given there's no way they'll ever let Lexus into their little 'club' it's good that the LS has steered clear of imitating them and is boldly different.
This was also the type of thinking which inspired the grille's creator, Tokuo Fukuichi. The so called 'spindle grille' first appeared in 2010 on the CT200h before rolling out to the rest of the Lexus line-up. The look polarised the opinions of fans and even executives inside Lexus. But Fukuichi was adamant the key to the brand's survival and success was to not to be boring.
That massive gaping mouth is anything but boring, and for this new-generation LS the spindle grille has been overhauled. Yes, some car companies might make a few tweaks to a grille, but not Lexus. Using a CAD computer program, it took designers six months to refine each of the 5032 surfaces on the F-Sport's grille and the more than 7000 on the Sports Luxury's. If only you didn't have to slap a number plate on these exquisitely spun net-like structures.
New LED headlights and the 'Zorro blade-slash' LED running lights are equally obnoxious and therefore perfectly suited for the LS's face. So too are the enormous air inlets below them in the bumper. If only the rest of the car's exterior was as wild and not mild and milder the further you get from the grille. The rear looks stately, modern and sleek but could have done with something more adventurous (similar to IS's taillights).
But the LS's insides make up for that dullness, with a cabin that's decadent and alien at the same time. A dash which sweeps from door to door features asymmetrical string-like design elements which are a theme carved through wood and glass and stitched into leather throughout the cabin. The quality is superb, while the fit and finish is better than I've seen on some of its competitors.
There are four no-cost interior packages on the Sports Luxury ranging from 'Moon White' trim with walnut decorative inlays to black trim with 'Crafted Latte' inserts. But it's the $9800 optional 'Black with hand-pleating' and 'Kiriko' glass which is a stand out. It's an intriguing look, the pleated fabric which cascades around the hand-cut Japanese glass.
The F Sport's cabin is less decorative with seats that hold you tighter in three no-cost option leathers from 'Moon White' to 'Flare Red' with aluminium door and dash decorative elements.
Both cabins are sumptuous, although they fall a little short in gob-smacking tech like those amazing, expansive, floating dash screens and the virtual instrument cluster in the S-Class. Yes, there's the large screen up front and the seat-back screens in the rear but the styling of the graphics and typeface reveal the Toyota DNA.
The LS has the presence a prestige brand's flagship car should - imposing, long and wide. Look at the LS's dimensions. At 5235mm end-to-end and 1900mm across, the LS is longer and wider than a Mercedes-Benz S-Class, but swoops in lower at 1450mm. The LS's wheelbase is longer than a regular S-Class's at 3125mm, too.
Apart from the grille you can tell an F Sport from a Sports Luxury by its black brake calipers and black elements in the front bumper, boot lid and sill.
To tell a 500 from a 500h, the difference is subtle. There are the badges, of course, but the 500's rear bumper also has a different design with chrome exhaust surrounds.
Practicality
Lexus IS
7/10
This is probably the weakest part of the Lexus equation. While front and rear seat passengers enjoy a pair of cupholders per row, there's little in the way of storage for our ubiquitous phones. A centre console bin is provided (from which your USB cable must sprout), but the dash and console are bereft of a good place to stow your phone. Each front door will carry a small bottle but rear seat passengers miss out. The glovebox is a good size and cooled for your convenience.
Boot space for the 4.7m sedan comes in at 480L, but you'll never guess how big an Audi A4, BMW 3 Series or Mercedes C Class boot is. Oh, you can? Yeah. 480 litres. What a coincidence.
---
Lexus LS
8/10
Anything with a 3.1m wheelbase has to be practical right? Well, legroom in the back is excellent, but I can't properly stretch out in that reclining rear seat with the ottoman without my feet hitting the seatback.
Headroom is also a bit a restricted in that rear row for me, too. That's something to keep in mind for taller passengers (I'm 191cm tall).
A cargo capacity of 480 litres is 30 litres shy of the Mercedes-Benz S-Class, while the cooler box in the rear (that comes with the Sports Luxury trim) eats into the boot space and drops the total to 440 litres.
The LS is a five-seat sedan, but that centre rear seatback folds forward to become the armrest and houses the controls to the massage and reclining functions, plus two cupholders.
There's another two cupholders up front and pockets in all the doors. While the storage area under the centre console armrest in the front and back is good – that's about it for storage.
An access mode will raise the car by 30mm when getting in and lower it by 10mm when getting out. Those wide opening doors also make entry and exit easier.
Price and features
Lexus IS
7/10
The IS range kicks off at $59,340 for the base IS200t but it's not until you're spending $65,390 that you'll find yourself in a V6-powered IS350. Another twenty large will see you in the Sports Luxury we had for the week, at a not inconsiderable $84,160 (although that's $4000 less than a BMW 340i). What do you get for that? Quite a bit, as it happens.
A 15-speaker stereo (with Mark Levinson branding, whoever that is), 18-inch alloys, dual-zone climate control, reversing camera, keyless entry and start, a hefty safety package, active cruise control, LED headlights and daytime running lights, auto headlights and wipers, heated, cooled and electrically-adjustable front seats with three memory settings on the driver's side, sat nav, lots of leather, park assist and power everything including sunroof.
Metallic paint is a breathtaking $1500.
The stereo, sat nav and various functions are controlled from a rectangular click-mouse arrangement reminiscent of a '90s laptop. It isn't great and my impression of the software is that the designers need to go out and buy some Apple and Android devices and learn how modern things work. Or at least have a look at iDrive and MMI. Having said that, the sound is epic, although the radio's insistence on switching to KIIS FM on start-up, no matter which device or station was last used, was irritating.
The sat nav also has some annoying functions that are, mercifully, switchable. The speed camera warnings are helpful and insistent while the incessant school zone warnings were hugely annoying. That's hardly Lexus' fault given there are so many of the things, but the constant 'ding-dong' in urban areas is infuriating and sounds like you're trapped in an airport. 
---
Lexus LS
8/10
The line-up is simple. There are two powertrains: the turbo-petrol V6 LS 500, and the petrol-electric LS500h hybrid, and there's no price difference between them. Then, there are two trim levels: the F Sport for $190,500 and Sports Luxury for $195,500. 
Coming standard on the F Sport are 'F Sport' seats with leather upholstery, heated front and rear seats, dual-zone climate control, 28-way power adjustable front seats and head-up display. The multimedia system comes with a 12.3-inch screen, sat nav, DVD player, DAB+ digital radio, Bluetooth connectivity and a 23-speaker Mark Levinson sound system.
There's also LED headlights, 20-inch alloy wheels and a kick-open tailgate. While the F-Sport misses out on some of the plush features of the Sports Luxury it does get hardware for better on-road dynamics which you can read about in the driving section below.
The Sports Luxury has that large screen, those power adjustable front seats and the multimedia system with that Mark Levinson stereo, too, but adds much more. The front passenger seat slides and folds itself forward to allow the seat behind it to recline and extend its ottoman-style leg rest. 
Both rear seats are 22-way power adjustable and heated. If you're lucky enough to be lounging back there, you'll also two 11.6-inch seat-back screens with a DVD player. Plus, there's four-zone climate control, a rear cooler box and power sun shades.
The F-Sport and Sports Luxury have their own choice of no-cost interior options. The Sports Luxury also gives you the option to buy (for $9800) one of four special interior packs – you can read about the standout one with the hand-cut glass below.
There are 11 body colours to choose from: Sonic Quartz, Sonic Silver, Titanium, Liquid Metal, Onyx, Graphite Black, Vermillion, Scarlet Crimson (a dark red), Metallic Silk, Deep Metallic Bronze and Deep Blue.
Engine & trans
---
Lexus LS
7/10
Let's talk engine specifications .The LS 500 has a 3.5-litre twin-turbo petrol V6 making 310kW/600Nm, with drive being sent to the rear wheels via a 10-speed automatic transmission. That's impressive horsepower, but this car is heavy is a weight of about 2.3 tonnes.
The LS 500h has a 220kW/350Nm 3.5-litre V6 (a different engine to the 500's) plus two electric motors driving the rear wheels. The total power output is 264kW. Shifting gears in the 500h is a continuously variable transmission (CVT). Just a reminder, too, the LS 500h is not  a plug-in hybrid. Regenerative braking re-charges the lithium-ion batteries.  
If you're looking for a diesel, you won't find one here. Same goes for a manual gearbox. And, while buyers can choose an all-wheel drive (awd) Lexus LS in other markets around the world, ours are all front-wheel drive.  
Fuel consumption
Lexus IS
6/10
Lexus claims a combined cycle average of 9.7L/100km but try as we might, we couldn't get the V6 to drink any less than 13.3L/100km in light traffic and some highway running. Like its European rivals, the 3.5 V6 demands premium unleaded.
---
Lexus LS
8/10
The LS 500 has an official fuel consumption of 9.5L/100km while the 500h's is 6.6L/100km after open and urban road driving. We drove both cars on mainly country roads and saw an average of 10.1L/100km in the LS 500 and 9.1L/100km in the 500h.
Driving
Lexus IS
7/10
For some reason, the IS always feels heavy. There's something about the way the car moves that makes it feel chunky. That's not all bad, of course, because it imparts a feeling of solidity and strength, but when you line it up next to a BMW 340i, it tips the scales a further 145kg the wrong way. When you look at it that way, you're always carrying two medium sized people around with you. 
It doesn't seem to blunt the performance too much, reaching 100km/h in 5.9 seconds, about eight tenths slower than Beemer with the same number of gears and a torque deficit of almost 70Nm.
Another reason it feels heavy is that the sprint itself is one of the most drama-free acceleration events you'll ever experience. The 3.5 V6 is as silky as they come, as smooth as any in-line six, which have the advantage of not having pistons punching away from each other throwing the engine about.
It's not as sharp on the throttle as the 340i or A4, even when in Sport+ mode, so the Sports bit of the Sports Luxury tag is about thirty percent of the equation. 
It does steer and brake with great accomplishment, but there's no life in the chassis, really, so it's best regarded as a luxury car rather than a sporting sedan. The IS has always been thus but with the sad demise of the IS F, there's nothing to really go after the quicker Audis, BMWs or Mercs. You have to lose two doors and move on to the RC F for that.
Ride quality is superb and the cabin is seriously quiet. Rough roads with huge expansion joints and zingy concrete surfaces fade into the background, conversation remains easy with just the stereo to push what little wind noise penetrates the cabin into the background. The adaptive damping must take a lot of the credit for the ride and handling refinement - it's unobtrusive and doesn't suddenly pour concrete into the dampers when you switch things up.
---
Lexus LS
7/10
My first experience of the new LS was from the back seat of a 500 Sports Luxury being driven from the airport to the venue where Lexus Australia would deliver the presentation on its fifth generation of the car.
Seat reclined, I was whisked quietly and comfortably through the traffic, barely any road or wind noise, the ride was superb on that air suspension, a little floaty but still damped well enough for it not to become bouncy, with minimal head sway (the movement that makes you car sick).
Cocooned in leather with seat-back screens for audio and DVD the ride and environment was just right for a limousine chauffeuring important business types who need swift and tranquil transportation. Not for weirdos like me who were only interested in the way the front and back multi-link suspension kept a 2.3-tonne car with a 3.1m wheelbase so civilised, even through roundabouts. I wondered if this was actually the best way to experience the LS – from the back seats, being driven?
When I did drive the 500 and 500h in the two trims later it more or less confirmed that first impression. The 500 in F Sport trim was the best to drive, while the 500 in Sports Luxury was the best to be driven in. Why? I'll explain.
The LS 500's 3.5-litre twin-turbo V6 makes more power than the hybrid for starters, which is always a good thing when you need to move a car this heavy. Even then the LS 500's acceleration isn't super quick, and the engine needs to work hard when asked to get a wriggle on. That 10-speed automatic transmission is excellent though. 
The same can't be said for the CVT in the 500h which under harder acceleration does what CVTs do in that situation, make more noise without seeming to get the drive effectively to the wheels.
The 500h's naturally aspirated V6 is a good thing, but it seems the weight of the car and the CVT work against it being exciting to drive. After a couple of hundred kilometres in a 500h blasting through the countryside steering it became tiresome rather than rewarding with the engine constantly kicking in and whining incessantly when asked for more beans, please. 
This car is far better suited to slipping silently through city streets than it is galloping through the bush – that's where the 500 is a lot more at home.
The 500 and 500h are rear-wheel drive cars, and this, along with an almost 50-50 balance, sets the ground work for good cars to pilot. The F-Sport trim adds an active rear stabiliser bar as standard equipment and brings a more sophisticated version of Lexus's 'Vehicle Dynamic Integrated Management' (VDIM) – a stability system using data from suspension, ABS, traction control, electric power steering, the stabiliser bar and rear steering. The result is the control of longitudinal, vertical, yaw, roll and pitch movements for better ride and handling.
The F Sport trims adds bigger brakes, too with 400mm x 36mm discs on the front and 359mm x 30mm at the back, plus staggered tyres with 245mm rubber at the front and 275mm at the rear.
The electric steering is light, which makes it easy to manoeuvre in carparks, and an 11.2m turning circle is great for the class. 
On the open road at speed the steering is pinky-finger light even in Sport+ mode, and while it's smooth and accurate, I want to feel more connected to the wheels and where they're pointed.
While the LS 500 is more the driver's car than the 500h neither perform as well dynamically as Benz's S-Class, but from the back seat the LS feels just as comfortable and even plusher.
Safety
Lexus IS
8/10
Eight airbags (including knee bags for front seat occupants), ABS, stability and traction controls, blind spot sensor, lane departure warning, rear cross traffic alert, auto emergency braking, forward collision detection, brake assist and driver attention detection.
The IS scored five ANCAP stars, the highest available.
The only complaint here is that both lane departure warning and rear cross traffic alert are too polite - a little more information as to what's going on would be helpful.
---
Lexus LS
8/10
The Lexus LS has not been crash tested, but all the signs are there that this is an exceptionally safe vehicle, from the structure of the car to the advanced safety technology such as AEB (forward and reverse) with pedestrian detection, lane keeping assistance and adaptive cruise control.
For child seats there are three top tether anchor points and two ISOFIX mounts across the rear seats.
Both the 500 and 500h are fitted with run-flat tyres.  
Ownership
Lexus IS
7/10
The Lexus range comes with a four year/100,000km warranty with roadside assist for the duration. Servicing is every 15,000km or twelve months, whichever comes first. 
The ownership experience only loses marks because of the lack of capped or fixed price servicing.  Service intervals are well-spaced at 12 months/15,000km but Lexus will only commit to "indicative" pricing after the first service (which is, to be fair, a freebie).
The Lexus experience is legendary - owners with cars well over a decade old still have them collected from their homes come service time. Technically, you may never have to visit a dealer again, just pay the nice person when they comes back with your freshly washed, and serviced car. Or they'll give you a loan car to drive yourself around in for the day.
---
Lexus LS
7/10
The Lexus LS is covered by a four-year/100,0000km warranty. Servicing is recommended every 15,000km or 12 months. There is no capped price servicing program. Being a Toyota family product the Lexus LS also comes backed by the same reputation for reliability and you may experience lower maintenance costs than perhaps its German rivals.