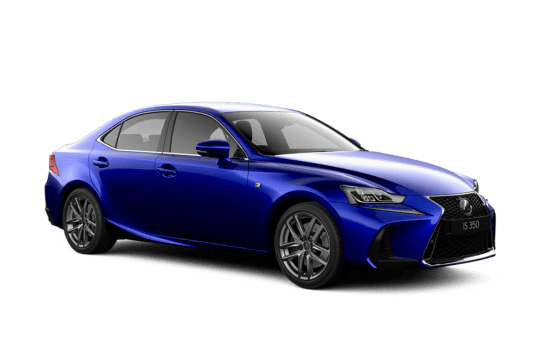 COMPARE
Lexus IS
VS
Tesla Model S
Lexus IS
Likes
Super-smooth
Good value
Great after-sales
Dislikes
Thirsty
Dodgy entertainment system
Heavy
---
Tesla Model S
Likes
Rocketship speed
Clean interior design
Ever-improving proposition
Dislikes
Sadly, it's not a sports car
It's a lot of money
Lack of convenient charging
Summary
Lexus IS
This generation of the Lexus IS has been with us for a while now,  and it has a lot more to contend with than it did on its debut. The Infiniti Q50 has come and gone, but a new Audi A4 (soon to be refreshed) and a very impressive new BMW 3 Series made life difficult. And that's before everybody wakes up to Genesis, which could bloom into a real threat.
Lexus has carved itself a bit of a niche in this country, going after just about every luxury segment worth chasing (and one or two that possibly weren't...) but the IS has been getting on with the job of presenting itself to customers who have either tired of German luxury or just weren't interested in the first place.
The third-generation IS must soon be heading for replacement, so it's worth having another look to see how the Japanese challenger fares.
| | |
| --- | --- |
| Safety rating | |
| Engine Type | 2.0L turbo |
| Fuel Type | Premium Unleaded Petrol |
| Fuel Efficiency | 7.5L/100km |
| Seating | 5 seats |
---
Tesla Model S
If you have even a passing interest in the Tesla Model S, you'll have seen the endless internet videos where someone has lined up a Ferrari, Lamborghini, or another fast exotic car you could name, to race against it.
There's a long build-up, usually involving men who can't operate a baseball cap, a drag strip and idiotic words in the headline like "destroys" or "rips", or whatever. There's usually a bunch of honking bros with bad haircuts watching on, already planning their next viral video where they set a perfectly good mobile phone on fire.
It's facile and idiotic and doesn't give you any real clue as to the depth of whatever supercar it has "humiliated" or, just as importantly, the depth of the Model S and its spectacular engineering.
So, I won't be spending the next thousand words building up to the conclusion that the Model S P100D with Ludicrous Mode is up there with the world's fastest production cars from 0-100km/h, because I'll tell you now that it is, and it does it in a claimed 2.7 seconds.
Now that's out of the way, there's quite a bit more to the Model S than a "broken" Nissan GT-R owner weeping into their bento box.
| | |
| --- | --- |
| Safety rating | |
| Engine Type | — |
| Fuel Type | Electric |
| Fuel Efficiency | —L/100km |
| Seating | 5 seats |
Verdict
Lexus IS
7/10
It's difficult to place the Lexus against any of the Germans because it's a different sort of car. Its intent is probably closer to the Benz C-Class than the more overtly sporting BMW 3 Series or the all-rounder Audi A4. All three of those cars are way ahead for cabin, chassis and engine technology (depending on spec levels, of course).
None of them feel as solid or, ultimately, as tightly built as the Lexus. The IS has a very consistent idea of what it's meant to be and it goes all the way back to the LS400 - something identifiably similar but different enough to lure you to Japan.
---
Tesla Model S
8.3/10
I spoke to a friend who bought a Model S before one had even hit the ground here in Australia. He chuckled when I told him how much this car cost but then said something I'd already suspected. "My mates who own a P100D would never drop that kind of money on a normal car. Buying a Tesla is like buying shares in the company, you're buying into the future."
And that's kind of the point. A $300,000 Audi RS7 (fully-loaded, obviously) is a bit slower in a straight line, looks just as good, is extremely well-built and emits noises that make people like me go as weak at the knees (just as the Model S' acceleration does). And would probably win a 10 lap race with the Tesla around Mount Panorama.
The Tesla is the future of cars. It may still be decades before the internal combustion engine is gone, but Tesla buyers are getting the jump, and today the Model S is the best car in which to make that leap.
Does the Tesla have the spark you need or do old-fashioned hydrocarbons still light your fire?
Design
Lexus IS
7/10
The first IS is still - remarkably - a common sight on our roads and couldn't be more different to the current generation. This car is low and sleek, with fast glass and big bold statements, like the huge spindle grille. That grille was a bit weak when this first generation arrived, but the mid-life facelift fixed that, but didn't touch the headlights, which still look a bit melted. Then there are the "big tick" daytime running lights, which don't really work with the headlights. It's all a bit odd.
Inside, things are very grey and sober. Obviously, it's astonishingly well-built, but there are just too many carefully labelled buttons and way too many switches you can spot in your neighbour's Toyota Corolla. They're not bad buttons, they just don't fit with the vibe of the rest of the car. Everything is clear and crisp, though, and the materials feel and look fantastic. It feels properly expensive.
---
Tesla Model S
7/10
The Model S is definitely the looker of the three Tesla models on sale (the Model 3 might be some way from release, but you can reserve one and it's... weird-looking). With a slinky, Jaguar XF/Audi A7 roofline and low-slung stance, it looks the business. Like the X, the detailing of the car's surfacing and panel gaps aren't where other $200,000+ cars are, but it has improved a lot over the last couple of years.
The styling is quite sparse, really. Teslas look like computer renders in real life, especially in white, with little in the way of jewellery or detailed design elements. And that's probably the idea. It's a cleaner design than when first launched, with a simpler, flatter snout that brings out the headlights better.
The cabin has improved even more than the exterior. It's still the same minimalist design, but it fits together much more tightly than it used to. The 17.0-inch portrait screen is still there in its central but skewed-to-the-driver position and is now up to version 8. It's an impressive interface, covering off the vast majority of functions in the car, and is mostly easy to use. The responsiveness is key to its usability. If it was underpowered, you'd quickly start demanding real buttons.
Practicality
Lexus IS
7/10
For some reason, the IS has always had a tight rear seat, despite its growth over the years. Handily, one of my neighbours has the iconic original IS200, and there isn't a big difference between the two cars, despite being separated by two decades.
This IS has such a flat windscreen that you have to be careful not to whack your head when you're getting into the front seats. The glass is super-fast and no doubt that pushes the cabin space towards the rear. The front seats are uncommonly comfortable and you also get heating and cooling, so you're covered all year round for posterior thermal comfort.
Front and rear passengers enjoy a pair of cupholders each and a bottle holder in each door.
The boot swallows a suspiciously identical-to-the-Euros 480 litres.
---
Tesla Model S
8/10
The Model S is a rare car in this class in that it has an almost completely flat floor, meaning rear seat passengers don't have to negotiate a transmission tunnel. The two motors run physically independently of each other so there's no crankshaft to get in the way.
The floor is thicker than a normal car, it's like a big skateboard underneath. That means your knees are up higher, which might cause numb bum on a long trip. The rear seats are comfortable enough, but middle seat occupants might feel like the outboard passengers are falling into them.
The view out isn't too bad given the rising window line, and if you've got the big two piece sunroof (without cover, irritatingly... ), it's quite airy out back. And hot (with the sunroof), but you do get rear air-con vents.
The boot is an eminently sensible 744 litres with the seats up and 1795 with the seats down, although the floor doesn't fold flat. While it's a big boot, it's relatively shallow so your suitcases go in on their sides. Up in the front boot (or froot) there's another 150 litres, so you can pack a lot in to the Model S. And with all that torque, when you do load it up, the extra kilos barely make a dent on the performance.
Price and features
Lexus IS
7/10
At $59,340, the IS300 Luxury opens the range, stacking up well against the obvious luxury competition. That scores you a 10-speaker stereo, 17-inch alloys, dual-zone climate control, heated and cooled electric front seats, reversing camera, front and rear parking sensors, active cruise control, sat nav, auto LED headlights with auto high beam, headlight washers, keyless entry and start, partial leather trim, power everything, auto wipers, and a space-saver spare.
The standard complaints about the Lexus entertainment system still apply - it's hard to use, is devoid of Apple CarPlay and Android Auto and takes longer than it should to learn where everything is. The sound, however, is excellent from the 10 speakers, the screen is huge and (mostly) pretty and the sat nav works quickly and without fuss.
---
Tesla Model S
8/10
Tesla is basically a technology company - well, a battery company - that makes cars, so the features and options reflect that. It's a gadget-laden five-door hatch powered exclusively by electricity and seemingly full of things that will drain the batteries quickly.
If you view the car's price purely through its standard features list and the cost of options, you're missing the point. If it had a 3.0-litre turbo six, there's no way you'd pay this kind of money for the Model S. But it doesn't have that, it has a bleeding edge battery pack and propulsion system.
The Model S can be had for as little as $118,652 for the 60 offering 400km range, rear-wheel drive, and 5.8s 0-100km/h (but move quickly, Tesla has just axed this model), or as much as this P100D which starts at $250,582.
Standard are a seven-speaker stereo, leather-like trim, 19-inch alloys, reversing camera, 17.0-inch touchscreen, keyless entry and start, forward collision warning, digital dashboard, electric front seats, sat nav, auto LED headlights, auto wipers, internet connectivity via included SIM card, power mirrors and windows and air suspension.
Our P100D came with 21-inch grey 'Turbine' wheels ($6800), panoramic roof ($2300) multi-coat pearl paint (white, $2300) and carbon-fibre interior trim bits for $1500, as well as a carbon lip spoiler for another $1500.
We also had the 11-speaker audio upgrade (with neodymium magnets, don't you know) for $3800 and the 'Subzero Weather Package' (seat heaters, heated steering wheel, wiper blade defrosters and washer nozzle heaters) and on-board high-power charger (speeds up charging with the 'Tesla Wall Connector', $2300).
There was also 'Enhanced Autopilot' ($7600) and 'Full Self-Driving Capability' ($4600). The former is meant for highway running, and comes with four cameras (up from one) and 12 ultrasonic sensors around the car, as well as upgraded processing power to run it all.
The full self-driving is meant for around town. The idea is you punch in a destination, or speak to the computer or passive-aggressively stay silent, which triggers the car to check your calendar and take you to the address in the appointment. Part of the extra cost of that is yet more cameras (up to eight), more sensors, and more number-crunching power.
We would love to tell you how all that worked, but being Tesla 'Hardware 2', it's not ready yet. While these features are being fleet-tested by 1000 cars in the US, your car will run it all in "shadow mode" for data and behaviour validation. One day you'll go to your car and a software update will be ready to download and install the functionality.
Unusually, you can retrofit both of these features for about $1500 more (each) than if you order them up-front. That's very cool and Tesla is probably the only car company in the world that will let you do it.
The 17.0-inch screen's software is regularly updated, like a mobile phone's. Also like a mobile is the sometimes less successful update, in this case the slightly bewildering and difficult-to-use music interface that is very keen for you to make a selection with voice commands, but not ones that go through your phone.
A 'Premium Upgrades' package adds the overkill of a 'Bioweapon Defense (sic) Mode' that knocks out 99.97 per cent of exhaust particulates and other contaminants, using two activated carbon air filters for other nasties like NO2 and hydrocarbon exhaust fumes.
LED turning lights and fog lights, real leather on the armrests, steering wheel and lower dashboard (if you also have leather seating), nappa leather and Alcantara on the dashboard, soft LED interior lighting, power tailgate and backlit door handles for $5300. Thankfully, the silly self-opening front doors in the Model X's pack aren't in this little lot.
Grand total? $297,792. On the road in, say, NSW... $313,013. Youch.
Engine & trans
Lexus IS
8/10
Under the long bonnet is a 2.0-litre four-cylinder turbo petrol engine with a very reasonable 180kW and 350Nm, carrying the code number 8AR-FTS. An eight-speed automatic sends the power to the rear wheels and will propel the 1680kg machine to 100km/h in seven seconds flat.
You can tow 750kg with an unbraked trailer and 1500kg braked.
---
Tesla Model S
10/10
The P100D ships with two electric motors fed by a huge battery pack which triples as the bulk of the chassis and a super-strong crash structure. It's also shared with the Model X SUV.
Combined power output is 568kW with more of it out the back rather than up front. Torque is quoted at 1000Nm, but it's likely more than that. Claimed 0-100km/h time is a mildly unbelievable 2.7 seconds, with a further two-tenths to be shaved off when you press and hold Ludicrous Mode and accept a warning that you'll wear the car out faster if you use it.
With 'Ludicrous Mode' comes not just software but a higher capacity fuse that allows more power to be drawn from the batteries for longer to provide the searing acceleration.
Fuel consumption
Lexus IS
6/10
The sticker on the windscreen suggests you might get 7.5L/100km, drinking premium unleaded. Unfortunately, and despite my fervent efforts, the best I could manage was a far more sobering 12.7L/100km.
That's not a great result, and it's quite similar to the 200t I drove a couple of years ago. Even with stop-start.
---
Tesla Model S
10/10
Zippo. Obviously with the new rules for Tesla Superchargers, it's not as cheap to own and run a Tesla as it was before (from January 2017, all new orders don't get free juice after the first 400kWh), but if you charge it at home (and can get away with it), it'll probably be cheaper than using Tesla's chargers. If you look, there's a company offering $1 per day charging for electric cars.
If I'd charged the car to 100 percent rather than the 80 percent recommended by Tesla for most charges (past that mark, the charge rate drops and the software has to slow to a trickle, doling out the electrons to the different cells), I would have managed just over 400km on the charge.
Driving
Lexus IS
7/10
From the driver's seat you get that very appealing sense of solidity that you get in every Lexus, even the baby SUV UX. That's partly because when a car weighs this much, it helps soak up the bumps. Lexus has a particular ride quality, even in its sportier variants, that makes you feel safe and cosseted.
The steering's weight is light, but not so light you can't feel what the wheels are doing, yet it's not overly chatty.
But the main contributor to the feeling of solidity and safety is realising how unbelievably quiet and smooth the IS is. Even the turbo four is the most distant of whirrs (without sounding bad), smoothly dishing up the power and torque. I'll admit to more than mild surprise when I saw the 0-100km/h time of seven seconds - it just doesn't feel that quick, but the speed does indeed pick up.
The eight-speed automatic could be more decisive - I often found myself grabbing a lower gear because the transmission had been a bit tardy picking the right cog. It could also drop into third or fourth a little too firmly when in Sport mode. It wasn't bad, it just felt like it was making a last-second decision to pick the gear and then ramming it home a touch enthusiastically. In normal city driving, however, it's smoother than the butter through which a Barry White track is being played.
As a sporty sedan it does okay, too, but the suspension is really set up to keep everything calm and comfortable. The electronics cut in early and often on slippery surfaces and even Sport mode is pretty tame. And that's perfectly okay.
---
Tesla Model S
7/10
The first time I drove a Model S, I enjoyed the acceleration and the silence of the electric motor (this was back in the Dark Ages when even the P90 only had one motor). And that has remained, with the air suspension providing a firm but comfortable ride despite the P100D's 21-inch rims and very low profile tyres. Electric motoring in any electric car is addictive.
Much progress has been made (yes, I'm getting to the acceleration, stay with me) in the way it drives. The earlier cars felt too computer gamey, with little feel through the wheel or the seat of your pants. The steering is better, especially in Sport mode, but not a lot gets through the air suspension, so it takes a while to build confidence in the chassis.
On the freeway (look, you can read ahead if you must) it's amazingly quiet, with just a bit of a rustling around the mirrors. Well, of course it's quiet, it's electric. For chassis and NVH (noise, vibration and harshness) squashers, not having the marvellous engine noise means much harder work to dull the other noises you just don't hear when there's an internal combustion engine.
And there's the acceleration. As the driver, you obviously know it's quick. Mash the throttle and the response is instant, the horizon closing in on you like you're attached by a very stretched and immensely strong bungee strap that's just been released. The way cars disappear in your rear vision mirror is hilarious.
It's more fun as a passenger, though. The Model X elicited whooping and laughing, but the P100D's extra 0.6s-worth of acceleration over the P90D, delivered with a truckload more G-force, equals silence. One woman said she was glad I'd caught her before dinner rather than after, before bursting forth with a range of expletives. One passenger became quite emotional, almost crying. And not just because they were stuck in a car with me.
Safety
---
Tesla Model S
8/10
The Model S comes with six airbags, ABS, stability and traction controls, three ISOFIX points, rollover sensors, emergency power disconnect. Additionally, when the software arrives, you'll have full AEB (ours was limited), self-driving and an ultra-clever active cruise that'll change lanes and overtake if the car you're following falls below your set speed.
The Model S scored five ANCAP stars, the maximum available, in April 2015 via the sharing arrangement with EuroNCAP.
Ownership
Lexus IS
7/10
Lexus offers a slightly unusual four-year/100,000km warranty, which I guess is a good way to separate yourself from the Euro competition, who are stubbornly sticking with three years. Added to the warranty is four years of roadside assist.
Also throwing a punch at the Euro manufacturers' generally lacklustre after-sales offering, Lexus offers to either come and fetch your car from you for servicing or will give you a loan car for the day. And you'll get your car back freshly washed and vacuumed, too.
All of this (and a reputation for bulletproof reliability) is intended to lure you away from the Germans.
---
Tesla Model S
8/10
Tesla offers a four-year/80,000km warranty with a parallel eight year/unlimited kilometre warranty for the battery and drive units. Roadside assist applies for the four year warranty period.
Tesla offers two maintenance plans, three and four years in length. The three year plan costs $2100 and the four year $3175. Paying for the services individually over the same period will cost $2300 and $3425 respectively. That includes a wheel alignment (if needed), but it isn't particularly cheap when compared with 'normal' luxury cars.
Your first 400kW/h of recharging is free using Tesla's supercharger network, so that would be four full charges from empty (which you wouldn't do, obviously), or about 1600km worth. After that, it's 35c per kWh or $35 for a full charge.