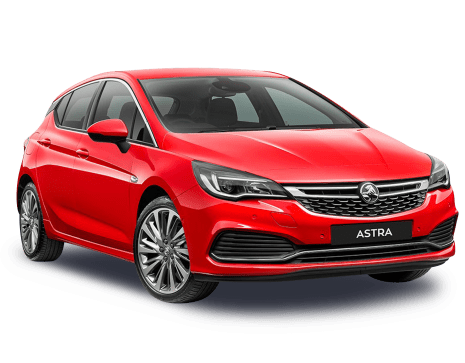 COMPARE
Holden Astra
VS
Hyundai Accent
Holden Astra
Likes
Sedan's comfy and composed ride
Hatch's beautiful styling
Aussie tuning for sedan and hatch
Dislikes
No AEB in sedan
Hatch's storage could be better
Sedan's rear headroom limited
---
Hyundai Accent
Likes
Big alloys and new nose make it better looking
Phone integration unlocks Apple/Google Maps
Plenty of useable torque from 1.6-litre engine
Dislikes
Suspension can be jarring occasionally
Lacks refinement outside of the city
Standard safety package lacking
Summary
Holden Astra
There are two types of people in this world*. Those who like hatchbacks, and those who prefer sedans.
We're not making any judgments. If you're a sedan fancier, it's your business, and hatchbacks have their leagues of loyalists, too. Whichever way you lean, Holden hopes it has something to please you with hatch and sedan versions of its Astra small car.
This is the mothership of Astra reviews, taking both the hatch and sedan into account to help you make a better decision.
| | |
| --- | --- |
| Safety rating | |
| Engine Type | 1.4L turbo |
| Fuel Type | Regular Unleaded Petrol |
| Fuel Efficiency | 6.1L/100km |
| Seating | 5 seats |
---
Hyundai Accent
While there are plenty of things that somehow improve with age (art, wine, the seemingly ageless Will Smith, to name but a few), the Hyundai Accent is sadly not one of them.
But then, neither does almost any new cars. With new technology, entertainment and safety features launching daily, and with engines that are getting cleaner, more efficient and smoother all the time, a once all-new model can be left looking positively antique in just a handful of years.
But it's definitely even worse than normal over at Hyundai; the Korean manufacturer that continues to make great forward strides with every new model. From the members of its fast and frantic N Division to its polished SUVs, to the all-new i30 small car, Hyundai is going from strength to strength with neck-breaking speed.
All of which creates a little problem for the pint-sized Accent, which - having launched back in 2011 - is now starting to feel its age. And unlike the Fresh Prince, it isn't holding up quite so well. 
So in lieu of an all new version, Hyundai streamlined the existing Accent family into one value-packed model in 2017, taking the axe to the Active and SR models and replacing both with a single, Sport trim level, which is available in sedan and hatchback guise.
And in creating the Sport, Hyundai aims to blend the best of the Accent range into one handy package. So have they taught this old dog new tricks?
| | |
| --- | --- |
| Safety rating | |
| Engine Type | 1.6L |
| Fuel Type | Regular Unleaded Petrol |
| Fuel Efficiency | 6.3L/100km |
| Seating | 5 seats |
Verdict
Holden Astra
7/10
The Astra sedan is a different car to the hatch – but then it's really aimed at different people, perhaps more mature ones. I mean, one of the sedan's paint colours, 'Old Blue Eyes', isn't available on the hatch. This could be a hint.
Either way, the sedan could be a better pick for you because of its more comfortable ride, extra rear legroom and bigger boot.
The hatch is a much better looking car. It's also more refined and stylish inside and out. The hatch comes with a more powerful engine and better handling, but its ride is not as comfortable as the sedan's.
As for the sweet spots for each range. For the sedan it's the LS+ with its great safety equipment at a good price. For the hatch line-up, it's the RS because it comes with the larger 1.6-litre engine, advanced safety equipment, and many of the features on the top-spec RS-V, which is $4500 more.
*But wait, there really are more than just two types of people in this world. There are wagon people, too. And Holden will soon have that covered when the Astra Sportwagon arrives by the end of the year. And that one looks a lot like the hatch.
Are you a hatch or sedan person? Lets us know what you think in the comments section below.
---
Hyundai Accent
6.8/10
It might be getting harder and harder to hide its age, but there is still plenty to like about Hyundai's cheapest car. Those who really love to drive need not apply, and nor should long-distance travellers, but the Accent Sport's alloy wheels, true smartphone integration and plenty of power and USB points will thrill its younger owners, while its long-range warranty and cheap servicing costs don't hurt either.
Still, if you think you can stretch to an i30, you should definitely drive one first.
Would you opt for a Hyundai Accent Sport, or step up to an i30? Tell us what you think in the comments below.
Design
Holden Astra
7/10
The hatch is made in Germany, and is actually a rebadged Opel Astra, while the sedan is made in Korea, and is really a Chevrolet Cruze. And despite similar platforms underneath, they look different.
Holden has performed cosmetic surgery to bring them closer together, but they still look like distant cousins at best.
Let's focus on the hatch first. This seventh-generation car looks damn good, but it's near impossible to identify the different levels. The easiest way is to look at the wheels (design and size), while the RS has shiny metal blades on the grille, and the RS-V gets that, plus the same trim around the windows for a posher look.
The cabin is also good looking, but regardless of grade, doesn't have the premium feeling the car's exterior looks suggest. Don't get me wrong, the RS-V's interior is cool and stylish, but the use of glossy plastics and a lack of contrasting colour cheapens the vibe.
All Astra hatches have the same dimensions - 4386mm long, 1807mm wide and a height of 1485mm, which is a smidge longer than the Corolla and a bit shorter than the Mazda3. The RS-V auto is the heaviest at 1363kg.
Now the sedan. Holden has styled the front to look more like the hatch but I don't think it's fooling anybody.
The sedan's cabin is also different to the hatch's. We're talking completely different, from the steering wheel to the temperature controls. I'm more of a fan of the hatch's interior styling than the sedan's relatively basic look.
The sedan is 30cm longer than the hatch at 4665mm end-to-end, it's shorter in height though, standing 1457mm tall (-28mm), but is exactly the same width at 1807mm across.
---
Hyundai Accent
7/10
It looks good, the Accent, just not quite as good as its bigger Hyundai brothers. And that's got to sting, if only a little bit. 
Words like "subtle", "restyled" and "enhanced design" pepper the Accent's media information, and so we're not talking massive changes. But the exterior of the Sport looks sharp, especially in the 'Pulse Red' of our test car. Other colours include 'Chalk White', 'Lake Silver', 'Phantom Black', 'Sunflower' (yellow), and 'Blue Lagoon', but there's no green, orange or grey paint available.
First, though, don't let the whole 'sport' thing fool you. You'll find no Fast and Furious body kit, nor is there much in terms of a rear spoiler, side skirts or a rear diffuser. Instead, a silver-framed mesh grille (a smaller version of the one that adorns the i30) blends into the headlights that then sweep back into the body, while subtle power lines create a little dome in the bonnet, starting at the edges of the Hyundai badge and getting wider as they sweep back across the bonnet. 
Side on, the alloys are clean and simple, and a single style crease runs the length of the body, intersecting both door handles on each side. At the rear, though, the concave body styling doesn't quite work so well, ending up looking busier than the rest of the car, and leaving it with too much body and not enough rear window.
Inside, as you can see from our interior photos, there is plenty of hard plastic, but there have been some design flourishes that give them a nicer texture and go some way to disguising the fact they're hard enough to be used as a weapon in a roadside road rage dispute.
But it's a simple and clean design, with patterned cloth (what, you were expecting leather seats at this price point?) seats, an uncluttered centre cluster and a sparing use of silver highlights that break up the black of the dash and doors.
You can also option everything from tailored floor mats to interior lighting, forming a kind of personalised premium package for the Accent Sport.
Practicality
Holden Astra
7/10
This could be the clincher if you're wondering whether the hatch or sedan is roomier. And the answer may not be the one you expected.
So, in one sentence, the Astra sedan has more rear legroom, but less rear headroom than the hatch, while the sedan's boot is bigger, but I'd pick the hatch if I was using it to move house.
The first bit makes sense. The sedan has a longer wheelbase, meaning more legroom for passengers in the back. Even me, and I'm 191cm tall. In the sedan I still have about 5cm of space between my knees and the driver's seat set to my position, but I can only just squish my knees in when I'm in the hatch.
But in a cruel twist of design fate the roofline of the sedan is lower than the hatch's, and my head skims the ceiling.
The sedan's 445-litre boot is 85 litres bigger than the hatch's (360L), but I'd choose the latter to move house because it has a larger cargo opening. Fold the hatch's back seats down and you could slide a coffee table in, which is not going to happen in the sedan.
The sedan has better cabin storage areas, with four cupholders (two up front and two in the back), bottle holders in all the doors, and a decent-sized centre console storage bin. The hatch gets bottle holders in all the doors, and while there are two cupholders there aren't any in the back. The hatch's centre console bin is small, but there is a driver's side pull-out bin.
---
Hyundai Accent
7/10
It's every bit as practical as you might expect, the Accent Sport, given that you're unlikely to be using something this size as a pseudo moving van anytime soon.
The 4155mm long, 1700mm wide and 1450mm high (the sedan is 4370mm long) Accent Sport's interior dimensions feel spacious up front, and while the front seats are a little too flat, the cabin feels airy and light. There are two cupholders up front, too, and there's room in the front doors for extra bottles. 
Like all Hyundais, the little Accent boasts most of the technology options favoured by younger buyers, like a USB point, an aux connection and two 12-volt power outlets all housed in a tiny storage bin underneath the centre console. There's a sunglass holder, too, integrated into the roof. 
The backseat is sparse but spacious enough, with enough room for adults to sit behind adults in comfort - at least in the two window seats. That's about it back there, though, with no technology options, vents or air-con controls.
Boot space is a useable 370 litres in hatch guise, but luggage capacity grows to 465 litres should you opt for the sedan, with both of those figures measured in VDA. Optional roof racks and rails (and other offical accessories like a rubber cargo liner, mud flaps or dedicated bike, snowboard and surfboard carriers) help increase the pint-size Accent's load-lugging ability.
As does a handy (and optional) cargo liner that helps separate your groceries, sitting neatly under the cargo cover that shields you luggage from prying eyes outside. Perhaps unsurprisingly, you can't get a factory-offered bull bar.
There are two ISOFIX attachment points, one in each window seat, as well as three top-tether points across the back row.
Price and features
Holden Astra
7/10
Let's start with the hatchback. There are three grades of Astra hatch: the entry-level R lists for $21,990; then there's the mid-spec $26,490 RS, and at the top-of-the-range is the RS-V for $30,990. These are all prices with a manual transmission, and it's another $2200 on top if you want an automatic. There's a sort of bonus level, too – the 'R+' which is an R with advanced safety equipment, but costs $1250 more.
There are three grades to the Astra sedan range, too – but wait, they don't align with the hatch line-up, and even have different names.
The sedan kicks off with the LS spec at $20,490, if you opt for the manual gearbox, or $21,490 for the auto. Standard features at this level include 16-inch alloy wheels, auto headlights, a 7.0-inch touchscreen with reversing camera, Apple CarPlay and Android Auto support, as well as rear parking sensors.
There's an 'LS+' grade for another $1250 which adds advanced safety equipment, LED daytime running lights and a leather steering wheel.
The $25,790 LT gets all of the LS+ features and adds 17-inch alloys, an 8.0-inch touchscreen, proximity unlocking, auto parking, sat nav and rain-sensing wipers.
At the top of the pile, the $29,790 LTZ has all of the above, plus 18-inch alloy wheels, sunroof, climate control air con, and heated, leather-trimmed front seats.
Depending on the grade, the hatch costs $1000 to $2000 more than the sedan.
---
Hyundai Accent
7/10
The price list for the Hyundai Accent range - available only in single, Sport trim - starts at $15,490 for the six-speed manual version, and will cost $2k more ($17,490) for the six-speed auto version, with those prices identical for hatch and sedan versions. So, not much of a walk through a valley of trim levels, then.  
Yes, you could be forgiven for asking "how much!?", given that's a little more than we've grown accustomed to paying for the cheapest - and on perennial runout - Hyundai model, but there are enough standard features on offer to sweeten the deal. Besides, the inevitable drive-away pricing deals will almost certainly improve the value equation, too.
Outside, expect 16-inch alloy wheels and LED indicators integrated into the side mirrors - though there aren't projector headlights, daytime running lights or any of the other, more high-end appointments.
Inside, you'll find cloth seats, cruise control, air-conditioning, a power window for everyone, powered mirrors, steering wheel controls and a digital clock.
Finally, the tech stuff is covered by an Apple CarPlay-equipped (meaning you can use your iPhone's GPS as your navigation system) 5.0-inch touchscreen that pairs with a stereo with four speakers. Android Auto is also available, via a 15-minute software upgrade done through the dealer. The screen is too small to use for in-depth stuff, like searching for a phone number, but it mostly does the job just fine.
It also means that, as well as a CD player, you'll get radio, Bluetooth, MP3, podcast and Spotify access, all played through the car's sound system. You can forget a subwoofer or DVD player, though, unless you opt for an aftermarket multimedia system.
Sure, that's not the most comprehensive list of goodies - there aren't deeply tinted windows, no sunroof and the touchscreen is rather small, and while there's central locking that allows keyless entry, there's no push-button start. 
But then, $15,490 isn't much in the world of new cars, and so to score alloy rims, powered everything and genuine phone integration (all things that will attract your future buyers - and protect your resale value - should you sell it second hand) is not to be sneezed at.
Engine & trans
Holden Astra
7/10
The Astra hatch comes with a choice of two petrol engines. A 110kW/245Nm 1.4-litre four-cylinder turbo powers the R grade, and a 147kW/300Nm 1.6-litre turbo four sits in the RS and RS-V.
All Astra sedans come with just the 1.4-litre engine.
Buyers have a choice of a six-speed manual (when paired with the 1.4-litre engine torque is 240Nm) or six speed automatic.
CarsGuide test pilot Stephen Corby drove the Astra R grade and pointed out that Holden notes a 0-100km/h time for the base car of "n/a", which pretty much says it all, while our RS and RS-V hatch drivers, including me, found the 1.6-litre to have good acceleration (claimed 0-100km/h in 7.8s).
The six-speed auto in the RS-V hatch is slow and emotionless, while the six-speed manual's short gear ratios keep the turbo going hard.
When it comes to the sedan engine, that 1.4-litre, while competent, doesn't impress the socks off me. But (with socks still well and truly on) it does suit the nature of the sedan far more. The hatch needs a gruntier powerplant to suit its sporty styling and firmer suspension. Lucky there's a 1.6-litre that delivers more mumbo.
---
Hyundai Accent
6/10
The one Accent on offer is powered by a single engine; a petrol-sipping (there's no diesel, LPG or turbo), 1.6-litre motor that will produce a solid-sounding 103kW (138 horsepower) at 6300rpm and 167Nm of torque at 4850rpm. They are good specs, and it stands up to most competitors in an engine vs engine models comparison. It pairs with a choice of six-speed manual transmission or six-speed automatic transmission.
There used to be a fairly underwhelming 1.4-litre engine size paired with a CVT auto in the now-axed Accent variant, but this bigger engine is much, much better, and makes for much happier reading on the specifications sheet.
The Accent is front-wheel drive only, with no 4x4, AWD or rear-wheel drive options available. It will serve up a 900kg braked and 450kg unbraked towing capacity, with an optional tow bar/ball fitted. Kerb weight is listed as between 1070kg and 1170kg.
The Accent Sport uses MacPherson strut front and torsion beam rear suspension (no sophisticated air systems on offer), and Hyundai doesn't quote any 0-100km/h, acceleration or speed figures.
Fuel consumption
Holden Astra
7/10
First the hatch. Sure, the 1.4-litre engine is the least powerful but it also uses less fuel, with Holden's claimed combined cycle figure being 5.8L/100km in manual and automatic. The 1.4-litre also only requires cheaper 91 RON fuel. The 1.6-litre engine needs 95RON, and the official figure is 6.5L/100km in the manual and 6.3L/100km for the auto. You'll 52 litres of it to fill the tank.
These are low claims and the stop-start tech would help achieve those figures. Our own driving found real-world consumption is higher, with the RS recording 8.6L/100km on the dash computer, while the manual RS-V scored 7.1L/100km.
After 250km in the RS-V auto the trip computer was reporting 10.2L/100km. I also found the fuel gauge needle moved towards empty faster than rivals I've driven. I don't think the Astra's efficiency is the core issue here, more my driving style, and it could be down to the Astra's 48-litre fuel tank, which is three litres smaller than the Mazda3's, and two litres less than the Corolla and i30's.
The sedan returns similar mileage, with official (combined cycle) fuel consumption for the manual sitting at 5.8L/100km, and the auto at 6.1L/100km. The trip computer in our automatic LS reported 8.2L/100km after a little more than 100km of country road driving.
---
Hyundai Accent
7/10
For fuel consumption, Hyundai claims 6.3 litres (6.6 litres for the sedan) per hundred kilometres on the combined cycle. But as with all of these manufacturer-supplied figures, there's always a some sort of variation in the real world km/l fuel economy.
Just how much variation is dependent on how heavy your right foot is, but after my (admittedly city-based) week with the car, the trip computer had my mileage at 11.0L/100km. If you were to adopt an eco mode driving style, that would surely improve, though.
The Accent's fuel tank size is fairly small, with a fuel capacity of just 43 litres - perfect for the city, less so for long-distance cruising. Emissions are a claimed 146g (154g in the hatch) per kilometre of C02. 
Driving
Holden Astra
7/10
Three CarsGuide reviewers drove three different versions of the Astra, and it's pretty clear the R didn't impress in the same way the RS and RS-V did. While the chassis felt great, the issue was put down to the 1.4-litre engine, which had to work hard while the automatic droned on.
I took the RS-V on my 150km country road test loop and found the chassis to be taut and well balanced,  and by the feel of the firm dampers, set-up for more sporty driving and handling rather than comfort.
The RS-V's 18-inch rims, with low-profile 225/40 R18 92W Bridgestone Turanza rubber mean you'll feel almost every crack and bump in the road. Great grip, but the ride isn't comfortable.
The six-speed automatic doesn't match the 1.6-litre engine's perky personality, in that it's slow to change gears. Shift paddles on the steering wheel would add more connection to the driving experience.
Vani's RS-V was a six-speed manual and she loves how quickly that gearbox responds. All all our testers agree the steering is accurate, but artificial and light, although the sport mode gives it more weight, along with changing the throttle response to be sportier.
While the hatch has sporty styling and a firmer ride, Holden has tuned the placid-looking sedan's suspension to be comparatively supple. It's a far more comfortable drive.
I had seat time in each grade. The LS with the manual is the most enjoyable to drive - shifting is easy, the gear ratios are nicely spaced and I could get more out of that 1.4-litre engine.
Being tall and all arms and legs, I found I had to drive with the middle armrest up – my elbow kept bumping into it otherwise when shifting. The clutch also has a high return position.
The auto-only LT and LTZ ride just as comfortably as the LS manual. Steering on all grades has been tuned for Australian roads, and it feels accurate, well weighted and smooth. I've driven far fancier cars with steering that isn't anywhere near this good.
Cabin insulation is also impressive in the sedan – the hatch on the other hand has a fair bit of noise intrusion.
And that engine? Well, you're not going to win any drag races, but the comfortable ride and smooth steering, combined with looks that don't promise land speed records means it's far more suited to the sedan than the hatch.
Even with two well fed Holden employees and myself on board, the sedan didn't once feel like it was running out of puff, even on steeper hills.
The Astra sedan doesn't have the handling ability of its hatch sibling, it also has a ridiculously large turning circle of 11.9m (the Mazda3's is 10.6m),  but it just skims in at seven out of 10 thanks to that great steering feel, and well-tuned suspension, keeping the ride comfortable and composed.
---
Hyundai Accent
6/10
With its sharp design and gleaming alloys, the Accent Sport doesn't look like an entry-level model, and nor is it immediately obvious that it's the cheapest way into the Hyundai family. The downside, though, is it does feel that way from behind the wheel.
A little harsher, a little more road noise and a little more gruff than Hyundai's more expensive models (including the very good i30), it's the unfair victim of the brand's staggering success, which has left the Accent feeling a bit old-school by comparison.
That said, it's perfectly suited to inner-city life, and if you're cruising around using minimal inputs, it does it all smoothly and quietly. The steering feels a little slack at slow speeds, with plenty of dead air when you first start turning the wheel, but none of that bothers you much in the city.
The grunt from that engine is refreshingly ample for a small car, and provides plenty of punch to get you moving from traffic lights, while the seating position is high enough that vision is great out of every window (except the rear - you'll be using the reversing camera for that one).
Take it out of town, though, and the refinement begins to vanish. The engine sounds harsh under heavy acceleration, the transmission can be confused - especially around 80km/h, where moving your foot a fraction can force continual changes up or down, like it's wrestling with a big life decision. 
The only other question mark is over the suspension set-up, which for some reason favours sporty firmness in a car unlikely to be asked to achieve anything more dynamic than sitting at 50km/h. The result is a ride that can feel noticeably firm over bad road surfaces.
The Accent's 140mm ground clearance (not to mention the fact it's a front-wheel drive city car) should be enough to persuade you not to test its off-road performance. And its turning radius is 10.4m.
Safety
Holden Astra
7/10
Despite the fact AEB is standard on the RV and RS-V hatches, but not offered on the sedan at all, both body styles score a maximum five-star ANCAP rating.
The R+ hatch adds a safety pack which includes such as AEB and lane keeping assistance.
The LS+ sedan is $1250 more than the LS and comes with suite of safety gear including lane keeping assistance, lane departure warning and forward distance indicator.
You'll find two ISOFIX mounts and three top tether points for child seats across the back row in the sedan and hatch.
---
Hyundai Accent
6/10
It's a pretty straightforward offering here, with six airbags (dual front, front-side and curtain), a reverse camera and the usual suite of driving, traction and braking aids, like power steering, ESP and EBD, headlining a pretty short list of safety stuff.
There are no parking sensors as standard, though, nor will you find AEB, lane departure warning or any other, more advanced features.
The Accent was awarded the maximum five-star ANCAP rating, but the organisation's demands for safety rating features were less comprehensive when it was crash tested back in 2011.
If you're one who cares about where cars are manufactured, and were wondering where is Hyundai's Accent built, the answer is Ulsan, South Korea. And that's no bad thing.
Ownership
Holden Astra
7/10
The Astra hatch and sedan are covered by Holden's three-year/100,000km warranty.
Servicing is recommended every 15,000km or annually. The Astra also comes with Holden's life-time capped-price servicing. You'll pay $229 for each of the first four services, then $289 each for the next three before stepping up higher as the car ages.
---
Hyundai Accent
8/10
It's a very strong ownership picture, with the Accent Sport covered by Hyundai's five-year/unlimited-kilometre warranty, and requiring a trip to the service centre every 12 months or 15,000km.
A capped-price servicing plan helps take the guesswork out of your service cost, too, with guide prices at between $245 and $345 per year for the first five years.
For known Hyundai Accent issues and common problems, complaints and faults - including any known clutch, suspension, gearbox, engine, battery or automatic transmission problems - head to CarsGuide's dedicated Hyundai Problems page. 
One of the most common mechanical questions asked is whether the Accent uses a timing belt or chain, and the Sport uses a timing belt. Check your owners manual for recommended durations between changing  it.
Hyundais traditionally score very well in international reliability rating surveys, which helps protect its second-hand ratings.